Summary
Advantage Reclining Wheelchair is a versatile reclining wheelchair, and surprisingly lightweight, too! It is recommended for anyone on a budget, weighing up to 300 pounds (450 pounds, if you order the one with the 22" seat!) who's in the market for a reclining wheelchair that's light enough to travel with.
* Note regarding Brand Reliability: This metric is a measure of the strength and longevity of the brand, which by extension, is a measure of the level of support you can expect.
An Overview of the Everest Jennings Advantage Recliner Wheelchair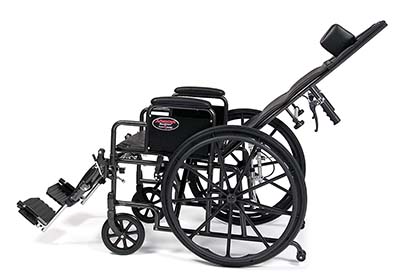 Adjustability and Comfort of Everest and Jennings Reclining Wheelchair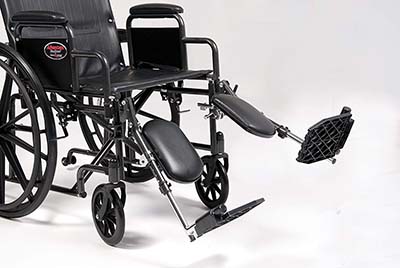 Also, the elevating leg rests can be adjusted for length. Taken together with the seat height adjustment, it gives users plenty of options and flexibility in terms of customizing their seating experience and optimizing for comfort.
Of course, the big adjustable feature to talk about with a chair like this is the recline function itself.
Extras and Options of the Advantage Recliner
First, this is one of a relatively small number of reclining wheelchairs on the market today to offer built-in storage!
You'll find a small chart pocket located behind the seat.
Granted, it's not enormous, and you'll probably want to augment this by investing in some or other third-party storage solution. The fact that some storage was included is a very nice touch. We like that kind of attention to detail and wish it was more common in the industry.
Portability & Ease of Use
Having said that, the Everest and Jennings reclining wheelchair is light enough that overland travel shouldn't prove to be too daunting a challenge. It also presents a 14" profile when folded. That's not as narrow as some other chairs, but it should fit easily enough into any full-sized SUV, truck, van, or hatchback.
If you have a full-sized sedan, you'll probably want to measure your available trunk space before you buy, though.
Pros & Cons of Advantage Recliner Wheelchair
Advantage Reclining Wheelchair Review Conclusion
---