All terrain wheelchairs give disabled individuals the freedom to experience the outdoors on their terms.
The tricky part is navigating the market, as there are numerous models to choose from with a wide array of high-tech features.
In our guide, we break down the different types of off-road devices so you can make the best decision based on your physical limitations and goals. Let's jump in!
All-Terrain Wheelchair Overview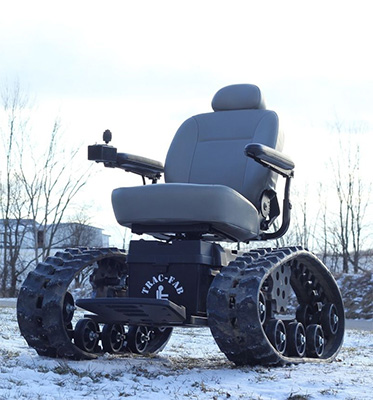 If you're dreaming of crunching through gravel, rolling over sand with ease, or even submerging yourself in water – chair and all – then the good news is there is an all-terrain wheelchair to make it happen.
Manual and all terrain electric wheelchairs are both on the market, but the first step in your decision-making process is to decide which of the two types is in your best interest.
While all terrain power wheelchairs are convenient for those who lack upper body strength or mobility, these models are extremely heavy and can weigh over 1,000 lbs.
That makes transportation a challenge, but the trade-off is that you can use an all terrain motorized wheelchair indoors and outdoors.
It's a solid option for those who don't have the space or budget for two wheelchairs (indoor and outdoor). It's also ideal if you only use it for traveling over lighter terrain, such as gravel or packed dirt.
However, if you enjoy hitting the trails and getting gnarly on the beach, then a manual all-terrain chair is what you'll want to go for. Furthermore, if you lack upper body function, off-road trikes come with specialized lever systems to give you independent steering options.
There are also electric and manual beach wheelchairs for those who live seaside and don't want to deal with wheels spinning in soft sand.
We'll get into each model next, but this gives you an overview of how robust and diverse the market is. It also means that the all terrain wheelchair price range is quite broad.
The cost all comes down to the model you choose and whether you decide to modify the design, but we give you a general idea of the prices below:
Off-road motorized wheelchair: From $12,000 to $20,000
Manual wheelchair with all terrain wheels: $1,000 to $10,000
A good starting point for choosing a wheelchair is to be realistic about your abilities and budget. You can also talk to your supplier for advice and check with your insurance provider for the possibility of coverage.
Alright, it's time to get to the good stuff! In the next section, we discuss the different types of all-terrain wheelchairs examining the features and performance.
Different Types of Off Road Manual Wheelchairs
Manual or self-propelled wheelchairs take the cake for outdoor performance, with lightweight frames that fold for easy portability and a number of different wheel and gear options to finetune your experience.
You'll find heftier chairs equipped with large mountain bike tires without a lever system. All you do is propel forward using your upper body strength, and the durable chair handles the rest.
Other types come with a sophisticated lever system that enhances the amount of power when propelling, often featuring a three or four-wheel system for stability.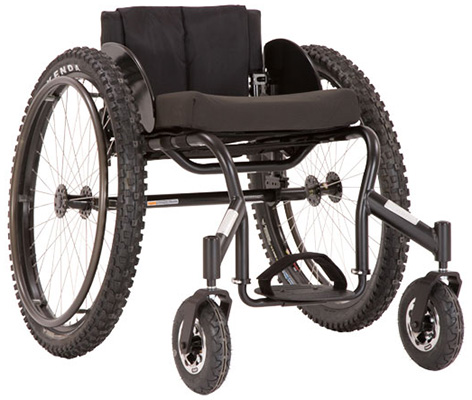 All Terrain Pushrim Wheelchairs
This is the basic model where you can push yourself without assistance via the pushrims. Although for rough terrain, you won't have the torque to power through, and a helping hand is necessary.
The wheels on this type of chair are what transform it into an off-road beast. Therefore, if buying another wheelchair alongside your standard everyday model is out of the question, you can certainly invest in all-terrain wheels for your current model instead.
Wheels should only cost around $300 to $600 for a pair, saving quite a bit on an entire wheelchair that potentially costs thousands.
Lever Propulsion Wheelchairs
Lever propelled wheelchairs are designed for those who want to tackle intense trails with rock, sand, grass, or mulch. Pushrim wheelchairs don't provide the torque needed to make it over heavier terrain, and that's where levers come in.
Propulsion systems differ from model to model, but you can find features such as levers that push forward a joystick for turning and reversing, and hand brakes for stopping.
There are also systems that can be modified to work with one arm only.
All Terrain Beach Wheelchair
Beach days are a blast with a specialized beach wheelchair, as these models allow users to hurtle over soft sand in a pinch or even venture into the surf.
Features such as non-corrosive materials and wider wheels are the secret behind the functionality of these chairs.
There are many designs to choose from depending on your preferences. Some sit low to the ground, which enables the user to propel themselves via push rims. This is the best choice for independence, allowing you to bypass the push of an able-bodied friend.
There are also beach-modified off road electric wheelchairs that can run on batteries or solar panels, but you're not going to be able to get this rig wet.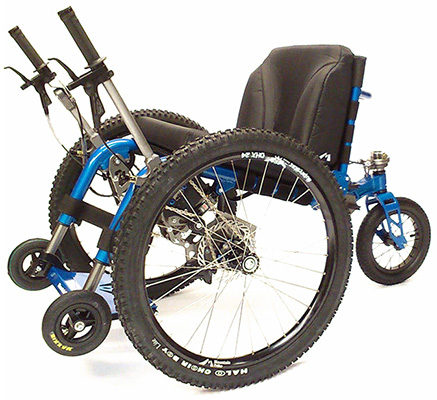 All Terrain Trikes
Trikes are a versatile choice, designed to power through rugged terrain and urban environments with ease.
This makes it one of the best all terrain wheelchairs for adults and children. It's ideal for most activities, including trails, low-impact exercise, or for just running errands in town.
These models can be customized according to your lifestyle. You can add push handles for a caretaker to steer and brake, and there are gripping aids for tetraplegics, which don't require the use of fingers to operate.
This is also called direct steering, allowing the user to steer and drive with one arm if desired.
Here is an overview of the most popular features you can find on off-road trikes:
A lever system for propulsion, set up on either the left or right side of the chair
Adjustable footrest
Direct steering for one-hand operation
Hydraulic brakes that function in all types of weather
Foldable design for easy portability
Air suspension enhances comfort with a smoother ride over uneven terrain
Accessories such as push handles and racks
Bear in mind, portability is sacrificed with these larger-than-life off-road trikes. Most users purchase one to use alongside their everyday standard chair because it's not built for maneuvering around tight indoor quarters.
We'll delve into the transportation dynamics for all terrain track wheelchairs in the next section!
How to Transport an Off Road Wheelchair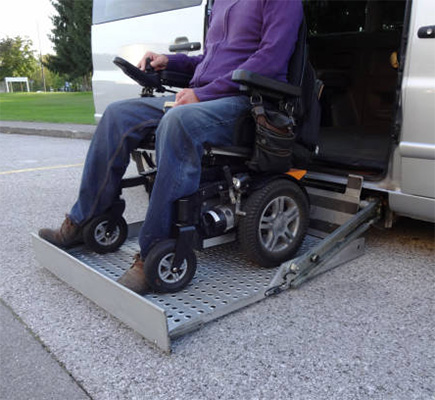 As mentioned, off-road power wheelchairs and manual versions are bulkier and heavier than your standard wheelchair, making it difficult to get from your house to the trails.
That means you need a sound transportation plan, which probably involves a specialized car lift or a modified SUV/van.
Manual wheelchairs are more portable, weighing 60 lbs at most. You can also disassemble or fold them, so you might be able to get away using the trunk of your car without having to spend extra.
However, all terrain power wheelchairs with tracks, motors, and batteries weighing between 400 and 600 lbs. call for extra transportation equipment, which might beef up your overall costs considerably.
Off-Road Wheelchair Comparison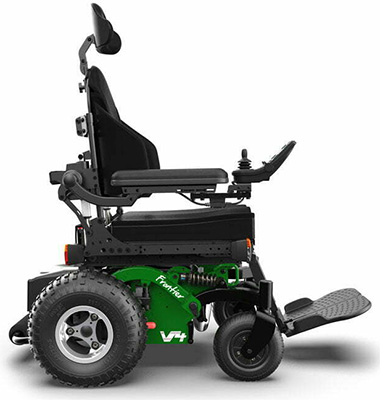 Off-road wheelchairs with tracks or tires give those with physical limitations the power to get extreme or at least just enjoy the outdoors without the worry of puncturing a tire or floundering in soft sand.
The biggest hurdle is understanding which features are best for your abilities and lifestyle.
For example, if you plan on using the chair for light outside activity, such as running errands in the city or partaking in light impact exercise, then a basic manual all-terrain wheelchair is ideal.
It's also the best choice for those on a budget or if you live in a smaller house and don't have the storage capacity for two wheelchairs.
You can also fold manual models for easy car transport, or even just invest in all-terrain wheels to switch out with your standard wheels.
However, manual chairs don't provide the torque needed to tackle intensive trails, which is where a wheelchair with levers comes in handy. Levers are configured in different ways according to the users' abilities, enabling you to propel, steer, and brake without much upper body strain.
Trikes offer the best of both worlds. This design is all about stability and customization. It's great for people of all ages, whether you're zipping between the kids' soccer practice, weekend markets, or special events. It's built for durability and ease of use.
Final Thoughts on All Terrain Wheelchairs
As with all wheelchairs, safety and comfort are the two biggest factors when choosing the right off-road model for your needs.
While there are all terrain wheelchairs that can be operated without assistance, it's always smart to hit the trails with a companion who can help in case of inclement weather or if you happen to get stuck in a rut.
It's also important to know your physical limits and goals. Reaching out to your supplier is a great starting point, as they can offer valuable insight on the latest, most cost-effective features available.
---
Resources & References: