Summary
Moving Life ATTO Folding mobility scooter is a surprisingly good-quality, capable off-brand. It is provisionally recommended for anyone weighing up to 300 pounds if you're not finding what you're looking for in the product lines of mainstream brands.
* Note regarding Brand Reliability: This metric is a measure of the strength and longevity of the brand, which by extension, is a measure of the level of support you can expect.
Are you a frequent traveler who happens to have a mobility issue and the type of person who is absolutely determined not to let that fact get in the way of living your life to the fullest? Do you love sleek, modern designs? If you answered yes to both of those questions, then you're going to love what you read in our ATTO scooter review.
You may not have heard of Moving Life, the company behind ATTO scooters. They're a smallish Israeli company with a man named Nino Rosenberg at its center. Nino, a polio survivor and frequent traveler himself, was the driving force behind the creation of the Moving Life scooter after having been underwhelmed by the other offerings on the market.
Rosenberg wanted something that not only looked cool and made good use of cutting-edge technology but was also small and light enough to be travel-friendly. Using his own needs as a starting point, the ATTO electric scooter was born.
We'll be the first to admit that as good as this design is (and we think it's excellent, on the whole), it's not for everyone. There are some limitations you should be aware of before you commit to a purchase.
In the sections that follow, we'll step you through everything the Moving Life ATTO folding scooter has to offer, so you'll have all the information you need at your fingertips to decide if this is the model you've been searching for or if the hunt must continue. If that sounds good to you, read on, and let's take a closer look!
An Overview of the ATTO Mobility Scooter by Moving Life
Aesthetics are obviously not the most important factor to consider when looking for the 'right' mobility aid, but looks can certainly play a role.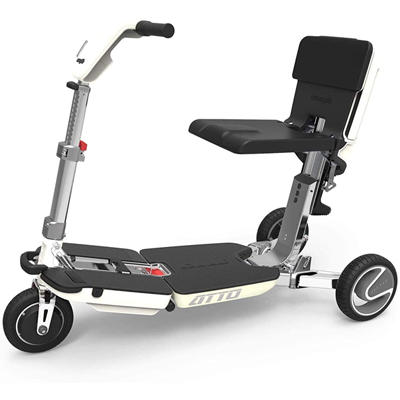 In that regard, the ATTO mobility scooter fares very well indeed. It's got a sleek, modern look that is only enhanced by the use of a simple black, white, and silver color scheme. When folded for transport, it doesn't really look like a scooter at all.
Of course, looks will only take you so far. At the end of the day, you need a machine with capabilities that are a good fit for the way you plan to actually use the scooter you select. To that end, let's take a closer look at the core stats that define this model. Here's a quick overview:
We like a good many of these numbers, but there are some points of weakness that jump out at us.
On the plus side, we love that it actually has two modes of transport. You can keep it together as a single unit, which you can roll around with you. Sixty-two pounds isn't incredibly lightweight, but moving it around shouldn't present too much of a challenge if you have reasonably good upper body strength.
If sixty-two pounds is too heavy for you, the Moving Life ATTO Freedom scooter offers a second means of transport. You can break it into two pieces to make it more easily manageable. That's cool, and this is one of the only scooter designs we've seen that offers a feature like it.
The range and speed are both strictly average. If you're looking for speed, this model will leave you underwhelmed. It's fast enough and has a long enough range that most users will be at least okay with it, if not outright excited. Similarly, while there's no defined industry standard where slope handling is concerned, six degrees is the average.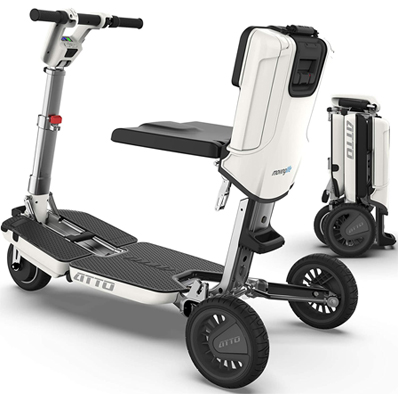 The ground clearance is quite good, making the ATTO a wonderfully versatile machine. While it was designed primarily for use in flat, paved areas, it's got sufficient ground clearance that you can use it in and around your property that is relatively level. You must also keep a watchful eye out for larger obstructions.
You could even use the ATTO on some hiking trails (rated as easy), but the average range of the scooter might start working against you. The good news is that the company offers a wide range of accessories for their product, including spare batteries. So if you wanted to effectively double its range, that's surprisingly easy to do.
The real downside here, in our book, is the weight limit. Although there are no clearly defined industry standards here, most of the scooters on the market today support 300 pounds of user weight, with the big and tall models often supporting much more than that.
The ATTO, by comparison, is somewhat lightly built and is only capable of supporting 265 pounds. If you weigh less than that, it's perfect. For people who weigh more, the modest weight limit is an outright deal-breaker.
The other potentially limiting issue is the turning radius. There are some scooters that can turn on a dime. This isn't one of them. With a 53" turning radius, you'll be hard-pressed to make effective use of the scooter in a smaller home or apartment unless you resign yourself to making frequent three-point turns.
That's not a catastrophic weakness, and you can get around it by mastering the art of the three-point turn, but it is something to be mindful of.
Adjustability and Comfort of ATTO Moving Life Scooter
As solid as the basic design is and as good as the numbers are, we regard this as being a strictly average portion of our ATTO scooter review. The only adjustable feature to talk about here is the seat height. It's got three settings, 22," 23," and 24," allowing you to adjust it to meet your specific needs. In addition to that, there's a fourth height setting, 18" in height, specifically designed for children.
Unfortunately, that's all there is. You can't, for instance, adjust the angle of the steering tiller or the angle of the footplate, which are two fairly common adjustment features found on many other models on the market today. Given that, we'd rate this one about average on the adjustability front.
Similarly, it's about average in terms of comfort. The seat size is good, given the modest weight limit, but there's not a lot of padding to be found. To be sure, there's enough to get you where you're going. Given the range and top speed, you can only run the ATTO full out for about three hours before you need to find a power outlet and get out of the seat while it's recharging.
There's enough padding to support that, but this is certainly not the scooter you want if you're looking for something you can lounge around in all afternoon.
The good news is that padding is one of the easiest things to fix. Not only does the company sell padded variants of their seat, but the aftermarket is brimming with padding options allowing you to make the scooter as comfortable as you'd like it to be.
Extras and Options of Moving Life ATTO Folding Scooter
In almost every case we've seen, smaller companies don't offer much, if anything, in the way of extras. While it's true that there are no built-in accessories on this model, the company offers a dizzying array of extras on their website, making this one of the strongest portions of our ATTO Moving Life scooter review. Here's what the company has on offer: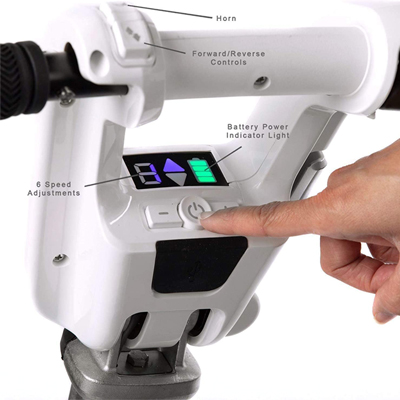 The ATTO's selection of scooter accessories is absolutely superb, giving you all sorts of customization and personalization options. If those aren't enough, though, the aftermarket holds a virtually endless number of additional possibilities, so you've got almost unlimited freedom when it comes to making your scooter exactly what you want or need it to be.
Portability and Ease of Use of ATTO Travel Scooter
The Moving Life ATTO folding mobility scooter wins high marks from us on this front. First, as we mentioned earlier in this review, the ATTO offers two different transport configurations. If you're strong enough to easily maneuver the folded scooter's full sixty-two-pound weight, you can leave it in "Trolley Mode" and travel with it that way.
If that's too heavy for you, you can fold the scooter and split it into two pieces, making the weight much more manageable.
The design is also airline approved, but it's important to remember that each airline sets its own policies regarding what they do and don't allow. Anytime you plan on flying, you should always take the time to call the airline you're booking with to be sure there won't be any problems.
It's also worth pointing out that while sixty-two pounds isn't excessively heavy, there are lighter scooters on the market. Airlines charge by weight, so you will pay a bit of a premium to fly with the ATTO. It won't be excessive, but it's still worth at least giving a brief mention.
The ATTO is also easy to fold and/or disassemble if you want to put it in split mode, so you won't have to spend a ton of time taking it apart and putting it back together again when you get where you're going. The only real downside is the turning radius, but even that isn't the end of the world. Just be sure you've got plenty of space to use the scooter, or get comfortable with making three-point turns.
In terms of ease of use, the ATTO wins high marks indeed. The control system is simple and intuitive, and you'll be able to master the basics in less than ten minutes. The only thing it may take some time to get used to is the amount of space you'll need to turn around. So if space is limited where you are or plan to use the scooter, you'll probably need to practice making three-point turns, which shouldn't present much of a challenge.
Pros & Cons of ATTO Electric Scooter
We like almost everything about this design. It's amazing, and more importantly, it was designed by someone who uses the product himself, which gives it particular focus. The only two points of potential weakness are that it doesn't support as much user weight as we'd like, and it's got a relatively poor turning radius.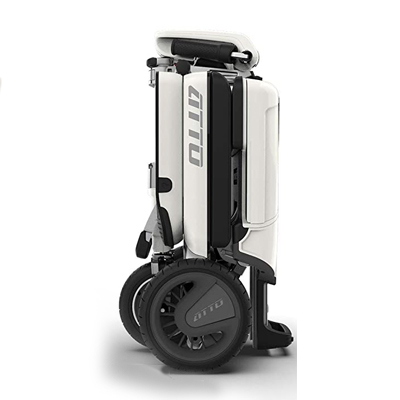 Of the two, the turning radius issue probably won't be a deal-breaker for most users, but the weight limit might be.
Moving Life ATTO Scooter Review Conclusion
As mentioned in the previous section here in our ATTO scooter review, the 265-pound weight limit makes the scooter a largely self-selecting model. If you travel frequently, love the aesthetic, and weigh less than 265 pounds, then you're going to absolutely love this machine.
If you weigh more than 265 pounds, it won't matter how much you like it. It's just not going to work for you. On that basis, we can only give it a provisional recommendation. If you weigh less than 265, you'll probably love it!
Comparable Products to Consider
If you like the ATTO folding scooter, but the weight limit is the thing that keeps you from buying it, you may want to consider one of the following alternatives:
This scooter supports an impressive 350 pounds of user weight and is loaded with extras. Additionally, it's got a more comfortable seat and is offered by one of the most respected companies in the industry. It's also cheaper but has the downside of being significantly heavier. It's not as travel friendly.
Glion SNAPnGO 3-Wheel Mobility Scooter
Recommended For: Anyone weighing up to 300 pounds who isn't especially brand conscious and is searching for a relatively speedy scooter, optimized for urban environments.
A surprisingly good, versatile, travel-friendly machine that's capable of supporting slightly more weight than the model we just reviewed.
---
References & Resources: