Summary
The Black Diamond TrailRider features a "rickshaw" design that's ideal for exploring the rugged outdoors. It's recommended for people with severe mobility issues who require assistance to operate a wheelchair.
*Note regarding Brand Reliability: This metric is a measure of the strength and longevity of the brand, which by extension, is a measure of the level of support you can expect.
For those with severe mobility issues, it can be difficult to access wild places to explore rocky, steep trails.
Fortunately, there are all-terrain wheelchairs on the market designed to cut down barriers for people with disabilities and allow them to get outside. The tricky part though is finding the one that best matches your abilities.
In our Black Diamond TrailRider review, we examine a model built to handle any type of terrain. Let's get started!
Black Diamond Trailrider Design Overview
Feeling the need to climb things? That sounds impossible to do in a wheelchair, but thanks to the specialized rickshaw design of the Black Diamond Trail Rider, not only can you tackle those unforgiving trails, but you'll turn heads while doing so.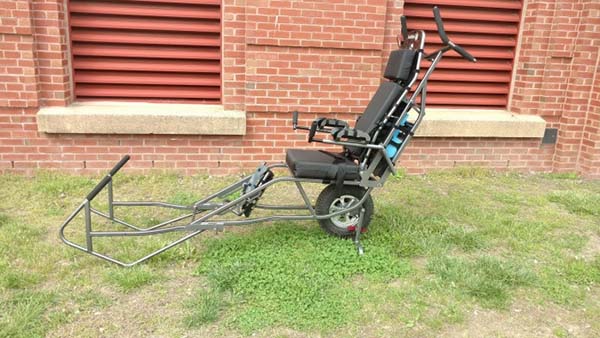 While the rickshaw-style wheelchair is common in Europe, Australia, and Asia, it's not so much in the US – until now.
The TrailRider is manufactured in Vancouver, Canada specifically for providing a smooth experience for users in any type of terrain.
With a foldable, single-wheel setup, it's easy to transport, comfortable, and environmentally friendly.
Its dimensions are 67" x 32" x 24" and it weighs a mere 50 lbs, thanks to a lightweight aluminum frame. The TrailRider can hold a maximum weight capacity of 240 lbs, making it ideal for a variety of body types.
However, it does come with a slim 17" wide seat. But thankfully, a seat insert is included in the package to give riders under 5 ft/90 lbs a more comfortable fit.
It's a no-frills kind of wheelchair. You can rely on it to get you places you never dreamed will be possible, giving you full access without sacrificing comfort.
Of course, there are always drawbacks to every product, and with the TrailRider, it's the same.
It's not designed for everyone. That's because this type of model requires the help of 2-3 people or "sherpas" to operate the chair. It takes practice and teamwork, which not everyone has the time for.
How the Black Diamond TrailRider Wheelchair Works
Before we get into the features of this hardcore machine, we want to break down exactly how it works. After all, in the US, the standard manual wheelchair can be propelled on its own or with the push of one assistant, while the TrailRider requires multiple hands on deck.
The overall idea of the operation is teamwork. Each member of the team plays a pivotal role, and everyone must learn to communicate smoothly and be aware of the movements of the others.
The rider lacks the mobility to power the chair, so one person mans the front as the point person, while 1-2 assistants are positioned at the back of the chair.
The front assistant is the muscle of the operation, pulling the TrailRider forward. Meanwhile, the back assistants manage the balance and stability, lifting the chair like a wheelbarrow via ergonomic handles.
The wheelchair occupant has the most important job of all! They are the "brain" of the operation, feeling every wobble or bump along the way. The rider directs the assistants, issuing suggestions on how to adjust the positions to keep things moving forward with precision.
While it sounds easy enough, remember that every terrain is different, and every member of the group needs to be attentive at all times, considering safety.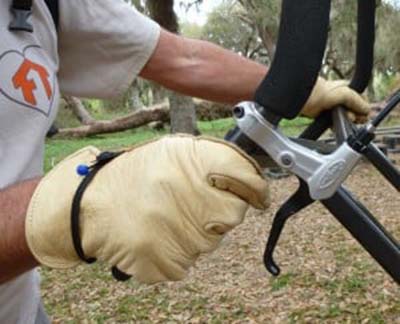 For instance, if traveling uphill, the front assistant must rely on the back assistants to push and even out the weight so it's not too heavy to carry.
Downhill also requires trust, as the back assistants must observe the brakes to ensure the front assistant doesn't get run over by the chair.
The learning curve with the TrailRider takes time, but once a team is secured, it's an easy wheelchair to operate – one that fosters social skills, communication, and collaboration.
Black Diamond Trail Rider Features
Alright, now it's time to get into the features and see what the Black Diamond TrailRider can do out on the trails!
Comfort and Safety
Hitting those rocky trails is fun and all, but the occasional jolt from nailing a rock is not. Fortunately, the teamwork system and rugged design of the TrailRider ensure a safe and seamless operation for all.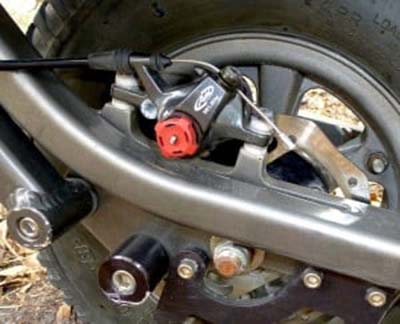 Comfort is flexible, as it's up to the team to provide balance and stability by constantly adjusting positioning to evenly distribute weight throughout.
Ergonomic hand grips make it easier for the assistants to keep a stronghold on the operation, enabling a quick lift or lower without sweaty palms causing slippage.
And while it doesn't come with it, it's recommended that the front assistant don a padded harness to help ease the discomfort of heavy lifting.
Other than getting the team logistics down pat, the TrailRider's design is as high quality as it gets. A strong suspension system is prepared to accommodate any rough bumps, and the large pneumatic tire can roll over anything with added traction.
Finally, a disc brake system ensures a quick stop when needed, which is initiated by the back assistants.
Adjustability
As with any wheelchair, your supplier can help you navigate the best measurements for a solid fit, but there are also some adjustable components on the TrailRider for added flexibility.
It's not as customizable as some other all-terrain models on the market, but this is more of a personal preference.
The seating, footrest, and armrests are fully adjustable, to configure the best type of setup for both the rider and assistants.
As mentioned, a seat insert is also available to add more seated support for children or adults under 5 ft tall.
Portability
One of the high points of the TrailRider is that it is incredibly easy to transport without the need for a lift or modified vehicle.
Quick-release pins make it simple to take the wheelchair apart, and likewise, it doesn't require much time to put it back together.
It also folds down to 67.7" x 32.2" x 24", sliding into the trunk or passenger seat of a van, truck, or SUV without hassle.
A wheelchair that disassembles and folds is as convenient as it gets for transportation, especially all-terrain models that travel frequently for recreation, errands, special occasions, or sporting events.
Therefore, we give the TrailRider two thumbs up for enhanced portability.
Storage Capabilities
Storage is always a priority, and sometimes it can be hard to come by with lightweight all-terrain chairs built for portability.
Luckily, the Black Diamond TrailRider has got your back, with a spacious storage compartment. It's large enough to house your water, snacks, first aid kit, or hiking gear.
Accessories
The only accessory that comes with the TrailRider is the optional seat insert that adds support for smaller body types. Other than that, you've got everything you need to hit the trails immediately!
Trail Rider Black Diamond Pros vs. Cons
The Back Diamond TrailRider is not merely a work of art, it's like a grasshopper – a lightweight design that is a beast out in nature.
Rocks, sand, broken limbs, and uneven surfaces don't stand a chance. The single-wheel setup and advanced suspension give this rig all of the maneuverability in the world, without sacrificing comfort.
It's also user-friendly for transportation, breaking down and folding into a compact unit that can fit in the trunk or passenger seat of an SUV, truck, or van.
There are no mechanical cons to the TrailRider. It's a reliable and durable machine that enables people with severe mobility issues to enjoy the most challenging wilderness settings.
The only drawback is simply that it's a system that won't appeal to everyone. Operating the TrailRider takes considerable work, as it requires the assistance of 2-3 sherpas to move and maneuver.
Smoothly operating this wheelchair takes time and practice as everyone learns how to communicate and work together.
But while this does require a bit of manpower, it's a unique way of operating a wheelchair that also offers benefits.
For one, once the team gets their rhythm down, then it's smooth sailing with the freedom to maneuver as desired. Furthermore, this is a wonderful opportunity for the wheelchair user to socialize and collaborate, as they're essentially in the captain's seat.
Sure, this is a very specific way to roll that might not align with everyone's lifestyle. But for those who are ardent explorers and who typically go out in a group anyways, the TrailRider is a nimble wheelchair to get the job done.
Comparable Products to Consider
After reading our Black Diamond TrailRider review, are you still debating whether this wheelchair is right for you? Don't fret, we've compiled a list of similar all-terrain wheelchairs to compare with different pricing and feature packages you might prefer.
Boma 7 Off Road Wheelchair
Recommended For: Individuals with disabilities who spend ample time adventuring outdoors in rough conditions.
An exceptional all-terrain option that grants the user more freedom is the Boma 7. It comes with plenty of customization options and an easy access low-to-the-ground design. There is an electric model with a joystick and also a manual model to accommodate any type of disability. It's also easy to transport since it folds up.
This is a French-made model that has won numerous awards for functionality and durability. It can fold up for easy transport and comes with a dizzying array of customization features. It's equipped with a bar for an assistant to push or pull like a rickshaw, but you also have the option to self-propel.
Crosswind Concepts Beach Wheelchair
Recommended For: Anyone looking for a simpler, more budget-friendly all-terrain chair. It can be pulled like a rickshaw with large tires that roll seamlessly over sand and rough terrain.
For a simpler, more budget-friendly option, this all-terrain model by Crosswind Concepts only weighs 25 lbs and folds down for easy transport. It can be pulled like a rickshaw with large tires that roll seamlessly over sand and rough terrain.
Black Diamond Trailrider Review Conclusion
If you're dreaming of rocky, steep trails to climb, then the TrailRider is a solid machine built using high-quality, lightweight materials to tackle any type of terrain.
It makes it possible for people with severe disabilities to enjoy the ruggedness of the outdoors, although do consider that operating this rig requires the assistance of 2-3 people. If that's not an issue for you, then you can expect a comfortable, safe experience with this chair.
To conclude our Black Diamond Trailrider review, this wheelchair is available through request, where pricing is determined after speaking with a manufacturer representative.
---
Resources & References: