Summary
The Boma 7 Off-Road Wheelchair is a unique, heavy-duty performance device for individuals with disabilities who spend ample time adventuring outdoors in rough conditions. It's expensive and adapted completely for offroading, which makes it more of a leisure item than an everyday mobility device.
For adventure-hungry wheelchair users, having an all-terrain chair allows you to get outside and enjoy the extreme activities you love without compromising the design of the chair.
However, choosing a reliable device can feel overwhelming with all of the different options available.
In our Boma 7 Wheelchair review, we take an in-depth look at a world-class adventure wheelchair, built to withstand even the most rugged trails. Let's roll right into it!
Boma 7 Off Road Wheelchair Design Overview
The Boma 7 wheelchair is not for the faint of heart. With a mostly indestructible design, this wheelchair is the adventurer's best friend, able to slide over branches and rocky terrain with ease.
Chris Swift, an engineer who suffered from a neurological illness that caused him to become a tetraplegic, is the visionary behind the Boma 7.
The first line of Bomas was manufactured in England by Swift's brand, Molten Rock. The final prototype was tested in both the UK and Africa. It became the first electric wheelchair to climb the summit of Ben Nevis, the highest peak in the UK.
In 2017, Boma was acquired by Equal Adventure, a Scottish company specializing in adventure gear for people with disabilities.
Ever since its inception, the Boma design has given thousands the opportunities to get outside and play rough.
The steel frame is shaped like a dune buggy, flanked by four extra-large wheels capable of rolling over broken tree limbs without puncturing.
There are two different steering designs available – one with handlebars and another with electric joystick controls. This makes it suitable for a wide range of disabilities, giving more people the chance to enjoy high-impact activities that many other wheelchairs can't handle.
The steering system is user-friendly, with customized seating, footrests, and colors. It's a wheelchair built to your driving standards, embodying comfort and safety.
There is one standard size with a seat base of 42×42 cm, although some components are adjustable to accommodate individuals from 4 ft. to 6.6 ft tall. It weighs 120 lbs with a maximum weight capacity of 240 lbs.
The Boma 7 is an intuitive mobility device, suitable for many different ages, depending on height, weight, and physical ability.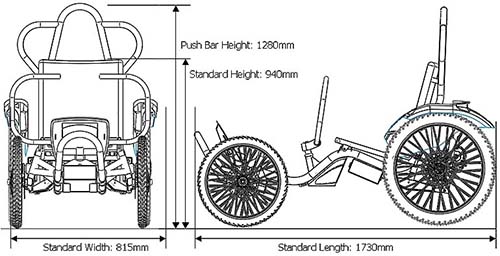 The batteries only get around 15 miles per charge, which is average compared to other adventure chairs on the market. Still, if you feel the need for long-distance travel there is the option to purchase an extra battery pack to extend the range.
Getting up to 8 mph, this wheelchair is even road legal, as long as you have the proper lighting kit accessory to go with it. Accessories enhance performance but bear in mind that they'll cost you extra.
And the Boma 7 is not cheap, costing around $20,000. This is certainly a high-quality specialized model that gives you what you pay for. But factor in the costs of shipping and customization, and prepare for your budget to inflate.
Therefore, this type of offroad chair is meant for serious outdoors enthusiasts who spend ample time crushing trails and exploring unpredictable terrain.
As mentioned earlier in our Boma 7 wheelchair review, there are two versions of the Boma 7 wheelchair. We explain how each model impacts users differently down below.
Boma 7 Handle Bar Model
The handlebar design is ideal for those who have adequate upper body functionality and arm strength to steer the Boma 7 wheelchair.
The benefits of a handlebar setup are that it gets a longer range without battery power, and it has a lightweight chassis that is easier to transport but still strong.
Boma 7 Joystick Model
If you lack upper body strength or the use of your arms, then the joystick controls on this model still enable you to get as wild as you want outdoors.
This is especially useful if you only have one functioning arm, as the controls require only one hand to operate smoothly.
The steering mechanism is easy to use, giving users the convenience of an electric chair while still maintaining a lightweight feel that can be transported without hassle.
Next up, we delve into the features of the Boma 7 wheelchair, so you have a clear vision of what to expect from a device of this caliber.
Boma 7 All Terrain Wheelchair Features
The Boma 7 wheelchair covers all of the bases when it comes to ensuring the user is well-protected out in nature, with meticulous detailing and durable craftsmanship on display.
We look at the top features to consider when comparing the Boma 7 to other adventure wheelchairs, which the manufacturer did not skimp on when it comes to quality and functionality.
Comfort and Safety
Starting with comfort, you'd expect a wheelchair as rough and tumble as the Boma 7 to be intuitive enough to keep the user rolling over sudden bumps and minor potholes without banging against the frame.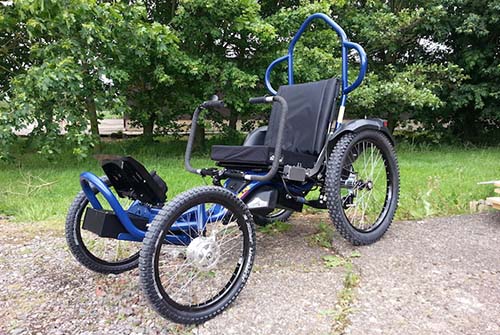 And it certainly delivers. It was manufactured with adjustable suspension, so you can set it up to correspond perfectly with the environment you're riding in.
A strong seat harness keeps the user strapped in tight, offering support in all of the right places for a body that is well anchored yet supported in the cushioned seat.
The Boma 7 sports a low seat that's closer to the ground, which enhances stability. But this is also a slight drawback for people who have trouble transferring into such a low chair.
Adjustability
While certain elements can be adjusted by the user – namely the seat – the offer of unlimited customization is what sets this model apart.
It's smart to get your exact measurements down and make a list of features that are most important to you. Perhaps you require more padding in the seating area or you need to adapt the steering to your physical abilities.
Whatever you'd like to change on your Boma 7, all you have to do is request modifications when ordering the chair, and it then arrives at your doorstep ready to roll.
Just remember that it's built with your exact measurements in mind, so the fit should be precise without the need for an adjustment anyway.
Portability
Being able to seamlessly transport a Boma 7 wheelchair is not just about convenience, it's also going to be a common necessity if you're heading out into the wilderness regularly.
Most standard manual wheelchairs can fold down and disassemble, and that's precisely what the Boma 7 offers. The seat folds and the handlebars can be taken apart.
This configuration enables it to either be driven into a vehicle or pushed inside via a ramp without the need for an expensive lift. Of course, this does depend on how much trunk space you have in your vehicle. If it's too tight, then luckily there are other options for portability.
While a wheelchair-accessible vehicle is always the most convenient choice for safe wheelchair transportation, not everyone owns or can afford one.
The Boma 7 provides a creative solution with a trailer accessory (bought separately) that can be used to tow another passenger, equipment, or even solar panels for continuous battery charging.
Storage Capabilities
The Boma 7 wheelchair is not meant to be used as an everyday chair.
Therefore, considering the likelihood that you'll have two wheelchairs is more realistic. Those giant wheels might be difficult to maneuver around furniture and take tight turns in a house or apartment. This is why it also doesn't come with a ton of accessories like attachable bags.
To retain its lightweight feel, storage is limited, further proving that it's not the companion you need for shopping or carrying your work/school supplies.
Accessories
As we mentioned earlier, one of the slight drawbacks of the Boma 7 wheelchair is that it's a highly expensive chair. To add accessories, it's going to cost you even more since you have to buy them separately.
With that being said, the handful of accessories on the market are all highly useful. A light kit can be ordered as an upgrade, which gives the Boma headlights and taillights for safety on the road.
Other extras include batteries for a longer range and the Bobcat trailer for hauling your personal belongings or a friend.
Street legal tires are also an option for days when you're traversing across an urbanized sprawl that's challenging for the large wheelbase it comes with.
Boma Wheelchair Pros vs. Cons
The Boma 7 wheelchair gives users the capability to travel outdoors without worry, thanks to a unique buggy design, a steel frame, and large deeply treaded tires.
It's suitable for climbing steep slopes and can even sail over muddy terrain without getting stuck.
Both the handlebar version and joystick version feature controls that are easy to learn, allowing the user to tear up the trails immediately with only a brief learning curve to master.
It can fold up for easy storing in the trunk of a car. Although, you can mount it on a loft or utilize your handicapped vehicle to maximize passenger space.
This is truly a well-thought-out wheelchair, with high-quality mechanisms and a unique design you won't see on other outdoor wheelchairs.
But it's incredibly specific regarding the demographic it serves. Without the proper equipment to be used indoors, the Boma 7 is not recommended to use as a casual chair.
Even if you like to potter around your yard, the Boma 7 is not worth the splurge. This is for those who enjoy intense outdoor activities that push their physical limitations.
Also bear in mind that its high price is not affordable for everyone. Therefore, while we love the Boma 7 for no-fuss outdoor adventuring, if you're on a budget, there are other less intensive options available that should suffice.
Boma All Terrain Wheelchair Warranty
The Boma's warranty offers 12 months for repairs, as long as it's noted and reported to the manufacturer within 14 days of the issue occurring. If the defects or failures are not reported in this manner, the warranty could be void.
Comparable Products to Consider
If you are still undecided about whether the Boma 7 is the best wheelchair for your needs, we've compiled a list of other top offroad devices with similar features for you to compare.
The Boma 7 is hard to compete with, but the Hippocampe certainly gives it a run for its money. This French-made all-terrain beach chair has won several awards, which alludes to its quality and performance. It can roll over sand, tackle the trails, and even venture into the water. It's also completely customizable from top to bottom.
Extreme Motus X3 All Terrain Wheelchair
Recommended For: People with severe disabilities to enjoy the outdoors. It requires assistance to push and steer, but it can travel over rocks, snow, and mud.
This specialized lightweight offroad wheelchair features an aluminum frame and three large, low-pressure wheels that are buoyant in the water. It can travel over rocks, snow, and mud. This is a manual chair that requires assistance to push and steer, making this ideal for people with severe disabilities to enjoy the outdoors.
If you're looking for a manual offroad wheelchair that requires more upper body strength to propel and maneuver, then the Crossfire is a worthy option. It's built solid with 25" x 2.75" knobby wheels and ample ground clearance to traverse hardcore trails with ease.
Boma 7 Wheelchair Review Conclusion
The Boma 7 wheelchair is an incredible technological marvel whose sole mission is to expand the freedom of wheelchair users by being able to travel over pretty much any type of terrain.
For avid outdoors enthusiasts, it's one of the best choices for pushing your limits without sacrificing comfort and security, thanks to an intuitive, fully customizable design.
To conclude this Boma 7 wheelchair review, the greatest drawback is how expensive it is. Many users won't be able to benefit from its features due to the overall cost of the base model and additional accessories.
---
Resources & References: