Summary
The Bounder All-terrain Power Wheelchair comes in four models that accommodate different weight capacities. It's an expensive chair, but the quality and innovation are worth the price, with fully customizable features that make it ideal for any type of disability.
All-terrain wheelchairs give people with disabilities the independence to explore nature comfortably and safely.
The thing is, there are plenty of innovative models on the market, and it can be challenging to choose the best device for your needs.
In our Bounder All Terrain Power Wheelchair review, we take a look at a brand that builds solid, functional mobility devices, including bariatric options that can handle any type of terrain. Let's get started!
Bounder Power Wheelchair Design Overview
The brand behind Bounder products is a smaller company called 21st Century Scientific, Inc. While they aren't widely known compared to large brands, their reputation for manufacturing technologically advanced, durable wheelchairs is gaining traction.
These mobility devices are battery-powered, ideal for individuals who lack upper body mobility or tire easily when on the go.
Currently, there are four different Bounder wheelchairs available, each one providing different benefits for users depending on their body type and physical limitations.
Each model is equipped with a rear-wheel drive platform for stability on any type of surface, with a TIG-welded frame for long-lasting durability.
The dimensions differ per chair, but the option for custom dimensions is also available.
All four chairs feature the same options for power seating, including:
Tilt, recline, and anterior tilt
Heavy Duty Dual Independent Power Elevating Legrests (DIPLR)
Power Elevating Articulating Center Mount Footboard (PEACM)
Toggle switch or joystick control of power seating systems
Cost-wise, this is one of the more expensive all-terrain powerchairs in the market, but the pricing varies depending on your customizations.
Below, we briefly compare the designs of each Bounder wheelchair so you can see how they differ from each other and how they can benefit your active lifestyle.
Bounder 300 Power Wheelchair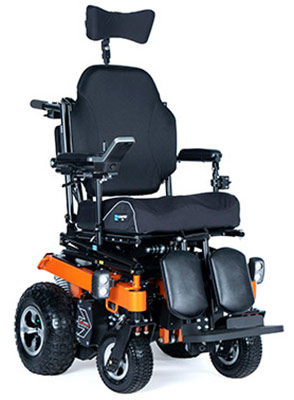 The Bounder All-Terrain Power Wheelchair is the smallest model in the lineup, accommodating a weight capacity of 300 lbs.
This is your standard offroad power vehicle, equipped with the strongest materials and components in the market.
The 13" x 4" aluminum and steel drive wheels are wide with knobby or smooth treads. The tires are foam-filled, so you won't have to worry about punctures. Even the 9" x 3.5" aluminum caster wheels glide over grass and dirt with ease.
The seat is made of sheet metal, with steel seat rails and back posts for extra strong support. The H-style frame design further enhances the durability of this chair, with an Independent Drive Wheel Suspension that softens bumps and jolts while tearing up the trails.
Bounder 450 Power Wheelchair
The Bounder 450 shares a similar design with the Bounder 300, except it's built to accommodate up to 450 lbs.
You still get the same steel and aluminum drive wheels with foam-filled tires that can handle even the most unforgiving terrain.
It also has an excellent suspension system and H-style steel frame that make it a tough trail warrior while also providing maximum comfort and security for the rider.
Big Bounder 600 Power Wheelchair
As you can probably guess from the name, the Big Bounder can carry a maximum weight capacity of 600 lbs, making this an ideal choice for those seeking an all-terrain bariatric chair.
Similar to its smaller cousins, the Big Bounder is built incredibly strong using all steel and aluminum components and top-of-the-line suspension.
It's a little bit slower than the 300 and 450, reaching a top speed of 4.5 mph compared to 6 mph.
Big Bounder 1000 Power Wheelchair
This is the most heavy-duty Bounder chair on the market, boasting an impressive maximum weight capacity of 1000 lbs.
It's able to handle this much weight due to the signature Bounder steel and aluminum wheelbase and H-style frame that keep riders well-protected while moving over gravel, dirt, or grass.
It's the slowest of the four models, reaching a standard top speed of 4.2 mph.
Bounder 300
Bounder 450
Big Bounder 600
Big Bounder 1000
Weight Capacity
300 lbs
450 lbs
600 lbs
1000 lbs
Top Speed
6 mph
6 mph
4.5 mph
4.2 mph
Seat Width
Seat Depth
Seat Height
12" to 24"/
12" to 22"/
19" to 21"
20" to 28"/
16" to 22"/
19" to 21"
24" to 32"/
16" to 22"/
19" to 21"
26" to 36"/
16" to 22"/
19" to 21"
Back Height
18" to 24"
18" to 24"
18" to 24"
18" to 24"
Bounder Plus Wheelchair Features
Next up, we take a closer look at how the Bounder Power Chair performs and the type of convenience and versatility it offers users with a wide range of available customizations.
Comfort and Safety
We're all about comfort here, and yes, of course, safety too. Furthermore, we're happy to report that Bounder certainly thought of everything when it comes to providing users with an outdoor experience that encompasses both.
One of the customization features on offer is the ability to choose the seat type, which includes the Custom Captain's Chair and the Recaro Ergonomic Seat.
Custom Captain's Chair: This can be ordered in the user's preferred size, with the option to choose standard padding, extra padding, or memory foam. You also get to choose the upholstery material for a luxe fit tailored to your abilities.
Recaro Ergonomic Seat: This seat brings luxury to the outdoors, with a bucket-style seat filled with plenty of padding, an adjustable headrest, adjustable seat depth, and full lumbar support. It even comes with a control panel on the armrest specifically for controlling the different seat features.
Among other comfort features, the Bounder comes with a hands-off control panel option called the "sip and puff" control system. This allows users with limited hand mobility to operate the chair using different mouth movements.
Safety is also a top priority, and every component is covered – from the heavy-duty steel frame to the anti-tip wheelie wheels that prevent the chair from tipping over.
Customization and Adjustability
Right off the bat, we'll let you know that once the Big Bounder wheelchair arrives at your front door, don't expect much flexibility with adjusting the components.
However, you shouldn't need to. Not since the company gives users the freedom to totally customize their wheelchairs.
For starters, there are 10 frame colors to choose from, with the option to reinforce the frame as much as needed.
You also get a variety of functional styles for the armrests, headrest, calf pads, front rigging, leg supports, wheel sizes, and controls.
But probably what truly sets the Bounder chair apart from other power chairs on the market is the impressive selection of power seating options. You're not limited to just one either. Users can combine systems depending on their physical needs.
Here is a quick breakdown of the different power seating options for the Bounder All Terrain Wheelchair.
Power Recline System: Provides up to 80-degrees recline to go from vertical to almost horizontal, so you could technically nap in the chair if so desired.
Sliding Back Power Recline System: The back slides downward up to 3" as the seat reclines.
Power Tilt System: You can change the angle by 30 or 50 degrees (depending on weight) between the seat and ground while seated.
Anterior Power Tilt System: This setup enables the user to tilt back 20 degrees while also leaning the user forward. This offers more support for users who have trouble climbing out of the chair.
Power Seat Elevator 2: This impressive system is similar to a standing wheelchair, featuring an elevator mechanism that lifts the person from a seated position to standing. You can even drive the chair while standing! Not only does this benefit health by enabling the user to move around, but it also fosters independence and confidence.
Power Front Load System: This automatic system moves the entire seat, armrests, and rigging forward while lowering the seat to floor height – all at the flip of a switch. This is suitable for people with severe mobility issues, enabling them to mount or dismount with greater ease.
Dual Independent Power Elevating Leg Rests: This is another innovative feature that you don't typically see on the market. You can opt for electronically controlled elevating leg rests with your Bounder chair. This allows the user to adjust the leg rests independently.
Portability
So far in this Bounder All Terrain Power Wheelchair review, you might be impressed by what you've seen. Though small, the 21st Century Scientific, Inc. has done a fantastic job at including numerous customization options that are high tech and top quality.
However, when it comes to transportation, this is where the royal treatment ends because the heavy-duty Bounder electric wheelchair is actually a royal pain to transport in a vehicle.
But this is typically the norm with most powerchair models on the market. They are big, heavy devices.
You'll need to invest in a specialized lift system for your vehicle, which can be costly depending on how many modifications are needed. If you drive a truck or accessible van, you might be able to get away with just using a ramp to drive the chair in and out.
It's not a huge issue since this is expected for motorized chairs, but for some people who can't afford a lift system or lack the right vehicle, this might be a dealbreaker.
Accessories
As if this company couldn't get any more thorough with their offerings, users also get a treasure trove of fun accessories to add on to their Bounder build. This includes the following:
Lighting Package: Comes with a bright headlamp, switch box, and wiring
Horn: Toggle switch or push button varieties are available.
Electric Leg Bag Emptier: If you use a leg bag, this empties automatically with the flip of the toggle switch.
Rearview Mirror: This detachable mirror can be placed near the control box for improved rearview sight.
Device Mount: Can be placed anywhere to firmly hold your smartphone or tablet
Gun Mount (With Rifle Rest): This is for hunters, and it breaks down into three pieces for easy storage and portability.
Fan: Personal cooling fan for when the temperatures start to climb
Fenders: Prevent dirt and debris from being thrown into the air by the rotating tire.
Rear-mounted oxygen tank holder
Bounder Plus Power Wheelchair Pros vs. Cons
PROS
CONS
We thought we'd seen it all until we met the Bounder All-Terrain Power Wheelchair. This is a well-thought-out motorized design, with fully customizable features that let the user perfect their dream chair.
There are different style options for almost every component, dazzling us with high-tech offerings that we haven't seen on other all-terrain models before.
For example, the amount of power seating options is a real delight, especially with the choice to transform the Bounder into a standing wheelchair!
We also love how strong and rugged the design is, ensuring that this baby can handle any type of terrain without breaking down or popping a tire.
Best of all, since there are four different models available that cater to a wide range of weight capacities, the Bounder is an ideal choice for anybody with any type of disability – just customize it the way you like it, and you're ready to adventure.
The biggest drawbacks are that portability is challenging and you might need to invest more money in a lift system. As well, the Bounder is expensive. But what you get for the price is adequate, and this system can benefit people with all types of disabilities.
Bounder Plus H Frame Power Wheelchair Warranty
The 21st Century Electronic, Inc. offers an extensive warranty plan for all of its wheelchairs. The warranty covers the following:
ONE YEAR: Covers the entire chair and electronics
FIVE YEAR: Covers the Super Torque Motor & Brake
FIVE YEAR: Covers the H-frame base
TWO YEAR: Covers the H-frame seat
Comparable Products to Consider
To take your wheelchair research even further, we've compiled a shortlist of quality wheelchairs that are similar to the Bounder line, but with slightly different feature sets that some users might prefer.
Sentire Med Deluxe Electric Wheelchair Forza FCX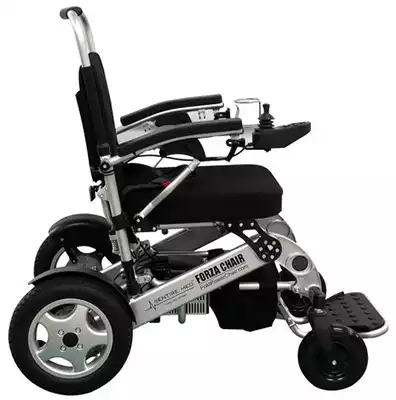 If you fancy a lightweight model that can fold up for easy transportation but still hold up to 360 lbs, then this is an ideal motorized option. It comes with two powerful lithium batteries that juice up within a couple of hours and can reach up to 20 miles on a single charge. It can be used indoors and outdoors.
Majestic Buvan 2021 Lightweight Electric Wheelchair
If you're all about the looks, then you'll probably fall for the sleek metallic finish and contemporary design of this lightweight powerchair. It can fold up for easy portability and though small, it accommodates up to 310 lbs. It features intelligent remote control technology for easy maneuvering, with a waterproof joystick.
Shoprider 6RUNNER 14 HD Bariatric Electric Powerchair
Shoprider 6RUNNER Powerchair
Recommended For: Anyone looking for a bariatric power chair that can hold up to 450 lbs and has a six-wheel base for a smooth and comfortable ride.
This plush bariatric powerchair provides ample comfort and stability, with a six-wheel base that makes your ride as smooth as silk. It can hold up to 450 lbs.
Bounder All Terrain Power Wheelchair Review Conclusion
The Bounder all-terrain wheelchair is an impressive device that appeals to a wide range of disabilities. It's built tough with high-quality materials that enable it to move over any type of surface without a glitch.
It's also fully customizable, giving users the freedom to design their dream chair from scratch. The number of customization options and accessories will make you feel like you're walking into a toy store – there are so many styles and gadgets to choose from.
To conclude our Bounder All Terrain Power Wheelchair review, bear in mind that this is an expensive model that is hard to transport. It's most ideal for avid outdoorsmen or for anyone who can afford it.
---
Resources and References: