Summary
Buzzaround EX is an exceptional value, capable of handling just about anything. This is a great design.
Recommended For: Anyone weighing up to 330 pounds, especially if you're on a budget.
*Note regarding Brand Reliability: This metric is a measure of the strength and longevity of the brand, which by extension, is a measure of the level of support you can expect.
Do you suffer from some type of mobility issue? Are you looking for a rugged, versatile scooter that can carry you effortlessly over just about any kind of terrain? And, are you on a budget? If you answered yes to those questions, you're going to be thrilled by what you read in this Buzzaround EX review.
Golden Technologies is a small company, a small brand. They don't have a big product line, and they don't have much market reach, but they make tremendously good products that are easily as good as those offered by the biggest brands in the industry.
The Buzzaround EX 4 is an excellent example of the company's work, and a great looking machine, to boot.
In the sections that follow, we'll tell you everything it has to offer, and even if you ultimately decide you want some other make and model, we think you'll be impressed.
The big, established brands had better keep a watchful eye behind them because Golden Technologies is a force to be reckoned with, despite their relatively small size. If you're interested in learning more, read on, and let's take a closer look!
An Overview of the Buzzaround EX 4-Wheel, by Golden Technologies
If not for the Golden Technologies logo displayed on the Golden Buzzaround EX 4 wheel scooter, you'd swear this was a scooter offered by one of the big brands. It's got a polished, refined look that's uncommon in the products offered by smaller brands.
Even better, if you decide you want one of these, you can order yours in a variety of colors, including:
Red
Blue
Grape
Leaf Green
Persimmon Orange
And Glacier White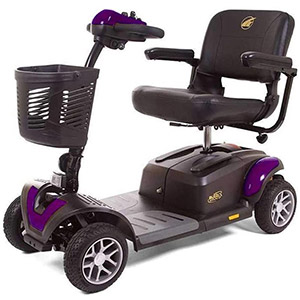 Even the big brands, when they offer a color selection at all, tend to keep it to just red or blue. So, although this isn't a huge color selection, it has more choices than you're usually given, and that's a very good thing. Kudos to the fine folks at Golden!
Before we move here in our Buzzaround EX review beyond simple aesthetics, though, we should pause for a moment and take a quick look at the EX 4 by the numbers. Here they are:
Overall Product Dimensions: 22" (W) x 44" (D) x 35" – 37" (H)
Seat Dimensions: 18" or 20" (W) x 18" (D)
Top Speed: 5 mph
Maximum Range: 18 miles
Maximum Climbing Angle: 6 degrees
Wheel Size: 9"
Ground Clearance: 4"
Chair Weight: 109 pounds without batteries. 155 pounds with batteries.
Turning Radius: 56"
Maximum Supported Weight: 330 pounds
These are almost categorically good numbers. It's about average in terms of its overall size and footprint, and we love the fact that the company has seen fit to offer two different seat sizes. That's something else you don't often see in smaller brands. They're usually strictly "what you see is what you get." Here, you have at least a couple of options, both of which are a good pairing with the scooter's supported weight limit.
The top speed isn't zippy, but a significant percentage of the scooters on the market today have a top speed of 4 miles per hour. This might only give you one additional mph, but that's still faster. While it would be overselling it to call the EX 4 speedy, it's better than average.
The same is true of the scooter's range. While not best in class, eighteen miles is nothing to sneeze at and is certainly enough to be genuinely useful.
The slope handling is average, but with a 4" ground clearance, the EX 4 is capable of handling a wide range of terrains. While many scooters on the market today are better suited for use on flat, level surfaces, this one can be used on open ground and even fairly rough terrain. You'll still need to keep an eye though for large obstructions that might hang you up.
At 330-pounds, the supported weight limit is above average, which is excellent, but the Buzz around EX has a somewhat disappointing turning radius. There's no practical way to use this one inside your home unless you live in a palace.
The real story here, though, is the weight. This model is surprisingly lightweight, given its size. Although still just over 150-pounds, it's a lot more travel-friendly than you might think. We'll have more to say about that a little later, but for now, just know that the EX 4 is more travel friendly than you might think!
Note: Golden Technologies makes a few different variants of this machine. If the EX 4 doesn't support enough weight for you, a good alternative is the Buzzaround LX, which supports 375 pounds and offers a height-adjustable headrest. It is, however, a few hundred dollars more expensive, but aside from the differences noted; it is functionally similar to this model.
Adjustability and Comfort
Although the Golden Technologies Buzzaround EX 4-wheel isn't the most adjustable that the company makes, it's more adjustable than you might think, especially given that it's offered by a smaller brand.
For a start, the seat swivels and the padded armrests flip up, which makes transfers into and out of the chair a simpler proposition. In addition to that, the seat's swivel position can be locked into position via a lever under the seat, so you're not trying to transfer into what amounts to a moving target.
In addition to that, the seat's height is adjustable and can be set as low as 16" from the deck and as high as 18."
Although the armrests aren't height-adjustable, they can be adjusted for both width and angle, and the angle of the steering tiller can be adjusted to taste.
Where comfort is concerned, the seat is padded with conventional block foam that has black vinyl stretched over it. While not the most comfortable chair you'll ever sit in, it's enough to provide a comfortable seating experience for 3-4 hours of continuous use.
The weakness here lies in the upholstery. Vinyl isn't a terrible choice. It's inexpensive, easy to clean and it looks nice, but it does have two problems.
First, it's not breathable, which means the more time you spend sitting in it, the hotter and sweatier you're bound to be. Given the top speed and the range, if you run the Golden Buzzaround EX 4 wheel scooter at full tilt, the batteries will only hold out for 3-4 hours in any case, so that's not bad, but if you plan on spending more time than that sitting in the chair, then it's going to become problematic.
The other issue is that vinyl tends to age quickly. If you use your scooter on a regular basis (every day, or nearly so), then after about 18 months, your pretty upholstery is going to start peeling and cracking.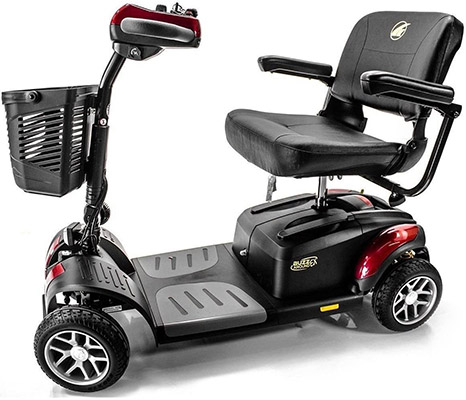 Given that the frame has a limited lifetime warranty, you'll inevitably need to have the seat re-covered at least once before you're ready to trade your EX 4 in.
There is, however, a simple, inexpensive solution that can at least partially solve for both of the upholstery's weaknesses. Buy a seat and seatback pad. You can get anything from gel packed seating to memory foam, to additional block foam, as you prefer.
It solves the issue of lack of breathability since you won't be sitting directly on the vinyl, and it will help the vinyl last longer. You'll still probably have to have the seat re-covered at some point, but it will easily double its useful life.
Extras and Options
This is another area where Golden Technologies really shines. Most smaller brands don't offer anything in the way of extras, but the Buzzaround EX 4 wheeler not only has a couple, but the company sells a surprisingly broad range of accessories that work with the chair.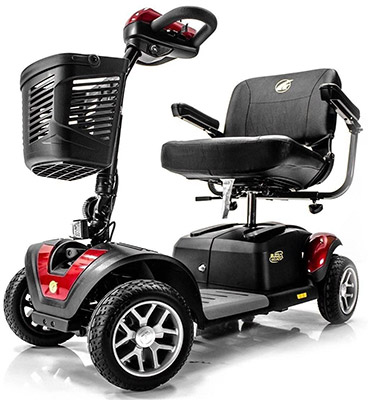 In terms of the built-in extras, there are two things to talk about. First, it sports a modestly-sized front-mounted basket made of ABS plastic. While the basket isn't huge, it's big enough to be genuinely useful and allows you to carry a few essential supplies around with you, or to make a small grocery store run.
On top of that, the EX 4 comes equipped with a light kit that includes a small LED headlamp, turn signals, and taillights. We love that because the presence of the light kit radically expands where, when, and how you can use the scooter, opening up all sorts of possibilities.
As to the accessories the company sells separately, here's a quick overview of the kinds of things you can add:
A Tube Cane Holder
A Quad Cane Holder
An Oxygen Tank Holder
A Walker Holder
A Cup Holder
A Forearm Crutch Holder
A Rearview Mirror
A Cellphone Holder
An All Weather Cover
Deluxe Pack N' Go
A Rear-Mounted Basket
A Lap Belt
And a Safety Flag
With the possible exception of the safety flag, these are all excellent, high-value additions. We especially like the fact that there are two different storage options available. That, combined with the storage the scooter comes standard with, and possibly augmented further by some saddlebags that can be fitted over the arms, you'll be able to store or transport just about anything you want.
The only real complaint we have here is the fact that we wish the rearview mirror and lap belt were standard features, rather than extras you have to buy separately. Even so, they're available if you want them, and that's a good thing.
Finally, if the accessories above aren't enough, you can always venture into the aftermarket, where you'll find dozens of additional options, allowing you to customize to your heart's content.
Portability & Ease of Use
The scooter's control system is simple and intuitive. Even if you don't consider yourself to be a particularly technical person, it won't take more than a few minutes' time to master the basic controls.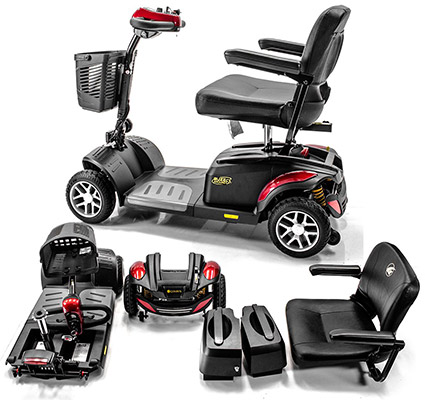 Unfortunately, the turn radius will probably take a bit of practice to get used to. Until you do, you'll probably get lots of practice backing up. But, the Golden Buzzaround EX scooter is genuinely fun to drive, so you'll enjoy the practice!
Early on, we mentioned that despite the 150-odd pound weight, this model is more travel-friendly than you might think. It's time to talk more about that.
Golden Technologies has designed the EX 4 so that it can be quickly and easily disassembled into a total of five pieces. Once disassembled, the scooter can easily be stored in the trunk space of most full-sized sedans. If you drive a truck, van, SUV, or hatchback, you'll have an even easier time.
Bear in mind, however, that the heaviest piece is still 53 pounds, which is somewhat heavier than a travel-friendly manual wheelchair, so you may still struggle to get that piece into and out of your storage space.
The other issue is that having to take your scooter apart and put it back together again when you take it somewhere is a time sink. If you'd rather not have to spend that time, there are two alternatives available to you:
First, you can buy a ramp. That's a good option if you drive a truck or van. Then, there's no need to take the scooter apart. Just deploy the ramp and drive your EX 4 onto the bed of your truck or into the van, secure it, and drive back down the ramp when you get where you're going.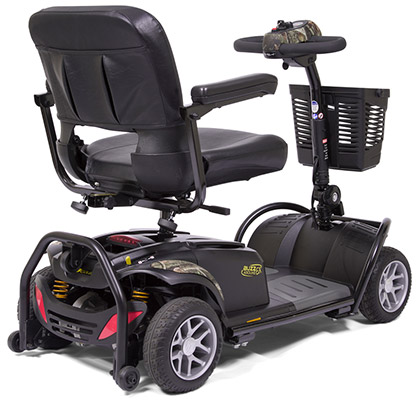 If you don't have a truck or van, your other option is to invest in a lift. Lifts will fit on the backs of most vehicles, allowing you to simply carry the scooter behind whatever you're driving. The problem is that lifts are a relatively expensive option, and not everyone will be able to afford to go that route.
Before we leave this section, we should say a few words about air travel. Most scooters aren't very airline friendly. They're simply too heavy. If you fly frequently and want to take something with you, then you may want to take a look at the Buzzaround Foldable Scooter ((insert a link to the Buzzaround Foldable Review)).
If that model won't work for you and you want to take this with you on a plane, it is possible to do so, but remember that airlines charge by weight. A good travel-friendly manual wheelchair weighs 30-40 pounds, and the EX 4 weighs about five times more. That means you'll pay a hefty premium if you do choose to fly with the EX 4.
Be sure to contact the airline you're planning to fly with, though. Each airline sets its own policies, and you don't want any unpleasant surprises.
Pros & Cons of Buzzaround EX
The only real weakness we see in this design is the fact that the turn radius isn't great. Sure, we'd love to see a higher top speed and a longer range, but those things can be said about almost every scooter or electric wheelchair on the market today.
The EX 4 is an amazing design, offered by a small but excellent company. Bear in mind that if you're not brand conscious and remove that element from the ranking equation, the EX 4 clocks in at an impressive 4.75 stars out of five.
Buzzaround EX Review Conclusion
As mentioned in the previous section here in our Buzzaround EX review, the EX 4 wheel is one of the best models Golden Technologies makes. It's an exceptional machine in almost every way, and we highly recommend it.
---
References & Resources: