Summary
Rubicon 6016 is an amazing chair and worth every penny. If you're not brand conscious and factor that element out, this chair scores an impressive 4.725 stars out of 5. The only terrain it can't handle is deep snow and beach sand.
Recommended For: Anyone weighing up to 360 pounds looking for a chair for indoor and outdoor use.
*Note regarding Brand Reliability: This metric is a measure of the strength and longevity of the brand, which by extension, is a measure of the level of support you can expect.
Are you in the market for a replacement for your aging wheelchair? Are you interested in an electric model that's robust enough to take you just about anywhere? Are you also looking for something that you can pack in your truck when you go on trips or even take with you on the plane when you fly?
If you answered yes to those questions, you're going to love this ComfyGo Rubicon 6016 review!
ComfyGo isn't a particularly big or well-known brand, so you may not have even heard of them. They're a small company, importing many of their products from China, which allows them to offer decent quality mobility aids at extremely attractive prices.
The 6016 is the company's flagship machine and comes in two models: The Rubicon and the Wildcat. These two models are virtually identical, with the Rubicon being the more robust of the two. The Wildcat, which shares its name with a great little scooter the company makes, cuts a few corners to shave a bit off of the price.
These are surprisingly, almost stunningly good chairs, and, frankly, we were blown away by the quality.
We hadn't expected that from such a small brand.
In the sections that follow, we'll tell you everything this chair has to offer, and even if you ultimately decide it's not a good fit for you and your lifestyle, we think you'll be impressed! If you're curious to know more, read on, and let's take a closer look.
An Overview of the ComfyGo 6016 Electric Wheelchair
The first thing you'll notice when you see the 6016 for the first time is the fact that it's got a rugged, Spartan look. This chair looks like it means business and can take you just about anywhere.
The great thing about that is the fact that, unlike some models that look like they're rugged, go-anywhere machines, this one pretty much is. You'd have to struggle to find a terrain that the Rubicon or Wildcat can't handle. There aren't many places out of bounds to you in this machine besides deep snow or sandy beaches.
Before we say more than that here in this section of our ComfyGo Rubicon 6016 review, it would be instructive to look at the core stats that define the model.
Note that we're looking primarily at the Rubicon here (the more robust of the two variants), but we will note the various differences between the Rubicon and the Wildcat below:
Overall Product Dimensions: 23" (W) x 41" (D) x 34" (H) (Folded Dimensions: 24" (W) x 14" (D) x 34" (H))
Seat Dimensions: 19″ (W) x 18″ (D)
Top Speed: 5 mph (Wildcat variant has a top speed of 4mph)
Maximum Range: 18 miles (Wildcat variant has a 10-mile range)
Wheels: 13″ Drive wheels, 8″ casters
Ground Clearance: 6″
Maximum Climbing Angle: 10 degrees
Chair Weight: 62 pounds with battery (Wildcat variant weighs 59 pounds with battery)
Turning Radius: 34″
Maximum Supported Weight: 330 pounds (Wildcat variant only supports 265 pounds)
These are really good numbers. It's not a physically large or imposing machine, being about average-sized overall. Also, it's got a good-sized seat given the chair's weight limit.
With a top speed of 5 miles per hour, it can't really be described as speedy, but it is one mile per hour faster than ComfyGo's other offerings, and every one mph improvement helps.
This, however, is one of the most underwhelming figures in the statistics, as we see it.
The wheels are impressively sized, and the ComfyGo 6016 has enough ground clearance to tackle most types of terrain with ease. This is a chair you could take with you down a moderately challenging hiking trail with relative ease. You may even be able to tackle rougher trails than that with some caution.
The powerful motors easily handle slopes and inclines, and it's even got a pretty good turning radius. If you live in a smaller home or apartment, the turning radius might be approaching what you'd consider to be the maximum acceptable range.
We love that the chair supports more than the informal industry average of 300 pounds, but we're a bit disappointed in the less robust Wildcat variant, which tops out at a 265-pound weight limit.
The range is only about average, but it's on the high side of average, and 15+ miles is certainly robust enough to be useful.
The overall weight of the chair, though, is what really gets us excited. With the batteries out for travel, this machine doesn't weigh much more than a standard manual wheelchair, owing to its tubed airplane aluminum construction.
Kudos to the guys at ComfyGo for creating a rough and tumble machine that's also surprisingly lightweight!
We'll have more to say about that later on, but for now, just know that this is a very travel-friendly model.
Adaptability and Comfort
The Comfy Go 6016 Rubicon is not adjustable (also true of its smaller cousin, the Wildcat). The seat height is fixed in its position and sits 19.3″ off the ground. Given the lack of adaptability here, you'll want to take careful measurements of yourself to be sure the chair is a good fit for you before you spend money.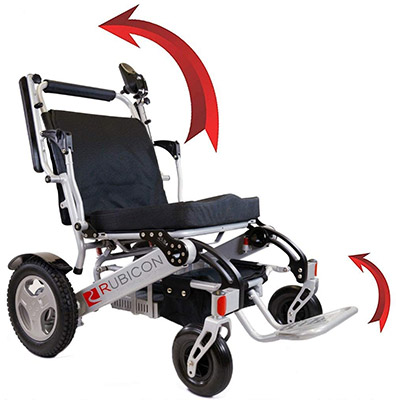 The padded armrests are also fixed in their position, and there's no headrest, so nothing to adjust on that front either.
This chair is a bit of a pleasant surprise in terms of comfort. The seat is ergonomically sculpted. Although the upholstery is stretched over conventional block foam, there's enough of it present to make for a comfortable seating experience for 3-4 hours at a stretch.
If you're planning to spend longer periods than that sitting in your chair, you'll probably want to invest in some additional padding for the seat or the seatback. In fact, you may want to do that anyway, and here's why:
The upholstery is vinyl.
It's not a bad choice because it's inexpensive, low maintenance, and it looks good. The problem is that it's not breathable and it wears easily. After about 18 months of using your chair, you'll probably notice some peeling and cracking, which will only get worse over time.
Buying a cushion for the seat and seatback will help get you off the vinyl, which will help keep you comfortable and simultaneously help protect the vinyl, extending its useful life. That's two advantages for a nominal investment in padding.
Extras and Options
Most small brands are strictly what you see is what you get. That philosophy can clearly be seen in the lack of adjustable options in the design. Surprisingly though, the Rubicon and the Wildcat both offer one small extra.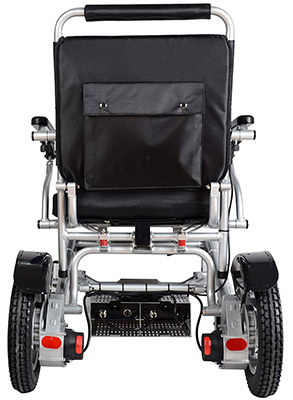 Behind the seat, you'll find a modestly sized storage pocket.
We regard storage as absolutely essential for any chair you plan to use for traveling, and we love that the company included some.
Granted, you'll almost certainly want to expand your available storage, and you can do that by going to the aftermarket, where you'll find all sorts of accessories you can customize and personalize your chair with.
While you'll find plenty of spare parts on ComfyGo's website, they actually don't sell any accessories, so you'll need to venture into the aftermarket for all your customization needs. Again, this isn't at all surprising. It's fairly typical of smaller brands, and we certainly don't hold it against them.
Portability & Ease of Use
This is where the Rubicon and Wildcat really shine. These are insanely portable, travel-friendly machines. Pull the batteries and fold them up, and you should be able to easily find space for the Rubicon wheelchair (in either of its forms) in the available trunk space of most full-sized sedans, which makes it even easier to store away in a truck, van, SUV, or hatchback.
The batteries have been FDA approved for airline travel too, which means that most airlines shouldn't give you any trouble if you want to take this with you on a flight.
Note, however, that each airline sets its policies where that is concerned. If you do plan to take it on a flight, be sure to check with whatever airline you'll be flying with before you buy your ticket, so you don't have any surprises when you arrive at the airport.
Note that at 62 pounds, this chair is significantly heavier than many lightweight manual wheelchairs designed for air travel, which usually weigh 30-40 pounds. You will pay a premium for taking this one with you. But, if you have your heart set on it, it's certainly within the realm of possibility.
Where ease of use is concerned, the joystick controller you'll find here is identical to the ones you'll find on every other electric wheelchair. It only takes a few minutes to master the basics. Even if you're not particularly tech-savvy, you won't have any difficulty mastering the Rubicon's use.
Pros & Cons of Rubicon 6016
This is a great little chair. While we'd love to see a higher top speed and perhaps a bit more range, we honestly have no complaints about the Rubicon power chair or its capabilities. If you're not particularly brand conscious and take the brand element out of the ranking equation, the Rubicon scores an impressive 4.725 stars out of a possible 5.
It's extremely travel-friendly and can go just about anywhere. Unlike most of ComfyGo's other models, which only come with a 1-year warranty, this model comes with a 5-year warranty, which is comparable with many of the warranties you'll find on chairs and scooters offered by some of the biggest brands in the industry.
ComfyGo Rubicon 6016 Review Conclusion
We love the Rubicon! We believe here in our ComfyGo Rubicon 6016 review that the only thing that keeps it from scoring higher overall is the fact that ComfyGo is a small brand. While they offer 24/7 support, as a smaller brand, they cannot deliver quite the same level of support as the bigger players in the industry are.
If that's not a huge issue for you, we think you'll like this chair as much as we do. We highly recommend this model.
---
References & Resources: