Summary
CTM Power Chair HS 2800 is a surprisingly capable power chair, brought to you by a company that specializes in motorcycle parts.

Recommended for: Anyone weighing up to 300 pounds who are looking for a decent deal and is unhappy with other offerings. In our view, its best feature is its super-tight turning radius!
* Note regarding Brand Reliability: This metric is a measure of the strength and longevity of the brand, which by extension, is a measure of the level of support you can expect.
Do you suffer from some sort of mobility issue that makes it difficult to do the things you once enjoyed doing? Are you in the market for a robust mobility aid that can help you get around town as easily as it helps you get around the house? If you answered yes to those questions, then you're going to be intrigued by what you'll read here in our CTM HS2800 review.
CTM is an interesting company because it doesn't have a long history of manufacturing mobility aids. CTM has been around since 1995 and initially made a name for themselves by selling motorcycle parts. The CTM mini power chair HS-2800 represents a new direction for them, and, as you'll see, it's a much better product than you might expect a company's first attempt to be.
In the sections that follow, we'll step you through everything the 2800 has to offer. We'll also make a few mentions of the closely related power chair HS 2850, which is an incremental upgrade to the 2800, sharing a great many features in common.
Even if you ultimately decide this chair isn't for you, we think you'll be impressed that CMT was able to create such a great little chair on their first try. Let's take a closer look.
An Overview of the CTM Power Chair HS 2800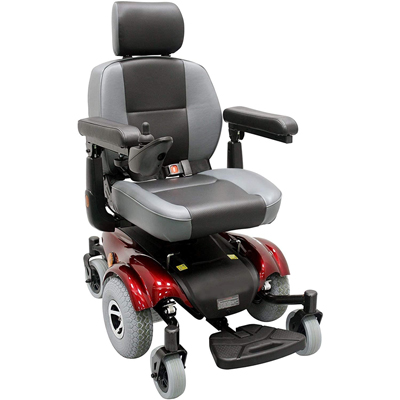 It's surprisingly handsome.
That's the first impression the HS-2800 power chair leaves most people with. That's helped by the fact that the machine has a very polished, finished look to it and is offered in a trio of different colors. If you want one, you can get yours in either red, blue or silver.
Whichever color you select, the seat of the unit is two-toned grey and black.
We very much approve of the look of the 2800 and note that CTM's prior experience with motorcycle parts likely gave them a leg up in terms of styling. If you squint, you can almost see traces of CTM's main business in the design.
Before we move beyond simple aesthetics where this model is concerned, we should take a look at the raw numbers that define it in this section of our CTM HS2800 review. We'll also put the numbers up for the upgraded CTM HS 2850 in the event that one model is a better personal fit for you than the other. Here are the basics for both:
| | | |
| --- | --- | --- |
| Specifications | CTM HS-2800 Power Wheelchair | CTM HS-2850 Power Wheelchair |
| Overall Dimensions | 41.5" L x 41.7" H x 24" W | 39" L x 42.5" H x 24" W |
| Seat Width | 19" | 19" |
| Turning Radius | 22.4" | 24.4" |
| Top Speed | 4 mph | 4.2 mph |
| Range | 14.3 miles | 12.4 miles |
| Wheel Size | 10" mid-wheel, 5" front, 8" rear | 10 mid-wheel, 6" front, 6" rear |
| Ground Clearance | 2.6" | 2.4" |
| Chair Weight | 206.1 pounds | 181 pounds |
| Maximum Supported Weight | 300 pounds | 300 pounds |
Overall, these are good numbers, but we're not sure we agree with the company's classification of the CTM mini power chair HS-2850 as a true upgrade to the 2800. Clearly, the company's goal was to reduce the weight, and they accomplished that, but the savings aren't what we'd call significant. It also comes at the price of a decrease in both range and ground clearance. Even when considering the 2800 model, the range is only nominally above average and strictly average where the "upgrade" is concerned.
We do like that CTM streamlined the wheel sizes (front and rear) on the upgrade. But again, this is a fairly minor change, as is the very slight increase in top speed.
The real headline in all of these numbers, though, is the turning radius, which is fabulous on both variants of the chair but slightly better on the older 2800 model. At a turning radius of under two feet, you can navigate through just about any space, and you should be okay even if you live in a tiny home or efficiency apartment. In fact, you can probably use this chair (either version) in an RV if you don't mind making three-point turns to change your heading.
The outstanding turning radius probably won't be enough to prompt you to buy this model over some other or it might suit you, depending on your particular needs.
Adjustability and Comfort of the CTM HS2800
We regard this as an above-average component of our review because both the CTM HS 2800 and CTM power chair HS 2850 are more adjustable than we were expecting. At first glance, it doesn't seem so because the seat is fixed in its height and sits 22" off the ground.
The footplate, however, can be adjusted via three different dimensions, allowing you to customize the space between where your feet go. The seat and the armrests are both height and width adjustable, giving you a fair amount of flexibility in terms of customizing your chair. There's also some play in the angle of the seat, allowing you to cant back slightly if that would make for a more relaxing ride.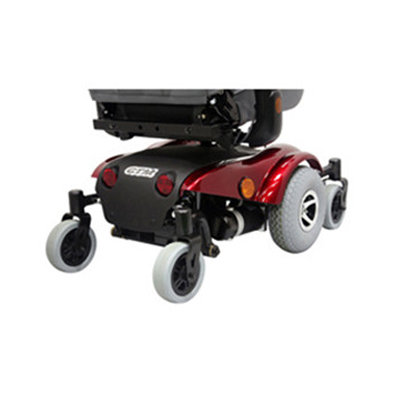 On the comfort front, it's a bit of a mixed bag. The seat is well padded with conventional block foam and offers a reasonably comfortable seating experience. Unfortunately, it's clad in vinyl upholstery, which tends to get hot the longer you sit in it.
The company did take steps to mitigate this. The center upholstery (black, where the rest of the seat is gray) is perforated for added breathability. But honestly, given the average range, you're not going to be spending all day in this chair anyway. Once you run the batteries down, you'll probably want to get up and do something else while it's recharging.
If you do want to buy this and use it as more of a lounger, you'll want to invest in some additional padding for the seat and possibly the seatback, but this is a modest additional investment. If that's your plan, memory foam is pricey but offers spectacular comfort. Be sure also you get something upholstered in cloth, so it's not so hot.
Extras and Options of the CTM HS-2800 Power Chair
This is probably the strongest component of our HS2800 review, and we found that to be a pleasant surprise indeed because we weren't expecting much. CTM is, after all, a rather small, relatively unknown brand, and most companies that fall into that category don't offer much in the way of extras.
On the company's website, you'll find:
A rearview mirror
Rear-mounted storage bad (two different variants)
A sunshade
A canopy
A storage cover
A cane holder
A crutch holder
Front and rear-mounted storage baskets
And a color-matched locking cargo compartment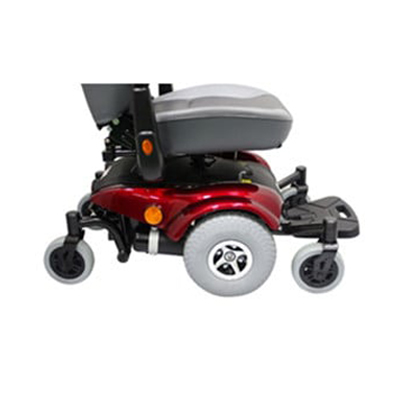 Of course, if those aren't enough options for you, you can always hit the aftermarket to find any other accessory you might need. But, this is honestly a fantastic selection. We suspect that this is an outgrowth of CTM's background as a motorcycle parts supplier. Since the company is already in the habit of supplying individual pieces and parts, it wasn't much of a stretch for them to offer a wide range of extras here.
Another point of interest is that the company offers plenty of CTM HS-2800 power chair parts, including replacement wheels, a wider (22") seat, and an alternate handlebar for steering.
Again, this plays to the company's native strengths, since they made their reputation in the motorcycle market by offering a wide range of parts. It serves them very well indeed in this market!
Portability & Ease of Use of the CTM HS-2800 Power Wheelchair
This section is a bit of a mixed bag, both for the HS 2850 power chair and 2800. On the one hand, both models feature a simple joystick controller that's super easy to use and master. If you spend 10-15 minutes sitting in the chair, you'll be able to pretty well master it.
Whichever model you get, you'll also have the benefit of an absolutely spectacular turning radius, which makes the company's products ideal for people who live in small homes, efficiency apartments, tiny homes, and even an RV!
The downside is the weight.
The lightest of these two models weighs in at a hefty 181 pounds, and the heavier (older) model is twenty pounds heavier than that.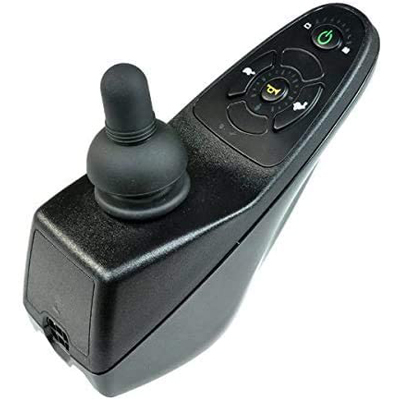 While it's true that you can disassemble the chair to make transport a bit simpler, you're still dealing with a substantial amount of weight. In particular, if you're looking for a chair you can take on a flight with you, this isn't the one you want. Airlines charge by the pound. In that case, it doesn't matter that you can take it apart; the weight fees will eat you alive.
If you're patient and don't mind taking the time to dismantle your chair before you depart, then spend time putting it back together when you get where you're going. You can more or less get around the weight issue, but ideally, with this chair, you'll either invest in a lift so you can tote it behind your vehicle or simply use it at home and around the neighborhood.
Now, let's talk about range and ground clearance. The range is average to just a shade above average, depending on which of the two models you gravitate toward. It's fine for use around the house, around your property, or in town, where a power outlet is relatively close at hand, but it isn't sufficient to take extended trips in the chair.
On top of that, these chairs don't have a lot of zip to them. It's faster than walking, but if you're in a big hurry to get somewhere, these two models will leave you underwhelmed.
Although the drive wheels are fairly large (10") and have good tread, the ground clearance is disappointingly low. You can use either model on flat, paved surfaces, any indoor surface, and even around your yard or at a campground, provided the ground is level and relatively free of obstructions, but this is definitely not an adventure chair.
Ultimately it comes down to understanding how you'll be using the chair before you buy.
Pros & Cons of the CTM Power Wheelchair HS 2800
In no particular order, here are the things we think you'll like best about the two CTM power chairs:
It's a good-looking product offered by a smaller but well-respected company that got its start in the motorcycle world and has recently expanded into the mobility industry.
It's surprisingly adjustable
The company supports both models with a surprising number of accessories, allowing you to customize and personalize your ride to your heart's content.
And it has an absolutely amazing turn radius, which we regard as one of its best features, whichever model you prefer.
In addition to the above, we should point out that CTM offers a limited lifetime warranty on the frame and a two-year warranty on the electronics. Most off-brands and smaller companies only offer a 1-year warranty, so this too is a pleasant surprise.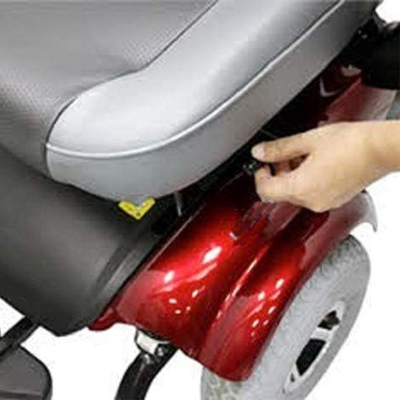 On the other hand, the chair does have some shortcomings. These include:
It has a relatively modest top speed
An average (the 2850 model), to slightly above average (the 2800) range
And a low ground clearance that marks it as a chair primarily for use in urban environments.
We don't regard any of these as outright deal-breakers, but if you're specifically looking for a chair that's optimized for outdoor use and something that's capable of navigating almost any terrain, this isn't the model you want.
Granted, the mid-wheel drive helps some because front-wheel drive chairs tend to get hung up more easily in challenging terrain, but ultimately, the ground clearance just doesn't allow this chair to navigate much beyond flat, unobstructed areas.
CTM HS2800 Review Conclusion
Whichever model you favor, the CTM power wheelchair is a surprisingly good offering, especially given that the 2800 represents CTM Mobility's first foray into this market.
Both fall just short of true greatness, but they are absolutely worth considering, especially if you've been unimpressed by the other models in your price range. On that basis, we provisionally recommend both models here in our CTM HS2800 review.
If, for whatever reason, the power chair HS-2850 or its slightly older cousin, the 2800, aren't good fits for you, you may want to consider one of the following:
Comparable Products to Consider
With a similar ground clearance and feature set, this model has the advantage of being offered by one of the biggest and best companies in the mobility industry. It's also slightly less expensive, so you'll have more money left over to trick it out as you see fit.
This chair is somewhat more expensive than either of the models we just looked at, but it's much more travel friendly, weighing just a fraction of what the models above do. It does have the disadvantage of only supporting up to 265 pounds, so not everyone will find this one to be a good fit. If you do though, and you care more about travel friendliness than turn radius, this would probably be a better fit.
---
References & Resources: