Summary
Cruiser 3 is one of the best low-priced chairs Drive Medical makes.
Recommended For: Anyone on a budget who weighs up to 350 pounds.
*Note regarding Brand Reliability: This metric is a measure of the strength and longevity of the brand, which by extension, is a measure of the level of support you can expect.
Do you suffer from a mobility issue that sees you spending at least part of each day in a wheelchair?
Do you long to travel as you did before suffering from the mobility issue? And, are you on a budget?
If you answered yes to all three of those questions, then you know how difficult it can be to find a chair that's robust enough for daily use, light enough to take on the road with you, and inexpensive enough that you can work it into your budget.
Fortunately, Drive Medical has the solution. The Cruiser III is the latest iteration of the company's Cruiser wheelchair, a budget-priced option that's honestly an amazing, versatile wheelchair. Even if you ultimately decide you want some other make and model, we think you'll be impressed by what you read here in this Drive Cruiser 3 review.
In the sections that follow, we'll go over every inch of this amazing little chair and show you all the ways it can help you. If you're intrigued and interested in knowing more, read on!
An Overview of the Drive Medical Cruiser III Wheelchair
Offered in basic black, the Cruiser III design team didn't take any chances where the look of their award-winning wheelchair was concerned. It is designed along purely conventional lines, which means it looks more or less like most of the other wheelchairs on the market today.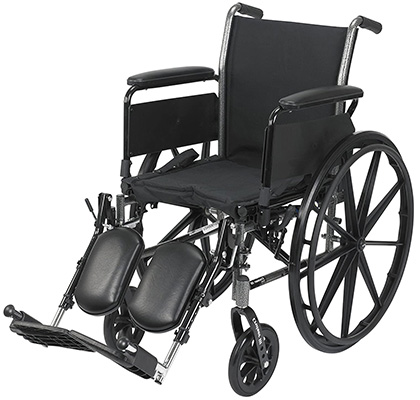 That said, Drive did give it one small finishing touch, which enhances its aesthetic in the form of the stylish mag wheels on the unit. It's a small detail, but it does add a bit of drama and flair to the design.
Before we say more than that in this section of our Drive Cruiser 3 review, let's take a quick look at the core stats that define the model. Here are the basics:
Overall Product Dimensions: 28" (W) x 42" (D) x 35" (H)
Seat Dimensions: 20" (W) x 16" (D) (this chair can also be ordered with an 18" or a 16" wide seat if you prefer)
Chair Weight: 41 pounds
Maximum Supported Weight: 350 pounds
We're quite pleased with these numbers. The chair is narrow enough that it will fit through a standard-width door. Do bear in mind, though, that there's not a lot of room to spare, so it pays to mind your knuckles if you're propelling yourself and keep your limbs tucked in if someone is giving you a push.
The seat width is versatile and will accommodate a broad range of body shapes and sizes. Even better, you can choose from a total of three different seat size configurations at the point of sale, so you have some freedom in customizing your ride. Just be sure to take a quick measurement, so you know which seat size offers the best overall fit for you.
The weight is about average.
Note that we normally consider chairs 40 pounds and under as being good for stowing in the trunk of your car and taking with you on trips. This one comes in 1 pound over our admittedly arbitrary threshold, but the Cruiser III is such a good chair that we're willing to overlook the extra pound of weight.
We also love the fact that the chair supports up to 350 pounds of user weight. Most of the chairs sold today top out at 300 pounds, and we regard anything over that as being very good indeed. The Cruiser III doesn't exceed the standard threshold by a bunch, but more supported weight is always welcomed and makes the chair useful to an even bigger slice of the market.
Adjustability and Comfort
There are two adjustable features to talk about, regardless of what options you order with your Drive Medical Cruiser III chair.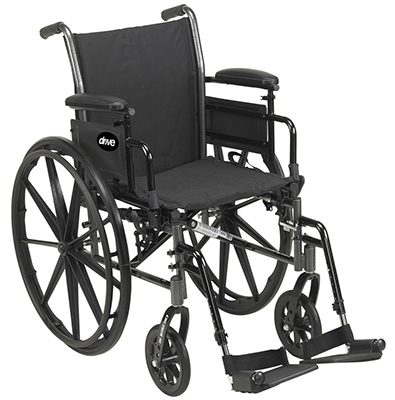 First and foremost, the seat height can be adjusted from a low of 17.5" to a high of 19.5" (Hemi-Height).
Second, when you buy one of these, you have the option of getting either swing away, or elevating leg rests.
Whichever you choose, the leg rests are length adjustable. Between the two, then you've got a fair amount of flexibility in terms of customizing the fit of your chair.
There's more, but the rest is better described in the next section!
In terms of comfort, the Cruiser III is not bad. However, its default configuration is better suited for shorter periods of sitting. The upholstery is durable nylon, which is breathable, but sans padding, is bound to get increasingly uncomfortable the longer you sit in it.
Fortunately, the upholstery is aided by calf pads and padded armrests, which work well with the nylon seat and seatback to enhance the comfort of the chair. Even so, if you plan to spend several hours of every day in the chair, you'll almost certainly want to invest in extra padding for the seat and/or seatback.
Extras and Options
At the point of sale, you can select either flip-back, removable, and height-adjustable desk-length armrests or flip-back and removable full-length armrests. Personally, we love the desk-length arms because their inclusion gives you yet another height-adjustable feature and you don't have to transfer out of the chair to work at a desk or enjoy a meal with family and friends.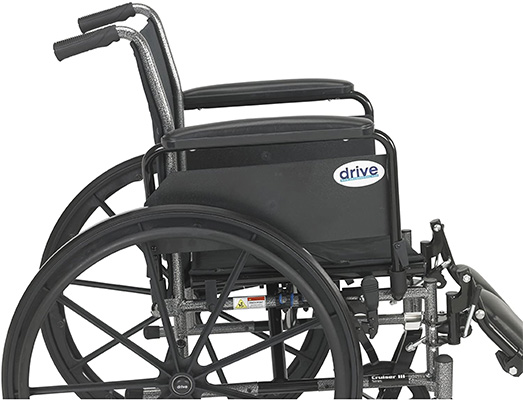 Ultimately though, the option you select here depends on how you plan on using the Drive Cruiser III. There are no right answers here, beyond your needs and preferences.
Note that this chair does not come with any sort of padding or any onboard storage. Where these are concerned, you're better off going with something you pick up from one of the innumerable third-party vendors selling those types of accessories. Of course, Drive also sells a wide range of accessories that work with their chairs. So, if you need an O2 holder, an IV holder, or a combination, you can pick something up from Drive.
This gives you the best of all worlds, really. You get a robust, capable, basic wheelchair at a price that will leave you with money in the bank, and a world of customization options, both from Drive and from third-party vendors that will allow you to customize the wheelchair to make it exactly what you want it to be.
Portability & Ease of Use
As we mentioned earlier, 40 pounds or less is our sweet spot in terms of what makes for a highly portable wheelchair that's ideal for taking with you on the road. The Drive Medical Cruiser 3 pushes the envelope slightly, being a pound over that line, but…it's just a pound, and given the strength of this design, it's hard to begrudge Drive that tiny amount.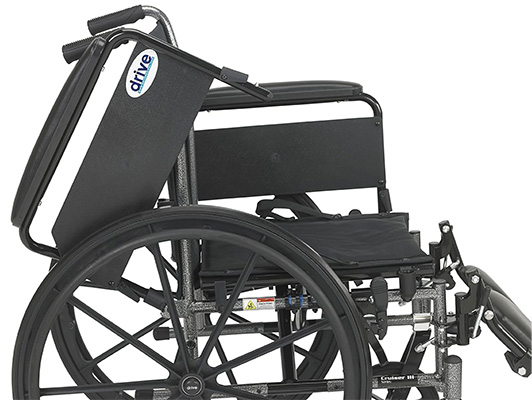 When collapsed, the Cruiser III presents a profile that's just 12" wide, making it easy to find room for it in the available trunk space of most full-sized sedans, which naturally makes it even easier to store in an SUV or van.
It's even small and light enough that you should have no difficulty bringing it with you on an airplane, but bear in mind that each airline has different policies. So, you'll be well-served by calling before you fly to make sure there won't be an issue. That's not something you want to find out when you're trying to board!
In terms of handling, it's a dream. Note though that the default 24" wheels that come with this unit have no tread, so it's best suited for navigating through flat, level terrain.
If you're interested in taking your wheelchair onto uneven ground (parks, hiking trails, and the like), you're going to want to swap the wheels out for something better suited for those types of terrain.
Pros & Cons of Drive Medical Cruiser 3
Most low-priced wheelchairs don't give you a lot of customization options. The Drive Wheelchair Cruiser III is a happy exception to that rule, allowing you to select from a number of combinations of armrests and leg rests, not to mention the three-seat size configurations.
That's superb in our view, and it gives you enough freedom and flexibility that you can really make the chair your own, tailoring it to your specific needs. Combine that with the wide range of options and accessories available, both from Drive and from third-party vendors, and it's hard to find anything negative to say about this robust, versatile little chair.
Drive Cruiser 3 Review Conclusion
As mentioned in the previous section here in our Drive Cruiser 3 review, we love the wheelchair.
The only thing that would make the chair even better in our book is if the company could find a way to shave a few pounds off the total weight without reducing the maximum supported weight, but that's a very minor gripe indeed. We regard this as one of the best low-priced models Drive makes, and we highly recommend the model. It won't disappoint!
---
References & Resources: