Summary
Drive Silver Sport 1 is a great chair, offered at a surprisingly low price by one of the best companies in the industry today.
Recommended For: Anyone weighing up to 300 pounds, and especially those on a budget.
*Note regarding Brand Reliability: This metric is a measure of the strength and longevity of the brand, which by extension, is a measure of the level of support you can expect.
Are you on a tight budget? Are you also in the market for a versatile wheelchair that's sturdy enough for day-to-day use but also light enough that you won't have any problems tossing it in the trunk of your car and taking it with you on a trip?
It can be both frustrating and tricky to find a chair that meets both of those requirements, and if that's what you're looking for, you're going to like what you read in this Drive Silver Sport 1 review.
Simply put, Drive is one of the biggest and best names in the wheelchair industry today. They make consistently great products, and they have a long history of standing behind them.
While it would be overselling it to say that this is a perfect chair, it gets an awful lot right, and much of what it gets wrong or doesn't handle as well as we'd like can be forgiven thanks to its incredibly low asking price.
If that sounds like music to your ears, read on, and in the sections that follow, we'll tell you more.
An Overview of the Drive Medical SSP118FA-SF Silver Sport 1 Wheelchair
If the name of this model seems familiar, it may be because you've read our review of the Silver Sport Reclining Wheelchair, which is based on this model and serves as its big brother.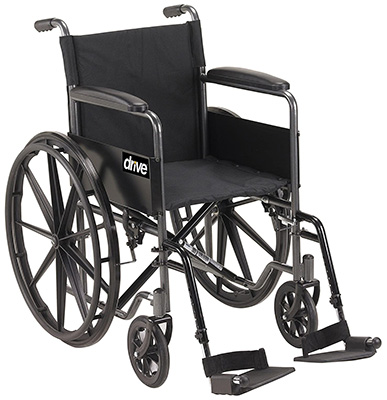 This is a budget-priced chair and about as basic as it gets. There's nothing flashy or showy about this little chair, which has a purely conventional design. It's functional and utilitarian. It looks like it has a job to do, and it's ready to get down to it.
On the whole, we regard that as a good thing. Designers always take a chance when building a model with flash or flair because everyone's tastes and preferences are different. By sticking to convention and focusing on function over form, the company made a chair that would appeal to as many people as possible, and we can't really fault them for that.
Before we say more here in this section of our Drive Silver Sport 1 review, let's take a quick look at the chair by the numbers:
Overall Product Dimensions: 24" (W) x 43.5" (D) x 36" (H)
Seat Dimensions: 18" (W) x 15.75 (D)
Chair Weight: 37.6 pounds
Maximum Supported Weight: 250 pounds
These are good numbers and perfectly in line with an average-sized, conventionally designed wheelchair. There aren't really any surprises here, and the numbers underscore the fact that this chair was designed to appeal to as many people as possible, as inexpensively as possible.
Adjustability and Comfort
The Drive Silver Sport wheelchair isn't terribly adjustable. If you decide you want one, you can choose either swing-away or elevating leg rests.
There are plenty of other models out there that offer leg rests that do both, so we regard this as a weak spot in the design. It's certainly not a crippling one, but you will need to think about how you plan to use the chair before making your decision.
Whichever type you choose, you can adjust the length of the legs to suit your needs. Note, however, that you cannot adjust the height of the seat.
It's static at 19.5."
Comfort-wise, it's better than you might expect. The upholstery is durable nylon, which is breathable and quite comfortable for shorter periods of sitting.
In addition to that, you can get leg rests with or without calf pads, and whether you select desk length or full-length arms, they will be padded as well, which helps to enhance your comfort further.
Unfortunately, if you plan on spending significant portions of each day in the chair, these things alone won't be sufficient, and you'll want to buy some additional padding for the seat and/or the seatback. The good news on that front is two-fold: The chair doesn't cost much money, which will leave you plenty to spare for buying whatever padding you like, and there are tons of great options available.
Extras and Options
The Drive Medical SSP118FA-SF only comes with one extra worth mentioning; it has built-in storage!
Granted, it doesn't have a lot, but you'll find a modestly sized storage pocket behind the seat that can hold a few critical supplies. You'll probably still want to invest in some extra storage. As with the padding we talked about above, there are tons of options available, most of which are quite reasonably priced.
It bears repeating that when you purchase one of these, you can choose either swing-away or elevating leg rests, either with or without calf pads. Also, you've got the option of getting desk- or full-length armrests depending on how you plan to use the chair.
Whatever you choose, we absolutely recommend getting the leg rests with calf pads as they will definitely make the chair more comfortable, especially if you plan on spending several hours a day sitting in the chair.
Where the armrests are concerned, desk length is what you want if you like the idea of being able to roll up to a desk or dining table and either work or enjoy a meal with family and friends. Full-length arms will be more comfortable but will almost certainly mean that you'll need to transfer from your chair to the dining table to enjoy that aforementioned meal.
Portability & Ease of Use
The Drive Medical Silver Sport wheelchair collapses down to a width of just 11." Given the other dimensions, it's easy to stow it in the trunks of most full-sized sedans. Naturally, it's even easier to find room for it if you have a truck, van, or an SUV.
In a similar vein, if you want to travel by air, you should have no trouble getting it onto the plane. The standard proviso applies here, though: Since every airline's policies are different, you'll definitely want to call ahead and check, just to ensure that there are no problems.
Pros & Cons of Drive Medical SSP118FA-SF
There's really nothing to complain about where the Drive Wheelchair Silver Sport 1 is concerned. Every point of weakness, the chair has come down to being a result of the fact that it's being offered at a bargain price.
Sure, you can't adjust the seat height, and it doesn't come with a lot of bells and whistles. The thing is, adding bells and whistles would increase the price of the chair, and it wouldn't be such a bargain anymore.
By giving you a good, functional blank slate of a basic wheelchair, it gives you the freedom to buy any extras you want. Best of all, you can do it incrementally as you've got the money. We like that, and we're betting you will too.
Drive Silver Sport 1 Review Conclusion
This is a really good, basic wheelchair with virtually unlimited potential because Drive sells so many accessories. As mentioned in the previous section here in our Drive Silver Sport 1 review, the ideal user of this chair would be someone who:
Weighs less than three hundred pounds
Is on a budget
And doesn't mind starting with a basic, no-frills chair and adding to it incrementally as additional funds become available.
If all three of those apply to you, you're going to love this model. The fewer of them that are applicable, the less impressed you'll be. On balance, though, we highly recommend it.
---
References & Resources: