Everest & Jennings: History of a Goliath's Fall from Grace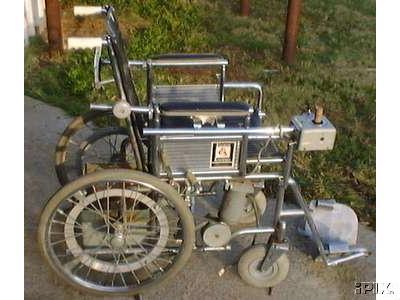 Sixty-eight years after Herbert Everest and Harry Jennings established the most successful company in wheelchair history, Everest & Jennings, I sat in my powerchair on a dark section of Bourbon Street in New Orleans at 3 am. I finished the last day of a tradeshow, where E&J had a sparse booth, and happened to run into a friendly E&J representative as I spent a late night out on the town. "E&J's on a comeback," he said, sounding like a forty-year-old prizefighter, twenty years past his prime.
And, indeed, there's not a better simile for Everest & Jennings - the corporate goliath that dominated the world's wheelchair marketplace for fifty years, then crumbled under its own corruption and arrogance. It truly is the classic tale of a brutal fall from grace, a broken ex-prizefighter, long forgotten in favor of new champs, holding himself up with little more than the memories of whom he once was.
The year was 1933, and two friends, Herbert Everest, a paralyzed mining engineer, and Harry Jennings, a mechanical engineer, prepared to launch the latest innovation in "invalid carriages" from their West Los Angeles garage: A lighter, better-performing version of a tubular steel, folding manual wheelchair previously patented by another inventor in 1909. E&J's version featured an innovative X-frame, allowing the chair to easily fold for transport, yet remain relatively rigid in use - and a patent was granted in 1937 for their improvements.
By 1943, E&J's X-frame design was catching on as an industry leader, even with President Roosevelt, who commissioned E&J to build him a chair for use on his airplane. What's more, in 1953, the Red Cross ordered 5,000 wheelchairs from E&J for returning World War II servicemen, and in 1956, the company released the first mass-market powerchair.
With E&J's success, others sought to capitalize on their own innovations by striving to compete with E&J, both in the U.S. market and abroad. In 1968, seeking to control the wheelchair market worldwide, E&J embarked on an international expansion and buy-out campaign, soon controlling 90-percent of the wheelchair market in the U.S., and utterly dominating Canada, Mexico, England, and Germany, to name a few countries.
Despite E&J's phenomenal business growth and market share, it practiced almost no innovation or improvement within its product line, with wheelchairs in the 1970s still painfully mimicking those it manufactured in the 1940s. The E&J Premier powerchair with flimsy forks in the 1950s, bending upon the user's first outdoor venture, still had them in the 1960s, and 1970s, and 1980s. Worse yet, because E&J monopolized the wheelchair market, it could all but charge what it wished, demanding $435 for a crude, hospital-type manual chair in 1973, a price that would even be expensive for that level of a wheelchair today, almost 30 years later. By its 1-millionth wheelchair in 1973, E&J demonstrated almost no regard for business ethics or consumers' needs - a shameful business culture that was publicly ridiculed, and rapidly catching up with E&J's executives. The U.S. Justice Department, in 1977, filed an antitrust suit against E&J, charging them with "monopolizing and attempting to monopolize the manufacture and sale of wheelchairs," a case that was settled in 1979.
Whether it was as a result of the antitrust case or consumer discontent, the early 1980s brought a sharp increase in competition for E&J. Quickie brand chairs - ultralight, high-performance, sleek - showed E&J's chairs as prehistoric, and companies like Invacare and Fortress aggressively went after E&J's powerchair market with vastly superior products. E&J fell farther and farther behind the innovation curve and marketplace, becoming merely a me-too company, copying other's innovations years after a given design trend. As Quickie excelled in the mid-1980s, E&J tried to get in the sportschair market with its Mirage and Impulse sportschairs, failing miserably to a still-resentful consumer base, who saw through E&J's half-hearted attempts at revitalization. The following 15 years would carry E&J from where it once stood atop the world, to little more than a bit player in the wheelchair marketplace. Such E&J powerchair products as the Explorer, a Fortress knockoff, or the Lancer, an Arrow knockoff, or the Solaire, a Jazzy knockoff, all proved as downward stepping stones for the ailing company, resulting in its reorganization under bankruptcy protection at the eve of the 21st Century.
Today, E&J doesn't rank anywhere near its once competition, entirely eclipsed. If Sunrise Medical, Pride, and Invacare are battling at the World Champion level, E&J barely has the strength to shadowbox itself. The question is, will E&J ever recover, regaining a meaningful share of the wheelchair market, or will it continue its path toward complete dissolution in the next few years? It's anyone's guess. However, one aspect is a given - no other company affected the lives of 20th Century wheelchair users as much as Everest and Jennings, for better and for worse, forever finding a place in wheelchair history.