Summary
An awesome, value-priced traveling chair that simultaneously caters to more lightly built folk while not leaving the rest of the market out in the cold.
Recommended For: Anyone weighing up to 300 pounds who puts a premium on adjustability.
*Note regarding Brand Reliability: This metric is a measure of the strength and longevity of the brand, which by extension, is a measure of the level of support you can expect.
Are you in the market for a wheelchair that's durable enough to stand up to the rigors of daily use, yet light enough you can take on the road or on an airplane with you when you travel? Are you more lightly built?
If you answered yes to both of those questions, then you're going to like what you read in this Everest and Jennings Traveler L4 review. Even if you're not lightly built, you're going to like what this chair has to offer.
Everest & Jennings is a well-known, well-respected name in the wheelchair industry, and they've got a solid reputation for producing quality products and standing behind them.
The Traveler L4 is an excellent example of their work and a close cousin of their popular Traveler L3 model.
Where the L3 was designed more as a general-purpose lightweight wheelchair, this model is more tightly focused on people with slimmer, lighter builds. As you'll see, though, it accomplishes this goal while still catering to the larger market.
Of the two, this chair is also more adjustable. If that's what you're looking for, you are in for a real treat where this chair is concerned.
We'll be quick to point out that this is a budget-priced chair. As such, there are hard limits to what it can do. Within those limits, though, this is an impressive little chair. In the sections that follow, we'll tell you everything it brings to the table and why you should consider investing in one. If your interest is piqued, read on, and let's take a closer look.
An Overview of the Everest & Jennings Traveler L4 Wheelchair
Like its cousin, the L3, this chair is designed along purely conventional lines. It's not flashy or showy, but the designers did incorporate mag wheels into the mix, which gives it a vaguely sporty feel. It is doubtful that anyone would buy this chair on that basis alone, but it's certainly not horrible to look at with its solid black construction and sharp-looking wheels.
Before we get into specific features in this section of our Everest and Jennings Traveler L4 review, let's take a quick look at the core stats that define the model. Here are the basics:
Overall Product Dimensions: 28.5" (W) x 32" (D) x 37" (H) (depending on seat height position)
Seat Dimensions: 20" (W) x 16" (D) (Note: The company also offers this chair with a 16" or an 18" seat width. If you order one of those variants, the width of your chair will be reduced by a corresponding amount (the chair with the 18" seat is 26.5" wide, and the chair with the 16" seat is 24.5" wide).
Chair Weight: 32 pounds
Maximum Supported Weight: 300 pounds
These measurements are very close to those offered by the L3. It should be noted, though, that you can order this chair in a 16" seat depth, reinforcing the notion that this chair was really designed and optimized around the idea of catering to smaller people who are more lightly built. Note that with the 16" seat depth option, the amount of weight this chair will support is reduced to 250 pounds.
In our view, this is a brilliant approach. The smaller seat dimensions are custom made for more lightly built people, and this chair manages to cater to them while still accommodating larger folks with the 18" seat dimensions—great move and proof positive that Everest and Jennings really know how to build a top-flight chair.
Aside from that, no matter which option you select, the chair is narrow enough that it will fit through a standard-sized doorway. Be aware, though, that you won't have much room to spare if you get the 20" wide seat, so mind your knuckles.
We love the fact that there are so many seat configuration options to choose from here too. That's unusual in such a low-priced chair. For the most part, wheelchairs offered at this end of the price spectrum are strictly "What you see is what you get." It really feels like you've got some significant choice here, and that's pretty cool.
The maximum supported weight of the chair is strictly average at 300 pounds. While there's no formal standard, that's the number that most manufacturers tend to build around, and this chair is useful to 95% of the market at that supported weight limit.
Adjustability and Comfort
For the money, this is an insanely adjustable little chair. It's got the "Big Two" covered, allowing you to adjust the length of the legrests and seat height to either 18" or 20" at your preference.
In addition, the Traveler L4 Everest Jennings wheelchair allows you to adjust the height of the seatback to either 16.5" or 18," depending on which provides the better overall comfort and fit for you. Three adjustable features on a value-priced chair? That's a rare thing indeed.
Comfort-wise, you'll find padded armrests and durable, breathable nylon upholstery, which make for a reasonably comfortable seating experience for a maximum of 4 hours. If you plan on spending longer than that in the chair, you'll almost certainly want to invest in some seat and possibly seatback padding, though.
Note that the arms are not height adjustable, but you can opt for your choice of full-length or desk-length arms if you decide you want one of these. This is another point of departure from the design of the L4, which is only available with desk-length arms.
The full-length arms are probably the way to go if you're planning on spending serious amounts of time in the chair as they'll be more comfortable over the longer term.
On the other hand, if you want to be able to work from your chair without having to transfer to an office chair, desk-length arms will serve you better.
Similarly, desk-length arms are what you want if you want to be able to enjoy a meal with family and friends without having to transfer from the wheelchair to a dining chair.
One final thing to note about the armrests is this: Whichever option you select, the arms have a swing-away feature, which makes transferring into or out of the chair an easier proposition. It's a nice detail that we really like about this chair, and it just makes it easier to use.
The leg rests of this chair share a weakness in common with both the L3 and the Advantage LX (both similar models), and that is in the design of the leg rests.
They swing away but do not elevate, and they lack calf pads or even a calf strap. The absence of any sort of leg support beyond the footrest does not lend itself well to long periods spent in the chair. It's certainly not an insurmountable problem, but it is a point of weakness.
Extras and Options
Remembering that this is a budget offering, it probably comes as no great shock that the Everest & Jennings Traveler L4 wheelchair isn't exactly brimming with extras. What is surprising, though, is that it has any at all, and it does! Everest & Jennings is one of the few companies in the industry that adds built-in storage to their designs, and sure enough, you'll find a small chart pocket on the back of the seat of this chair.
It's not a huge deal by any means. You'll almost certainly want to invest in some additional storage since the pocket is smallish, but honestly, we love that at least a little storage is present as a standard feature of the chair. It's another of those finishing touches that just make the chair feel awesome.
That's the only extra on offer. Of course, there are multitudes of possibilities to be found in the wheelchair aftermarket, so you've got virtually unlimited room to customize and personalize your chair.
Our recommendation would be to use it as-is for at least a few months to get a feel for what you want, and then start adding bits on that you find useful. Before you know it, you'll have exactly the chair you want!
Portability & Ease of Use
This is another area where the Everest and Jennings Traveler L4 wheelchair really shines. When folded, it presents a profile just 12.5" wide. The chair is very easy to store when traveling with its small folded profile and modest weight. It should fit comfortably into the available trunk space of just about any full-size sedan, and you'll have an even easier time with things if you own a truck, van, hatchback, or SUV.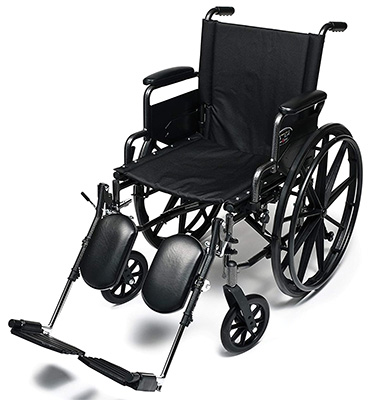 Air travel is always a bit trickier, and each airline's policies are different regarding what is and is not allowed. Still, generally, this chair is a good candidate for air travel. Airlines charge by the pound, so the lighter your wheelchair is, the easier on your wallet the trip will be. Although it's certainly possible to find chairs that are even lighter than this one, you'll be hard-pressed to find a lighter chair for the same or less money.
In terms of handling, it's not a huge chair. Since it's fairly light, you shouldn't have any trouble maneuvering around in it, even in fairly tight or cramped spaces.
The wheels are optimized for flat, level surfaces, including most indoor flooring types, sidewalks, parking lots, and shopping centers.
If you plan to use the chair in a park, nature trail, or other locations where you'll encounter rough or uneven terrain, you'll definitely want to swap the wheels out for something optimized to handle those types of terrain.
Pros & Cons of Everest and Jennings Traveler L4 Wheelchair
There's so much to like about the Everest & Jennings Traveler L4 lightweight wheelchair that it's hard to even know where to begin. It's an almost shockingly inexpensive chair. It's offered by a great company, and this model comes with an impressive five-year warranty to boot.
That's important because most insurance companies will only cover you for a new chair every five years. A lot of bargain-priced wheelchairs only have a one-year warranty, which means that it's on you if something happens to your chair during those other four years before your insurance will pick up the tab. The five-year warranty here then gives you tremendous peace of mind.
On top of that, as we mentioned earlier, it's an almost ridiculously adjustable chair for the money, and the design team found an intriguing way of catering to smaller and more lightly built folk without rendering the chair useless to the broader market. That's huge.
The only real downside associated with the design is the fact that the legrests aren't really optimized for long periods of sitting in the chair. The presence of calf pads would absolutely strengthen the model on that front, and at a nominal cost. We'd love to see them added in some future model update, but honestly, that's the biggest gripe we've got where this chair is concerned.
Everest and Jennings Traveler L4 Review Conclusion
We love the Traveler L4, and we think you will too. As mentioned early on here in our Everest and Jennings Traveler L4 review, it's an amazing chair for the money and one of the best value-priced chairs we've seen.
This one comes highly recommended.
---
References & Resources: