Summary
The EWheels EW 11 Euro Sport is a fun, fast, capable scooter with European styling.
Recommended For: Anyone weighing up to 400 pounds who wants to quickly get where they're going and is fond of European styling.
*Note regarding Brand Reliability: This metric is a measure of the strength and longevity of the brand, which by extension, is a measure of the level of support you can expect.
Have you been frustrated by the fact that most of the mobility aids on the market today are almost painfully slow? Are you looking for something with some zip to it? Do you want a scooter with flair and style? If you answered yes to the questions above, you're going to love what you read in our EW-11 scooter review. For the right person, this scooter is fantastic.
EWheels itself isn't a large or particularly well-known company. They're not a giant in the industry, but they are well respected. Their design team is world-class, which has enabled the company to produce a staggering array of eye-catching designs that are easily among the most attractive scooters on the market today.
The EW 11 Euro is an excellent example of their work.
We love it, and that fact is reflected in this review, but we'll be quick to point out that it's not for everyone as good as it is. In the sections that follow, we'll step you through everything this model has to offer, and we'll be quick to point out its shortcomings and limitations.
That way, you'll have all the information you need to decide for yourself if this is the scooter you've been searching for. If that sounds good to you, read on, and let's jump right into the details.
An Overview of the EW-11 Mobility Scooter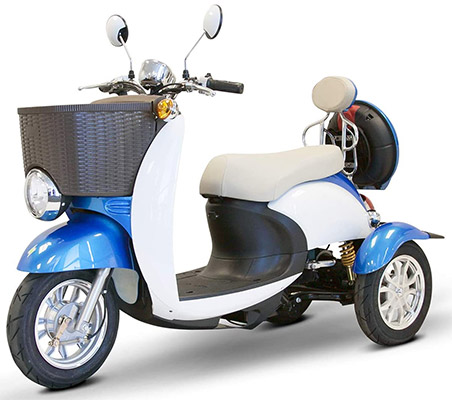 As the saying goes, you never get a second chance to make a first impression. The EWheels design team understands this, and the EW 11 makes a great first impression indeed. In fact, the striking good looks of this design are one of the first things that most of the EW 11 scooter reviews you'll find on the web gravitate toward.
It's easy to understand why.
After all, while looks don't matter as much as raw functionality, they're not totally unimportant, either. And this model proves that you can absolutely have the best of both worlds—a scooter that will get you where you want to go, restoring at least a measure of your freedom and getting you there in style, too. That's awesome.
Of course, that's only true to the extent that you admire European styling. Some people don't, and if you're one of those, then you won't be impressed.
Even if you're a fan, looks will only take the design so far. People get a mobility aid because they need help getting from point A to point B, and ultimately, the scooter you pick has to be able to get the job done.
What really matters, then, are the numbers that the machine was designed around. Let's take a closer look at those to see what the EW 11 scooter can do.
Here's a quick overview:
Overall Product Dimensions: 67" L x 29" W x 38" H
Seat Dimensions: 23" L x 13" W x 11" H (Motorcycle-Style Saddle Seat)
Seat to Floor Height: 27"
Top Speed: 12 mph
Range: 40 miles
Wheel Size: 10" x 3"
Ground Clearance: 5"
Scooter Weight: 285 pounds
Maximum Supported Weight: 400 pounds
There's a lot to talk about where these numbers are concerned, but we'll try to be brief.
First and foremost, note the seat dimensions. It's a saddle-style motorcycle seat, which makes sense given the three-wheeled Euro-scooter design. Some people don't like three-wheeled designs because they are more prone to tipping.
If that describes you, then no matter how attractive you find this EW mobility scooter, you'll probably give it a pass in preference for a four-wheeled design.
Also, note that this is a heavy machine. It doesn't collapse, and it doesn't fold down. You'll either need a truck or a van with a ramp or some type of lift behind your car if you want to take it traveling with you. We'll have more to say about that later on. For now, though, it's enough to note that it's a fairly big machine, and it's heavy.
Most of the scooters on the market today have a top speed of between 3 to 5 miles per hour. It's faster than walking, but not by much. This machine blows the average right out of the water. While 12 miles per hour would be considered painfully slow for a street vehicle, this one moves like lightning in the world of scooters, and it's got an incredible range to boot.
When you combine that with its impressive ground clearance, you get a machine that you can use just about anywhere, and that's awesome.
One last thing to call your attention to here before we move on is the fact that if you decide you want one of these, you can order yours in either red or blue. Both color options look amazing, so neither will disappoint!
Adjustability and Comfort
This is a relatively weak section of our EW-11 scooter review because although the raw numbers paint it as a superbly capable machine, it's also a strictly "what you see is what you get" design. The numbers are the numbers.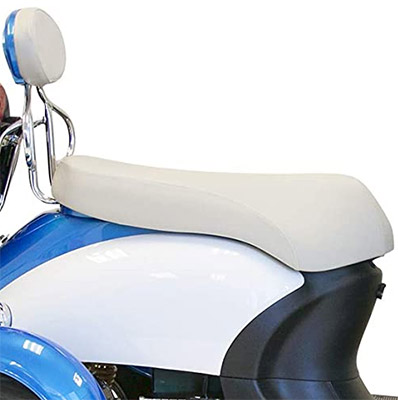 You can't adjust the seat's height, the angle of the steering column, or anything else, which means that you'll want to take careful measurements of yourself to be sure that you and the EWheels EW11 are a good fit for each other.
The scooter fares a bit better on the comfort front. The seat is reasonably well padded with conventional block foam and is upholstered in vinyl. We understand the choice of vinyl here. It's cheap, so it helps keep the total cost down, and it's easy to care for, but it does have a few limitations that are worth mentioning.
First and foremost, vinyl is hot because it's not breathable. The more time you spend on the seat, the hotter you're going to get.
Vinyl also isn't known for its durability, so after a year or two, you can expect that it will start showing its age by peeling and cracking, even if you take meticulously good care of it.
The good news is that there isn't a ton of upholstery to contend with, and when that inevitably happens, it's relatively inexpensive to have the seat re-covered.
Normally, this is where we also point out that you can find as much additional padding as you like on the aftermarket, so if it's not as comfortable as you like, you can fix that easily enough. Here though, you'll find relatively fewer extra padding options, given the style of the seat.
Naturally, they still exist, but they are a bit harder to find.
It's not something that will be a dealbreaker for most people in any case because the scooter is certainly comfortable enough for short to medium-duration rides. You'll be fine as long as you don't try to lounge on it all day.
Extras and Options
Where the last section was a bit on the weak side, this is actually a surprisingly strong segment of our EW-11 scooter review, even though the company doesn't sell any accessories for their machines at all!
However, one of the things that makes the EW-11 sport scooter so impressive is that it comes with a lot of extras baked into the design itself. These include:
A headlamp with high beam and low beam settings
Turn signals
A complete tail light assembly
A horn
An anti-theft system built-in
A handy storage compartment under the seat
And an additional, front-mounted storage basket
This is an impressive list, and if you decide you want or need something extra, like a cup holder, an oxygen tank or cane holder, or the like, those can be found on the aftermarket.
This is something that consistently impresses us about EWheels' entire product line. Not only do they look fantastic, but they're also brimming with extras and finishing touches that give their products a very refined, polished feel. It's absolutely fantastic and provides tons of value for the money.
Portability and Ease of Use
This is something of a mixed bag. The EW 11 mobility scooter is incredibly easy to use on the plus side. If you've ever driven an ATV or motorcycle, you'll feel right at home with the basic controls. Even if you haven't, it will only take a matter of minutes to master the basics. Kudos to EWheels for doing a superb job on that front.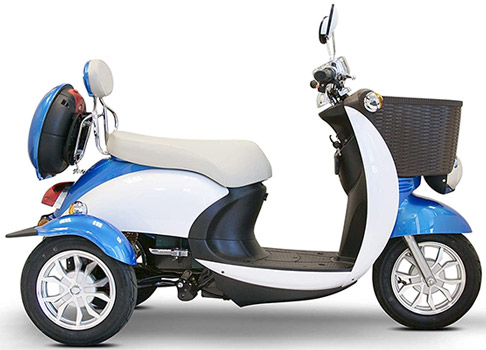 Now though, for the bad news.
As we mentioned at the start, this scooter weighs in at almost three hundred pounds. It isn't foldable or collapsible, which makes it… well, let's just say it's not especially travel-friendly unless you invest in a ramp and have a vehicle large enough to fit the scooter as is (a truck bed or a large, roomy van), or you buy a lift and mount it on the back of whatever vehicle you've got.
Both are good options, and both dramatically increase the travel-friendliness of this model, but especially where lifts are concerned, that's a significant additional investment and something that not everybody can afford on top of the price of the scooter itself.
It's also worth mentioning that the EW11 electric scooter is a total nonstarter where air travel is concerned. Airlines charge by the pound, and given the weight of this model, you'd probably have to pay such a premium to get it on the plane that you could just buy a new scooter when you got to wherever you're going. It would simply be ruinously expensive to fly with.
Pros & Cons of EWheels EW-11 Euro Sport Electric Scooter
There are only two real negatives that spring to mind where the EW11 scooter is concerned. First is the fact that it's not at all adjustable, so if the measurements of the scooter aren't a match for your measurements, that's going to be a dealbreaker—no matter how much you like the styling.
Second, it's not a portable, travel-friendly scooter. If that's specifically what you're in the market for, unless you've got the money to spring for a ramp or a lift, this probably isn't the one you want. There are tons of great, lightweight, travel-friendly scooters on the market that would just be a better fit for how you plan to use the machine.
We love everything else about this design.
EW-11 Scooter Review Conclusion
This is an amazing machine across the board. It's got great styling, an impressive range, and good ground clearance, and compared to its peers in the mobility industry, it's fast! On top of that, it supports an impressive amount of user weight.
If those features are important to you and you're a fan of European styling, you will love this machine. If portability and adjustability matter more to you, then this one will leave you unimpressed. On that basis, we can only give it a provisional recommendation. But if you decide to get one, we'll add that you will have a blast using it.
It's just a fun machine.
Comparable Products to Consider
If the EWheels EW 11 isn't a good fit for you for one reason or another, you should know that the company makes a stunning variety of other models, and one of those might be a better fit for you. Here are a couple of options to consider:
46
This is a four-wheeled model, and we're recommending it here for folks who just aren't comfortable with three-wheeled designs. If you're looking for a fun, capable machine that offers improved stability, this one belongs on your shortlist.
This one doesn't support quite as much user weight—only 350 pounds here—but the styling is more reminiscent of American motorcycles, so if the European styling isn't your thing, this is a good substitute.
---
References and Resources: