Summary
EW 36 is a fun, fast, capable scooter with European styling it is recommended for anyone weighing up to 350 pounds looking for a fast, versatile scooter to get around on.
* Note regarding Brand Reliability: This metric is a measure of the strength and longevity of the brand, which by extension, is a measure of the level of support you can expect.
Do you suffer from a mobility issue of one sort or another? Has that fact prompted you to begin looking for a good scooter or electric wheelchair that can help you regain some of your independence? Has the search to this point left you frustrated?
If you answered yes to the questions above, then you're going to be all smiles reading our EW-36 scooter review.
EWheels isn't a huge name in the mobility industry. Still, they've got tons of experience building top-notch machines and a good reputation for post-sales support. They also have one of the best design teams in the industry, which has allowed them to crank out a staggering array of eye-catching designs to suit just about every taste imaginable.
An American company, EWheels, designs their products here in the USA, sources the parts they need to build them from China to help keep their costs down, then assembles them here in the States.
There was a time when Chinese-made parts were a symbol of low quality, but Chinese manufacturing has improved dramatically in recent years. The quality difference is disappearing quickly, so not only do you save money by buying an EWheels machine, but you're getting a product of surprisingly good quality, to boot. That's a win-win!
The EW 36 scooter is a good-looking machine, especially when compared to the products offered by other companies. But surprisingly, it's not one of EWheels' most attractive models, designed to be more of a workhorse than anything.
If your curiosity is piqued and you want to know more, read on. In the sections that follow, we'll step you through everything that EW 36 mobility scooters are capable of, and we won't pull any punches when it comes to outlining their limitations.
That way, you'll have all the information you need right at your fingertips, so you can decide for yourself if this is the mobility aid for you or if your search needs to continue. Let's jump right in and take a closer look.
An Overview of the EW 36 Mobility Scooter
We've already mentioned that the EW 36 is a sharp-looking machine, so we won't dwell on that here. Suffice it to say that the least attractive machine offered by EWheels still compares favorably to everything else on the market. If you decide you want one of these, you'll be able to order yours in a wide range of colors. As of the time this EW-36 scooter review was written, the company had sold out of purple, but we'll include it in the color listing below for the sake of completeness. Your options are:
Red
Blue
Black
Green
Green Camo
Magenta
Orange
White
Yellow
Purple
Silver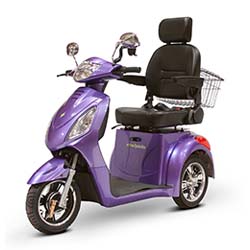 Given that most of the scooters on the market today don't offer color options at all, and the handful that does only offer 1-2 color choices, this is flat-out amazing.
Good looks and an impressive color selection will only get you so far. People buy mobility aids to help them get where they want to go.
The aesthetics are a bonus. With that in mind, let's turn our attention to the raw numbers that the scooter was built around. Here's a quick overview:
Overall Product Dimensions: 61" L x 29" W x 41" H
Seat Dimensions: 18" W x 18" D
Top Speed: 12 MPH
Range: 43 miles
Wheel Size: 15"
Ground Clearance: 4"
Scooter Weight: 215 pounds
Maximum Supported Weight: 350 pounds
With one exception, these are fantastic numbers. The Captain's style seat is generously sized and is a good pairing with the supported weight limit, which is above average. The ground clearance is good, verging on great, and the top speed and range are heads and shoulders above what most comparable products have to offer.
Most of the scooters for sale today top out at around 4 miles per hour, and have a range in the neighborhood of 12 to 15 miles, so the numbers here are superb.
The real issue and a potential stumbling block for some prospective buyers is the weight. It's a heavy machine, and in general, heavy means "not very travel friendly." If you plan to take your scooter on the road with you, this model will present some challenges. We'll have more to say about that later. For now, it's enough to simply draw your attention to it.
Adjustability and Comfort of EW 36 Mobility Scooters
This is a weaker section of our EW 36 mobility scooter review than we'd like because the simple fact is that this scooter isn't all that adjustable. With a couple of notable exceptions, it's a "what you see is what you get" design, so you'll want to make sure that your body's measurements are a good match. If they're not, this scooter will underwhelm you.
The exceptions are these:
First, the Captain's style seat slides forward and backward on the seat platform, allowing you to scoot closer to the steering column for added comfort. The headrest is also height-adjustable, and the armrests flip up to make transferring into and out of the scooter easier. You can't adjust the angle of the steering column, and there is no height adjustment for the seat simply because of the way this model is designed.
The EW 36 fares a bit better on the comfort front. The seat has a fair amount of conventional block foam padding, so it provides a relatively comfortable ride, and the padding is covered over with vinyl, which is easy to care for.
Vinyl, however, has its limitations. It's not at all breathable, which means that if you plan on using your scooter for extended periods, you'll inevitably get hotter and sweatier as the day wears on.
It also tends to start showing its age relatively quickly. After 12 to 18 months of use, it'll begin peeling and cracking, even if you're super careful with it.
The good news is that there's not a ton of upholstery to contend with, so having the seat re-covered when it's time won't be a major expense.
The other plus is that extra padding is easy to find and doesn't cost much to add. You can ultimately make this scooter as comfortable as you'd like by adding a memory foam pad, a gel-filled seat pad, or just more conventional block foam padding, covered over with a durable fabric to improve breathability. The sky's the limit here, and again, it won't set you back a ton of money.
Extras and Options of EW 36
Unlike the last section, this is actually a surprisingly strong portion of our EWheels EW 36 scooter review.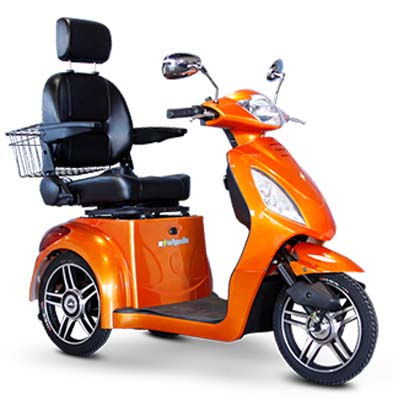 The EW 36 fares surprisingly well here because it comes with a whole raft of extras built into the core design. This is a common thread that ties all of the products EWheels makes together. They're all brimming with extras and little design flourishes that make them feel like very polished designs. Here's what you'll find included with the EW 36:
A headlight
Turn signals
A taillight assembly
A horn
An anti-theft device
A seat belt
An under-seat, built-in storage compartment
A rear-mounted storage basket
That's an impressive list of extras, which means that the EW 36 offers a ton of value for the money. If you decide you want or need something beyond this, then it's easy enough to find whatever you're looking for on the aftermarket. Kudos to EWheels for building so many great extras into the machines they sell!
Portability and Ease of Use
Early on, we mentioned that this was a heavy machine, and we said we'd have more to say about that later. Now is the time to give the topic the attention it deserves.
Many E-Wheels EW-36 mobility scooter reviews you find on the web make much of this and insist that it's a dealbreaker for most people. We take a different view. While it's true that it's a heavy machine, if you drive a truck or a van, you can pick up a ramp for a song, and suddenly, this model is a whole lot easier to travel with.
If you don't have a truck or a van, you can invest in a lift for the back of whatever vehicle you drive and solve the problem that way. Granted, a lift represents a significant investment, but that's certainly one way to do it if you want to take your scooter on the road.
Having said that, we will readily agree that the EW 36 isn't at all airline-friendly. Every airline sets its own policy about what they allow, but in general, it works like this: The airline will give you something like a fifty-pound allowance. If your scooter or chair weighs more than this, then you'll pay a premium for each pound over that limit.
The cost can add up quickly, and the premium for flying with this model can easily be more than the cost of the ticket itself. It's just not worth it.
On the other hand, EWheels takes pains to make all the equipment they sell incredibly easy to use. If you've ever driven an ATV or Moped, then you already know how to use this model. If you haven't, then you'll be able to master the basics in ten minutes or less. It's super simple and completely intuitive.
EWheels does a consistently fantastic job on this front, and it's one of the many reasons we like the company so much!
EW 36 Scooter Pros & Cons
There's really nothing bad to say about this design. The only two potential issues will be if you don't like the aesthetic of this particular model or if you're specifically looking for something lightweight and travel-friendly.
If you don't like the look of the EW 36 electric scooter, the company makes more than a dozen other designs, so it's easy to find something you like better while staying within the EWheels product family. If you're looking for something lightweight and travel-friendly, then this model might not be for you. But, there are ways around that, except for air travel, which this model just wasn't optimized for. Overall though, it's a fantastic and versatile machine.
EW-36 Scooter Review Conclusion
As mentioned in the previous section here in our EW 36 review, this is a rock-solid design offered by a good company you may not have heard of before. While we like some of the other models EWheels sells; there's not a thing in the world wrong with this one.
EWheels sells excellent products that are easily on par with and often better than what you find offered by the industry's leaders. In a couple of metrics (top speed and range), they absolutely blow the doors off what the industry leaders are offering. If you decide you want one, we feel sure you'll love it. We recommend it.
Comparable Products to Consider
If the EWheels EW 36 doesn't have the styling you're looking for, the company makes several other products you may want to consider. Two great possibilities are:
This is one of the company's four-wheeled models and an excellent option for those looking for increased stability. It's fast, capable, and brimming with extras.
If you're looking for something a bit more exotic, you can't go wrong with the EW 11. It features European styling, making it stand out on American shores. It's got a feature set similar to the model we just talked about, so it provides a totally different look without sacrificing performance.
---
References & Resources: