Summary
EWheels EW-46 4-Wheel Mobility Scooter is a highly polished, capable machine that's packed with features you'll love.
Recommended For: Anyone with the space to make full use of it. These are great machines offered by a company you may not have heard of.
* Note regarding Brand Reliability: This metric is a measure of the strength and longevity of the brand, which by extension, is a measure of the level of support you can expect.
Has your search for the "right" mobility aid left you feeling disappointed? Are you looking for a sturdy, capable machine that will get you where you want to go quickly and one that looks awesome in the same breath?
If you answered yes to the questions above, then you're going to love our EW 46 review.
You may not have heard of EWheels before. They may not be a huge, dominating force in the mobility industry. Still, they have a solid reputation when it comes to post-sales service and support, and their design team is world-class, which has enabled the company to crank out a staggering array of great-looking machines that can get you where you want to go in style.
E Wheels is an American company, and to keep their costs low, they do the design work here in the US, buy the parts they need from China, then assemble their scooters here.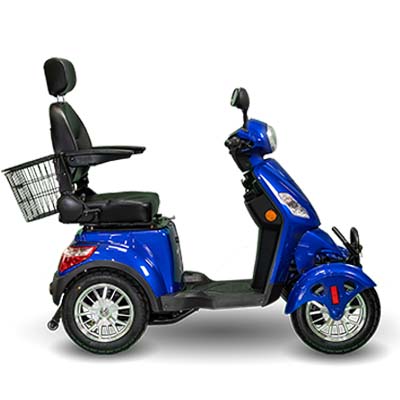 In the sections that follow, we'll step you through everything the EWheels EW-46 can do, and we'll outline the things it doesn't do very well. As good as this machine is, it does have a few limitations. Knowing exactly what those limitations are will help you decide whether or not this is the scooter you've been looking for. Let's jump right in and get to the particulars.
It used to be the case that buying Chinese parts automatically meant getting a substandard final product. Still, Chinese manufacturing quality has improved dramatically in recent years. The quality of E Wheels' product line is pretty impressive, and this is reflected in their impressive 3-year warranty. You're definitely getting a machine built to last when you buy from E Wheels, and you're getting a ton of value for the money you spend, too. That's a win-win!
An Overview of the EWheels EW-46 4 Wheel Scooter
There are two things to make a note of right off the bat here in our EW 46 review. First, don't let the long-form name of this product fool you. Yes, it is technically listed as a bariatric scooter, and it does support an impressive amount of user weight. Still, plenty of big and tall people simply can't use a "regular-sized" scooter and who aren't tremendously overweight either. If that describes you, then this model might be perfect for you, regardless of its formal name.
Second, first impressions aren't everything, but they do matter. Granted, most people who buy a mobility aid care a lot more about function than they do about form, but form still matters. Just about every product E Wheels makes looks amazing and has an incredibly polished aesthetic. This model is no exception. It has a racy, sporty look to it that most people are sure to love. It not only looks comfy, but it also looks like it would just be fun to drive.
Looks, however, will only get you so far. In order to understand exactly what the EW-46 is capable of, we need numbers, so here's a quick overview of the numbers that define the model:
Overall Product Dimensions: 60" L x 28" W x 42" H
Seat Width: 18" W x 18" D
Seat to Ground Height: 28" (19" from the deck)
Turning Radius: 73"
Top Speed: 13 MPH!
Range: 35 miles!
Wheel Size: 16"
Ground Clearance: 4.5"
Maximum Slope: 30 degrees
Scooter Weight: 260 pounds
Maximum Supported Weight: 400 pounds
There's a lot to talk about where these numbers are concerned. Taking it from the top, the first thing to say is that this is a big machine, which means that it's not very portable. You can take it on the road with you, but you'll need a truck or van and a ramp or a lift attached to the back of whatever vehicle you drive to get it from Point A to Point B.
Also, note that the scooter comes fully assembled. Although it is possible to dismantle it into four pieces for transport, doing so is a relatively time-consuming process.
It's just easier and more convenient to get a ramp or lift and leave it intact.
Since it's a big machine, you'd expect it to have a relatively poor turning radius, and this is, in fact, the case. If you live in a tiny home or apartment or looking for something you can use inside your RV, this one's a non-starter. It's just too big to be practical in those settings.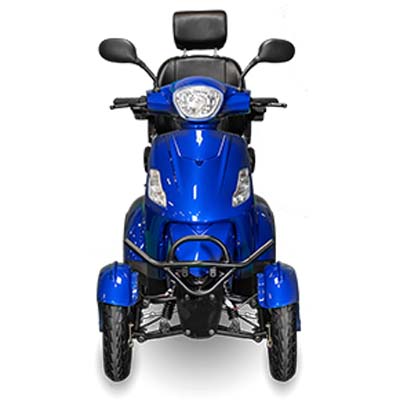 On the other hand, if you have a big roomy house with plenty of open spaces, note that it is narrow enough to fit through a standard-width doorway so that you could use it in situations like that. It's also great for puttering around your yard, at campgrounds, and it can handle any outdoor, urban space with ease.
Also, check out the speed, range, and slope handling! Not only is the EWheels EW-46 4-wheel scooter one of the fastest on the market today, but it's also got an incredible range and can handle just about any slope you put it on with relative ease. It's ideal for people who live in a hilly area.
While the ground clearance is too low to call this a true adventure chair, with its impressive range, you could use this on a broad range of outdoor terrains with proper care and attention to your surroundings. You could even take it on a well-maintained hiking trail rated as "Easy" without much worry, and that's awesome.
Many of these numbers (range, top speed, supported weight) are heads and shoulders above average. Still, some understandable tradeoffs come with that (heavy, poor turning radius). So mostly, it comes down to what you want from a scooter and how/where you plan to use it.
Before we leave this section behind, one final note: if you decide you want one of these, you can order yours in either red, blue, or black. All three look amazing. While the color selection isn't large, many companies don't offer any color selection at all. We love that we get a few choices here.
Adjustability and Comfort of EW 46 Scooter
This is an incredibly strong segment of our EW 46 scooter review because there are a ton of adjustable features on this chair. Although the steering tiller isn't adjustable, the seat itself sits on a track, allowing you to slide it forward or backward to bring you closer to or farther away from the tiller to provide a more comfortable driving experience.
The Captain's seat of the scooter is not height adjustable, but the angle of the backrest has some play in it, allowing you to tweak it for comfort, and the flip-up armrests can be height adjusted, to boot. However, it gets better, because the seat comes with a height-adjustable headrest that can be removed entirely if you'd rather not have it on. Tons of adjustment options on offer here!
Unfortunately, the scooter doesn't fare quite as well on the comfort front. Make no mistake; it offers a comfortable ride because the seat is generously padded with plenty of conventional block foam. The problem, though, is that it's upholstered in vinyl.
Vinyl is a good choice in general because it's cheap and easy to care for, but it isn't breathable, which means that the more time you spend in the seat, the hotter you're going to get.
The good news is that there's a simple fix for that. Additional padding is easy to acquire in the aftermarket, and there are a ton of different options to choose from. If you want memory foam, you can get that. Gel seating? You can get that. Or you can just opt for more block foam padding with durable fabric upholstery, so it's more breathable. The sky's the limit, but in its default configuration, the seat, as comfortable as it is, isn't optimized for extended periods of lounging.
Extras and Options of EWheels EW 46 Scooter
Although you won't find any accessories on the EWheels storefront, this is still an incredibly strong section of our EWheels EW 46 scooter review because the scooter itself is brimming with extras and finishing touches. These include: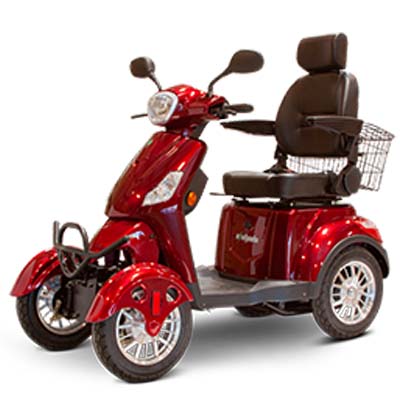 A backlit, digital dashboard display
Taillights
A headlight
A rear LED light strip
Side reflectors
Running lights
Turn signals
A horn
A safety belt
A built-in storage compartment under the seat
A rear-mounted storage basket
Basically, you get everything and the kitchen sink here. Sure, there are always a few finishing touches you could add (a cup holder, cane holder, and the like). If you decide you want those kinds of enhancements, they're easy to find on the aftermarket. We were impressed by the sheer number of built-in extras, and we think you will be too!
We especially love the inclusion of the safety belt. In our view, that's something that should come standard on all mobility aids, but the market, in general, seems to have taken a different view. Even so, we're very happy to see its inclusion here on this model!
Portability and Ease of Use
So far, we've spent almost all of the space in this review singing the praises of the EW mobility scooter, but this section is decidedly a mixed bag.
One of the inevitable tradeoffs that come with making a big, durable, robust, fast scooter like this is that it's almost destined to be heavy, and sure enough, this one is. We're not sure how the company could have avoided that fact, really, but if you're looking for a lightweight, ultra-portable, travel-friendly scooter, then this is definitely not the one you want.
Yes, it's fast. Yes, it's fun to drive. Yes, it's loaded with features, but lightweight?
Portable? Negative on both counts. As we mentioned earlier, the best way to travel with this scooter is to invest in a ramp or a lift and don't even think about flying with this model.
Airlines charge by the pound, and the amount you'd have to pay to bring it with you would probably wind up being more than the cost of the ticket itself. It's just not worth it.
On the other hand, it does score high marks for ease of use. The LED dash display is well designed and intuitive. If you've ever driven an ATV, then you'll instantly feel at home on the EWheels EW 46 scooter.
Even if you haven't, it will only take a few minutes to master the basics. However, it may take a few minutes beyond that to get comfortable with the braking distance you'll need to come to a complete stop and the turning radius/making three-point turns if you get into a position where you don't have room to turn around.
EW 46 Mobility Scooter Scooter Pros & Cons
In no particular order, here are the things we think you'll like best about the EW 46 mobility scooter:
It's a big, sporty-looking machine, offered in a modest selection of colors
It's fast!
It has a tremendous range per charge
Highly adjustable
Supports a generous amount of user weight
Relatively high ground clearance and exceptional slope handling make it useful on a wide range of terrains.
It's brimming with extras and finishing flourishes that just make it fun to drive.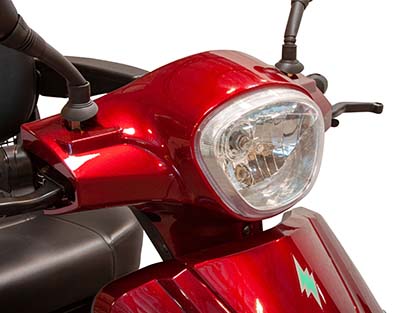 That said, there are a few weak spots in the design you need to be aware of. These include:
It's got a poor turning radius, so you'll either need lots of room to use it, get lots of practice making three-point turns, or both.
It's heavy, which makes it not portable or especially travel-friendly. If you want to travel with it, you'll need a ramp or a lift, which represents a significant additional expense.
It's relatively expensive.
This last point is, of course, subjective. It's entirely possible to find scooters for sale for less than a thousand dollars.
This one, as you might suspect, costs significantly more than that. Having said that, though, you're getting a lot for your money. So in terms of overall value, this is an incredible buy. Even so, it may simply be priced out of reach for some people.
EW 46 Review Conclusion
Despite its flaws, we really love this model. As mentioned in the previous section here in our EW 46 review, It's a great machine, offered by a smaller company with an amazing design team. Sure, it's got its share of shortcomings and limitations, but that's true of every product on the market.
Ultimately, each person has to decide for themselves whether or not they can live with the shortcomings of whatever they buy and whether or not the advantages provide enough of a benefit to make that worthwhile.
We absolutely think it's worth it, and we recommend this one without reservation. If you buy one of these, it'll get you where you want to go in style, and it's just fun to drive.
Comparable Products to Consider
If you like EW's product line (and it is pretty amazing) but this particular model isn't a good fit for you, here are a couple of alternatives you may want to consider:
It is an even faster model with fun styling that makes it look more like a motorcycle than a scooter. It doesn't support quite as much weight (only 350 pounds here), but it offers more speed, even longer range, and of course, a fantastic aesthetic. This one's not to be missed.
Do you want to be able to use your scooter in any kind of weather? If so, then you need a model that comes with a canopy to help protect you from the elements. This one's fantastic. In addition to offering a full windshield and canopy, it still provides incredible speed (15 miles per hour), paired with an impressive 40-mile range. Best of all, it supports up to five hundred pounds of user weight!
Where the EW 14 is reminiscent of a motorcycle, this one is much more like a golf cart. Unlike many of E Wheels' other models, this one also comes with USB ports built into the dash so you can keep your phone charged and listen to your favorite music while you're driving around.
---
References & Resources: