Summary
Excel Hybrid 2 is a fantastic, versatile design that gives you two very different chairs for the price of one, configurable at the touch of a button.
Recommended For: Anyone weighing up to 300 pounds. This is a fantastic product.
* Note regarding Brand Reliability: This metric is a measure of the strength and longevity of the brand, which by extension, is a measure of the level of support you can expect.
Do you have a mobility issue that requires you to spend part of each day in a wheelchair? Do you love to travel? If you answered yes to both of those questions, you've probably been on the hunt for a good, versatile wheelchair that's light enough to throw in the trunk and take with you, yet rugged enough to stand up to the rigors associated with the adventures you love.
That's a tall order, and finding the 'right' chair can be a daunting challenge. We'll be quick to admit here in our Medline Excel Hybrid review that while the model isn't perfect, for a lot of people, it hits the sweet spot, and it may well have exactly the kind of versatility you're looking for.
In the sections that follow, we'll tell you everything Medline got right where this model is concerned, and we won't pull any punches when describing its limitations. That way, you'll have all the information you need, right at your fingertips, so you can decide if this is the chair you've been looking for. If your interest is piqued and you want to know more, read on!
An Overview of the Medline Excel Hybrid 2 Transport Chair
At first glance, this doesn't look markedly different from most of the other wheelchairs on the market today. It features a sporty blue paint job, which gives it a bit of pizazz.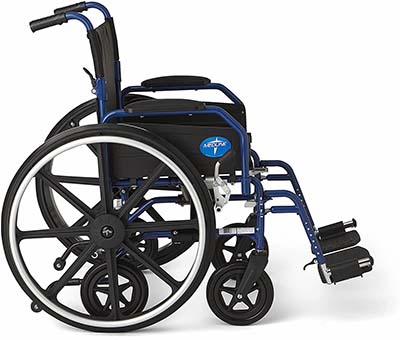 A closer look, however, reveals something interesting. It's got two extra wheels! Beneath and just inside the large rear wheels, you'll find two transport chair wheels.
These are this model's secret weapons, and we'll have more to say about them in this section here in our Excel Hybrid review. Before we do that, though, let's take a quick look at the stats that drive and define the model as a whole. Here they are:
Overall Product Dimensions: 26.5" (W) x 30.5" (D) x 36.5" (H)
Seat Dimensions: 20" (W) x 16" (D)
Chair Weight: 33 pounds (24 pounds in Transport Chair Mode)
Maximum Supported Weight: 300 pounds
These are generally good numbers. The overall size of the chair is just small enough to fit through a 30" door, and can easily slide through a 36" wide door. The seat dimensions are good and well-suited to fit the vast majority of the market.
The Hybrid 2 isn't the lightest chair you'll find on the market, but, at 33 pounds, it's light enough that it shouldn't present any particular difficulty in terms of stowing it away or hauling it out of the truck or the back of your SUV for use.
The only potential point of weakness or limitation where these numbers are concerned is the weight limit.
With 300 pounds of supported user weight, the Hybrid 2 is strictly average. Its weight limit makes it accessible to some 95% of the market. If you're heavier than three hundred pounds, then it just isn't the one for you no matter how much you like this model.
Adjustability, Comfort, and Options of Medline Hybrid 2
The big thing to talk about in this section is the fact that the Medline Excel Hybrid 2 wheelchair sports two transport wheels in the back, built onto the frame, just behind the large rear wheels. You can release the catch holding the wheelchair wheels in place at the touch of a button and remove them, converting this chair into a lighter transport chair if and as you need it.
This gives you the best of both worlds in one convenient package. If you have someone traveling with you and do not need to propel yourself, use it as a transport chair. If you want more freedom and independence, the wheelchair wheels can be reattached in a matter of seconds.
That's superb, and, in our view, this is the standout feature of the design. If you want both a transport chair and a wheelchair, and provided that the weight limit isn't an issue, this is the chair you want.
This model also sports swing away and elevating leg rests, calf pads to provide additional support for your legs, and fixed position 'restaurant-style' armrests that fit easily under most dining and restaurant tables, allowing you to wheel right up to the table and enjoy a meal in the company of family and friends.
All of that sounds (and is!) amazing, but there are a few limitations to be mindful of. For instance:
Although the legs swing away, they don't come with a locking mechanism to lock them in the "away" position. You can get around this by simply taking them off and storing them if you don't need them for a time.
The chair doesn't come with any onboard storage, so you'll need to invest in some if you want a place to stash the leg rests (see above), or take any supplies with you while you're traveling.
The seat is nylon and fairly breathable. If you plan on spending extended periods in the chair, you'll almost certainly also want to invest in a seat and/or seatback pad as this chair doesn't come standard with those either.
While many of Medline's other models offer a wide range of options, this one is much more limited to only two possible seat sizes on offer: 16" and 18" wide. This isn't normally a dealbreaker, but it does paint the chair as a model that is somewhat more narrowly targeted than some of the company's other offerings.
Finally, while many of Medline's chairs are Hemi-height and offer a couple of inches of height adjustment, this option does not. The seat is 18" off the ground, and that's what you get.
Portability & Ease of Use
While it's not difficult to find other transport chairs that are lighter and thus, more portable, the Medline Hybrid 2 transport wheelchair is lighter than many conventional wheelchairs. At 33 pounds, it's light enough that we would classify it as easily portable, which, especially when combined with its versatility and ability to transform to a transport chair in an instant, makes it an ideal traveling chair.
It's also very easy to use and handles well on even surfaces. Note, however, that you're definitely going to want to swap out the tires that come standard on this model if you want a travel chair that will perform well on uneven terrain. They're optimized for sidewalks and smooth floors, and will not handle well across open ground or any type of rough or uneven terrain.
Pros & Cons of Medline Excel Hybrid 2
This is a very good chair and, in our view, one of the best models that Medline makes. The Medline Hybrid wheelchair is incredibly versatile, and we love the fast-transformation feature. Sure, it's one of the company's more expensive models, but it's still far less expensive than buying both a wheelchair and a separate transport chair.
While it's true that few wheelchairs can be described as sporty or attractive, this one does make a bit of effort in that regard. It comes with a beautiful, eye-catching paint job and a complimentary navy blue nylon seat and seatback, which look good with the black and chrome highlights.
It's not exactly blessed with extras, though. If you want all-terrain tires, storage, padding, or a seatbelt, you'll have to add those on yourself. Even so, this chair's strong points far outweigh its limitations, in our view.
Excel Hybrid Review Conclusion
As mentioned early on here in our Excel Hybrid review, it's a good, versatile piece of equipment offered by a respected company that clearly knows the industry and knows how to build a quality product. If you're a frequent traveler and you take trips both on your own and in the company of others, then you'll love the versatility this model brings to the table. We highly recommend it.
---
References & Resources: