Summary
If you've ever wanted to drive around in a mobility aid that looks a lot like a Tonka, this is your chance. Forcemech Navigator is a superb machine, offered by a great company.
Recommended For: Anyone weighing up to 397 pounds (400 for the XL variant). As long as you like the color yellow.
* Note regarding Brand Reliability: This metric is a measure of the strength and longevity of the brand, which by extension, is a measure of the level of support you can expect.
Is your mobility issue getting in your way? Are you in the market for a rock-solid, capable mobility aid to help you regain a measure of your freedom and independence, and most importantly, did you enjoy playing with Tonka toys as a child?
Okay, just kidding about that last part, but only a little. In any case, if you answered yes to the questions above, then you're going to flat out love our Forcemech Navigator review.
They're fairly large, burly machines. Given their distinctive yellow and black color scheme, they do kinda resemble giant Tonka toys, so bonus points in their favor if you grew up playing with them and enjoyed that. If you decide to buy one of these, you'll feel a bit like you're driving around on your own, adult-sized Tonka, and that's pretty cool.
Forcemech isn't one of the major players in the mobility industry. Still, they've got a sterling reputation in the market, both for the quality of their products and for their post-sales service and support, so in addition to their distinctive look, right off the bat, there are solid reasons for considering a Forcemech purchase.
Reputation, however, will only take you so far. What most people who buy a mobility aid of any kind are looking for is functionality.
The good news is that the Navigator is a delightfully capable machine. In the sections that follow, we'll do a deep dive into its capabilities so you'll have all the information you need to decide for yourself whether or not this is the device you've been looking for.
If that sounds good to you, read on, and let's take a closer look at it.
An Overview of the Forcemech Navigator XL Wheelchair
As we said in the introduction, the Navigator looks a lot like a giant-sized Tonka Toy. If you grew up loving those, then this machine is going to make a good first impression. If not, then you may be put off by the bold yellow and black color scheme, which is very much a matter of taste.
We'd say here in our Forcemech Navigator review that, assuming you're not completely turned off by the wheelchair's color scheme and industrial aesthetic, under the hood, you'll find a lot to like. Here's a quick overview of the numbers that drive and define the model:
Overall Product Dimensions: 38" L x 25" W x 37" H (Folded Dimensions are: 25" L x 13" W x 31" H)
Seat Dimensions: 17" W x 17" D (the XL variant has a seat that's 19" W x 17" D)
Seat to Ground Height: 19"
Top Speed: 4.5 MPH (XL variant tops out at 5 MPH)
Max. Slope: 12 degrees
Turning Radius: 33"
Range: 18 miles
Wheel Size: 7" front, 12.5" rear
Ground Clearance: 3.7"
Scooter Weight: 59 pounds (XL variant weighs 60 pounds)
Maximum Supported Weight: 397 pounds (XL variant supports up to 400 pounds)
For the most part, these are good numbers, but a couple of them are slightly underwhelming. First and foremost, it's a surprisingly compact machine with a footprint that's not as large as you might think. Its color scheme and industrial design aesthetic make it seem larger than it actually is. When folded, it will fit easily enough into the available trunk space of most midsize sedans. Of course, if you've got a hatchback, SUV, truck, or van, storing the Navigator for transport is even easier.
The seat is generously sized and an excellent fit for its impressive supported weight limit. The slope handling is superb, making it an excellent choice for people who live in hilly regions. In a similar vein, the range is well above average, which is outstanding.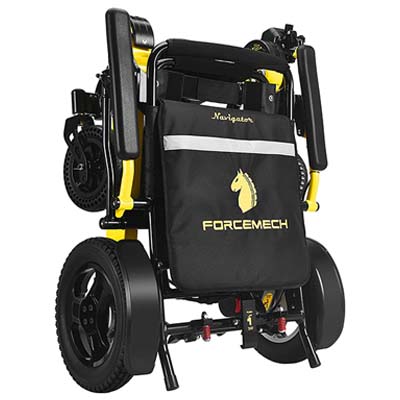 Unfortunately, the top speed is only marginally above average. Most of the machines on the market top out at 4 miles per hour. The Navigator beats this, but not that much, and it certainly can't be described as a speedster. Even so, as long as you're not in a great rush to get where you're going, it will serve you very well indeed.
The ground clearance isn't superb but is certainly high enough. In our view, this is kind of a missed opportunity for the Navigator because it looks like it should be able to go just about anywhere, like a big yellow and black tank, but the ground clearance just doesn't support that.
It's a pretty versatile machine and can handle any urban or indoor surface with ease, as well as at home in most yards and campgrounds. Still, you will need to be mindful of major obstructions because it's still entirely possible to get hung up on something despite the machine's rough and tumble look.
One thing that surprised us was the turning radius. This chair is nimbler than it looks, and while it can't turn on a dime, it's incredibly maneuverable. So even if you live in a smaller home or apartment, you'll be able to move around freely and without having to execute a ton of three-point turns.
Note too that the company makes a variant of the Navigator called the Forcemech Navigator XL. It is essentially the same chair with a couple of relatively minor upgrades, including a slightly higher top speed and a seat that's two inches wider. The XL doesn't support much more user weight (just three pounds!), but it only weighs 1 pound more than its slightly smaller cousin.
One thing not captured in the raw statistics that's worth mentioning is that the Navigator power wheelchair has front and rear shock absorbers, which makes for an incredibly smooth ride no matter what type of terrain you're on. It's a small thing, but the difference in comfort level is compelling compared to other scooters and wheelchairs you may have used previously. This kind of unsung feature alone makes the Navigator well worth a closer look.
All in all, then, this is a very good chair. The numbers only reveal a couple of points of potential weakness.
Adjustability and Comfort of Forcemech Navigator Folding Wheelchair
This is a fairly strong component of our Forcemech Navigator folding wheelchair review. Although the Navigator isn't insanely adjustable, there are enough tweaks present that you can customize your ride for optimal comfort.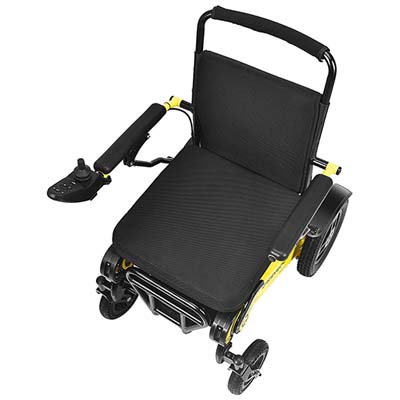 The seat height is the big thing you can't adjust, which is a bit of a disappointment. It is fixed. You can adjust the height (but not the width) of the armrests, and you can adjust the angle of the footplate to taste. The armrests also flip up, making transfers into and out of the chair easy. It also makes it possible for you to roll right up to your desk or to the dinner table and get work done or enjoy a meal without having to transfer into some other chair.
It's also a very simple matter to locate the joystick controller on either the right or left, depending on which is more convenient for you. Although the base model doesn't come with a headrest, the company sells a universal headrest that works on all of their products and is height adjustable to boot.
All that said, you'll definitely want to take a couple of careful measurements before you buy to make sure that the seat height and seat dimensions are a good fit for you since those are the elements you can't change.
Comfort-wise, the Navigator power wheelchair is above average compared with peer products. The upholstery is a breathable mesh of a type similar to what you find on some mesh office chairs, and the padding is conventional block foam. The mesh upholstery compares favorably to most of the chairs on the market today, which tend to use vinyl upholstery paired with block foam.
It's easy to understand why vinyl is the upholstery of choice for so many companies. It's cheap, so using it helps keep the per-unit cost down, and it's easy to take care of. Unfortunately, it's not at all breathable, which means that the longer you sit on a vinyl seat, the more uncomfortable you're apt to get.
The Navigator may not be blessed with an abundance of padding, but there's enough present that it provides a reasonably comfortable seating experience. Also, the breathability of the upholstery means that you can use the chair for extended periods without getting hot and sweaty. Having said that, if you do plan on using it for more than four hours or so at a stretch, then you'll probably want to, at least, consider buying the optional headrest and maybe some extra padding for the seat and/or seatback.
Extras and Options of Forcemech Navigator Power Wheelchair
This is another surprisingly strong segment of our Navigator electric wheelchair review because although the chair isn't brimming with extras, the extras you'll find built-in and the ones available from Forcemech are high-value additions that you'll probably love.
In terms of built-in extras, the first big thing to talk about here is the front and rear shock absorbers we mentioned earlier. It is something that you just don't find on most of the chairs on the market today, and it makes a big difference than you might think, offering an incredibly smooth ride.
In addition to that, the 2021 6th generation Navigator comes with a seatbelt as standard equipment and a storage bag under the seat. It's not huge, but it is large enough to be genuinely useful, and storage is always a good thing. You'll also find a storage pouch on the back of the seat. At the time this review was written, the company was selling a free travel bag to stow your Navigator in when you're traveling.
You won't find an "accessories" page on the company's website, but if you call them up, you can order extra or replacement batteries and their "universal headrest," which works with all of the products they make. We're not really sure why they don't make those items more accessible from the site, but it's still pretty simple to get them if you want or need them.
Portability and Ease of Use
Given the burly, rough, and tumble of this model, you might be surprised when you come across Forcemech Navigator 2021 reviews that sing its praises when it comes to portability and travel-friendliness, but this is a surprisingly strong area for the model.
We mentioned earlier that it's got a delightfully small footprint, especially when folded, and it's not unbearably heavy. Most people won't have too much trouble stowing it away for a road trip, then unpacking it later when they get where they're going.
The only potential fly in the ointment is air travel. The batteries that the Navigator uses are airline approved, but airlines charge by the pound, and if you're on a tight budget, you may not be able to afford the premium you'll have to pay to bring this on the plane with you.
The good news is that every airline gets to set its own policies in that regard, and some airlines are much more permissive. It's important then to call whatever airline you're planning to fly with and make sure you understand their policies. If their policies are fairly generous, then flying with the Navigator may not be a problem. If they're a bit on the stingy side, it may be a little expensive.
The Navigator wheelchair is exceptionally easy to use, thanks to the simple joystick controller that can be mounted on either armrest. It will only take you a matter of minutes to master the basics. Thanks to its surprisingly tight turning radius, you won't have to practice three-point turns to maneuver through most spaces. Kudos to Forcemech for a job very well done on that front!
Pros & Cons of Navigator Electric Wheelchair
We like just about everything about this model. Our only complaints are relatively minor ones: The seat height isn't adjustable, and the top speed, while slightly above average, isn't as zippy as we'd like. Also, we'd love it if the ground clearance was a bit higher. Again, for the vast majority of the market, the numbers behind these values are just fine, and this machine will serve anyone who gets one very well indeed.
The only other potential negative to mention is the color. Some people just don't want to ride around in what looks like an adult-sized Tonka. According to the company, they choose the yellow and black color scheme for safety, as yellow is highly visible, both day and night. But if you find the vaguely industrial design and the bright color to be off-putting, it's probably not the chair you're looking for.
Forcemech Navigator Review Conclusion
As mentioned in the previous section here in our Forcemech Navigator review, the wheelchair is an absolutely superb design offered by an American company with a spectacular track record when it comes to post-sales service and support.
That gives you, as a prospective buyer, the best of both worlds. You're getting a fantastic, capable machine that's at home in a wide range of terrains, and you'll have plenty of hand-holding and personalized support in the event you encounter a problem. That combination is very hard to beat. We absolutely recommend this model.
Comparable Products to Consider
If, for any reason, the Navigator or its close cousin, the XL variant, isn't a good fit for you, here are a couple of other options you may want to consider:
Forcemech Voyager R2
Recommended For: Anyone looking for a smaller, lighter machine designed for people who weigh up to 265 pounds.
The Forcemech Voyager R2 – A smaller, lighter machine designed for people who weigh up to 265 pounds. If you don't need the extra supported weight, why pay a premium for it? In that case, this model is probably a better fit for you.
The Porto Mobility Ranger – An extremely good design that has similar capabilities to the model we just reviewed, but a slightly higher top speed and longer range. This is a good option if those two things are the most important features for you in a mobility aid and if you just can't stand the color yellow.
---
References & Resources: