Wheelchairs are highly innovative medical devices, carefully designed to accommodate every disability and lifestyle.
Even the smallest component has an important function, but it can be difficult to find the best type of setup for your needs.
If you're looking for the smoothest ride possible, Frog Legs might be just what'll transform your wheelchair performance. In this guide, we discuss what these are exactly (no, it's not an amphibian) and how they can benefit you.
What Are Frog Legs Wheelchair Parts?
One of the biggest priorities when selecting a wheelchair is comfort. You don't want to just roll over surfaces when moving indoors or outdoors—you want to glide.
Bumps and uneven ground are common obstacles, making the suspension system an important configuration to ensure the smoothest ride possible. After all, no one likes banging against the sidewalls when an unexpected bump takes you by surprise.
That's where suspension forks play a pivotal role in propulsion efficiency. This isn't new technology, as it dates back to the early 1970s. Suspension forks are produced by many big-name manufacturers, including Davis/MSE, Everest and Jennings, and Iron Horse.
The blueprint is straightforward: an absorber contains a spring or rubber piece that allows the fork to flex backward and upward when the wheels confront an obstacle, absorbing shock.
And this is precisely what Frog Legs are—a type of suspension fork system.
At this point, you're probably wondering how Frog Leg caster bearings are different from other suspension forks, especially since it's such a simple design with a basic function.
The thing is, until recently, fork suspension technology was only available for powerchairs and heavy-duty steel manual wheelchairs. There was nothing for lightweight sports chairs, which is ironic since these are high-performance devices.
That all changed in 1996 when Mark Chelgren founded Frog Legs, Inc. An encounter with a quadriplegic rugby team and their issues tackling minor obstacles out on the court inspired him to design the Frog Legs suspension forks for wheelchairs, including sports chairs.
Frog Leg suspension forks changed the game, but the company took it further by designing other wheelchair components to improve suspension even more. This includes front/rear suspensions, Frog Legs casters, and other accessories geared towards reducing shock and vibration no matter where the user wants to roll.
Here's a more in-depth look at how a Frog wheelchair performs:
Frog Legs II Suspension System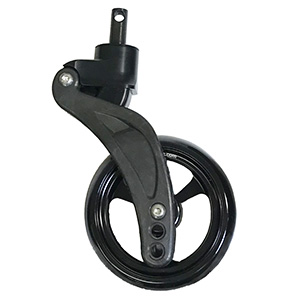 This lightweight system is designed for delivering a fast reaction when the wheelchair comes in contact with obstacles. Its suspension, when needed, operates like a standard fork, springing into action to absorb shock quickly then returning to its normal position.
Frog Legs Soft-Roll Narrow Wheels
As mentioned, Frog Legs, Inc. developed specialized Frog Leg castors to enhance suspension for sports wheelchair users and standard use. The soft roll wheels provide minimal rolling resistance that makes it easier to push, and they feature 3-spoke aluminum casters that are lightweight for improved balance.
Frog Legs Soft-Roll Wide Wheel
These Frog Legs wheelchair wheels follow the same advanced shock-absorbing design as the original Soft-Roll wheels, except they are wider to accommodate rugged surfaces, such as carpet or gravel.
How Are Frog Legs Wheels Made?
Frog Legs are highly innovative wheelchair components manufactured from 6061 T6 aircraft-grade aluminum. This is the material used for sports chairs, resulting in a lightweight frame for easier handling.
The forks contain a rubber ring called a polyurethane shock absorber that allows the fork to spring forward and backward when going over an obstacle.
There are two Frog Legs suspension fork models to fit most chairs on the market:
Frog Legs
The company upgraded its original Frog Legs design to include new composite forks, the wedge progressive polymer damper, and an all-new aluminum top cap.
With improved bump response and increased propulsion efficiency, it can accommodate users weighing up to 260 pounds. It's available in four-wheel sizes (3-inch, 4-inch, 5-inch, and 6-inch) and in five colors (black, blue, red, purple, and orange). It retails at $499.
BIG-RIGS
These big rig forks will absorb almost 80% of shock. Not only do they improve the wheelchair's traction but also provide more than 3" of travel. This way, the wheels can lift back, up, and over obstacles.
Ensure the perfect fit by providing the rider's weight and choosing the make/model of the wheelchair, desired wheel diameter, caster barrel to floor measurement, and preferred color (black and silver). The BIG-RIGS retail at $499.99.
One of the Frog Legs benefits is that they can be modified to fit the wheelchair user's chair's caster-barrel-to-floor height by trying a few different fork stem bolt and spacer combinations on offer.
The forks consist of various axle mounts to match the caster size. The polyurethane absorber also enhances performance since it corresponds with the user's weight.
How to Install Frog Leg Suspension Fork
Are you feeling intimidated by these high-performing wheelchair forks? You shouldn't because Frog Legs are pretty simple to install and use.
All you need is a small flat head screwdriver and ¾ inch (19mm) socket and ratchet.
Remove the dust cap on the caster barrel housing by prying the seam between the cap and the caster barrel with a screwdriver.
Using the socket and ratchet, remove the "nylock" nut, which is located just below the dust cap. To do this, you need to hold the rigid fork assembly in place. After removing the nut, the rigid fork assembly can then be removed from the caster barrel housing.
Put the axle bolt partially through one of the three axle holes, add one wheel spacer, push the axle through the wheel, and add another wheel spacer. Then, push the axle bolt through the other side of your new fork. Add the button-head screw and tighten.
Insert the suspension assembly stem into the caster barrel housing. Use the socket and ratchet to install the new "nylock" nut and tighten it until all vertical stem play is removed. Make sure not to overtighten to allow the fork assembly to rotate freely.
Finish the installation by snapping the dust cap back in place.
Do I Need Frog Legs Casters?
At this point in our guide, you might be wondering if Frog Legs wheelchair forks or Frog Leg casters are for you. After all, these are specialized components designed to improve smoothness over rough surfaces, especially for sports chairs.
Everyone's needs are different, so the best course of action will be to observe how your wheelchair functions.
Pay attention to how it handles various types of terrain and obstacles, such as uneven pavement, gravel, carpet, or a paved pathway.
If your ride is stiff and the casters tend to catch on small objects, such as electrical cables, then you might want to improve the suspension with Frog Legs forks. These forks absorb shock, reducing vibration and keeping your wheelchair from pitching forward.
Therefore, whether you play adaptive sports or you want to improve the quality of performance for your everyday wheelchair, Frog Legs are a quality option to consider.
However, bear in mind that they are much more expensive than typical aluminum forks, so you might want to keep your options open, and try out a few different configurations.
Final Thoughts on Frog Legs for Wheelchairs
Frog Legs, Inc. put the spotlight on the need for an improved wheelchair suspension system when they produced their signature Frog Legs forks. These lightweight forks are designed to absorb shock and reduce vibrations when rolling over rough terrain and uneven surfaces.
To conclude our guide, Frog Legs forks are expensive. But if you're an athlete who utilizes a sports chair or you just want to improve the suspension of your everyday wheelchair, these forks provide immediate comfort and enhanced performance.
---
Resources and References: