Summary
The Gatsby X Vintage luxury mobility scooter is an amazing design that's sure to please any classic car enthusiast, allowing them to ride in style.
Recommended For: Anyone weighing up to 440 pounds who loves classic cars and is looking for a mobility scooter that really makes a statement.
* Brand Reliability: This metric is a measure of the strength and longevity of the brand, which by extension, is a measure of the level of support you can expect.
Do you love classic cars? Do you also have a mobility issue?
Have you found yourself wishing you could find a scooter that somehow catered to both? That is to say, something that would help you get from Point A to Point B while also catering to your passion for classic cars.
If you answered yes to the questions above, then you're going to absolutely love what you read in this—our Gatsby scooter review.
Engineered in Switzerland and offered by Vintage Vehicles US here in the United States, these scooters are styled after the legendary Model T and offer an aesthetic that's both stunning and unique while not sacrificing a bit of performance.
Haven't heard of Vintage Vehicles US? We'd be surprised if you had. They are a smaller niche company that caters to a very specific segment of the market.
Even so, they are obsessed with quality and provide world-class post-sales support, so if you buy a scooter from Vintage, you can do so with complete confidence. They'll take good care of you.
In the sections that follow, we'll step you through everything this amazing design has to offer, and we won't be shy when it comes to describing its (very few) shortcomings.
That way, you'll have all the information you need at your fingertips to decide if this is the scooter you've been looking for.
If that sounds good to you, read on, and let's take a closer look.
An Overview of the Gatsby Model T Retro Scooter
We regard this as an exceptionally strong component of our Gatsby mobility scooter review.
No discussion about this model is even possible without mentioning the first thing everybody will notice. The Gatsby looks amazing, like a miniature Model-T. No matter where you take it, it's bound to be a conversation starter because there just aren't many of these sold.
So usually, when someone sees you for the first time, it'll also be the first time they see a Gatsby, and they are almost sure to stop you from asking questions or commenting.
If you like being the center of attention when you go out, you're going to love having one of these.
On the other hand, if you prefer at least some degree of anonymity, then this is definitely not the scooter for you.
Driving one of these will get you noticed. 100%.
As gorgeous as it is, looks will only take the model so far. At the end of the day, it still has to offer solid performance, be easy to use, and get you all the places you want to go.
To understand how good it is at those things, we need numbers, so here's a quick overview:
Overall Product Dimensions: 61" L x 26" W x 54" H
Total Weight: 275 pounds
User Weight Limit: 440 pounds
Top Speed: 10 MPH
Seat Dimensions: 18" W x 18" D x 21" H
Max. Slope: 15 degrees
Front Wheel: 13" pneumatic
Range: Up to 35 miles
Ground Clearance: 4"
Turning Radius: 75.5"
With a couple of exceptions, these numbers are amazing. Let's take it from the top and look at each one more closely.
The first thing to be aware of is that the Gatsby vintage has a big footprint. Even though the tiller folds down and you can take the seat off, it's not exactly what we'd call portable. You're going to need either a lift on the back of your vehicle or a ramp and a truck or van to move this from place to place realistically.
That's not the end of the world, but it does mean that if you travel and want to take your Gatsby with you, you're going to either already own the "right" kind of vehicle or be willing to invest in some additional tech—on top of buying the scooter itself.
The scooter itself is pretty expensive, so that fact is going to put it beyond the reach of a lot of people who may want one. Just something to keep in mind.
The top speed is superb, and this machine is much faster than most of its peers on the market today.
You can find faster scooters, but they're just not offered by very many companies, and in our view, none of them look anywhere near as cool as this one does.
The supported weight limit is well above the informal industry average of 300 pounds, making it something that just about everybody can use and enjoy.
The seat size is strictly okay. It's not a bad pairing with the supported weight limit, but it might feel a bit confining if you're at the upper end of that scale. In our view, the seat should have been 20" W x 20" D, but it should work for most folks. Just be sure to take careful measurements before you buy!
The Gatsby X vintage mobility scooter has an incredible range, too, which we love. Many of the scooters on the market today have anemic ranges that force you to always be mindful of where the nearest power outlet is so that you can scurry back to it for a recharge.
That's not the case here.
The Gatsby will run pretty much all day unless you're racing it or something, and if you do that, you'll easily beat most of the other scooters you encounter, and the slope handling is off-the-charts good.
While there's no formal industry average, if you look at a broad cross-section of scooters on the market, you'll find that most of them can handle a six-degree slope. A few might offer eight percent slope handling, and you'll find a couple that can go as high as ten.
The Gatsby can handle slopes of up to fifteen degrees, so even if you live in an exceptionally hilly area, this tough little machine has got you covered. On top of that, the ground clearance is quite generous, being double what you find on most of its peers.
At 4", you'll have no trouble driving your scooter all over your property, taking it with you to the campground, and even navigating a few hiking trails that are rated as "Easy."
Granted, the more rugged the terrain, the more careful you'll have to be, but the Gatsby can take you to most of the places you want to go.
Here's the only genuine problem: the Gatsby vintage scooter has a horrible turning radius that makes it impossible to use inside your home. This is a scooter for outdoor use only!
With a bit of patience and practice doing multi-point turns, you can probably use it inside a grocery store or similar, but since the turning radius is quite wide, you'll almost certainly have to execute a three-point turn to go from one aisle to the next.
Is that the end of the world? Certainly not, but it's something to be very mindful of, and it means that you'll need two scooters—one for use inside your home and this one. Given that this is an expensive machine, that, in turn, is going to mean more money out of pocket, which is going to put this one beyond the reach of many who would love to own one.
On the whole, we regard these numbers as exceptional. It's clear that the design team behind the Gatsby had a clearly defined vision of what they wanted this machine to do and be and relentlessly pursued those goals. It shows.
The Gatsby Motor Scooter is Wonderfully Adjustable and Comfortable
We'd rate this as being about an average component of our Gatsby scooter review.
Most of the scooters on the market today really aren't all that adjustable. Most allow you to adjust the tiller's angle, and a few have adjustable arms or a seat that slides forward.
You'll find a lot to like here on the adjustability front. The tiller is angle adjustable, and it folds down for transport. The seat slides forward and swivels, and the armrests flip up, making transfers into and out of the machine a simple matter.
The seat is also height adjustable with a 4" adjustment range, enabling you to create the perfect driving experience for yourself.
Note, too, that the seat is high-backed, with a headrest, and the upholstery is leather, with ample block foam padding beneath.
In addition to that, the seat is semi-reclining, so once you get where you're going, you can grab a pillow, lean back, and relax if you wish.
Granted, the leather upholstery isn't breathable, so the more time you spend in it, the hotter you're going to get, but it looks and feels fantastic. If you want to take the comfort up another notch, that's easy to do in the aftermarket. Honestly, though, you probably won't need to.
Vintage did a great job here!
Gatsby Motor Scooter Accessories
At the time we wrote our Gatsby scooter review, Vintage didn't have any accessories for sale for their scooter, but the Accessories page on the company's website says "under construction," which we take as a sign that eventually, they will have!
Even without any accessories on offer, the Gatsby is brimming with built-in "extras" you're sure to love.
For starters, it's got a proper suspension system—something that most scooters don't have at all.
In addition to that, you'll find articulating headlamps, rear-view mirrors, a full light kit, a cup holder built into the steering column, a horn, and a generously sized trunk located in the front of the scooter (where the engine of a Model-T would be), which can be locked with a separate key that comes with the scooter.
If that's not enough, you'll also find a full-sized trailer hitch at the back of the unit. We have no way of knowing what Vintage is planning, but we'd love to see them offer a pull-behind cart with the same styling as the scooter itself. That would be fantastic!
Finally, the Gatsby is offered in a modest selection of colors. If you decide you just have to have one, you can order yours in either black, racing green, red, or pink. It's not a huge color selection, but many scooters don't offer any options at all, so we were pretty excited to see a quartet of choices here.
In any case, the Gatsby is packed with high-value extras, and if you want to customize further, you can always head to the aftermarket to find whatever else you may be looking for.
The Gatsby Mobility Scooter Isn't Especially Travel Friendly
This is one of the weaker points of our Gatsby scooter review. Although the design team did take some steps to make their product somewhat travel-friendly (fold-down tiller and removable seat), the bottom line is that it's really not all that portable.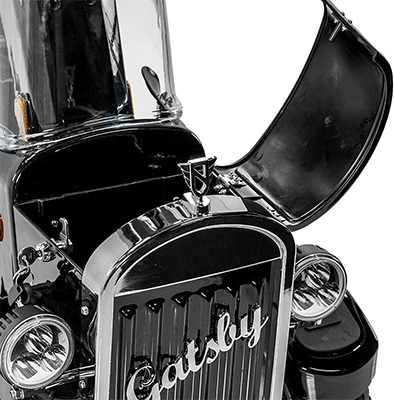 Sure, if you have a truck or van and a ramp, or if you put a lift on the back of your vehicle, you can get it from Point A to Point B easily enough, but both of those require some additional investment over and above the cost of the scooter itself.
That, plus the fact that it's far too heavy to take with you on an airplane, makes it only nominally travel-friendly.
Again, that's a challenge that can be overcome with some additional investments, but if you plan on taking it over the road, then those are additional investments that will simply need to be made, which is going to increase your total cost of ownership further.
On the Other Hand, the Gatsby Luxury Scooter is Incredibly Easy to Use
The control system is easy to learn and master, and the controls themselves are intuitive and well laid out. It's clear that the design team behind this model really took their time and thought it all through. You'll be able to master the basics in a matter of minutes, though you'll probably want a bit more practice before you're comfortable operating it at top speed.
Given the huge turning radius, you'll probably also want to spend some time mastering the three-point turn because it's all but a given that you'll find yourself doing that—a lot.
Even so, it's super simple to learn to drive and tons of fun to boot, so kudos to the Vintage team for that!
Pros & Cons of Gatsby X Vintage Luxury Mobility Scooter
We love the Gatsby, but it's not a machine that will resonate with everyone.
If you're not a fan of classic cars, the aesthetic probably won't do much for you.
That, combined with the fact that it's a pricey machine and you'll probably need to invest in some additional tech to make it truly travel-friendly (a ramp or lift), then further combined with the fact that you'll need to purchase a second scooter for indoor use, and the bottom line is that it's got a pretty high cost of ownership.
That's the only real negative where this model is concerned.
Gatsby Scooter Review Conclusion
If you have a passion for classic cars and your budget will support it, this is hands-down the scooter you want. It's an amazing piece of engineering, and it looks fantastic.
Unfortunately, that's only going to be true for a smallish segment of the market, so no matter how much we love it (and we really, really do!), we can only give this one a provisional recommendation. We will say, though, that if you decide to get one, you're almost certain to love it!
Comparable Products to Consider
If you've reached the end of this review and have concluded that the Gatsby just isn't for you, here are a couple of other options to consider:
This is a much more conventionally designed scooter offered by one of the biggest and most respected names in the industry.
Although designed along conventional lines, this is a sharp-looking machine and one that's incredibly travel-friendly. If that's what you're really after, then the Passport might be just what you're looking for.
Like Vintage, Shoprider isn't one of the giants of the mobility industry, but they've made a name for themselves on the strength of their incredibly versatile products and post-sales support.
The Echo is a solid machine that's something of a middle ground between the scooter we just talked about and the Passport above. It's more travel-friendly than the Gatsby but less so than the Passport. It's designed to impress, though, and has a lot to offer.
---
References and Resources:
Gatsby Scooter
Recommended For: Anyone weighing up to 440 pounds who loves classic cars and is looking for a mobility scooter that really makes a statement.
Check Current Price