Thanks to technological innovation, wheelchairs have come a long way and continue to evolve, giving disabled individuals the freedom to roam.
All-terrain wheelchairs are one such example, built tough to handle the rigors of the outdoors. The challenge is selecting the right model, as they come in a variety of designs.
If you don't know where to start, our guide on how to choose an all terrain wheelchair gives you the basics to begin your search.
All-Terrain Wheelchair Overview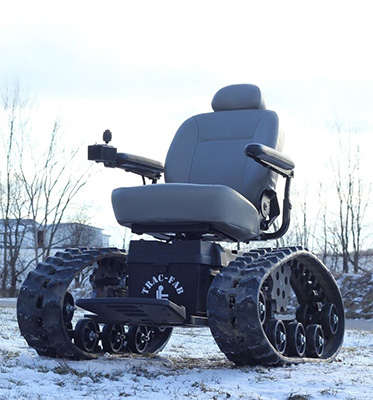 Everyone deserves to enjoy nature, whether it's through exercise or relaxation. But for disabled folks, the standard wheelchair makes it difficult to partake in healthy activities such as hiking or cycling. Skinny wheels and lightweight frames just don't mix with gravel and soft sand.
That's where all-terrain wheelchairs come into the picture. These innovative mobility devices are designed strictly for outdoor use – with wider wheels and durable frames that can take the wear and tear mother nature throws at them.
But most importantly, offroad wheelchairs give people with physical limitations the independence to enjoy the same outdoor activities as able-bodied individuals.
These specialized chairs can also be customized to suit the user's needs.
For those with limited or no use of the lower body, there are manual chairs with mountain bike wheels that can be propelled forward like a standard chair.
For those who lack upper-body mobility, there are lever systems and power assist mechanisms that supply the torque to move and maneuver easily.
And the list goes on! There is an all-terrain wheelchair for anyone, no matter the age or disability.
Our guide explains how to get started on your search – with a thorough breakdown of what to consider, the different models available, and financing. But first, get inspired to learn more about how to choose an all terrain wheelchair by looking at its benefits!
The Benefits of All-Terrain Wheelchairs
If you already own a standard wheelchair, you might not see the benefits of investing in a second chair. Perhaps you simply can't afford it or don't have the extra storage space.
The good news is there are numerous ways to modify an all-terrain wheelchair so it aligns with your lifestyle. The simple truth is that you should never feel held back from what you want to do!
Here's why an offroad wheelchair is worth it.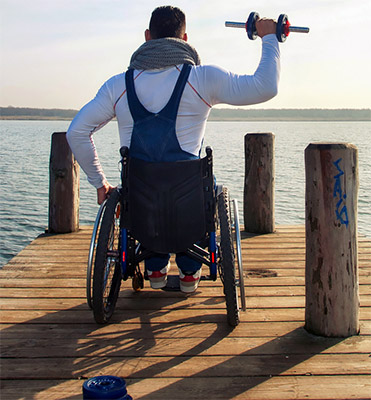 Exercise
For wheelchair users, long periods of being in a seated position can lead to issues such as poor blood circulation, pressure sores, and weak muscles.
Exercise is crucial for everyone. But obviously, a wheelchair user can't head out the door for a walk or jog, especially with a standard wheelchair.
All-terrain wheelchairs give users the ability to move on any type of terrain.
The wheels are designed to roll seamlessly over gravel, grass, sand, and uneven surfaces. You can climb slopes, travel long distances on pavement, and even move through beach sand.
Mental Health
Nature is relaxing and peaceful! After a stressful day, it feels good to sit outside, go for a walk in the neighborhood, or mosey down a trail at the park.
All-terrain wheelchairs allow users to travel outside and enjoy the serenity nature has to offer without the worry of puncturing a tire or getting stuck in the sand.
New Hobbies
All-terrain wheelchairs open the door to new possibilities. You can start hiking trails on the weekends or join a neighborhood walking group.
Some are adapted to sports like cycling, tennis, or paddling –giving you options to compete and socialize with others.
Attending Events
You might have a wedding coming up, or your kid has soccer games lined up every weekend. An all-terrain wheelchair is a durable sidekick that can tackle outdoor transit without you needing assistance.
Some wheels and brakes are designed to handle wet weather, with suspension systems that make cruising over rough terrain smooth and comfortable.
Socialization
It's easy and comfortable to stay indoors for most of the day, but this can be isolating, especially if you live alone. This can lead to feelings of sadness or anxiety.
All-terrain wheelchairs enable users to partake in group activities and share passions with others. It's the perfect way to socialize and be part of a team or group of like-minded individuals.
Different Types of All-Terrain Wheelchairs
A few different types of offroad wheelchairs are designed to accommodate various physical conditions and environments. We briefly describe them below!
All-terrain pushrim: This is a manual wheelchair with mountain bike-style wheels for the outdoors. It's propelled forward by pushing the rims.
All-terrain beach wheelchair: These models come with features such as large, inflatable wheels, non-corrosive frames, and a low-to-the-ground design for moving over sand and into water.
All-terrain trike: This is a versatile choice for all ages and disabilities. Trikes can be modified for urban living, sports, or low-impact exercise.
Lever propulsion wheelchairs: These wheelchairs give users the extra power needed to travel up slopes and over especially rough terrain via levers and gears.
What to Consider When Choosing an All-Terrain Wheelchair
Ready to start looking for your all-terrain wheelchair? Before beelining for the fanciest one you see on the market, here are a few important tips to consider!
1. Safety and Comfort
As with any type of wheelchair, safety is paramount. When choosing an offroad wheelchair, consider your objectives.
What activities do you want to use it for? What type of terrain will it be operating on? Will you be alone or with others?
Depending on your physical needs, you'll want to put some thought into the right design for your goals.
Some wheelchairs focus on stability, while others are streamlined for sharp maneuvering. There's also the question of the other people around you, whether they're pedestrians or driving cars.
Here are some safety features to consider when looking at wheelchairs.
Safety straps: There are straps for your lap, chest, feet, and anti-tip bars to keep you from falling out.
Check the frame and wheelbase for balancing on uneven surfaces.
Look at wheels that are wider, with a deep traction pattern to prevent slipping and sliding.
Install a bright orange flag on your bike so drivers and pedestrians can see you.
Check how the brake system holds up, especially on inclines and declines.
2. Physical Ability
Next, it's essential to be realistic about your physical abilities. Remember that each wheelchair is designed to benefit certain physicalities more so than others.
For example, you might think that an all-terrain manual wheelchair looks epic with its narrow design and sporty wheels, but be prepared to put in the upper body strength and stamina to push it across rugged terrain.
In fact, it's recommended to go with a lever system since manual wheelchairs lack the torque needed to power up a slope.
The good news is there are ways to modify your wheelchair so it matches your physical abilities, but this can be expensive.
Instead, consider a model that's versatile, portable, and can be pushed by an assistant if needed.
3. Indoors or Outdoors?
Generally, all-terrain wheelchairs are meant for outdoor use only. With larger wheels and heavier bodies, these models aren't able to maneuver around furniture or turn in tight quarters like a svelte manual chair.
Many users opt to purchase an all-terrain chair alongside their standard wheelchair, but understandably, that's not realistic for everyone.
One budget-friendly solution is to simply invest in all-terrain wheels. These can be switched out with the regular wheels on your standard wheelchair when you want to venture outside.
You can also talk with your supplier to see what other available designs can be used both indoors and outdoors.
4. Manual or Power?
There are both manual and all-terrain electric wheelchairs that broaden the possibilities for people with disabilities.
The trick here is understanding that each type serves different purposes, and it's not about one being better than the other.
For tetraplegics, the electric wheelchair comes in handy since it has levers or a joystick to power the device.
There are even all-terrain power chairs with tracks that resemble a mini tank, enabling anyone to travel over even the harshest terrain.
Note that some power chairs are incredibly heavy and can weigh between 400 and 600 lbs. Many bulky models aren't even foldable or can't be disassembled, making transportation a challenge.
If you don't require that much power or weight capacity, though, you can opt for lightweight power chairs (weighing less than 300 lbs) that can get you through most terrains and still fit nicely in your trunk.
On the other hand, manual all-terrain wheelchairs weigh between 40 lbs and 60 lbs. Many of them can be folded or disassembled and stored easily in a car trunk.
It all depends on your lifestyle and physical abilities – try to look at your daily life from every angle.
5. Cost & Financing
It's a known fact that wheelchairs are expensive. An off-road motorized wheelchair costs between $12,000 and $20,000, while a manual wheelchair with all-terrain wheels ranges from $1,000 to $10,000.
And the sad reality is not everyone has access to that kind of money. The best way to navigate funding is by first getting in touch with your insurance provider.
Insurance policy regulations change all the time, so it's a smart idea to get up-to-date on what is and is not covered on your policy. You might be able to get some funding this way.
You can also research local organizations in your area that offer grants for wheelchairs.
Finally, set your budget and talk with your supplier. They possess a wealth of information regarding cost-effective devices and accessories.
6. Transportation
We touched on this briefly already, but wheelchair transportation is incredibly important to consider, as it can be expensive.
Manual all-terrain wheelchairs are the easiest to transport since they are lighter and can fold up.
However, once you start dipping your toes into all-terrain trikes and power chairs, that's where it gets complicated. You might need to invest in a specialized lift or a modified van/SUV that can safely transport your chair.
Not only does this take time, but this type of equipment can cost thousands of dollars.
Therefore, transportation is something you'll want to factor into your budget and discuss with your supplier.
7. Accessories & Customization
Don't forget that you can modify your all-terrain wheelchair. There is also a robust selection of accessories on the market to personalize it for your comfort and safety.
These are some of the more popular features that can be modified:
Levers can be set up on the right side or left side of the chair.
Adjustable components, such as the footrest.
Direct steering is available for single-hand operation.
Hydraulic brakes work safely in all types of weather.
Accessories such as push handles, hydration packs, safety flags, and racks.
If you're interested in a particular model but unsure if it provides the gear you need to fully enjoy yourself, don't hesitate to chat with your supplier about modifications.
How to Choose an All Terrain Wheelchair Conclusion
Navigating how to choose an all terrain wheelchair doesn't have to feel overwhelming. Sure, there is a multitude of designs and accessories, but if you're armed with the right information, then finding your match is a piece of cake.
Start by examining your lifestyle, goals, and physical abilities. Be realistic about your budget, and exhaust all avenues for funding, such as checking insurance coverage.
Finally, contact your wheelchair supplier, as they can provide the most up-to-date advice on the latest equipment and designs. They can also steer you in the right direction regarding your budget.
---
Resources & References: