Summary
Innuovo N5513a is a surprisingly solid, versatile design with a couple of unfortunate limitations. It is recommended for any busy traveler who sticks to urban environments, as long as you don't weigh more than 265 pounds.
* Note regarding Brand Reliability: This metric is a measure of the strength and longevity of the brand, which by extension, is a measure of the level of support you can expect.
Are you a busy, on-the-go person who absolutely refuses to let your mobility issue get in the way of that? Are you looking for a lightweight, capable, travel-friendly mobility aid to help you do that? If you answered yes to the questions above, then you're going to like what you read here in our detailed Innuovo N5513A review.
Although the N5513A Innuovo is offered by a company you may not have heard of, it's a surprisingly good chair with a couple of important limitations to be mindful of. Limitations or not, though, it could be perfect for the right person.
Are you the right person for a chair like this? You very well might be. If you're curious to find out, read on!
An Overview of the Innuovo N5513A Lightweight Wheelchair
Let's talk about the elephant in the room right off the bat in this section of our Innuovo N5513A review. Many people don't like the thought of buying a product (any product) from a company they've never heard of before. Those types of customers are only interested in products from big-name brands.
If that describes you, then it doesn't matter what we say about this chair; odds are, you're just not going to be interested.
If you don't mind the fact that you've never heard the name Eutop, the company behind the Innuovo, and are willing to take a chance on them and the products they make, you'll find a lot to like.
We're seeing an increasing number of smaller, boutique manufacturers spring up, each offering a limited number of surprisingly good, generally, tightly targeted products that cater to the needs of a smaller audience. That's essentially what this chair is.
To see what we mean, let's take a look at the raw numbers:
Overall Product Dimensions: 35.4" x 23.6" x 34.6" (folded footprint is 28.3" x 23.6" x 12.6")
Seat Dimensions: 18.9" W x 16" D
Top Speed: 3.7 MPH
Maximum Range: 12.5 miles (6.25 miles per battery)
Wheel Size: 7" front, 9" rear
Maximum Climbing Angle

: 8 degrees

Ground Clearance: 1.18"
Chair Weight: 50 pounds with batteries (44 pounds with batteries)
Maximum Supported Weight: 265 pounds
Overall, the N5513A Innuovo electric wheelchair sports decent numbers but there are a couple of important limitations to highlight here, and they begin to paint this chair as one being offered to a select group of customers.
First and foremost, the seat dimensions are quite good, but there's a catch: The seat height is fixed and cannot be adjusted in any way, and the company doesn't offer any accessories. There are some aftermarket headrests, though, that would almost certainly work and give you more flexibility on that front.
Given that though, and the weight limit of the chair, you've got to be a certain height, build, and body type to even use this chair. The seat sits 21.6" from the ground and the seatback height is 16.5." There's absolutely nothing you can do about either of those numbers. They either work for you or they don't.
If they do, you'll probably find that this chair fits you like a glove. If they don't, it's going to be all but unusable for you.
The top speed is fairly modest at just under four miles an hour. It's faster than walking, but if you're in a hurry to get somewhere, this chair isn't going to get it done for you. Similarly, the range is good, but not exceptional.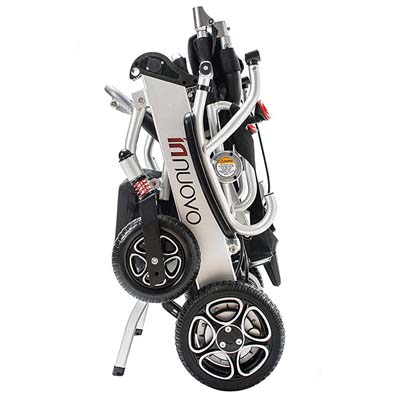 Twelve and a half miles on a charge is fine for moving about in urban spaces, but this isn't the kind of chair you'd want to take down even a modestly challenging hiking trail. Not only would the ground clearance work against you at every turn (we'll talk about that next), but you'd run the risk of running out of battery power before you got back to an outlet!
Since we mentioned it in passing above, we've got to say a few words about the ground clearance.
This chair was designed for use on pavement. You can probably get away with using it in your yard if the grass is close-cropped and freshly cut. With just over an inch of ground clearance, though, the least little obstacle you run into is going to leave you stuck and calling for help.
Reading this far, you might be wondering why we gave the chair such high marks since all we seem to be doing is talking about its shortcomings. We really like this model, but, as we said at the start, it does have some limitations to be mindful of. It is somewhat narrowly targeted toward a particular kind of user. For that user, it's a superb option to consider. For everyone else, it's almost certain not to be your top pick.
One final note before we close out this section: The turning radius of the chair is quite good at just 35.4." Even if you live in a smaller home or apartment or if you're staying at a hotel, you'll almost certainly have enough space to turn around. You may have to practice three-point turns, but the turning radius on offer here makes it very "indoor use" friendly indeed.
Adjustability and Comfort of N5513A Innuovo
For such a lightweight chair, you'll be pleasantly surprised at the comfort it provides. There's just enough conventional block foam padding with PU stretched over the Innuovo N5513A lightweight to provide a genuinely comfortable seating experience. Granted, it's not something you'll want to spend all day in, but if you run the chair at something close to its top speed, you'll run the battery down in about four hours, so it's unlikely that you'd be spending an entire day in the chair in any case.
We already mentioned that the seat wasn't adjustable, so there's no need to talk about that again. However, you'll be pleasantly surprised at the armrests. Both armrests pivot up to 270 degrees from their default positions, making transfers into and out of the chair a much simpler matter than they might otherwise be. That, however, is the only adjustable feature on this model.
Extras and Options of N5513A Wheelchair
There's both good news and bad news on this front. The bad news is that the company doesn't offer any optional accessories for sale. What you see is what you get
Note: you will find some spare parts on the Amazon storefront, here.
The good news actually takes two forms. First, the N5513a wheelchair comes with both a seatbelt and anti-tippers as standard features; two very nice touches that you don't always find readily available. Second, the aftermarket for wheelchair accessories is a bustling, lively place, and you can almost certainly find what you're looking for, from a headrest to storage pockets or even a carrying case.
The warranty is a mixed bag, and honestly, we were expecting a bit more from an American company. One thing to point out, though, is that although the chair was designed here in the US, it was actually manufactured in China. If you order one, it will be shipped from there. While the overall quality of Chinese products has been improving, they're still not quite on par with what you find in the West, which explains much of the warranty. Here are the particulars:
1-year warranty on all mechanical elements
5 years on the frame
6 months on the batteries
This warranty is better than some you'll find, but certainly not the best in class. It's not likely to be a deal-breaker for many, but it is something to be mindful of.
Portability & Ease of Use
This is where the Innuovo lightweight wheelchair really shines and is our favorite part of the Innuovo N5513A review. Looking back up at the statistics we mentioned near the start, this chair weighs in at a scant 44 pounds without batteries, which makes it exceptionally travel-friendly.
Many owners have written glowing reviews of their airline travel experiences with this chair. While that's very good to see, it's important to remember that every airline sets its own policy about what is and is not allowed. If you're planning to fly, your best bet is to call and make sure they won't have a problem with you bringing this model on board.
Based on our research, you won't have a problem more than 90% of the time, but you'll still want to call to be sure, just in case!
In a similar vein, the chair is delightfully easy to use. The joystick controller can be mounted on either arm and is both simple and intuitive. You'll probably spend about ten minutes mastering the basics and learning how much space you need to stop while using the chair, but after that, you'll be a pro. It's also worth mentioning that this chair collapses at the touch of a button, making it super simple to prep for travel. Honestly, if we could rate this model 6 stars for this category, we would. Eutop really got it right here.
Pros & Cons of N5513A Electric Wheelchair
The N5513a electric wheelchair gets a lot right, and few users will wind up not picking it because of some poorly implemented features. There really aren't any.
What there are, however, are a number of conscious design decisions that limit the chair's appeal to a smaller target audience. Some examples include:
The low ground clearance makes it a natural choice for urban travelers, but if you're an outdoor explorer looking for an adventure chair, this one isn't going to work for you at all.
The speed and range are both fairly modest, which again, is fine for an urban environment, those facts would drive an outdoorsman insane.
The seat can't be adjusted or modified. If the dimensions aren't a good fit for your body type, then the chair is going to be virtually impossible to use.
Same thing with the modest weight limit. The chair either works for you or it doesn't.
None of those are design flaws. The company specifically chooses to focus on making a chair that would be an awesome choice for a certain type of user. Unfortunately, if you fall even marginally outside that band, this model probably won't work for you at all.
The only real negative to bring to your attention is the price. This chair is priced comparably to products offered by the big-name brands. The thing is the big brands can charge a premium for name recognition and this company can't, so you will pay a bit of a premium for it. Even so, if you're the type of user this chair was designed for, it's got so much going for it that it would be money well spent.
Innuovo N5513A Review Conclusion
So having reached the end of our Innuovo N5513A review, who, exactly, is this chair designed for? We can go back to the statistics we talked about earlier and get a mental picture of the ideal user for this chair. It would be a person who:
Is of about average height with average to slightly longer than average legs
Is of light to medium build, given the weight limitations
Is not in a huge rush to get from place to place (modest top speed)
Someone who is on the go a lot and in need of a lightweight chair
But doesn't mind the fact that it's optimized for pavement and doesn't have an enormous range.
Almost certainly, this person lives and works in an urban environment and may travel extensively to other cities for business or may simply enjoy traveling to new cities to explore them. Either way, this chair is definitely geared toward the urban traveler or busy professional. The more of the bullet points above that apply to you, the more you're going to love this chair. On that basis, we provisionally recommend it.
---
Official Manufacturer Support
References & Resources: