Summary
9000SL is a truly superb wheelchair design, ideal for active people with mobility issues who love to travel.
Recommended For: Anyone weighing up to 250 pounds.
* Note regarding Brand Reliability: This metric is a measure of the strength and longevity of the brand, which by extension, is a measure of the level of support you can expect.
Do you have a mobility issue that sees you spending at least part of each day in a wheelchair? Do you love to travel? If you answered yes to both of those questions, you might have found yourself a bit frustrated because you felt that your mobility issue restricted your travel options.
It happens to a lot of people, but it is by no means an insurmountable obstacle. The 'right' wheelchair opens up a world of possibilities.
So what is the 'right' wheelchair?
Well, for most people, it comes down to having a chair that fits you like a glove and is light enough to stow in your trunk with relative ease, and perhaps even small enough to collapse down and take with you on an airplane.
Unfortunately, finding a chair that's full-featured enough to use every day and light enough to be a good traveling chair can be a daunting proposition. Sure, you can find lightweight transport chairs you can throw in your car easily enough, but the trouble with those is the fact that you need someone with you to give you a push.
Your only other alternative is to buy two chairs: A more robust one to keep at home to use every day, and a lighter one you can either keep in your car, truck, or SUV, or put there with relative ease when you want to travel. Unfortunately, not everyone can afford that extravagance.
If that's the situation you find yourself in, you're going to like what you read in this Invacare 9000SL review.
Invacare is one of the big names in the wheelchair market, with a reputation for excellence and for standing behind the products they sell.
The 9000 SL is a fantastic example of their work, but as good as it is, it does have one unfortunate weakness. In the sections that follow, we'll tell you everything this chair gets right (and it gets a lot right), and we won't pull any punches when it comes to describing its limitations.
That way, you'll have all the information you need to decide for yourself if this is the model you've been looking for. If that sounds good to you, let's jump right in and take a closer look.
An Overview of the Invacare 9000 SL Lightweight Wheelchair
With its blue/grey upholstery and black, carbon steel frame, the 9000 SL cuts a striking figure.
While it would probably be overselling it to say here in our Invacare 9000SL review that the chair looked sporty, as wheelchairs go, it's a pretty good-looking piece of equipment that you'll be proud to own.
It's much more than just a surprisingly attractive chair, though. Aesthetics matter, but function matters more. With that in mind, let's take a quick look at the core stats that define this model. Here they are:
With one notable exception, these are very good numbers. The 9000 SL has a delightfully small footprint that has no difficulty fitting through a standard-width doorway. Although, as is the case with almost all wheelchairs, you'll want to mind your knuckles. Even it fits through most doorways easily enough, there's not a lot of room to spare.
The seat dimensions make the chair useful for a wide range of body shapes and types. If you like this chair, you can order the model with either a 16" or an 18" wide seat if one of those fits you better. The lesson here is to measure before you buy!
The weight is quite good for an everyday chair, and our, admittedly arbitrary weight limit for a good traveling chair is 40 pounds. That puts this chair right at the upper limit for what we consider a good fit for traveling, but that certainly still counts.
The only real problem here is the fact that the chair will only support up to 250 pounds of user weight.
Most of the chairs on the market today support 300 pounds or more, which puts this model at a distinct disadvantage.
Granted, 250 pounds is still enough to accommodate some 80-85% of the market, but if you happen to weigh more, this model is simply going to be a nonstarter for you. That's unfortunate because it really is superb.
Adjustability and Comfort of Invacare 9000 SL Wheelchair
There's a lot to talk about here and a lot to like. For starters, the Invacare 9000 SL lightweight wheelchair is Hemi-height, which means it can be adjusted in a range between 17" and 19." That's a very good range, making the chair useful to both shorter and average-sized people and even taller folk, assuming they're built lightly enough to skate under the chair's modest weight limit.
In addition to a height-adjustable seat, the seatback is also adjustable in a range between 15" and 17" for added versatility.
It gets better. Although the base model does not come with leg rests, these can be purchased separately, and we definitely recommend doing so. You can get simple footrests or a leg rest with a padded seat calf, which makes the chair even better for longer periods of sitting.
Whatever option you choose, the leg rests are length-adjustable and swing away, which allows you to roll right up to a desk or dinner table and work or enjoy a meal with family and friends without having to transfer out of the chair.
Comfort-wise, the chair is upholstered with sturdy, reinforced nylon, which is a good thing because it is much more breathable than vinyl. Even given this, though, if you plan to be spending significant amounts of time in the chair, you'll definitely want to invest in a seat and/or seatback pad.
At the point of sale, you can specify whether you want desk-length arms, full-length arms, or height-adjustable desk-length arms. We recommend the latter, but ultimately it comes down to exactly how you plan to use the chair.
The good news here is that there are tons of options available from a variety of third-party vendors, so you'll have no problem finding exactly what you want.
Extras and Options of 9000SL Wheelchair
We've actually talked just about all of the extras and options in the section above. The only thing not yet mentioned is the anti-tippers, which are standard on most wheelchairs sold these days, and an excellent addition here.
We already mentioned the lack of padding, which is something you'll almost certainly want to invest in. Note too that the Invacare 9000SL wheelchair doesn't have any type of built-in storage. If you plan to use it on the road, that's something you'll absolutely want.
As with padding, though, there are literally dozens of third-party vendors selling a wide range of wheelchair storage options, so you'll be able to get something that meets your needs precisely. These things aren't expensive, but they are pretty much required to get the most out of your chair. As a result, it will increase the total cost of ownership somewhat.
Finally, be aware that this chair has default rear wheels that are optimized for smooth-level surfaces.
If you plan to spend most of your time on the sidewalk or inside shopping centers, the default wheels are fine. If you want to venture onto hiking trails or other types of uneven terrain, though, then you'll need to invest in some different wheels that are up to the task.
Again, this comes down to exactly how you plan to use the chair.
Portability & Ease of Use
At 40 pounds, the 9000SL Invacare is sturdy and heavy enough to be a good everyday chair and is right on the line for what we'd consider being a good traveling chair. If you're on a budget and can't afford to buy one chair for each purpose, the 9000 SL can easily fill both needs for you. It's not hard to find a wheelchair that's at least a little lighter, but you'll be hard-pressed to find one that's as highly adjustable as this one.
Pros & Cons of Invacare 9000 SL
We like almost everything about the 9000 SL wheelchair. It's got a ton of features and is highly adjustable. Best of all, it's offered by a legendary company with a long history of excellence in both product design and in post-sales customer service and support.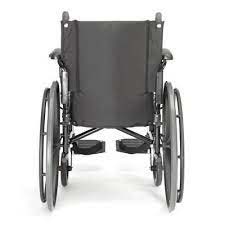 On top of that, Invacare is known for making long-lasting products. The frame of this chair is backed by a lifetime warranty, which speaks to its quality. Note, though, that the other components are only backed by a one-year warranty. Even so, a lifetime warranty on the frame is as good as it gets!
There are two things that could potentially put you off. First is the fact that if you decide you want one of these, you'll just be getting the chair. If you want leg rests (and you probably will), you'll have to buy them separately.
If you want padding, that too will have to be purchased separately, as will any onboard storage you may be interested in.
The good thing about that is the fact that it enables you to get exactly what you want. Even if money is tight, you can start with the base chair and add to it as more funds become available, ultimately winding up with the perfect chair for you.
The flip side to that equation though, is that each thing you buy to enhance the chair adds to your total cost of ownership, and while this model isn't horribly expensive, it's certainly pricier than many.
Assuming that's not a dealbreaker for you, the other potential downside to consider is the weight limit.
If you weigh more than 250 pounds, no matter how much you like this model, it's just not going to work for you.
Invacare 9000SL Review Conclusion
We love this chair, but unfortunately, the weight limit is a significant drawback. If you weigh 250 pounds or less, though, we believe here in our Invacare 9000SL review that this one definitely belongs on your shortlist of options to consider. It's a great product, but we can only give it a provisional recommendation.
---
References & Resources: