Summary
Tracer EX2 is a fantastic, surprisingly lightweight chair, offered in a variety of different configurations. Sadly, it has one flaw that may be a dealbreaker for you. It is recommended for anyone weighing up to 250 pounds.
* Note regarding Brand Reliability: This metric is a measure of the strength and longevity of the brand, which by extension, is a measure of the level of support you can expect.
Do you spend at least part of each day in a wheelchair? Has that fact made travel a distant memory because the wheelchair you currently have is inconveniently heavy? If you answered yes to both of those questions and searched for a more lightweight alternative to get you back on the road or in the air enjoying adventures, you're going to like what you read in this Invacare Tracer EX2 review.
Invacare is one of the big stars and bright lights in the wheelchair market. The company has been in the business for a long time, and they've got a reputation for making top-quality products and standing behind them.
This is an unquestionably great design, but there's a catch. It has a limitation that might be serious enough that no matter how good the chair is or how much you like it, may make it a non-starter for you. For the right user, though, it's superb.
Are you that 'right user' the chair was designed for? Read on to find out!
An Overview of the Tracer EX2 Invacare Wheelchair
At first glance, there's not much remarkable about the Tracer EX2. The design team didn't take any chances, sticking close to the convention where the overall look and feel of the chair is concerned. Invacare did take pains to keep the footprint as small as possible while still creating a genuinely useful product. As a result, the chair weighs somewhat less than many of its peers.
Before we say more than that in this section of our Invacare Tracer EX2 review, let's take a quick look at the core stats that define the model.
Here's what we're looking at:
Overall Product Dimensions: 28.2" (W) x 31.9" (D) x 35.9" (H)
Seat Dimensions: 20" (W) x 16" (D) (This chair can also be ordered with a 16" or an 18" wide seat if you prefer)
Chair Weight: 37 pounds
Maximum Supported Weight: 250 pounds
These are generally good numbers. The chair is narrow enough to fit comfortably through a standard width door frame, though the standard proviso about watching your knuckles applies as there's not a ton of room to spare.
The seat dimensions are likewise a good fit for a variety of body shapes and sizes. If 20" is too wide for you, this chair can also be ordered in a 16" or an 18" width if you prefer.
Before you place your order, you'll definitely want to take a quick measurement to be sure you're getting the chair that fits you best.
We regard the weight as good. Anything less than 40 pounds makes for a good travel chair, in our book, and this model comes in a shade under that.
Unfortunately, these stats do reveal the one glaring point of weakness where this model is concerned.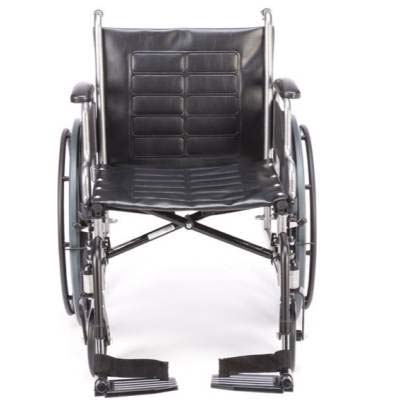 Most of the wheelchairs on the market today will support 300 pounds (or more) of user weight. This one only supports 250 pounds. That's obviously not an issue if you weigh less than that. If you weigh more, the EX2 is not the chair for you.
This model is still of use to some 80-85% of the market even with the weight limitation, but it is somewhat more narrowly targeted than many of the other chairs out there. That's a pity because it really is a great model and we'd love it if even more people could enjoy it.
Adjustability and Comfort of Invacare EX2
There are two big things to talk about where adjustability is concerned. First and foremost, the Tracer EX2 Invacare is a Hemi-height chair, so it can be set as low as 17.5" and adjusted slightly up from there to a maximum of 19.5." The lower setting is obviously better for shorter people or at least people with shorter legs, but it's also useful if you want to be able to propel yourself with your feet.
The other big thing is the fact that the leg rests are length adjustable, allowing you to tweak the settings to taste. Combined with the seat height adjustment, the two give you plenty of flexibility, allowing you to find your ideal seating experience.
Comfort-wise, the default chair is okay, but it leaves a bit to be desired. We like the fact that the armrests are padded, and that the leg rests come standard with padded calf pads. Both of those facts make the chair ideally suited even for longer periods of sitting.
On the other hand, the upholstery on the chair is vinyl, which isn't at all breathable. The longer you spend sitting in the chair, the hotter and sweatier you're apt to get.
The good news is that this is a fairly easy problem to get around since there are so many seats and seatback pads available from third-party vendors. If you don't spend much time in your chair each day, you may not need additional padding, but the more essential making that investment becomes the more you use the chair.
In a similar vein, this chair doesn't come with any type of built-in storage. If you're specifically looking for a chair you can take with you on the road, you're almost certainly going to want some kind of storage. Again though, that's easily remedied, and there are tons of great options out there, offered by third-party vendors.
Extras and Options of Tracer EX2
In addition to being fairly adjustable, the Tracer wheelchair is available in a few different configurations. If you decide you want one, you'll have some decisions to make at the point of sale.
The biggest decision is whether you want full-length or desk-length armrests.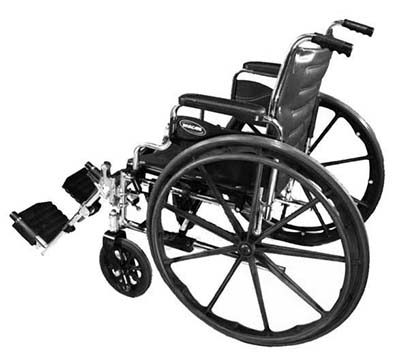 Mostly, your decision here will come down to exactly how you plan on using the chair. The desk-length arms, when combined with the swing-away leg rests that come standard on the chair, allow you to roll right up to a desk or dining table and either work or enjoy a meal with family and friends without having to transfer out off the chair.
If you don't plan on doing much of that, the full-length arms will provide added comfort for long periods of sitting in the chair. Whichever configuration you order, the armrests of your wheelchair can be removed at your option.
Portability & Ease of Use
At 37 pounds, we rate the Invacare Wheelchair Tracer EX2 as being fairly portable and a good travel chair, whether you're planning to go by car or by plane. It's also delightfully easy to use but bear in mind that the wheels on this chair have no treads.
It's fine for use on sidewalks or inside shopping malls, but you're going to want to invest in some better wheels with treads designed for that if you plan to roll around on open or uneven terrain. This isn't a huge limitation, but it is something to keep in mind.
Pros & Cons of Tracer EX2 Invacare
One of the things we like best about the wheelchair Invacare Tracer EX2 is the fact that it comes with an impressive five-year warranty. That's not only a testament to its overall quality, but it means that you'll be protected by the warranty until your insurance (in most cases) is willing to approve you for a replacement, and that's pretty huge.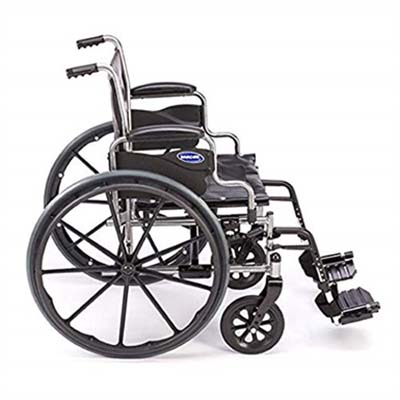 It's also just a good, well-rounded, capable product. Unfortunately, it does have that aforementioned weakness in its design. Its capability of supporting up to 250 pounds of user weight might be the kiss of death where you're concerned. That fact, more than anything else, will stand as the reason this chair might not be right for you.
Invacare Tracer EX2 Review Conclusion
If this chair supported more user weight, we'd recommend it without reservation for just about anyone.
As it stands, this is largely a self-selecting model, with the weight limit being the deciding factor for most people.
As mentioned early on here in our Invacare Tracer EX2 review, it is incredibly well made, reliable, and heavy enough to give it a feel of sturdiness. Assuming you invest in some additional padding for the seat and seat back, it's a great chair for everyday use around your home, while being light enough to toss in your trunk or SUV, or even take on a plane with you, allowing for easy, convenient travel.
We like the EX2 very much, but based on the weight limit, we can only give it a provisional recommendation.
---
References & Resources: