Summary
Tracer SX5 is an excellent reclining wheelchair. If you're in the market for one, this model belongs to your shortlist of options to consider.
Recommended For: Anyone who's looking for a reclining wheelchair and who weighs up to 250 pounds.
*Note regarding Brand Reliability: This metric is a measure of the strength and longevity of the brand, which by extension, is a measure of the level of support you can expect.
Do you suffer from some type of mobility issue that sees you spending at least part of each day in a wheelchair? Are you interested in sourcing a reclining model that might also be a good fit for taking with you on the road so you can enjoy it while you're traveling?
If so, then you're going to be interested in this Invacare Tracer SX5 recliner review. This chair might be exactly what you've been looking for.
We'll be quick to point out, though, that although Invacare is a great company, this model, in particular, suffers from two drawbacks that might make it a nonstarter for you.
Not to worry, we'll outline everything this chair can do (and it can do a lot), and we won't pull any punches when it comes to describing and defining the model's limitations.
That way, you'll be able to decide for yourself if it's the one you've been searching for. If that sounds good to you, let's jump right in and take a closer look!
An Overview of the Invacare Reclining Wheelchair
This is a big chair. If you've been searching for a reclining wheelchair, you already know that they're bigger than average. This model is no exception, which means you're probably already okay with that.
Before we comment on anything beyond its sheer size, let's take a quick look at the core stats that define this model in this section of our Invacare Tracer SX5 recliner review. If the name sounds familiar to you, then you may be thinking of the EX2, which is similar, but distinct from this model. It is the big brother of the standard SX5. Here are the basics for this variant:
Overall Product Dimensions: 26.5" (W) x 34" (D) x 53.5" (H)
Seat Dimensions: 18", 20" or 22" (W) x 16" (D)
Chair Weight: 70 pounds
Maximum Supported Weight: 250 pounds on the 18" wide model, 300 pounds on the 20" and 22" wide models
As we said, it's a big chair, and its overall dimensions confirm that fact. It's also offered in three different seat width configurations, which make it useful for the vast majority of the market. Even better, the wider variants get around one of the biggest limitations that smaller SX5 suffers from; its disappointing weight limit.
Note that the 250-pound weight limit is still present on the narrowest seat offered here. If you bump up to a 20" or 22" wide seat, the chair you get is capable of supporting a full 300 pounds. While not outstanding, we're thrilled to see some variant of this chair capable of supporting 300 pounds.
Check out the weight of this monster, though. At 70 pounds, it's definitely not a chair for the faint of heart. Under normal circumstances, we don't recommend any wheelchair as a good traveling chair if it weighs more than 40 pounds.
Having said that, we make exceptions in two cases: Bariatric chairs and reclining chairs. Our reasons here are simple. Bariatric chairs require stronger frames to support more weight, which makes them heavier by definition. Reclining chairs are physically larger than your average wheelchair, which also has the effect of making them heavier.
We assume then that anyone looking for either of these types of chairs has already made peace with the fact that they'll be working with a model that's heavier than average.
Even so, 70 pounds is a lot of weight, even for a reclining wheelchair, and it may prove to be too much for some users, taking it out of contention for use on the road.
Adjustability & Comfort, Extras & Options
We usually break this into two sections for a review, but in this case, we thought it made more sense to just lump both categories together. Let's start with the universally adjustable features that exist regardless of which options you select when you buy your Invacare reclining wheelchair.
First and foremost, the seat height can be adjusted, with a low setting of 17.5" and a high setting of 19.5," more commonly referred to as Hemi-height.
Second, and the big thing to talk about where this chair is concerned is, of course, the fact that it can recline. If you wanted to, you could lay completely flat in this chair, using it as a makeshift cot. It wouldn't be all that comfortable if used in that capacity, but in a pinch, you could certainly do it.
Note that although the armrests flip back and are removable, they are not height adjustable. They are padded, however, which helps to enhance the overall comfort of the chair.
If you decide you want one of these, you can order your chair with one of the following legrest configurations:
Aluminum Footrests
Aluminum Legrests
Composite Footrests
Or composite Legrests
The composite options tend to be cheaper, and you're not losing much, if anything, in terms of durability by selecting that option. The leg rests are length adjustable, elevating, and swing away, for maximum versatility.
It should be noted, though, that if you choose either of the "Footrest" options, you are specifically NOT getting calf pads, which makes the chair less useful for longer duration seating. Also, be aware that the push handle on the back of the seat is not height-adjustable, and that this model comes with anti-tippers as standard, which is excellent.
Notably absent from the Invacare High Back reclining wheelchair are the following:
Any type of onboard storage
Padding
And treaded rear wheels
None of those shortcomings are the kiss of death, really. Depending on how you plan on using the chair, you'll definitely want to address them.
If you don't use the chair all day, every day, the lack of padding probably won't be all that bad.
The chair is clad in nylon, which is breathable. Unlike a chair that sports leather upholstery, you won't get increasingly hot and sweaty the longer you sit in it.
Combine that with the built-in headrest pillow and the padded arms (and calf pads, if you got that option), and the chair is reasonably comfortable for shorter periods sitting in it.
The longer you plan on spending in the chair at one stretch, however, the less comfortable it's apt to get, which is ultimately why you may want to consider padding. The good news is that there are tons of great third-party vendors selling just about every type of padding imaginable, so you've got plenty of options where enhancing the comfort of the chair is concerned.
The same thing holds true with onboard storage, though we dearly wish this model offered something on that front. Still, that's an easy problem to address, and most of the third-party storage solutions are delightfully low-priced, to boot.
The wheels that come standard on this unit are fine on flat, even terrain, sidewalks, and shopping mall corridors. If you plan to enjoy hiking trails, campgrounds, or other uneven terrains, though, the standard wheels will quickly prove themselves to be wholly insufficient to the task.
The good news is that it's easy to swap the default wheels out with something that has tread, which will see you fare significantly better on rugged terrain. Mostly, this comes down to how you plan on using the chair.
Portability & Ease of Use
There are two things that work against the Invacare High Back wheelchair from a portability standpoint. First, it's huge. With a height of 53″, folding it up and stashing it somewhere is going to be a challenge. It probably won't fit in the trunk of your car unless you've got a land yacht. If you've got a full-sized SUV, you can make it work, and you should have no problem finding somewhere to put it in an RV.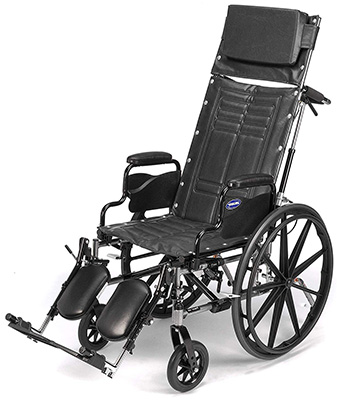 Forget about taking it on an airplane, though. That's just not going to happen, and even if by some miracle you found an airline that would take it, airlines charge by weight, which brings us to the other problem with this chair.
It's heavy. Reclining wheelchairs are always heavier than their conventional counterparts, but even when compared to other reclining wheelchairs, this is a heavy model. It is possible to fold it and stow it, assuming you have a big enough vehicle. Bear in mind that you're going to need a strong back to do it, which, unfortunately, makes it impractical for some users.
Also note that since it is heavy, it requires relatively more strength to maneuver, which reduces its ease of use somewhat.
Pros & Cons of Tracer SX5 Reclining Wheelchair
This is a great chair, especially if you spend the extra money to invest in some padding and storage.
The storage makes it more versatile, and the padding makes it an excellent chair for heavy daily usage and even napping, which is awesome.
Both of those things, in turn, make the Invacare SX5 recliner wheelchair a great traveling chair, but there are two big caveats:
First, it's almost impossible to travel by air with this model. It's just too big and too heavy. Second, getting it into and out of storage will give you a serious workout because of its weight.
Having said that, once you do get it ready to use, it's sure to provide you with endless hours of rest, relaxation, and the freedom to move about as you see fit. Unfortunately, a lot of people will wind up being left out of the fun thanks to the chair's size, weight, and the fact that, depending on what seat width you select, it's got a disappointing weight limit (and even with the wider seat the weight limit is only average).
On the other hand, this model is offered by one of the best companies in the industry. It's a highly adjustable, durable, and long-lasting chair made by a company that stands by its products and the people who buy them, so if you have any problems with your chair, you can rest easy knowing that Invacare will make it right.
Invacare Tracer SX5 Recliner Review Conclusion
We wanted to love this chair, but we wound up "only" liking it. It is a very good product, and for the right user, it's an amazing product.
At the end of the day, though, not many people will wind up being right for this chair. We believe here in our Invacare Tracer SX5 Recliner review that the ideal user is someone who:
Has amazing upper body strength, such that it's no problem lugging this monster around.
Is specifically looking for a reclining wheelchair and wants one offered by one of the biggest names in the industry
Likes to travel and has the money to invest in some extra padding and onboard storage (and possibly an upgrade to the wheels).
And specifically plans to travel in an RV or SUV
And who weighs no more than 250-300 pounds (depending on the seat width you selected)
That's a fairly specific list. The more of those bullet points that apply to you, the more you're going to like this chair.
The fewer of those points that are applicable, the more problematic you'll find it. On that basis, we can only give it a provisional recommendation.
---
References & Resources: