Summary
Pride Jazzy 1450 is a more expensive, ruggedized variant of the 614 HD offered by Pride. This one winds up being not quite as highly rated because of its high price tag. Even so, it's an unquestionably excellent design. It is recommended for anyone in the market looking for an electric wheelchair that can support up to 600 pounds and has the budget for it.
* Note regarding Brand Reliability: This metric is a measure of the strength and longevity of the brand, which by extension, is a measure of the level of support you can expect.
Are you a heavier individual with a mobility issue? Are you in the market for a robust electric wheelchair that can help you get where you want to go?
If you answered yes to either of those questions, then you probably already know what a challenge it can be to find an electric scooter or wheelchair that's big and robust enough to support you properly. Sure, if you weigh 300 pounds or less, you've got tons of great options. More than that, though, and the number drops off markedly.
The good news is that there are some great companies doing business in the industry that make models designed with you in mind. Pride Mobility is one such company, and they're one of the most respected names in the industry to boot. They not only have a long history of making stellar mobility aids, but they also stand behind them, allowing you to buy with confidence.
If you've been frustrated by your search for a good, high-quality, well-made electric wheelchair that's made with you in mind, you're going to like what you read in this Pride Jazzy 1450 review.
We'll be quick to say that this chair isn't going to be for everyone. It does have a couple of significant limitations and shortcomings, and you'll want to keep those in mind as you evaluate this model against your needs, but we think you'll be impressed.
In the sections that follow, we'll pull back the veil and tell you everything this model has to offer, and we won't pull any punches when it comes to describing those aforementioned limitations. If that sounds good to you, let's dive in right now and take a closer look.
An Overview of the Pride Jazzy 1450 Power Chair
In terms of styling, we note here in our Pride Jazzy 1450 review that the first thing you'll notice about this model is that it's very similar to the Jazzy 614 HD, which is its smaller cousin. That's not a bad thing at all. The 614 is a pretty sharp-looking machine, and this one is too, sporting a surprisingly sleek, modern look that we're quite taken with.
As a bonus, if you decide you want one of these, you can order yours in either candy apple red or viper blue at your preference. True, that's a modest color selection, but they're both good colors that enhance the visual appeal of the machine.
Aesthetics aside, though, the best place to begin is by taking a moment to review the 1450 by the numbers. With that in mind, here's a quick overview:
Overall Product Dimensions: 29.25" (W) x 38.25" (D)
Seat Dimensions: 24" (W) x 24" (D) Note: This chair may also be ordered in a variety of seat sizes, topping out at a seat measuring 32" (W) x 28" (D)
Top Speed: 4.5 mph
Maximum Range: 15.7 miles
Wheel Size: 14" (rear) and 9" (front casters)
Maximum Climbing Angle: 7.5 degrees
Turning Radius: 26.5."
Ground Clearance: 1.5."
Chair Weight: 195 pounds without batteries, 299 pounds with batteries
Maximum Supported Weight: 600 pounds
There's a lot to like where these numbers are concerned, but there are also a few potential problem areas.
Let's dig in and see what's what:
First of all, this model is slightly larger than the 614 HD, but that's to be expected. It's also significantly heavier, mostly owing to the ruggedization of the frame.
The increased size is necessary for the chair to support the larger seat dimensions offered by this model. If you order the standard 24" x 24" seat, the 1450 will fit through a standard-width doorway, but only just, and it's a bit like threading a needle. You'll definitely want to go slow the first several times you do it so as to avoid a collision.
Unfortunately, if you opt to upgrade the seat size, the total width of the Jazzy 1450 power chair will increase to the point that it will no longer fit through a standard-width door. That's not the fault of this model in particular, but simply one of the realities of getting a larger seat and a mobility aid rugged and robust enough to support heavier people.
This model is actually a bit faster and has a better range than the 614. Granted, it's only a quarter-mile faster, and it still can't be described as a speedy chair. So if you're looking for something that goes fast, this isn't the model for you.
Honestly, we're a bit disappointed and underwhelmed by the speed. We know the company can do better. They've got other models that move along at quite a respectable clip!
The range is strictly middle of the road but verging on being genuinely good. Fifteen miles and change is nothing to sneeze at, but it's not hard to find other models that offer more. Still, for most people, it's sufficient, if not good.
The turning radius of this model is surprisingly good and is only marginally larger than the turn radius of the 614. If you live in a smaller home or apartment, it could get slightly tricky in places. However, for most folks, there shouldn't be a major issue using it inside the home.
The real disappointment in these figures, though, is the ground clearance. The 614 does better here. With only 1.5" of ground clearance, this is not an electric wheelchair you want to try to take into the yard, or if you do, be sure the grass is cut short, and the yard is flat and level.
Given that, it's a real challenge (but certainly not impossible) to take this chair to the park or a campground, and it's virtually impossible to take it onto a hiking trail. It's not an adventure chair, but if your plan is to use it mostly at home, on pavement, or inside shopping centers and stores, it will serve you well.
Finally, there's the weight.
With a ruggedized frame, it's no great surprise that this is a heavy chair. The added weight makes it somewhat challenging to travel with. We'll have more to say about that later on. For now, just know that it's a heavy brute of a chair.
Adjustability and Comfort
The seat on the Pride Jazzy 1450 Bariatric power chair is highly adjustable. You can adjust the height range in a band that starts at 17.25" and runs to 19.25."
If that's not enough, you can get a high back model that sports a seat height range spanning 20.5" to 22.5," which is the configuration of choice for exceptionally tall users.
The standard seat range, though, is excellent and should work well for most folks. The seat sits just below the traditional big and tall height range threshold at its lowest setting, making it a good fit for average-sized folk, and it extends into big and tall territory too, which is outstanding.
In addition to that, the padded armrests can be height, width, and angle adjusted, giving you all sorts of configuration options. Note, though, that the chair itself will only barely fit through a standard-width doorway. So, in practice, the armrest width adjustment will only rarely be used.
Still, it's nice that the option is available if you need it!
Where comfort is concerned, the big seat is generously padded with conventional block foam. It provides a nice, smooth ride and a comfortable seating experience for short to medium-duration stints in the chair of up to about 4 hours or so.
Unfortunately, there's a catch.
The catch comes in the form of upholstery. All of the chairs and scooters Pride makes are upholstered with vinyl. Vinyl has two issues:
First, it's not breathable.
If you live in a hot climate, you're going to get hot and sweaty sitting in it in relatively short order. Even if you live in a cooler climate, after about 4 hours or so, you'll begin to experience the same thing.
Second, vinyl doesn't age well. This is an expensive chair, and unless you've got tons of money, you're probably going to want to use it every day, and possibly for extended periods every day.
Do that, and in about 18 months, the vinyl is going to start peeling and cracking.
Bear in mind that this model comes with a limited lifetime warranty on the frame, so the chair itself will far outlast the fragile upholstery. Sooner or later, and honestly, much sooner than you'd care to, you'll have to start thinking in terms of having the seat re-covered.
That's not the end of the world. Even though the seat is impressively large, there's really not a ton of upholstery to contend with here, and the expense should be a rather modest one. Even so, it is an added expense you'll need to plan for.
The biggest and the best thing you can do to solve both of these problems is to invest in a bit of additional padding. There are tons of great options available, generally offered at modest prices.
By buying more padding for the seat and setback, you solve the hot and sweaty problem since you're no longer actually sitting on the vinyl, which also reduces the wear and tear on the vinyl, making it last longer. Extra padding is a good investment, even if you're fine with the overall level of comfort offered by the seat itself.
Extras and Options
The one thing to talk about here is the fact that the Jazzy 1450 wheelchair comes with the safety belt as a standard feature. On many Pride models, it's optional, and we're very glad to see it included here.
Other than that, though, what you see is what you get. This chair doesn't come with any other built-in extras, and honestly, we think that's okay.
After all, if a chair comes with built-in extras and you don't want or need the extras on offer, you wind up paying for stuff you're not going to use.
Pride has done a great job, though, at offering a wide range of extras and add-ons you can get if you decide you want or need them. These include:
A cane/crutch holder
A cellphone holder
A cup holder
A rear basket
Saddlebags to drape over the armrests
A weather cover
A walker holder
A safety flag
An oxygen holder
An XLR USB charger
A swing-away joystick
While we're not huge fans of the safety flag, these are all pretty good options. Our recommendation would be to use it as it is for a few months to get a feel for what your needs are, and then start buying extras.
Naturally, if you already know you need an oxygen tank holder or something similar, by all means, invest in those things right off. In a fair number of cases, though, you may not realize you want or need something until you've used the chair for a while.
Also, don't forget that there's a lively and thriving aftermarket for electric wheelchairs and scooters, with a large number of third-party vendors selling a staggering array of accessories. You can customize your chair to your heart's content!
Portability & Ease of Use
The Jazzy 1450 electric wheelchair weighs almost 300 pounds with the batteries in place. It's heavy. The good news is, the company took pains to make it as travel friendly as possible by making it easy to disassemble.
By taking the time to take it apart, you can store it with surprising ease using your available trunk and backseat storage space. If you have a truck, van, or SUV, you should have a relatively easy time fitting all the pieces in between whatever other luggage you're bringing with you when you travel.
Unfortunately, the heaviest piece still weighs in excess of 70 pounds when you take it apart, which will require some brute force to get it safely stowed away in your vehicle. It's not impossible, but that does present a challenge.
The other drawback to this approach is that it's a bit time-consuming. Before you can start your trip, you've got to take the time to break it down. Then, when you get where you're going, you can't just get out of the car and start having fun. You have to take the time to put the chair back together again.
If you want to reclaim that time, there are two good options for doing that, but both cost more money.
The first option is to invest in a ramp. This works if you have a truck or a van. Just deploy your trusty ramp and drive the chair onto the bed of the truck or into the van and secure it. Then, drive it back down the ramp when you get where you're going, and you're ready for adventure.
If you don't have a truck or van, you may also consider investing in a lift. Lifts can be fitted behind most vehicles and allow you to simply tote the chair behind you.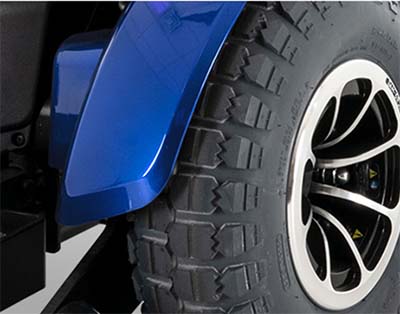 Unfortunately, lifts are significantly more expensive than a ramp. As we've said before, this is already a frightfully expensive chair, so the added expense may not be feasible for some. In any case, there are at least three good options where over the road travel is concerned, making this chair more travel friendly than it first appears.
It is not, however, a good option for air travel. Airlines charge by weight. When you compare the cost of trying to travel with this chair versus say, a 30-40 pound manual wheelchair, it's just no contest.
Trying to travel by air with this brute is ruinously expensive, and that's if the airline you're flying with will even allow it. If it's something you want to look into, just be sure to call the airline you're flying with so you know where they stand and what to expect.
In terms of ease of use, the 1450 shines. Although its turning radius is a bit wider than the smaller 641 HD, it's not excessive by any means, and the joystick controller is simple and intuitive. It will only take a few minutes to master the basic operation. Again, be careful going through doorways as you don't have a lot of room to spare!
Variants of Pride Jazzy 1450 Power Chair
Pros & Cons of Pride Jazzy 1450 Power Chair
The Jazzy 1450 power wheelchair only has two real downsides as far as we're concerned. First is the price. You'll pay a premium for a ruggedized chair developed by a top-notch company. Unfortunately, the steep price tag on this model may simply put it out of the reach of many people who want or need the model.
The second is the disappointing ground clearance. This is not a chair for outdoorsmen. As long as your grass is cut short and your yard is flat, you can probably use the 1450 in your yard, but it doesn't take a very big obstruction at all to hang a chair up when it's only got a 1.5" ground clearance.
The first issue is the real showstopper. The second may or may not be important to you, depending on how you see yourself using the chair.
Pride Mobility Jazzy 1450 Review Conclusion
This is a very good chair, but in our view, it falls short of greatness. Even so, it fills an important niche. We suggest here in our Jazzy 1450 review that if the 450-pound weight limit offered by the 614 HD isn't enough for you, this is a superb option to consider. Given the existence of the 614 HD, though, which occupies a different place in the same niche, we can only provisionally recommend this model.
---
References & Resources: