Summary
Jazzy 600 ES is a robust, full-featured, and capable electric wheelchair, offered by one of the best companies in the business.
Recommended For: Anyone weighing up to 300 pounds who can afford it.
Do you spend part of each day in a wheelchair due to a mobility issue of one severity or another?
Are you tired of having to haul yourself manually around in your current chair, or perhaps you're shopping for your very first mobility aid and already know you don't want to do that?
If you answered yes to any of the questions above, then you're going to like this Pride Mobility Jazzy 600 ES review.
Pride is one of the bright stars in the mobility industry, with a long track record of making exceptional products and standing behind them. The Jazzy 600 ES is an excellent example of their work. We'll be quick to point out that it's fairly pricey as electric wheelchairs go, which may put it out of reach of many of the people who might want one.
Assuming that's not an issue for you, though, you'll find a lot to like about this model. In the sections that follow, we'll walk you through everything the 600 ES has to offer.
As you'll see, although it's not perfect, the design team got a lot right here. If you're curious to know more, read on, and let's take a closer look!
An Overview of the Pride Mobility Jazzy 600 Powerchair
The Jazzy 600 is a sharp-looking electric wheelchair sporting a refined, modern design. It makes conventionally designed electric wheelchairs like the Drive Medical Cirrus Plus look old and clunky by comparison.
Some people prefer the more conventional design, but we think most folks will like the look of this chair very much indeed.
Before we say more than that in this section of our Pride Jazzy 600 ES review, let's start by taking a look at this model by the numbers. Here's a quick overview:
Overall Product Dimensions: 24.5" (W) x 40.25" (D)
Seat Dimensions: 20" (W) x 20" (D)
Top Speed: 4 mph
Maximum Range: 16.65 miles
Wheel Size: 14" (rear) and 6" (front casters)
Maximum Climbing Angle: 7.5 degrees
Turning Radius: 20.5."
Ground Clearance: 2.75."
Chair Weight: 123.6 pounds without batteries, 198 pounds with batteries
Maximum Supported Weight: 300 pounds
These are generally good numbers, but there are a couple of underwhelming entries here. The overall dimensions are fine, and the 600 ES is narrow enough to fit through a standard-width doorframe. Also, its turning radius is tight enough that you can use it even in smaller homes or apartments.
One thing we're a bit curious about is the size of the seat. Typically, a 20" wide seat is only used on chairs designed to support 350 or more pounds of user weight. It seems almost wasted on a chair that only sports the standard 300-pound weight limit.
It's not a huge deal, and it's better to sit in a chair that's slightly too wide than it is to try to cram yourself into one that's a shade too narrow; it's mostly a curiosity.
Note: The company does offer a 16" x 16" or an 18" x 18" seat, but you'll have to contact them directly if you want one of the smaller options.
One thing that serves as a genuine disappointment to us is the top speed. At 4 miles an hour, someone walking at a brisk pace could outpace you, so a speedy machine, this is not. It does have a decent range, though. Not spectacular, but slightly above average, which makes it fine.
The ground clearance is also a bit underwhelming at less than 3." It's not high enough off the ground to allow you to use the chair on rough or uneven terrain, but it's fine on all household flooring surfaces, parking lots, sidewalks, and shopping centers.
If you're very careful, you can use it around your yard, take it out to the garden, and it would probably serve you well at most parks and campgrounds. However, you'll want to keep a watchful eye out for rocks, big up-jutting roots, and other potential obstructions that could hang you up anytime you use it on open ground.
Finally, there's the chair's weight. It's respectably heavy, and that could make traveling with this model a bit of a challenge.
We'll have more to say about that later on in this review. For now, it's enough to note the weight.
Adjustability and Comfort
The seat on the Jazzy 600ES power chair is height adjustable within a range that spans 17.25" to 19.25." On office chairs and such, big and tall chairs are defined by a seat height adjustment range that starts at 18" and goes up from there. This seat's range straddles that line, making it a good fit for both shorter and taller users, with the 300-pound weight limit being the real defining (and limiting) factor of the model.
The padded armrests are also height and width adjustable. When you place your order, you can specify whether you want the joystick steering controller on the right-hand or left-hand side.
The seat is well padded with conventional block foam, so it provides a comfortable seating experience. As is the case with all of the chairs Pride sells, this one is upholstered in black vinyl.
Black vinyl is strictly okay as an upholstery option for wheelchairs. It looks pretty and is easy to clean and care for, but it's got two major issues you should be aware of.
First, it's not at all breathable. The more time you spend sitting in it, the hotter and sweatier you're going to get.
That will happen sooner if you live in a warm to hot climate, but even if you don't, it will happen after about 4 hours.
Second, vinyl doesn't stand up well to the rigors of heavy daily use. If you plan on using this chair every day (and most folks do), you'll notice that the upholstery starts showing its age after about 18 months. Given that the chair frame has an impressive lifetime warranty, you can be assured that the seat will need re-covering long before the chair itself begins wearing out.
The good news on that front is that there's not a tremendous amount of upholstery to contend with, and the cost of having it re-covered will be fairly modest. The bad news is, this is an expensive chair, and it's a shame that's something you'll have to put on your radar so soon after you've purchased it.
In any case, there's a simple solution. If you buy extra padding for the seat and seatback, you'll get your body off of the vinyl. By doing so, you won't be nearly as hot, and you'll be comfortable for longer periods of sitting in it. The extra padding will also help extend the life of the upholstery by reducing the wear on it. You'll still have to replace it eventually, but it will certainly help.
Extras and Options of Pride Jazzy 600 ES
The Jazzy 600 power chair doesn't come with any extras. You're getting a good-looking, robust, capable electric wheelchair. If you want to customize and personalize it, you're on your own.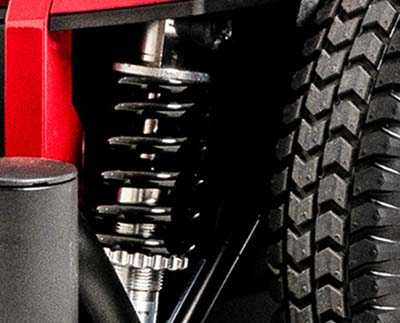 That's not necessarily a bad thing. After all, one of the problems associated with chairs that sport a lot of extras is that they may or may not be extras you'll actually want or use, which will see you paying for stuff you don't really need. This way, you can be assured that the only extras you'll wind up owning will be the ones you want.
We should also note that Pride has really gone out of its way to offer plenty of high-value extras.
You can get any of the following for your chair:
Lap belt
A cane/crutch holder
A cellphone holder
A cup holder
A rear basket
Saddlebags to drape over the armrests
A weather cover
A walker holder
A safety flag
An oxygen holder
An XLR USB charger
A swing-away joystick
We like all of these, but we do feel that the lap belt should have come included with the base model.
It's a critical safety feature, after all. In any case, if you want it, the company makes it available.
In addition to these, if you're willing to consider third-party products, you can customize them to your heart's content. There's a huge aftermarket for wheelchairs of all types, so the possibilities are endless.
Portability & Ease of Use
Early on, we noted the weight of the Pride Jazzy 600ES powerchair. Given the weight, the first impression this chair leaves you with is that it's not very portable or travel-friendly.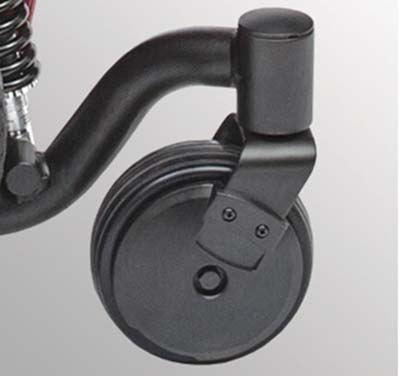 The good news here is that the 600 ES is easy to disassemble, and once broken down, the individual pieces are much more manageable. However, the problem is that having to take the chair apart and put it back together again is a time sink.
If you'd rather not take that time, there are a couple of good options: A ramp or a lift.
A ramp is a good option if you own a truck or a van, and that makes traveling with the chair a simple proposition. Just drive the chair up the ramp and into the van or onto the bed of your truck, secure it, and hit the road. When you get where you're going, all you have to do is drive it back down.
If that's not practical, a lift is the other good option. You can install a lift on the back of almost any vehicle, and then, you can simply carry the 600 ES behind whatever you're driving.
Of course, the issue with both of these options is that they require an additional expense on your part, on top of the significant expense of the chair itself. It may be beyond the reach of some. In any case, the bottom line is that the chair is more portable and travel-friendly than it might first appear. There are some hurdles to clear, but it's certainly doable.
Before we leave this section, we should say a few words about air travel with the 600 ES. It's just not very practical. Think about it: This chair weighs nearly 200 pounds. A good manual travel chair weighs around 40 pounds and often less.
Airlines charge by the pound. If you try to take this one with you, you'll pay a heft premium for the pleasure. That's if they allow it at all, and they may not. Batteries are, after all, fire hazards.
In any case, every airline's policies are different. If it's something you want to attempt, be sure to call the airline you're planning to fly with so that you understand what they allow and what they don't.
Pros & Cons of Pride Jazzy 600 ES Powerchair
Jazzy 600 ES is a very good chair. For some, it might even be a great chair, but it does have its limitations. It's best when used on pavement, inside shopping centers, or in your home. It's decidedly less useful on open ground, but as we said earlier, it is possible if you're careful. The big issue is the cost.
You'll pay a premium for the quality this chair is built with, but the simple truth is that it may be out of reach for you if you're on a budget.
Pride Mobility Jazzy 600 ES Review Conclusion
As mentioned early on here in our Pride Mobility Jazzy 600 ES review, this is a very good, well-designed chair. You can see and feel the quality when looking at it and sitting in it. Unfortunately, you'll pay a premium for such quality. Unless you're specifically looking for an all-terrain, adventure chair, the 600 ES is an excellent option. We recommend it.
---
References & Resources: