Summary
Jazzy 614 is not quite as good as the Jazzy 600 ES, which is this model's smaller cousin, but still a rock solid, delightfully capable design.
Recommended For: Anyone weighing up to 450 pounds, if you've got the money for it.
*Note regarding Brand Reliability: This metric is a measure of the strength and longevity of the brand, which by extension, is a measure of the level of support you can expect.
Are you a bigger, taller, heavier individual? Are you ready to upgrade your current wheelchair, or perhaps are you shopping for your first wheelchair and already know that electric wheelchair is much more to your liking?
Whatever the case, if you weigh more than 300 pounds, you know what a challenge it can be to find something that's robust enough to support you properly. Lighter folks just have more options. There just aren't as many models available that cater to those who weigh more.
If the search has been a frustrating one so far, you're in for a treat. Pride Mobility is one of the biggest and best-known names in the industry, and they have a long history of making exceptional products. While the Jazzy 614 HD isn't quite as good as the 600 ES, it's still a remarkable piece of engineering that will serve most people very well.
In the sections that follow, we'll outline everything this model has to offer. We'll also be quick to point out here in our Jazzy 614 HD review the shortcomings and limitations of the design. If you're intrigued and want to know more, let's jump right in and take a closer look!
An Overview of the Pride Jazzy 614 HD Power Chair
Aesthetically, the Jazzy 614 HD is very similar to 600 ES, and you can tell at a glance that they're brothers, although this one has a larger seat and more robust shocks.
Before we talk about specific features, though, let's start by taking a look at the core stats that define the model.
Here's a quick overview:
Overall Product Dimensions: 25.5" (W) x 35.5" (D)
Seat Dimensions: 24" (W) x 24" (D) Note: This chair may also be ordered with a 20" x 18" seat, or a 20" x 22" seat
Top Speed: 4.25 mph
Maximum Range: 11 miles
Wheel Size: 14" (rear) and 6" (front casters)
Maximum Climbing Angle: 7.5 degrees
Turning Radius: 22.75"
Ground Clearance: 2.25"
Chair Weight: 166 pounds without batteries, 240 pounds with batteries
Maximum Supported Weight: 450 pounds
Surprisingly, even though this chair is capable of supporting more user weight than the 600, it actually features a slightly smaller footprint, although it is slightly heavier, owing to the ruggedized frame.
It's got a top speed that's similar to the 600. Though it's capable of going a quarter of a mile faster, it's still definitely not a speedy model. At just 4.25 miles per hour, we'll say here in our Pride Jazzy 614 HD review this is not the chair you want if you're in a big hurry to get where you're going.
The range is strictly middle of the road, slightly less than that offered by the 600, but sufficient for most purposes.
The turning radius is quite good, and that, combined with the width of the machine, makes it a good fit for use inside your home, even if you live in a garden home or smaller apartment.
Unfortunately, this model suffers from the same limitation that its counterpart, the 600 ES, suffers from. It has a very low ground clearance.
That's not much of an issue if you plan to use the chair mostly inside your home, on sidewalks, parking lots, or inside shopping centers, but if you want something you can use over uneven, open ground, this one isn't a great option.
If you've got a flat, level yard and you've kept the grass cut, you can use it in and around your property. However, it's very easy to run afoul of an up-jutting rock or a thick root and get yourself hung up, so caution is very much advised.
Lastly, note the weight of the chair. At a glance, it might not seem that this model is particularly portable or travel-friendly. It's actually easier to travel with the chair than you might expect, but it does take a bit of extra work, and there are a few hurdles to clear. Nothing insurmountable, but expect a bit of hoop-jumping. We'll have more to say about that later on in this review.
Adjustability and Comfort
Other than having a larger seat, the Jazzy HD power chair has the same adjustable features you'll find on the 600 ES. The seat is height adjustable in a range that begins (lowest setting) at 17.75" and goes up to 19.75." It is a very good range that has one foot in big and tall territory and the other not, which makes it a good fit for most folks, no matter how long or short your legs might be.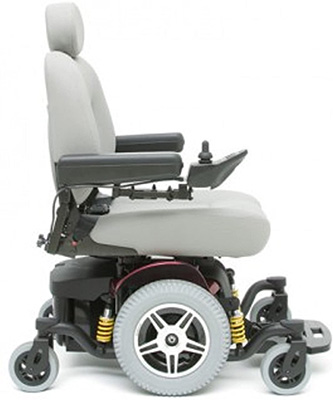 In addition to that, the padded armrests are both height and width adjustable, though, given the width of the seat, it's unlikely that you'll get much use out of the width adjustment feature.
The chair is padded with conventional block foam and covered in vinyl. There's enough block foam to provide a pleasant seating experience, but the vinyl is problematic for two reasons.
First and foremost, it's not breathable, and the more time you spend sitting on it, the hotter and sweatier you're likely to get. Expect that to happen in about 4 hours if you live in a cooler climate and significantly sooner if you live in a hot one.
Second, vinyl doesn't age well. This is an expensive machine, and given the cost, it's something you'll probably want to use every day. If you do, however, you can expect that your vinyl upholstery will start showing its age by peeling and cracking after about eighteen months.
The frame on this model only boasts a 5-year warranty (compared to the lifetime warranty of the 600). Still, even at that, you can expect the chair to far outlast the upholstery, so having the chair re-covered is something you'll want to put on your radar, and probably sooner than you'd care to have to.
You can partly mitigate both of those problems by investing in a seat and seatback pad. Not only will this enhance the comfort of the chair, but you'll be less sweaty since you're up off of the vinyl, and the vinyl will last a bit longer since it's not exposed to direct contact.
Extras and Options
The Jazzy 614 power chair comes with a safety belt standard and a joystick controller, which you can have mounted on either the left or right side (specify when you place your order).
Pride has an interesting strategy where extras are concerned, though. Most of the models they sell come outfitted with very few accessories.
We think that's mostly a good thing because it keeps you from paying for a built-in extra that you may not want, need, or ever use. The flip side, of course, is that you'll have to buy all your accessories separately.
Pride offers a number of good ones. These include:
A cane/crutch holder
A cellphone holder
A cup holder
A rear basket
Saddlebags to drape over the armrests
A weather cover
A walker holder
A safety flag
An oxygen holder
An XLR USB charger
And a swing-away joystick
We're sold on all of these, except for the safety flag. We recommend both storage options and the USB charger at a minimum. Upgrading to the swing-away joystick might also be good, depending on the severity of your mobility issue, since being able to get it out of the way will make transferring into and out of the chair easier.
Portability & Ease of Use
Earlier in the review, we mentioned the weight of the Jazzy 614 HD scooter, and we remarked that it made the model seem fairly unfriendly to the notion of taking it on trips with you.
The fine folks at Pride have already thought of this, though, and have provided a workaround. The 614 HD disassembles easily, and once in pieces, it is much easier to move and store. It should be noted that the heaviest piece weighs in excess of seventy pounds, which, depending on the severity of your mobility issue, might still be heavy enough to serve as a daunting challenge to lift.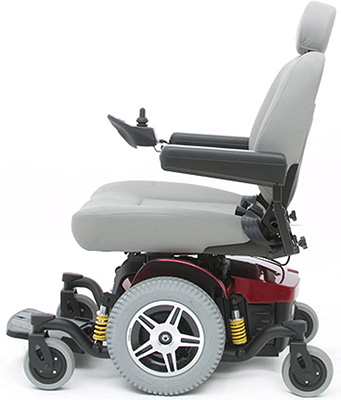 It is significantly easier to store when broken down, however, and that fact makes it a lot more portable and travel-friendly than it first appears, but there's a catch:
If you take the chair apart and put it back together when you get where you're going, it creates a bit of a time sink. You can't just hop out of the car and go on an adventure. You've got work to do before that can happen.
There are two alternate solutions to the problem, but both of them have a tradeoff of their own and will require you to spend money investing in some additional tech.
The first alternative is to buy a ramp. Having a ramp is effective if you own a truck or van as you can simply deploy the ramp and drive the chair onto the bed of your truck or into your van. Then, just secure it and drive it back down the ramp when you get where you're going.
If you don't have a truck or van, though, a ramp would be of limited value. In that case, investing in a lift is another alternate solution.
You can install lifts on just about any type of vehicle and simply carry the 614 behind you.
Unfortunately, lifts are relatively more expensive than ramps, and this isn't a cheap chair, to begin with, so the combined cost may put that solution out of reach for some.
Before we leave this section, we should say a few words about air travel. In most cases, taking a chair like this onto an airplane is a non-starter. The airline might just flatly reject the idea because the batteries are a potential fire hazard.
Even if they don't, remember that this chair weighs more than two hundred pounds, and airlines charge by weight. Given that you can get a good manual travel wheelchair that weighs 30-40 pounds, it just seems ruinously expensive even to try to travel by air with the 614.
If you've got your mindset on it, though, be sure to call whatever airline you plan to fly with in advance. Each company's policies are different, and you don't want any surprises on the day of your trip.
Pros & Cons of Jazzy 614
This model gets a lot right. We didn't rate it quite as highly as its close cousin the 600 ES because it's more narrowly targeted, appealing to a smaller segment of the market, and it suffers from a slightly shorter range.
The two biggest downsides with this model, though, are that it's expensive and that it is of limited value on rough terrain. The price may simply put it out of reach for some, and if you're looking for something you can take on hiking trails and such, this one is simply a non-starter.
If you've got the money, though, and you mostly plan to use it on paved surfaces or indoors, this model is worth its weight in gold.
Pride Mobility Jazzy 614 HD Review Conclusion
Even though we didn't rate this one quite as high as the 600 ES here in our Jazzy 614 HD review, it's still unquestionably a great design. If you're a heavier individual, especially one who mostly plans to use the chair indoors and on flat, paved surfaces, it will serve you well indeed. Despite a few minor complaints we have with the design, we absolutely recommend this model.
---
References & Resources: