Summary
Jazzy Air 2 is a very good general-purpose electric wheelchair with a trick that few others on the market can replicate – it can lift you into the air, allowing you to reach things you'd normally have to ask for help to get! it is recommended for anyone weighing up to 300 pounds who can afford it and who will get a lot of mileage out of the "air" feature that is the hallmark of this design.
* Note regarding Brand Reliability: This metric is a measure of the strength and longevity of the brand, which by extension, is a measure of the level of support you can expect.
Do you suffer from some type of mobility issue that sees you spending at least part of each day in a wheelchair? Are you in the market for a battery-powered mobility aid that can help get you where you want to go, is light enough to take on the road with you, and can help you reach high places that normal wheelchairs simply can't?
If you answered yes to the questions above, then the Jazzy Air 2 might be the best and coolest chair you've ever read about.
We'll be quick to admit here in our Jazzy Air 2 review that it's got a few issues and limitations, and as such, it won't be for everyone. It is an incredibly capable chair, however. In the sections that follow, we'll tell you everything it has to offer, and we won't shy away from describing its limitations either. That way, you'll be able to decide for yourself if this is the one you've been looking for.
If that sounds good to you, read on, and let's have a closer look.
An Overview of the Pride Mobility Jazzy Air 2
The first thing to say about this model is that this is the Air 2, not the original Jazzy Air design.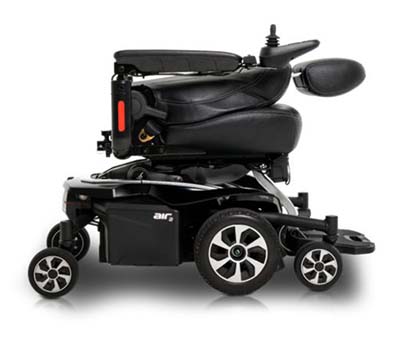 While the original design was quite good and still possible to find it for sale on the web, that model has been discontinued for this one and will eventually vanish.
Aesthetically, this model looks a lot like the rest of the Jazzy product line, though perhaps a bit smaller than most. Don't let the first impression fool you, though. Although the chair looks similar, it's got capabilities that no other chair in the Jazzy product line has.
It's also offered in a surprisingly wide range of colors, which is a departure from the norm where the Jazzy product line is concerned. Normally, you get to pick from two color options. Here, you can choose from any of the following:
Citrine Yellow
Pearl White
Ruby Red
Sapphire Blue
Black Pearl (matte)
Garnet Red (matte)
Black Onyx
Pink Topaz
Silver
Tanzanite (matte)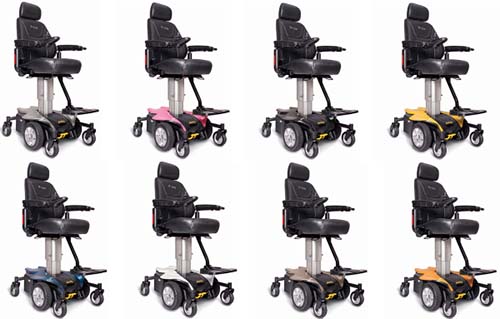 Before we talk in this section of our Pride Jazzy Air 2 review about the signature feature and the other things this chair has to offer, let's take a look at this model by the numbers. Here are the basics:
Overall Product Dimensions: 23.25" (W) x 42" (D)
Seat Dimensions: The default is 18" (W) x 18" (D), but Pride offers a number of other possibilities here. These include:

16" (W) x 16" (D)
18" (W) x 20" (D
20" (W) x 20" (D)

Top Speed: 4 mph
Maximum Range: 19.2 miles
Wheel Size: 10" Drive wheels and 6" casters
Maximum Climbing Angle: 6 degrees
Turning Radius: 20.25."
Ground Clearance: 1."
Chair Weight: 170 pounds without batteries, 202 pounds with batteries
Maximum Supported Weight: 300 pounds
There's a lot to talk about where these numbers are good. While many of these numbers are quite good, there are a few that we're not impressed with.
First and foremost, this is an average-sized powered wheelchair on par with most of the other models Pride sells.
One thing we really love, though, is the fact that the company offers so many different seat size configurations. While we're skeptical that the larger seat size options will see much use, given that the chair only supports up to 300 pounds of weight, we love the fact that so many options are available.
Normally, we'd make fun of the chair's low top speed, but given this chair's lift function, we totally understand why they offered the model with a relatively low top speed.
The range is on the high side of average. It's not bad, but we'd love to see more here. Even though the range leaves us a little underwhelmed, the turning radius is pure awesome! This thing can't quite turn on a dime, but it can turn on a quarter, and that's not bad.
At 20.75," the Air 2 has one of the tightest turning radii in Pride's entire product line.
It's great because it means that you can navigate through really tight spaces with relative ease. If you live in a smaller home or apartment or are visiting someone who does, you won't have any trouble at all.
Unfortunately, the ground clearance is almost shockingly bad. The company clearly intended for the chair to be used in urban environments, sidewalks, parking lots, shopping centers, stores, and, of course, inside your home.
With a scant 1" ground clearance, there's almost no way you can use this model outdoors. Say, if you wanted to ride over to the apple tree and use the lift feature to grab an apple. Nope. The first root you encounter will probably hang you up, and that's a pity.
The last thing to talk about here where these numbers are concerned is the weight, and here, we're back to being impressed. For an electric wheelchair, this is a surprisingly light model, and that means it's relatively travel-friendly, which is awesome. We'll have more to say about that a bit later on, though.
Adjustability and Comfort of Pride Jazzy Air
This is a surprisingly adjustable chair.
First, the seat is height adjustable in a range that spans 17.75" to 20.25." We regard this as excellent. It starts just below what's normally considered big and tall territory and extends well into it, which makes it a good fit for ordinary-sized people, taller folks, and anyone with long legs.
If you're shorter or have short legs, you may not be able to use the Pride Jazzy Air power chair comfortably, but most people shouldn't have an issue here.
You can also set the angle of the seatback for optimal comfort, but note that this is not one of the swivel-seat designs. This seat is also equipped with a height-adjustable headrest, which gives you yet another comfort option.
Even better, the seat here is also depth adjustable by up to 2." If you do have shorter legs, this might be enough to allow you to use the chair comfortably.
Extras and Options of Jazzy Air
Portability & Ease of Use
Pros & Cons of Jazzy Air 2 Power Chair
There's a lot we like about this design, and we flat-out love the lift feature! Even so, there are two points of weakness in the design that could be dealbreakers for you.
The first and most serious of these is the price. This is an expensive machine! That's understandable, but the simple truth is that if you're on a budget, this one may be out of your reach.
Second, there's the fact that this chair only has a 1" ground clearance. That's awful. That's pathetic. Clearly, the designers of this chair intended that it be used almost exclusively on pavement or other hard, flat, even surfaces. Try to use it anywhere else, and you're likely to get yourself hung up on something.
For some people, this second shortcoming might not be a big deal, but we love the great outdoors, and if you do too, then that piddly little 1" ground clearance is going to be a major issue for you.
Pride Jazzy Air 2 Review Conclusion
Given the two limitations we mentioned in the previous section here in our Jazzy Air 2 review and as cool as the lift features are, it's just not something that everyone is going to want or need. This chair is almost entirely self-selecting. You're either going to read about it and think to yourself, "I didn't realize how badly I needed one of these!"
Or you're going to think, "Meh – It doesn't do what I need it to do, and I don't care that much about the lift feature."
If you fall into the first group, you're going to love this machine. If you fall into the second group, you're going to be unimpressed and certainly won't want to spend thousands of dollars on it.
We feel pretty sure that the second group will wind up being significantly larger than the first group. On that basis, we can only give this one a provisional recommendation. We will say, though, that if you get one, you'll probably love it.
---
References & Resources: