Summary
The Jazzy EVO 613 Power Chair is a high-end mobility device that is expensive but offers plenty of convenience and comfort, thanks to its lithium-ion battery. It's ideal for seniors and individuals with mild physical impairments who need assistance completing everyday tasks.
*Note regarding Brand Reliability: This metric is a measure of the strength and longevity of the brand, which by extension, is a measure of the level of support you can expect.
Powerchairs come in all shapes and sizes. But every once in a while, one model emerges from the pack with a feature set that turns head and an innovative design that feels and operates just as good as it looks.
In our Jazzy EVO 613 review, we take a look at one such powerchair, powered by a state-of-the-art lithium battery and backed by a sterling reputation for quality performance.
Ready to learn more? Let's go!
Jazzy EVO 613 Power Chair Design Overview
The Jazzy Power Chair line by Pride Mobility is known for innovation, featuring high-tech mobility devices designed to give the user everything they could want for the utmost functionality and comfort.
The Jazzy EVO 613 is one such model, and it just so happens to be the star of our review. It's sleek and narrow compared to other powerchairs, with a base that's only 22" wide.
The base features Mid-wheel 6 Technology, which is a fancy way of saying this powerchair has a mid-wheel drive setup. This makes maneuverability a joy, especially with the narrow base.
You can roam indoors without any worries, tackling tight corners and zooming through doorways like a pro.
To get technical, this wheel configuration gives users a 22-inch turning radius, which is as good as it gets compared to other chairs.
But the real star of this Jazzy EVO 613 review is the battery. It's one of the most impressive power systems we've seen on the market.
The Jazzy EVO 613LI gives users the option to have a lithium-ion battery, which comes with many perks. For example, it's lighter than conventional batteries, lasts longer, and charges faster.
It comes with a 35AH lithium battery that weighs 18.5 lbs total and boasts a 21-mile range—if carrying a maximum weight of 200 lbs.
It can cover 17.6 miles with a weight capacity of 300 lbs, which not only means that this is a heavy-duty chair for larger body types, but also that the mileage it covers is still industry standard for a power chair.
The Pride Jazzy EVO 613 electric wheelchair also has the option of U-1 batteries, which weigh 47 lbs, only reaching 17 miles with a 200-lb capacity.
This is still considered above average, though. For someone over 300 lbs, you only get a 14.4-mile range, which might not suffice if you depend on your powerchair heavily.
Not only is the lithium battery a knockout design, but the Jazzy EVO 613 can also reach a top speed of 5.1 mph. This is also the best on the market in terms of speed, so you can rest assured you're being treated to a high-performance product.
Overall, this is a versatile, quality powerchair that ensures you'll be able to do what you need to while enjoying more power and speed for a bit of added thrill.
You also can expect a user-friendly experience, thanks to the smooth, maneuverable ride and straightforward controls.
This is a solid option for a wide range of people with disabilities, including seniors who need assistance getting around or people with light disabilities who favor a chair with more torque.
The thing is, this type of innovation doesn't come cheap. On average, powerchairs cost between $1,500 to $4,000, and the Jazzy EVO 613 is at the high end of the spectrum.
That means not everyone may be able to afford it. However, be sure to check with your insurance agent or Medicare for potential partial coverage.
Jazzy EVO 613 Power Wheelchair Features
Next, we take a look at what the Jazzy EVO 613 Power Chair can accomplish when out and about. It scores top points for many of its features, which are designed and executed with meticulous precision.
If comfort, functionality, and style are what you're after, then you'll probably love the features of this power chair!
Comfort and Safety of Jazzy Evo 613
With a price this expensive, you can be sure the comfort components are next level, and that's certainly the case with the Jazzy EVO 613.
It comes equipped with a patented Active-Trac Suspension system that ensures a smooth ride when outdoors, and the Mid-Wheel 6 Technology we mentioned earlier makes it easier to turn on a dime without getting jostled around.
The high-back seat with a single seat post is padded with thick memory foam, while the seat swivels for easier entry and exit.
Finally, the drive wheels are 13" and solid, so you won't have to worry about punctures leaving you stranded.
Adjustability and Customization
If you love customization, you might be slightly disappointed with what the Jazzy EVO 613 has on offer.
You don't have the option to customize from bottom to top, but you can choose from three seat width sizes for added comfort:
As mentioned, the seat swivels for more flexibility with transfers, and the seat depth, recline, and armrests are adjustable.
But other than six color choices, you aren't going to be able to tweak much. This might make the Jazzy EVO 613 a no-go for those with more severe disabilities who need special modifications.
Portability of Jazzy Evo 613 Power Chair
Transportation is going to be another slight drawback for the Jazzy EVO 613, but honestly, this is similar to most powerchairs on the market.
A heavy 189-lb chair is difficult to transport in a car, which means you might have to invest in a lift. Not only does this mean more time but lifts are generally expensive, and we all know the Jazzy EVO 613 ain't cheap, to begin with.
With that being said, it does disassemble—with the seat coming apart from the power base. But even the heaviest part weighs over 94 lbs, and you'll need assistance of some kind to get it into your (hopefully roomy) vehicle.
Storage and Accessories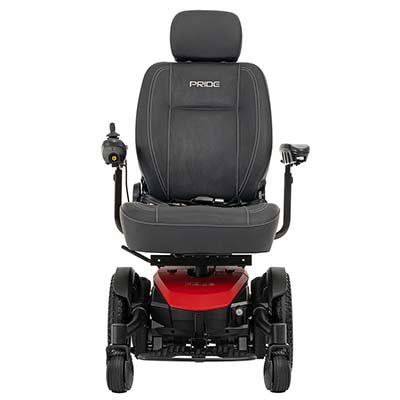 The Jazzy Power Chair line does offer a robust selection of accessories that provides users with plenty of storage options, but you'll have to order these extras separately. This is slightly disappointing considering the already expensive chair price.
Still, the variety of accessories available is one of the better offerings we've seen on the market. This includes:
Cleaning and Maintenance
As with any wheelchair, the Jazzy EVO 613 requires regular maintenance to keep it functioning like new for years to come.
Of course, not everyone has the physical strength to keep up with powerchair maintenance, in which case you can contact your Pride Mobility Supplier for assistance.
Here are the general maintenance duties you can expect with this model:
Daily Checks include:
Weekly Checks include:
Monthly Checks include:
Pride Mobility Jazzy EVO 613 Pros vs. Cons
The Jazzy EVO 613 is a high-end powerchair that gets amazing range, is easy to charge, and reaches an above-average speed thanks to the lithium-ion battery technology.
This chair can get you through the day, whether you need it for light activities or daily use completing necessary tasks.
It's comfortable and adjustable, allowing users to pinpoint an ideal fit while being able to sink comfortably into memory foam padding.
The Jazzy design also comes with a state-of-the-art Mid-Wheel drive setup that is ideal for indoor use, allowing the user to make sharp turns without the risk of tipping over. It also comes with an excellent suspension that gives you a smoother ride.
Transportation probably won't be the easiest, especially if you have a car. Powerchairs are heavy, and the Jazzy EVO 613 is no exception.
It's an expensive investment to modify a vehicle with a lift, and when you add that to the high cost of this power chair, it's a sum that not everyone can afford.
It's also not the best choice for people with severe disabilities. There aren't a lot of customization options, which some individuals need to ensure the chair aligns with their physical abilities.
The Jazzy EVO 613 is a suitable match for elderly folk who tire easily when going about their day or for those with slight physical impairments who need assistance to travel, such as when running errands around town.
Pride Mobility Jazzy EVO 613 Chair Warranty
The Pride Mobility Jazzy EVO 613 comes with a generous warranty, which also makes the expensive price worth the splurge. You can expect top-tier customer service from Pride Mobility to keep your powerchair in tip-top shape for years to come.
Here's what's covered:
Comparable Products to Consider
If you've made it this far in our Jazzy EVO 613 Power Chair review and still have questions about whether it's the best model for your needs, we've included a shortlist of similar high-performance chairs for comparison.
If you're less than impressed with the Jazzy EVO 613's storage and transportation capabilities, then the Jazzy Passport might be right up your alley. It's compact, with plenty of storage, and easily folds down for seamless check-in at the airport.
For a more minimal design without the fancy stuff, the Jazzy Select is an optimal choice. It's still powerful, though—with a 19.4-mile battery range, 4.3 mph top speed, and 300-lb weight capacity.
Outdoor lovers, rejoice! The Jazzy 1450 is a great model to consider if you enjoy being outside, rolling over rugged surfaces. It features a front-wheel-drive setup, with a heavy-duty build that can take the bumps. The knobby tires are thick, with deep traction that allows you to roll over different types of terrain.
Jazzy EVO 613 Review Conclusion
The Jazzy Evo 613 powerchair is a high-class powerchair built for comfort and functionality. It features mid-wheel drive that makes maneuvering easier, with an advanced suspension system that minimizes bumps for a smoother ride.
This is an exceptional chair for elderly folks or people with minimal physical limitations. If you have to run around town, the torque afforded by the lithium-ion battery ensures you can go long distances on a single charge and at a decent speed.
To conclude our Jazzy EVO 613 review, it's an expensive powerchair that not everyone may be able to afford. However, it offers a more luxe experience that's not a necessity for everyone. You can find more affordable options that are practical for everyday use.
---
Resources and References: