Summary
Jazzy Passport is an exceptionally travel-friendly design with lots of extras, but a disappointing maximum supported weight limit.
Recommended For: Anyone weighing up to 250 pounds who travels frequently.
*Note regarding Brand Reliability: This metric is a measure of the strength and longevity of the brand, which by extension, is a measure of the level of support you can expect.
Do you travel frequently, or would you like to? Are you in the market for a good, robust electric wheelchair that's light enough to take with you on the road and when you fly?
If you answered yes to the questions above, then you know what a daunting task it can be to find such a chair. It can be a bit like searching for a unicorn because the simple truth is that electric wheelchairs and scooters tend to be heavy. Given that airlines charge by weight, most electric wheelchairs are just nonstarters when it comes to air travel.
If you've been frustrated by your search to this point, then this Pride Jazzy Passport review is bound to make you smile.
We'll be quick to point out that the little Passport offered by Pride Mobility has some drawbacks and limitations, and as such, it won't be for everyone. For the right user, it could be just about perfect.
Is the chair a good fit for you? The short answer is that it might be. In the sections that follow, we'll tell you everything this model has to offer, and we won't shy away from talking about its shortcomings. That way, you'll have all the information you need, right at your fingertips, to decide for yourself. If that sounds good to you, read on, and let's take a closer look at the Passport.
Design Overview of the Pride Passport Power Chair
The first thing you'll notice about the Jazzy Passport is that it looks like a skeletal version of Pride's other electric wheelchairs.
You can see clear similarities in the overall design, but you can tell at a glance that the company pulled out all the stops in terms of minimizing the weight of this chair.
In that, they largely succeeded, but to do so, they have made a few sacrifices along the way that you'll need to be mindful of. One of the least important of these is that this chair isn't as attractive as Pride's other models.
That's not the end of the world. Most people don't buy a wheelchair, electric or otherwise, with aesthetics in mind.
This model is by no means ugly, but it does have a Spartan, vaguely skeletal look compared to the other models Pride makes and to most electric wheelchairs in general.
It's all frame and no finish. Then again, to include body panels on the chair would be to increase its weight, which would work against the key idea behind the design of this model.
Before we talk about more than that in this section of our Pride Jazzy Passport review, we should press pause and take a quick look at the core stats that drive and define the machine. Here they are:
Overall Product Dimensions: 40" (L) x 23.5" (W)
Seat Dimensions: 17.5" (W) x 16.5" (D)
Top Speed: 3.6 mph
Maximum Range: 9.6 miles
Wheel Size: 12" Drive wheels, supported by 8" casters
Maximum Climbing Angle: 6 degrees
Turning Radius: 24.25"
Ground Clearance: 3"
Chair Weight: 54 pounds without batteries, 61 pounds with batteries
Maximum Supported Weight: 250 pounds
These are generally good numbers, but there are a few disappointments here. For one thing, we've seen some physically smaller models of electric wheelchairs from Pride. We also feel pretty certain that the company could have created this chair with a smaller footprint than they did, especially given this model's weight limit. It's not the end of the world, but it is a bit of a head-scratcher for us.
The seat dimensions are fine for this chair, given its weight limit. But, this would be a relatively poor fit on other models. Here, most people who fall under the Passport's weight limit will find the seat to be just about perfectly sized.
The top speed is underwhelming but not surprising. Making a lighter chair means using less robust batteries and a smaller, less powerful motor. We're okay with the top speed given the key design premise of this model, but don't plan on being in a big hurry if you buy this chair. It'll get you where you want to go, but it won't do it quickly.
The maximum range is a bit underwhelming. Again, we're basically okay with it in this particular model because to increase the range, they would have had to add a second battery, which would increase the weight. That works against what they're trying to do here, so the range, while not great, is fine for the purpose of this design.
The turning radius is so-so.
We've seen a number of Pride models that can do better, but it's not awful. Also, you won't have any problems maneuvering in tight spaces with this chair.
If the company had done more to shrink the overall footprint, we feel certain they could have reduced the turn radius by a bit. Our hunch is that they figured it just wasn't worth the engineering effort since most people don't place a huge priority on a tight turn radius.
The 3" ground clearance is a genuine surprise that makes it possible to use the Pride Passport power chair on a wide variety of terrain types. You still couldn't take it down a hiking trail. If you wanted to spend the day at the park, or use the chair on and around your property, or even take it in an RV with you to a campground, as long as you keep an eye peeled for obvious obstructions, you shouldn't have any problems.
On the other hand, the supported weight of the chair is a bit of a disappointment. Most of the wheelchairs on the market today support at least 300-pounds. We understand the company's thinking here. They can weaken the frame and reduce the weight further, but, of course, doing that means that the chair won't support as many people.
We think they made a mistake here. It would be worth a few extra pounds to brace and reinforce the frame to allow it to support up to fifty extra pounds.
Finally, the overall weight of the chair is superb. Even with the battery, the Passport doesn't weigh significantly more than a manual wheelchair. It also weighs less than most of the reclining wheelchairs on the market, which is outstanding. Pride really did a great job in terms of keeping the weight as low as possible.
Adjustability and Comfort
There are no adjustable features where the Jazzy folding power chair is concerned. The seat sits 19" from the floor, and that's what it is. If that's too high (or too low) for you, this isn't the chair you're looking for.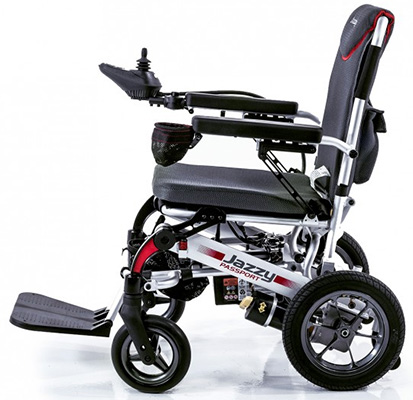 There's no headrest, so nothing to be adjusted there, and the padded armrests are stationary.
This chair is clad in a mesh-like material that's surprisingly breathable, stretched over a minimal amount of block foam padding. It's fine for an hour or two, but longer than that, and it's going to start getting uncomfortable quickly.
If you plan on spending more than 1-2 hours at a stretch in the chair, you're almost certainly going to want to invest in some additional padding for the seat and probably for the seatback too. Fortunately, on that front, there are tons of great options available.
Extras and Options
One thing we were both surprised and impressed with is the fact that Pride offers three different "extras" on the Pride Mobility Jazzy Passport scooter. The company is not known for loading its models down with extras. They offer a wide variety, but they generally sell a bare-bones base model and then sell the accessories separately. Here, you'll find:
A cup holder
A safety belt
And an under-the-seat storage basket
There's not much to say about the cup holder, but we're glad to see it incorporated into the design.
The safety belt is huge. Although it's something Pride normally sells separately, we feel that it's an important safety feature and wish it was standard equipment on every wheelchair sold. Needless to say, we love the fact that it's present here!
The basket is okay. It's a little inconvenient to get to on account of the frame for the footrest, and it's not huge by any means. However, it is big enough to be useful, and we're very glad to see it included.
In addition to these three, Pride also sells the following accessories:
A cane/crutch holder
A cellphone holder
A rear basket
Saddlebags to drape over the armrests
A weather cover
A walker holder
A safety flag
An oxygen holder
An XLR USB charger
And a swing-away joystick
With the possible exception of the safety flag, these are all excellent. Also, we love that there are a variety of other storage options available. If you invest in the rear basket and two saddlebags (one for each arm), you'll be able to tote just about anything with you.
In addition to these, of course, if you're willing to consider accessories offered by third-party vendors, you'll find all sorts of other things you can use to customize your ride to your heart's content!
Portability & Ease of Use
The Jazzy Passport chair utilizes the same in-line joystick controller that the rest of Pride's electric wheelchairs use. The company has refined its control system over the years, and this one's about as simple and intuitive as it gets. It will only take you a few minutes to master the basics. Given the fairly tight turning radius, you're unlikely to get yourself trapped in a confined space and have to call for a rescue.
Portability, though, is where the Passport really shines. It folds easily and collapses down into a small, lightweight package that doesn't weigh much more than a manual wheelchair. Given that, it's even light enough to consider taking it on airplane trips with you.
If you decide you want to do that, just be sure to call the airline you'll be flying with before you show up with the chair and your ticket at the airport. Each airline sets its own policies about what they allow and what they don't, and some airlines won't allow you to fly with an electric wheelchair at all. You don't want to find that out as you're trying to board!
In terms of on-the-road travel, the folded footprint is small enough that you'll have no trouble fitting the Passport into an SUV, truck, van, or hatchback. It should fit into the trunks of most full-sized sedans, though it's doubtful that you'll have much room left over for anything else.
Kudos to Pride for making an incredibly lightweight electric wheelchair!
Pros & Cons of Jazzy Passport Power Chair
The Jazzy Passport Pride is a great little chair. The company set out to make a travel-friendly electric model, and they didn't let anything distract them from relentlessly cutting the weight of the Passport to a bare minimum.
In our view, though, they were perhaps a little too single-minded. They wound up cutting so much that they started limiting the chair's usefulness by impacting the maximum amount of weight it could support.
They also cut the size and power of the motor and ditched one of the two batteries that are standard on most other designs, which limits its speed and its total range.
Of those, the only one that could be an outright deal-breaker is the disappointing weight limit, but these are legitimate points of weakness to bear in mind before you commit to a purchase.
Other than those three, though, the design team got just about everything else right, in our view.
Jazzy Passport Review Conclusion
We really like the Passport, but we don't quite love it. We feel that the design team cut a little too much and that by doing so, they weakened the overall design. Having said that, we understand that tastes and preferences vary, and you may totally disagree with our conclusions.
Based on our way of thinking, though, we can only give the machine a provisional recommendation here in our Jazzy Passport review. It's a good chair, but it is limited in a couple of important ways.
---
References & Resources: