Summary
A very well-designed chair, but not different enough from the Jazzy 600.
Recommended For: We don't recommend this model. It's virtually identical to the Jazzy 600, but slightly less capable.
*Note regarding Brand Reliability: This metric is a measure of the strength and longevity of the brand, which by extension, is a measure of the level of support you can expect.
If you've been searching for a high-quality electric wheelchair, you may have stumbled across the Jazzy Select 6 offered by Pride Mobility, and been tempted to buy it. That wouldn't be a surprise at all. After all, Pride is a great company, and this is not a bad machine. In fact, Pride has such a long history of making great equipment; we're not sure if they can make a genuinely bad design.
The problem, however, is that this machine is strikingly similar to another model offered by Pride, and this one is slightly less capable of the two. In the sections that follow here in our Jazzy Select 6 review, we'll tell you what this machine has to offer, and we'll also tell you why we recommend the Jazzy 600 over this one. Read on, and let's take a closer look.
An Overview of the Pride Jazzy Select Elite 6
The first thing you're likely to notice when you see the Select 6 for the first time is that this is a sharp-looking electric wheelchair with a modern design.
Of course, that's true of all of the electric wheelchairs Pride makes. They all share a similar design theme.
Before we go into specific features in this section of our Jazzy Select 6 review, let's take a closer look at this model by the numbers:
Overall Product Dimensions: 23.5" (W) x 35.375" (L)
Seat Dimensions: 20" (W) x 20" (D)
Top Speed: 4 mph
Maximum Range: 19.4 miles
Wheel Size: 10" Drive Wheels and 6" Casters
Maximum Climbing Angle: 6 degrees
Turning Radius: 21.875"
Ground Clearance: 1.75"
Chair Weight: 165.8 pounds without batteries, 216.2 pounds with batteries
Maximum Supported Weight: 300 pounds
The best way to understand and contextualize these numbers is to compare them to the stats of the Jazzy 600, which, as we mentioned, is highly similar to this design.
What we find when looking at the two side by side is that this machine is bigger and heavier, but it offers very little in the way of superior features or performance.
This is the faster machine of the two, but the difference in speed is a paltry 0.3 miles per hour, and neither of the two machines could be called speed demons. Someone walking at a fast clip will likely outpace you if you're riding in this chair.
The range is 3 miles better on this unit, but the wheels and the ground clearance are smaller, meaning that this model isn't much good on open terrain.
That's not an issue if you plan to use it primarily in your home, on paved surfaces, or in shopping centers, but if you have any interest at all in taking it to the park or to a campground, then this one's pretty much a non-starter. It's just not up to the task.
This model also isn't quite as capable of handling slopes (6 degrees versus 7.5 for the Jazzy 600). The turning radius isn't quite as good (21.875" versus 20.5"), and it's about twenty pounds heavier while still supporting the same amount of weight.
It does have one special "perk" we'll talk about in the next section, but it's hard to even see why this model exists based on the numbers above. We regard the Jazzy 600 as superior in just about every way.
Adjustability and Comfort
Although we judge the 600 as being the generally superior machine, the Pride Jazzy Select Elite scooter does have one cool feature to offer that makes it stand out. The seat is depth-adjustable, within a two-inch band. The seat's default dimensions are 20" wide and 20" deep, but you can set this to as little as 18" deep if you desire.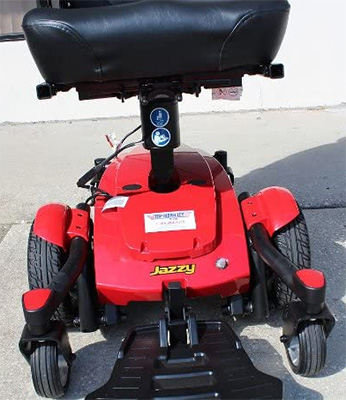 In addition to that, you can also adjust the height of the seat in a range between 17" and 20."
This, we regard as a very good height range because it starts an inch below what's usually considered big and tall territory and extends well into it. That makes it good for both regular-sized and taller folk.
It is a bit curious, though, that the company decided to put a 20" wide seat on this model. The weight limit is only 300 pounds, and normally, 20" wide seats (and wider) are used on heavy-duty chairs that are capable of supporting 450 pounds or more of user weight.
That's not a big problem, but it is a bit of a curiosity. In any case, it's better to have a seat that's marginally too wide than it is to have one that's not wide enough, and you'll almost never have that issue with this model.
The padded armrests are height, width, and angle adjustable. When combined with the other two-seat adjustments, this model does give you slightly more options in terms of tweaking your ride for maximum comfort. Is that enough to prompt you to buy the Select 6 over the 600?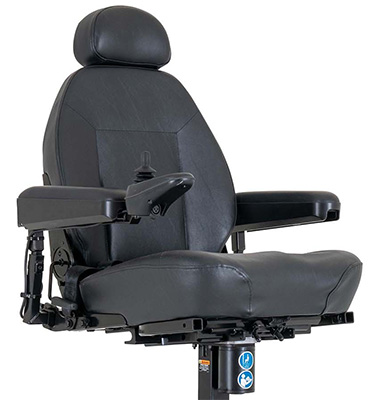 Maybe. Unless you're buying the Jazzy Select GT chair for a still-growing child, your legs probably aren't going to magically get longer. So, it's unlikely you'll ever need to adjust the seat depth. It's a cool feature, to be sure, but we don't regard it as being especially compelling in a product like this.
The only other time it might come up is if you live in a household with more than one person with a mobility issue, and you plan to share the chair. You can adjust the chair to taste assuming one person has shorter legs than the other, but, honestly, how often does that situation come up?
We should also note that the footrest on this model has a modest height and adjustable depth. Even if the seat is height adjustable, you may not actually use this feature. But, it's nice that the option is there if you want or need it.
In terms of comfort, the chair is big and roomy and amply padded with conventional block foam. It's pretty comfortable, but there's a catch. It's upholstered with vinyl.
In and of itself, that's not a bad thing. Vinyl is low maintenance, inexpensive, and easy to clean, so we understand why the company opted for it. Unfortunately, it does have two weaknesses that you should be aware of.
First, it's not breathable. The more time you spend sitting in your chair, the hotter you're going to get. Second, vinyl wears easily. If you plan to use this chair every day, or even "almost every day," you can expect the vinyl to start peeling and cracking after about 18 months.
Here's the real kicker:
While the Jazzy 600 offers a limited lifetime warranty on the frame, the Select 6 only offers five years. It's just not as robust a machine. In both cases, though, you can expect that the chair itself will far outlast the fragile upholstery. If you do opt to buy this model, you'll definitely want to plan for that.
If there's a silver lining in that equation, it lies in the fact that since there's not a ton of upholstery to contend with, having the seat re-covered won't be a huge expense.
Even so, it's one you can almost count on having to make.
You can extend the life of the upholstery and get around the lack of breathability of it by investing in extra padding for the seat and seatback. It's a relatively minor extra expense that will enhance your comfort further, even as it at least partially solves both of the problems we just outlined.
Extras and Options
Other than the cool, highly adjustable seat, the Jazzy Select power chair doesn't come with any extras built-in.
That's pretty common where Pride's products are concerned. They tend to take the approach of offering an excellent baseline model and offering a range of extras that are sold separately.
That way, you're not paying for accessories you don't want and won't use and can pick only the ones you do find value in, adding them as you see fit. Pride's accessories include:
A Lap belt
A cane/crutch holder
A cellphone holder
A cup holder
A rear basket
Saddlebags to drape over the armrests
A weather cover
A walker holder
A safety flag
An oxygen holder
An XLR USB charger
And a swing-away joystick
With the possible exception of the safety flag, we like all of these. They're good, practical, high-value additions. While you're unlikely to need all of them, there are probably at least a few (and possibly several) that jump out at you.
We do wish that the lap belt had been offered as a piece of standard equipment, but that's our only real complaint. Otherwise, this is a solid list. Bear in mind that you can find a vast array of other goodies offered by third-party vendors in addition to these accessories, so your customization options are almost unlimited.
Portability & Ease of Use
As we mentioned earlier, the Jazzy Select HD comes up short when compared against the Jazzy 600 in terms of both total weight and turning radius. So, it's not as portable or user-friendly.
That's especially true if you live in a smaller home or an apartment, where every inch of turning radius really matters.
Although it is a relatively heavy chair, it's actually more travel-friendly than it first appears, though.
That's because this model, like many of Pride's others, is easy to dismantle. If you're traveling, you can spend some time taking it apart, and then storing the pieces.
Once it's broken down, each piece is relatively easy to handle, with all but one weighing less than a typical manual travel wheelchair. The heaviest piece still weighs some 70 pounds, though, so you may need help getting it into and out of storage.
The real drawback, though, lies in the fact that if you take the approach of breaking it down and putting it back together when you're on the road, you'll notice that the process really starts eating into your time. You can't just hop in the car and go. Once you get where you're going, you can't just hop out of the car and start having fun. You've got to go through the process of getting the chair put back together first.
There are two good options for getting around that, but both of them require spending more money yet.
The first option is to invest in a ramp. This is a quick and easy solution if you drive a truck or a van. Just deploy your ramp and drive the chair up into the bed of the truck or into the van. Once it's there, all you have to do is secure it, and you're ready to travel.
When you get where you're going, you can be ready to start having fun in mere minutes. Just deploy the ramp again and drive the chair back down.
If that option won't work for you, the other possibility is a lift. Lifts can be fitted on the backs of most vehicles, allowing you to carry your chair behind whatever you're driving. Of the two alternatives, though, lifts are the more expensive option, and not everyone will be able to afford to go that route.
Before we move on to ease of use, we should say at least a few words about air travel. Unfortunately, while this model is relatively car-travel friendly, it's not nearly as friendly to air travel. It's just too heavy, and airlines almost always charge by weight.
When you compare this 200-pound beast against a 30- or 40-pound manual travel wheelchair, it's just no contest.
If you decide you absolutely must try, though, be sure to call whatever airline you're planning to fly with because every company's policies are different. Just don't be surprised if they shoot the idea down.
The Select 6 fares much better in terms of ease of use. It uses the same in-line joystick controller found on all of Pride's electric wheelchairs and the same control system. It's incredibly simple and intuitive, and you can master the controls in a matter of minutes.
Pros & Cons of Pride Jazzy Select 6 Electric Wheelchair
The biggest reason we could see someone buying the Jazzy Select 6 2.0 over the 600 is to gain access to the depth-adjusting seat and the height-and depth-adjusting footrest.
We readily concede that there are a few cases where those features would come in handy. However, we feel that the loss in capability as compared to the 600, especially in the area of turning radius, total weight, and ground clearance, just isn't worth what little you gain.
Pride Mobility Jazzy Select 6 Review Conclusion
The Jazzy Select 6 is a well-designed, quality product. There's nothing inherently wrong with it, and it offers a couple of interesting adjustment options that the 600 does not. As we said early on here in our Jazzy Select 6 review, we don't think it's possible for Pride to make a genuinely bad design, and it's not that we despise this one.
The problem, as we see it, is that this is a heavier and generally less capable chair, a fact which is partially offset by the inclusion of a few novel adjustment features.
Unless you just love the idea of a depth-adjustable seat and an adjustable footrest, we can't recommend this model. We simply feel that the Jazzy 600 offers more value.
---
References & Resources: