Summary
S Ergo 305 is the best chair in Karman's ergonomic lineup.
Recommended For: Anyone weighing up to 250 pounds, who loves to travel.
Do you have a mobility issue of one sort or another that sees you spending at least part of each day in a wheelchair? Do you love to travel? Are you in the market for a great wheelchair that's durable and versatile enough to use every day yet light enough to toss in the trunk or take on an airplane so you can go have adventures?
If you answered yes to the questions above, then you're going to love this Karman S 305 review.
'Ergonomics' isn't a word you see paired with 'wheelchair' very often. The simple truth is that most companies that make wheelchairs don't pay any attention to ergonomic design at all. That's a pity because you can find all sorts of great ergonomic furniture of other sorts. Now, Karman and a few other pioneering companies are making it possible to buy an ergonomic wheelchair.
The 305 isn't Karman's first attempt at designing an ergonomic chair, but rather, the latest in a growing family. The company has learned a lot and listened to its customers as the design has evolved. In our view, this is the very best ergonomic chair the company makes.
In the sections that follow, we'll tell you why we think so and let you know why you need one. We'll also be quick to point out the chair's flaws, limitations, and shortcomings, so you've got all the details you need to make a decision as to whether this is the chair you've been looking for. If that sounds good to you, read on, and let's take a closer look
An Overview of the Karman S Ergo 305 Ergonomic Wheelchair
Karman's ergonomic product line has a distinctive look that's hard to define. They look a lot like a conventional wheelchair, but there's something about the chassis that just seems (and feels) different.
That difference is the design of the seat frame. Karman uses a patented S-Shaped seat frame that matches the human spine's curve, providing exceptional ergonomic support and subtly changing the aesthetic of the chair in an eye-pleasing manner.
Combine that with the fact that you can order these chairs in your choice of rose-red or pearl silver, and these chairs present a stunning profile. They just look good, and you'll feel good riding around in one.
Before we talk about more than the aesthetics here in our Karman S 305 review, let's do a quick look at the stats so we can get a better feel for the chair. Here are the basics:
Overall Product Dimensions: 26" (W) x 43" (D) x 38" (H)
Seat Dimensions: 18" (W) x 17" (D) (This chair is also available with a 16" wide seat if that provides a better fit for you)—the 16" chair is only 24" wide overall!
Chair Weight: 29 pounds
Maximum Supported Weight: 250 pounds
These are generally good numbers. The chair has about an average-sized footprint and remains narrow enough to fit easily through a standard-width door frame. That said, the standard word of warning still applies here:
Watch your knuckles when passing through a doorway. While the chair will certainly fit, you don't have a lot of room to spare. If you're not careful, you could slam your hand into the wood of the door frame on one side or the other.
The number that really stands out to us is the weight. How can a wheelchair with an average-sized footprint weigh so much less than a conventional chair?
The answer lies in the fact that Karman uses tubed aluminum in the construction of its lightweight chairs, which provides a good amount of strength and durability for a fraction of the weight. That, more than any other aspect of this chair, makes it great for traveling.
The only disappointing number here is the maximum supported weight value. Two hundred-fifty pounds is depressingly modest. If you happen to weigh more than that, then sadly, this model simply isn't right for you. Sure, the Karman S Ergo 305 ultra light wheelchair is still useful to between 80-85% of the market.
Adjustability and Comfort
One of the biggest failings of Karman's earlier attempts at making a great lightweight, ergonomic wheelchair was the fact that their previous models, the 105 and the 115 weren't adjustable in any way.
The seat height was fixed, the leg rests didn't adjust for length, and the armrests were stationary.
If the measurements of those older models didn't align with your measurements perfectly, there was nothing you could do about it.
Karman changed that with this model.
Here, the seat is adjustable in a range that spans 18" to 20," allowing you to customize to taste. In addition to that, the padded and ergonomically sculpted armrests are height adjustable too and can be set at either 9," 10," or 11" as measured from the seat. On top of that, the arms flip back for easier transfers into and out of the Karma S Ergo 305, which is a very nice touch.
Unfortunately, the leg rests are still not adjustable for length, but they do swing in and away, which is a significant improvement over the company's earlier offerings. For calf support, the 305 utilizes a calf strap, which, in our view, is not as good as independently mounted calf pads.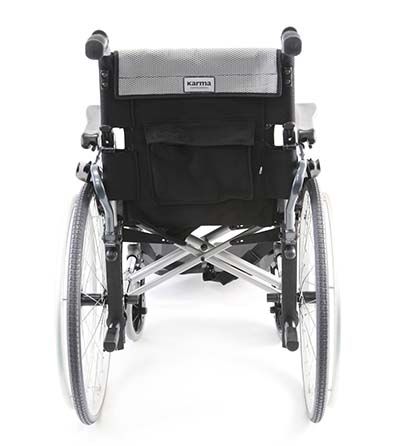 Comfort-wise, the ergonomic armrests definitely enhance the chair's comfort. Just like Karman's other models in this series, the S-305 comes with anti-microbial mesh padding as part of the standard package.
It's very rare for a wheelchair to come with padding of any sort, and although we wouldn't describe the padding offered here as luxurious, it's certainly better than no padding at all.
From a practical perspective, if you spend no more than 3-4 hours in your chair at a stretch, you'll probably be quite comfortable just sticking with the padding that comes with the chair. If you spend longer than that, you'll likely want to invest in some additional padding to enhance the comfort even further.
Extras and Options of Karma S Ergo 305
If you decide you want one of these, Karman sells the following extras and options to go with the S-Ergo 305 ergonomic wheelchair:
Anti-tippers
A safety belt
Extra upholstery
A memory foam cushion
An ergonomic cushion
A reflecting spoke guard
A frog leg suspension
Mag wheels
Vulcan grip wheels
An angle, height, and length-adjustable headrest
The only extra that comes standard with the chair is a small storage pocket on the back of the seat.
This is another thing that very few wheelchairs offer, so kudos to Karman for including it. We view storage as essential, especially if you plan to take your chair on the road.
Granted, the built-in pocket isn't huge, and you'll probably want to invest in some additional storage capacity, but we love that Karman thought to include it here!
Portability & Ease of Use
In addition to its modest weight, the Karman Ergo S 305 ergonomic wheelchair presents a small profile when folded and is only 12" wide.
It should fit easily into the available trunk space of most full-sized sedans, and you'll have even less of an issue if you own a hatchback, truck, SUV, or van.
If you plan on traveling by air, you'll want to check with the airline you're flying with to be sure because each airline's policies are different. However, you should have no trouble getting the 305 onboard for the flight given its weight and folded dimensions.
Given its modest weight, it also handles like a dream. While it's not quite as good in tight spaces as chairs with a smaller overall footprint, it's still super easy to maneuver around in.
Pros & Cons of Karman Ergo S 305
We love almost everything about the Karman S Ergo 305 lightweight ergonomic wheelchair. As we said early on, we regard this as the best ergonomic wheelchair Karman has made to date.
We only see two real weaknesses in this design. First, the maximum supported user weight is a disappointment. We'd love to see a more robust version of this chair capable of supporting 300-350 pounds, even if it means that the product weighs a few more pounds.
The other problem we have with the design is the fact that the leg rests aren't length adjustable.
Related to that, in a perfect world, we'd also love to see calf pads, rather than the calf strap currently used.
Otherwise, though, it's a masterpiece of design and engineering.
Karman S 305 Review Conclusion
This is a great chair.
As mentioned in the previous section here in our Karman S 305 review, this is the chair you want if ergonomics are important to you. It's got distinctive styling and lots of cool extras you can add, allowing you to customize and personalize to your heart's content. It's well-priced so you won't break the bank when you buy one. If money's tight, you can always add the extras you want later.
We love it, and we think you will too. This one comes highly recommended.
---
References & Resources: