Summary
S Ergo 115 is a very good lightweight wheelchair, offered by a great company, but in our view, not quite as good as the S-105.
Recommended For: Frequent travelers (especially if you travel by air), provided that you weigh 250 pounds or less.
*Note regarding Brand Reliability: This metric is a measure of the strength and longevity of the brand, which by extension, is a measure of the level of support you can expect.
Do you travel by air frequently? Do you suffer from some type of mobility issue that requires you to use a wheelchair at least part of each day?
If you answered yes to the questions above, then you know how challenging it can be to find a wheelchair that's robust enough to use on a daily basis and yet, light enough that it doesn't cost an arm and a leg to fly with.
Most wheelchairs tend to be heavy, and that can get expensive quickly if you're flying. Even if you're not, it can be a brutal, punishing experience to collapse a clunky, heavy wheelchair down and try to cram it into the trunk of whatever car you're driving.
Fortunately, there are some great companies that make awesome, full-featured, lightweight wheelchairs that make travel easier. Unfortunately, they tend to be a little more expensive than their heavier counterparts.
Karman Medical is a fantastic company and one of the bright stars in the wheelchair industry. They make consistently great products, and they have a reputation for standing behind them. More than that, they excel at making quality, lightweight wheelchairs, and the S-115 ergonomic wheelchair is an example of that.
This model is the first cousin of the S-105, also offered by Karman.
While this one came slightly later to the company's product lineup and does offer a few advancements over its older cousin, in our view, it's just a shade inferior to the 105.
We understand, though, that not everyone will agree. If you've been considering purchasing an S-115, this Karman S Ergo 115 review is for you! In the sections that follow, we'll tell you everything this chair gets right, and we won't pull any punches when it comes to talking about shortcomings and the limitations this model brings to the table.
That way, you'll have all the information you need, right at your fingertips, to help you make an informed purchasing decision. If that sounds good to you, read on, and let's take a closer look at this chair.
An Overview of the Karman Healthcare S-Ergo 115 Ergonomic Wheelchair
Aesthetically, this chair and the older S-105 are virtually identical. They both feature Karman's patented S-shaped seat frame, which gives these chairs a subtle, but notably different appearance from most other wheelchairs on the market today. These are good-looking mobility aids, offered in eye-catching colors.
If aesthetics and ergonomic seating are important to you, that's a plus, right off the bat, and those are two potentially strong reasons for considering this model. You don't find many wheelchairs that pay any attention at all to ergonomics, which puts Karman's offering here in a category by itself.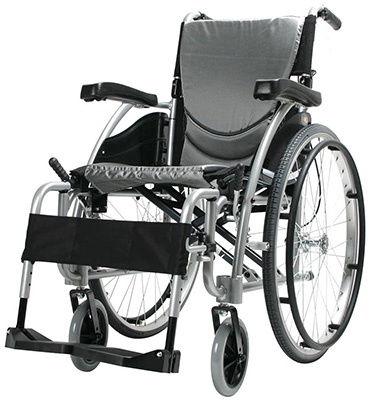 Before we say more about the particulars here in this section of our Karman S Ergo 115 review, let's press pause long enough to take a quick look at the core stats that define this model. Here are the basics:
Overall Product Dimensions: 23" (W) x 27" (D) x 36" (H)
Seat Dimensions: 20" (W) x 17" (D) (this model is also available with a 16" and an 18" wide seat if those measurements fit you better)
Chair Weight: 25 pounds
Maximum Supported Weight: 250 pounds
These numbers are quite similar to the S-105, though this model is a bit smaller, and as such, the company managed to shave a couple of additional pounds off of the total weight of the chair.
Note, though, that this model suffers from the same key limitation that the 105 does. Both chairs only support 250 pounds of user weight.
That's significant because most of the chairs on the market today support 300 pounds or more.
As it stands, this model will accommodate some 80-85% of the market, but it is a bit more narrowly targeted than a great many of its peers.
This model also gives you more options where the seat dimensions are concerned. The 105 only has a 16" or an 18" wide seat to choose from, while the 115 expands that to include a 20" wide seat option. We're on the fence about the value of that addition, however.
If the chair supported up to 300 pounds, a 20" seat would make relatively more sense. Still, it's a rare individual indeed who needs a 20" wide seat but who also comes in at under the 250-pound weight limit required to use this chair, which reinforces the notion that the S-115 is somewhat narrowly targeted and aimed at a very specific group of potential buyers.
Of these numbers, far and away, the most notable one is the total weight of the chair. There are some transport chairs on the market that weigh more than this model, which is a spectacular achievement accomplished by the company's smart use of a tubed aluminum frame.
Frequent fliers will absolutely love the weight, as will anyone who plans to take the chair on the road on a regular basis as loading and unloading the collapsed chair into the trunk of a car is a pretty simple matter.
Adjustability and Comfort
Here, the Karman Healthcare S-Ergo 115 is identical to the S-105. The seat height is fixed in its position and cannot be adjusted up or down. If you're not happy with a seat to floor height of 18," then you're not going to be satisfied with this chair because there's no way for you to make any adjustments to it.
Similarly, both the armrests and leg rests are fixed in their positions and unable to be adjusted in any way.
Comfort-wise, again, both the S-105 and the S-115 are identical, utilizing an anti-microbial mesh material that is both durable and breathable. Both chairs also have ergonomically sculpted and padded armrests to enhance your comfort and a calf strap that stretches between the two-leg rests to provide support.
The calf strap isn't as comfortable as actual calf pads, and this chair is significantly more expensive than the 105 (almost double the price). We were disappointed to see a simple strap employed here, given the stark price difference.
On the flip side, this chair, like the 105, is one of only a handful of models on the market that come with padding on the base model. In the overwhelming majority of cases, if you want any sort of padding, you have to buy that separately and usually from a third-party vendor. Here, it's a standard feature.
Granted, the offered padding isn't what we'd call generous, but the fact that it's present in any form is a big win for anyone buying this model. Depending on exactly how many hours a day you plan to spend in the chair, you may still want to invest in some additional padding. The existing padding is perfect, though, for shorter stints in the chair.
Extras and Options
Like the S-105, the Karman Healthcare S-Ergo 115 comes with built-in storage too! The storage pocket isn't huge, but there aren't many chairs on the market today that offer any onboard storage at all. If you're planning to use this chair for travel, then storage somewhere on the chair is an absolute must.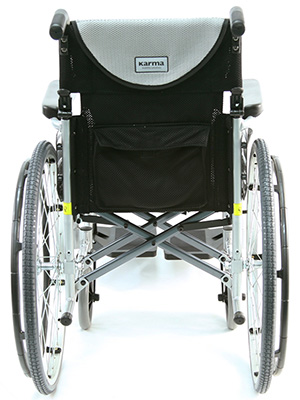 Granted, you'll probably still want to upgrade and add more, but we love that the company saw fit to include some here.
Unfortunately, this model doesn't come with anti-tippers, nor can you add them as a point of sale option if you decide you want this model. On the other hand, it does come with a safety belt.
We're always pleased to see safety features included in any model. Honestly, though, we think that anti-tippers should come standard on every wheelchair made, and we regard their absence here as a genuine flaw in the design and oversight we hope the company will correct in some future model upgrade.
Karman does offer a number of optional pieces of equipment that are compatible with the chairs they sell, so you do have a number of options for customization and personalization, depending on what your needs are.
Portability & Ease of Use
Given the Karma Ergo 115's delightfully small footprint and its scant weight, portability and ease of use are the areas where this chair really shines. When collapsed, it presents a profile just 12" wide, which makes it a simple proposition to find room for it in the trunks of most full-sized sedans.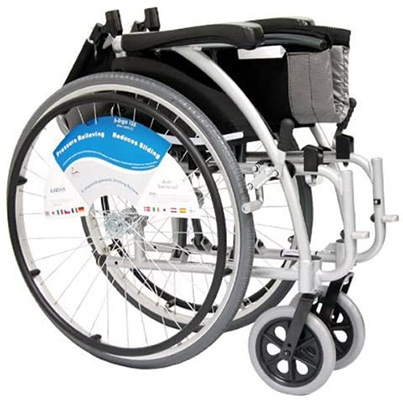 If you have a hatchback, SUV, truck, or van, you'll have an even easier time finding a place to put it. Given its narrow width and light weight, it's incredibly easy to maneuver, even in tight spaces, which makes it awesome for people living in or visiting smaller homes or apartments.
Pros & Cons of Karman S-115
The Karma S Ergo 115 shares all of the pros of its elder cousin, the S-105. It comes with extras like padding and storage that you seldom find on the base models of wheelchairs. It is also incredibly lightweight and easy to move around. Owing to its ergonomic seat design, it's aesthetically pleasing and very comfortable.
Those are good things and compelling reasons to buy this model.
On the other hand, though, it's a significantly more expensive chair than the S-105. It also supports a rather modest and disappointing amount of user weight, and almost nothing about the chair is adjustable.
Karman S Ergo 115 Review Conclusion
Karman makes consistently good products. This chair is competently designed, and all its features are well implemented. The problem, in our view, is that this chair costs almost twice as much as the older S-105 and doesn't deliver twice the value.
As mentioned early on here in our Karman S Ergo 115 review, it's a very good chair. But, in 95% of the cases when considering this one versus the S-105, the right answer is to save several hundred bucks and get the 105. Unless you absolutely need two pounds less weight and a 20" wide seat, there's just not much reason to spend the extra money on this model. Well-engineered or not, then, we can't really recommend this model when there's a nearly as good, significantly cheaper option available.
---
References & Resources: