Summary
The Karman XO-202 wheelchair features a high-quality design that lifts the user from a sitting to a standing position.
Recommended For: It's expensive, but for those who can afford it, the health and comfort benefits are what make this chair ideal for everyday use.
* Note regarding Brand Reliability: This metric is a measure of the strength and longevity of the brand, which by extension, is a measure of the level of support you can expect.
People with severe mobility issues are challenged every day with basic tasks, whether it's being able to reach for an object or stand up to get the muscles moving.
That's why a standing electric wheelchair is a functional option, but it can be difficult to navigate the market with so many high-tech models out there.
In our Karman XO-202 wheelchair review, we break down the features of one of the top models available. Let's go!
Karman XO-202 Design Overview
Developed by one of the biggest players in the mobile device industry, the Karman XO-202 standing wheelchair made quite an entrance into the market, quickly becoming one of the top wheelchairs in its category.
From its sleek, futuristic design to its durable build, and incredible features, it gives users who deal with severe physical limitations the ability to stand up whenever they desire.
The concept is simple, but the technology is cutting edge. The Karman XO-202 automatically raises the user from a seated to a standing position with the push of a button.
This opens doors to new possibilities for the user, giving them the power to move sedentary muscles, reach for objects, and most importantly, stand at eye level when having a conversation with a friend.
Not to mention, the health benefits are brilliant. Long periods in a seated position take a toll on the body. A standing wheelchair can help with the following:
Improves blood circulation and oxygen flow throughout the body
Enhances kidney and bladder function
Stimulates and tones various muscles
Reduces bone calcification and contractures, lowering the risk of osteoporosis
Not to mention the confidence boost of being able to stand and socialize!
To give you a quick overview of the Karma XO-202 wheelchair design, it's surprisingly lightweight for this type of chair at 110 lbs.
It can accommodate a max weight capacity of 250 pounds, which ranks above average for the diverse array of body types it can serve.
The dimensions are 40-42" L x 26 1/2" W x 40" H with a seat width of either 16" or 18" and a seat depth of 18", 19" or 20".
Wide 14" rear wheels and 8" front casters are equipped with flat-free tires. Thus, you can travel outdoors on rugged terrain with increased traction and peace of mind knowing these babies can't be punctured.
The Karman XO-202 is equipped with a heavy-duty DC 24V 320W motor powered by two 12V/36AH batteries. That means you can travel up to 25 miles on a single charge, getting up to a top speed of 5 mph.
And when you're ready to venture inside, a sharp 25" turning radius gives you enough control to maneuver around furniture and through doorways without getting into a jam.
With this being a standing wheelchair, you certainly can't expect it to fly across land with no qualms. Nonetheless, it's a durable setup designed to get you around indoors or outdoors comfortably.
Now, as you can see, the Karman XO-202 ticks off many desirable boxes. It's a high-quality device, but it also comes with a lofty price tag that costs around the same as a used car!
When it comes to wheelchairs, you won't find special sales or incredible deals. Instead, this is regarded as a medical device. If your insurance or Medicare won't cover it or only cover it partially, then you've got a lot of money to fork over.
Unfortunately, this isn't realistic for many people – placing a highly beneficial standing wheelchair out of reach when it could potentially change lives for the better.
So what makes the Karman XO-202 cost a small fortune anyway? You'll see why next, as we roll into the features section.
Karman XO-202 Standing Wheelchair Features
The Karman XO-202 Standing Wheelchair is designed with functionality in mind. What you're paying for is reliability, with a wheelchair that's built to get you through each day for years to come.
It covers all of the bases with thoughtful detailing, convenient mechanisms, and flexibility for indoor/outdoor use. Let's take a look at what it has to offer.
Comfort & Safety
This is paramount when it comes to selecting a wheelchair. After all, every disability is unique. And a wheelchair must be able to improve the daily life of its user by keeping them supported while they accomplish tasks from morning to night.
Fortunately, the Karman XO-202 wheelchair doesn't mess around, with memory foam padding in the seat and seatback. This is rare to find with most standard wheelchairs, where a basic cushion isn't the best for long-term sitting.
We already touched on the meticulous design, which includes elements such as flat-free tires with increased traction.
This prevents slipping and sliding, whether you're traveling up a slope or accidentally rolling through some water on the floor.
For safety, the Karman XO-202 is equipped with two straps located at the chest and leg to hold the body in place while in a standing position.
Knee supports are strategically placed at the legs to keep the user tucked into the chair with no worry of falling out.
Adjustability
One of the highlights of the Karman XO-202 wheelchair is that you can adjust many components to enhance comfort and functionality according to the user's specific dimensions.
This is a rare treat, as most wheelchairs allow you to adjust one or two components only, such as the armrests or footrests.
But the superstar Karman XO-202 takes it to the next level, offering three different seat depths and seat widths to choose from.
On top of that, you can adjust the height of the backrest, the height of the armrests, and the height/angle of the footrests.
Portability
Portability is a priority if you travel frequently, and while the Karman XO-202 electric standing wheelchair is considered lightweight in its category, it still isn't the best travel companion.
The majority of manual wheelchairs can either fold or break down into smaller parts to fit inside the trunk of a car, slip into a carrying case for the airport, or attach to a car lift.
Unfortunately, the Karman XO-202 is too hefty and cannot be broken down or collapsed. It's a bit of a challenge to move around and probably won't fit inside or outside of a car.
You'd need to consult with a supplier to determine the best type of vehicle for your ride.
The most obvious choice is a customized mobility van with a ramp so that you can just drive the wheelchair straight into the van, locking the brakes in place.
This is a bit of a drawback if you don't already own a handicapped van, as this is a very expensive investment that can cost up to $30,000 depending on modifications.
In other words, if you travel a lot, this wheelchair might not be the best choice, unless, of course, you have the time and money to invest in the right transport vehicle.
Storage Capabilities
This is also a slight drawback with this wheelchair. You won't find any built-in storage with the base model. Storage is a huge convenience so you can stash your contact information, cellphone, tools, and snacks.
But the sleek mechanical design of the Karman XO-202 doesn't allow for it. So instead, you'll have to purchase an attachable bag separately.
Accessories
This is where the money numbers start climbing. Unfortunately, the Karman XO-202 does not come equipped with any accessories, although there is a fine assortment offered by the company. You just have to buy them all separately.
Here are the accessories you can purchase:
Tie-down kit
Small storage pouch
Non-slip surface for the footplates
Food tray
Safety Alarm
Adjustable headrest
Push handles
Cupholder
Karman XO-202 Stand-Up Power Wheelchair Pros vs. Cons
The Karman XO-202 stand-up power wheelchair is a dream come true for those with severe mobility issues.
Its practical design and advanced mechanisms enable you to reach new levels of independence that many wheelchairs can't provide.
Some of the features we love the most include the memory foam cushions for luxe comfort and a durable, yet sleek build that makes this device suitable for indoor and outdoor use.
You can go throughout your day getting work done. Whether you need to run errands in town or you want to go for a drive in the park, you get up to 25 miles on a single battery charge.
Plus, you can't beat the health benefits this chair offers.
Pressure sores are a painful issue that wheelchair users must be vigilant about. But since the Karman XO-202 automatically lifts the user, this facilitates muscle tone, blood circulation, and oxygen flow to keep sedentary parts flexing.
There are a few drawbacks, such as the challenge of traveling with such a large, rigid device. But probably the biggest drawback is the expensive price, which is around $10,000 (of course, insurance might make a difference, but everyone's situation is unique).
There's also a steep learning curve with this chair, so be prepared to get in a lot of practice before you can truly enjoy how this chair rolls.
It comes with a joystick control panel to figure out, and getting your groove down with the safety straps also takes time.
Still, you just can't beat the freedom of being able to sit or stand, especially when you get to enjoy an eye-level conversation with someone you care about.
We Recommend the Karman XO-202 Stand-Up Wheelchair For…
People with severe mobility issues
Individuals who spend time outdoors and indoors
For someone who owns a mobility van
Karman XO-202 Stand-Up Power Wheelchair Warranty
The warranty information for the Karma XO-202 electric standing wheelchair is outlined in the user manual. To summarize, the warranty covers the following:
The frame is covered for three years
The electrical is covered for one year
Parts are covered for six months
The motor/transaxle/brake system is covered for one year
Comparable Products to Consider
If you've made it this far in our Karman XO-202 wheelchair review and still have questions about how it performs, then you might want to check out our shortlist of similar standing wheelchairs with slightly different feature packages for comparison.
Karman XO-101 Standing Wheelchair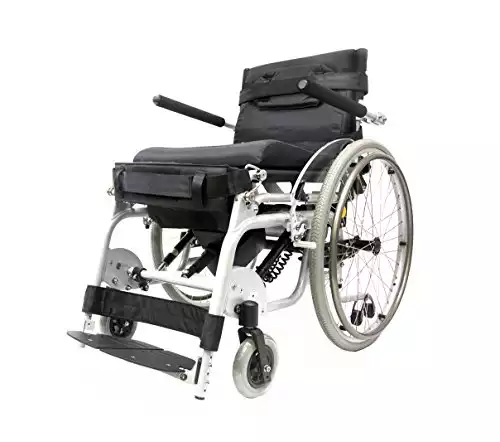 For a less expensive option with all of the quality, this standing wheelchair has many of the same features as advanced models, such as Memory Foam cushions, anti-tippers, seat and back adjustments, and more. You can manually push the wheelchair, but it comes with power assist to go from a sitting to a standing position.
Karman Healthcare XO 505 Standing Power Chair
This is the latest and most advanced design offered by Karman, with luxe features such as an LCD control panel and a heavy-duty build that can handle the outdoors.
Leo II Lightest Standing Wheelchair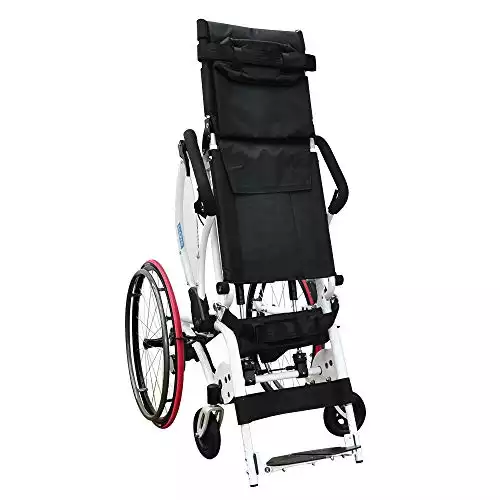 This is the perfect model for frequent travel. It weighs only 59 lbs and can be disassembled and folded for easy storage. There are multiple adjustable parts and modifications to achieve the most comfortable fit. Note that this is a manual chair that requires the user to have strength in their arms for operation.
Karman XO-202 Wheelchair Review Conclusion
The Karman XO-202 is a magnificent technological device with cutting-edge mechanisms and high-quality comfort features that make this an ideal choice for people with severe mobility issues.
It gently lifts the user to a standing position, opening them up to numerous health benefits that can't be achieved with a regular wheelchair. It's also versatile for indoor/outdoor use, giving users the peace of mind that their chair is safe and durable.
To conclude this Karman XO-202 Wheelchair review, this is a top choice for those who can afford it. The steep price might be unattainable for many, although they could benefit greatly from this type of technology.
---
Resources & References:
Karman, Official Brand Website.