Summary
The Kenda Kobra hybrid wheels are designed to be used on any type of surface, including grass, snow, dirt, and sand. It's expensive but worth it if you use an ultra-lightweight wheelchair or travel over ever-changing terrain.
*Note regarding Brand Reliability: This metric is a measure of the strength and longevity of the brand, which by extension, is a measure of the level of support you can expect.
Tires make the world go round—at least for wheelchair users, they do. The problem is that not all tires are created equal.
What we're saying here is that oftentimes, wheelchair users must invest in different pairs of drive wheels—one for indoors and another for traversing rough terrain.
It can get tiring changing tires, which is why we are eager to examine a hybrid variety in our Kenda Kobra tire review. Let's do it!
Kenda Kobra Knobby Tires Design Overview
Wheelchair tires are a love-hate relationship, especially for ultralight wheelchair users. The standard tire just doesn't hold up outdoors, specifically on rough, uneven terrain.
Generally, it's common for wheelchair users to invest in at least a couple of different types of wheels—kind of like pairs of shoes.
One pair is installed on the wheelchair frame for everyday use, while the other pair is thicker and wider for getting out on the trails.
But who wants to spend time and money on multiple sets of tires? If you're a hardcore trail rider, having to switch out your tires regularly gets old fast.
In fact, it became a habit for some to just keep the large, knobby all-terrain tires on at all times, making indoor use more of a challenge.
Thankfully, one company recognized the plight of wheelchair users and came to the rescue with hybrid tires for indoors and outdoors—and we mean the rough and tumble outdoors.
Kenda is a big-name tire manufacturer who jumped on the idea of a hybrid wheelchair tire that can be used anywhere.
The result was the Kobra, a revolutionary design manufactured solely for wheelchairs.
The beauty of the Kobra is that it takes away the arduous trade-offs between court tires and knobby all-terrain tires.
Furthermore, it comes with a unique 540mm rim that fits a standard 24" wheelchair tire. This is a first on the market and very rare to find. We'll discuss the benefits of this size later in the review, but let's get back to the overall design.
Since these are hybrid tires, you'll notice they resemble narrow mountain bike tires but with a flat center and knobs on the outside. This is the reason why you can go from one terrain to another without any hassle.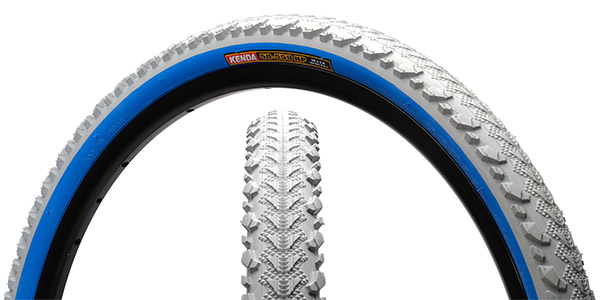 The Kenda Kobra K885 wheels roll seamlessly over dirt, grass, pavement, or snow without the need to change anything on your ride.
And while pneumatic, they are encased in Casing Added Protection (CAP) for a strong finish that is 65% more puncture-free.
As you can see, this is a high-quality, special performance tire, which means it's more expensive than your standard wheelchair tire.
With that being said, bear in mind that since this is a hybrid, your days of buying multiple pairs of tires are a thing of the past. Plus, you can't put a price on functionality, which, to us, signifies that you're getting a good bang for your buck here.
Now, let's dig a bit deeper into the features of the Kenda Kobra to see what they offer in terms of performance, customization, and durability.
Kenda Kobra Tires Features
Next up, we sink into the tread to see just how functional the Kenda Kobra tires are and how they operate on various types of terrain.
Tread Pattern and Structure
What sets the Kobra apart from other wheelchair tires on the market is the tread pattern and structure. The smooth center and knobby sidewall tread are the geniuses behind this innovative design, rendering these wheels worthy of a smooth surface and rocky, rough ground.
The smooth center acts as a contact patch that makes for a comfortable ride on hard surfaces, especially if the tire is inflated to the maximum of 80 PSI, which is more than the air pressure of most all-terrain tires.
On rugged terrain, the 2" wide tread pattern jumps into action, digging into the ground with added traction while providing ample flotation.
In other words, this tire conforms to the surface without hampering comfort or requiring the user to switch out the wheels, no matter the terrain.
Adjustability and Customization
Adjustability is important when it comes to wheelchair wheels, but even the Kobra's sizing isn't too much of a brain twist to deal with.
The 2" wide tires are available in the standard 24" rim size, which is the most common choice for wheelchair models. What makes it special, though, is the fact that the tire is available in 540mm to fit the 24" rim.
This is typically not found on the market, and if ultra-lightweight wheelchair users want to install a 2" wide tire, they have to either downsize to a 507mm rim or 559mm rim with a mountain bike tire.
This is costly, and it takes time to finagle the right fit—both of which no one wants to deal with.
The only thing you'll want to be wary of is the rear-wheel mounting offset. Check if the axle sleeves on your wheelchair need to be adjusted outward so the wider Kobra tire fits easily and won't rub on the backrest or side guards.
Kenda K885 Tires Pros vs. Cons
PROS
CONS
The Kenda Cobra hybrid tires are a sigh of relief for wheelchair users, especially ultralight wheelchair users who struggle to enjoy the outdoors due to constantly switching out their tires.
It's an inconvenience that's been around for a long time, but thankfully, Kenda came along and revolutionized the tire game with the Kobra.
There really aren't many cons with Kobra tires. They do what they're supposed to, like most tires generally do.
The golden egg here is the innovative tread pattern. With a smooth center and knobby sidewalls, this tire is well-supported on almost any surface. You can roll it over dirt, snow, grass, and hard surfaces without batting an eyelid.
This offers many benefits, the main one being that users don't need to invest in multiple pairs of tires just to go from indoors to outdoors. There's no more time-consuming tire assembly or finding extra space in your house to stash tires.
The Kobra kicks all of those little nuisances to the curb.
Plus, this is ideal for ultra-lightweight wheelchairs since the Kobra comes in a 540mm size for a 24" standard tire rim, which is rare on the market for these types of chairs.
The only downside we can see is the expensive price. But honestly, you have to pay for quality, and the Kobra tires do not skimp on quality! You're saving money on extra tires, not to mention the time spent switching them out.
This is the perfect tire for anyone who has an ultra-lightweight chair or for people who love to get outside regularly and ride trails.
Kenda Kobra Knobby Tires Warranty
Kenda offers what they call a "Worry-Free Warranty," which means you have 12 months from the date of purchase to send your Kobra tires back for any reason for replacements.
You can read the full warranty information here.
Comparable Products to Consider
Are you still on the fence about whether the Kenda Kobra tires are the best choice for you? We've compiled a shortlist of similar wheelchair tires for you to compare!
Koncept K191
The Koncept is a great all-purpose road tire that doubles as a sports tire if you like to play sports. It features 90% puncture protection, and the smooth tread is perfect for acceleration and cornering tactics.
Kontender
If you're an active, fast-moving athlete, the Kontender is the tire for you. This is a sporty wheel designed for speed and navigating through wet conditions easily, thanks to special water siping grooves.
Nevegal
This is another all-terrain tire that is more suited for outdoors than indoors. It's optimal for ever-changing terrain, including sand, gravel, grass, and more.
Kenda Kobra Tires Review Conclusion
The Kenda Kobra tire is a highly innovative component that makes it easier for wheelchair users to travel over changing terrains without worrying about punctures, flats, or tipping.
The flat center and knobby sidewalls create a smooth ride, with a specialized tread pattern that conforms seamlessly to the environment.
To conclude our review, this is an expensive tire, but you won't have to invest in more than one pair for switch-offs when going outdoors or indoors. This is ideal for ultralight wheelchair users and anyone who enjoys hitting the trails.
---
Resources and References:
Kenda Kobra Hybrid Tires
Designed to be used on any type of surface, including grass, snow, dirt, and sand. It's expensive but worth it if you use an ultra lightweight wheelchair or travel over ever-changing terrain.
Check Current Price