Summary
The Levo C3 standing power wheelchair is an excellent, versatile, highly customizable machine.
Recommended For: It's expensive, as all standing wheelchairs tend to be (especially the powered ones), but this one is excellent and recommended for anyone who can afford it, provided that you weigh no more than 300 pounds.
*Note regarding Brand Reliability: This metric is a measure of the strength and longevity of the brand, which by extension, is a measure of the level of support you can expect.
Does your mobility issue often leave you frustrated? Do you find yourself wishing you could do more than your current wheelchair allows?
If you answered yes to both of those questions, then you've probably already at least begun to investigate the possibilities of owning a standing wheelchair, which would dramatically increase your freedom—for a price, of course.
If that's where you are in your search, then you're going to love what you read here in our Levo C3 review.
Levo has the distinction of having been the first to market with this type of product, unveiling the world's first standing wheelchair in 1975. Back then, the company was called "Valutec," and their first offering was the F7, a manually propelled wheelchair with electronics handling the standing function.
It would be considered crude by today's standards, but it was groundbreaking at the time. And in the intervening decades, the company has learned a lot about what makes a great standing wheelchair. The Levo C3 is the culmination of their knowledge and experience to date, and it is exceptional at every level.
In the sections that follow, we'll step you through everything this chair has to offer. By the end, even if you decide this isn't the chair for you, we think you'll agree that this is a solid piece of engineering that belongs on your shortlist of options to consider.
If your interest is piqued and you're eager to learn more, read on, and let's take a closer look!
An Overview of the Levo C3 Power Chair
We regard this as being a very strong component of our Levo C3 review. At first glance, the C3 doesn't look all that different from many of the popular power chair options offered by name brands you may be more familiar with.
Both Drive Medical and Pride Mobility make chairs that share a lot of similarities with the C3's basic design.
That makes a certain amount of sense when you think about it. After all, there are tons of mid-wheel drive chairs on the market, and they all wind up looking fairly similar because the chosen drivetrain does set certain requirements and limitations in place right out the gate.
A keen-eyed observer might notice not one but two safety belts, though—one at the knees and the other at the chest—that hint at more profound differences.
Before we can say more about the C3's unique capabilities, however, it would be beneficial to start by taking a look at the raw numbers that drive and define the model. With that in mind, here's a broad overview:
These numbers are excellent across the board, and they tell us a number of important details about the Levo C3 power chair.
First and foremost, note that there are a number of variable, customizable entries listed above.
Levo understands that some people may be born with mobility issues or develop them at a young age. As they grow and their bodies change, their chair needs to be able to change and adapt to them.
Thus, the company put a lot of emphasis on offering as many customizable features as possible. This was meant to be a versatile chair that can grow with you!
Second, it's really good at handling slopes! While there's not a formal standard in the industry, in general, you'll find that most of the power chairs on the market can handle slopes between 6-8 degrees. This one can handle up to ten degrees, which is huge.
Even if you live in a hilly area, the Levo C3 wheelchair can get you where you want to go.
It's less good when it comes to powering over obstacles. It can easily handle a 3.9" curb, but it will get hung up on anything more than that. This paints the chair as being exceptional in urban environments, but this is definitely not an adventure chair.
Sure, you can use it on fairly level open ground, which means that you can likely drive it around your yard, but this isn't the kind of chair you take on a hiking trail, for example (unless it's paved or listed as an "easy" trail). It just doesn't have the clearance for those kinds of outings.
The C3 also has an absolutely superb turning radius. At just 21", you'll be able to navigate through even the tightest of spaces with ease, and we love that.
It's got good range, too, so you won't have to constantly worry about sticking close to a power outlet for a recharge, which is awesome.
Note, however, that this is a heavy chair, and as such, it's not travel-friendly. We'll have more to say about that a bit later on. For now, it's enough to point out that it's a brute when it comes to the total weight, and you'll definitely need to factor that into your thinking if you plan on traveling with it.
As informative as the numbers above are, they can only take us so far, though.
For instance, something that's not covered by the numbers above is the fact that although the company doesn't recommend it, save for very short distances, this chair can be driven in all seated and standing positions.
If you wanted to, and as long as you weren't going very far, you could drive around in it while standing up, which is not just cool; it's incredibly useful on a practical level too.
Another thing the numbers don't reflect is the fact that the C3 features a dual-drive system, which gives you 4-wheel traction when needed.
This is a nice feature addition, but it still doesn't make this an adventure chair. What it does mean, though, is that if you find yourself in uneven terrain and need a little extra traction to power over a challenging obstacle, the 4-wheel drive mode might just be the extra kick you're looking for. It's handy, but we won't call it a game-changer.
Then, of course, there's the standing feature itself, which is why everybody would consider getting this chair over a conventional powerchair offered by Drive Medical or Pride Mobility or your preferred brand.
The standing function is controlled electronically and offers smooth action, and safety belts support the user at the knees and chest. The company makes good use of its patented "Low Shear Standing" technology to provide smooth action and eliminate discomfort during the process.
Naturally, the company advises only engaging the standing function while the chair is on relatively even ground to minimize your risk of tipping and recommends having a friend close at hand in case the user encounters any difficulties during the process.
The Levo C3 Standing Wheelchair is a Bit Underwhelming on the Comfort Front
In some ways, this surprised us, and in others, it didn't. Overall, we'd rate this as about an average component of our Levo C3 review.
Given that this chair has so many customizable features where the seat dimensions are concerned, you'd think it would offer an amazing level of comfort. It's true that it will fit you like a glove, but the reality is that the company didn't put any special effort into making it really comfortable to sit in.
It's got ergonomic armrests and a height and angle adjustable headrest, but that's it. The seat isn't ergonomically sculpted, and there's only a moderate amount of padding.
So if you spend more than a few hours at a stretch in this chair, it will start getting increasingly uncomfortable.
The good news is that there's an easy fix for that. Seat pads come in all shapes and sizes, and you can buy something that provides exactly the level of comfort you're looking for at a nominal cost.
That works, but in our view, if you sell a chair at the top end of the price spectrum, you shouldn't have to invest extra to make it comfortable. Opinions will vary, of course, but that's our take on it, and we're a bit underwhelmed on the comfort front.
The C3 is Not Travel Friendly
As we mentioned earlier, this is a heavy chair. You can't just fold it up and toss it in your trunk when you want to go somewhere.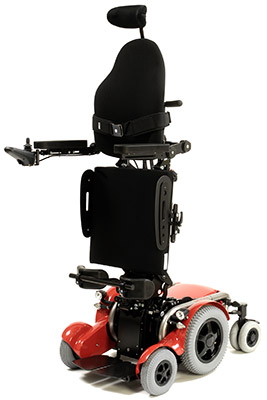 With that in mind, you're either going to need a lift on the back of your vehicle, or you'll want to invest in a van or a truck with a ramp, so you can get the chair from A to B and then offload it with relative ease, so you can use it when you get there.
That's not the end of the world, and there are plenty of other heavy chairs on the market, but it does mean that you'll need to invest in some additional gear if you plan on traveling with it, and that definitely needs to be factored into the equation.
Extras and Options
This is another area where the C3 really shines, and we'd rate this as an incredibly strong component of our Levo C3 review. When you order your chair, you can get it with tons of extras.
Just let the company know what you want when placing your order, and they'll ensure it's included. The extras on offer from the company include:
On top of that, if you decide you want one of these, you can order yours in a variety of standard colors (black, blue, red, white, or yellow). Or, if you want something custom, the company offers a wide range of more than 190 custom color options for a nominal additional fee.
Being able to pick from so many different color options is a small thing, but taken together with the various accessories mentioned above, plus all the goodies you can find on the aftermarket, users can really personalize these chairs and make them their own, and that's pure awesome in our book.
Pros & Cons of Levo C3 Wheelchair
This is an undeniably good chair. It's well designed, got some superb engineering behind it, and is offered by a company that is a pioneer in the industry. So if you get one of these, you know you'll be in good hands, and the chair you're getting isn't going to fall apart on you if you look at it cross-eyed.
It does, however, have one big drawback.
The elephant in the room is the Levo C3 price. Believe it or not, this isn't the most expensive standing wheelchair on the market.
Even so, it has a price tag that definitely resides in the "nosebleed section" of the market and will probably give you sticker shock.
Sadly, that means that many people who can really benefit from this technology will find it simply out of reach. We wish we knew of a good solution to that problem, but sadly, we do not.
We estimate that some 90% of people who decide not to get this chair will do so on the basis of price rather than any technical shortcoming of the chair itself, and that's a real shame.
Levo C3 Review Conclusion
We really like this chair, but we don't quite love it. It's very good at what it does, but as we mentioned in the last section, the Levo C3 standing wheelchair price is going to make this a nonstarter for the vast majority of the wheelchair market.
Having said that, if you can afford it and you're even remotely interested in standing functionality, this one belongs on your shortlist of options to consider. On that basis, we provisionally recommend it.
Comparable Products to Consider
There really aren't many of these products around. It's a small market, so there aren't many good, direct comparisons. Even so, if you aren't 100% convinced that this is the model for you, here are a couple of other options to consider:
Levo LCEV Manual Standing Wheelchair
Recommended For: Anyone weighing up to 265 pounds who wants a standing wheelchair but is also trying to keep the total cost as low as possible.
This one will save you at least a bit of money, and it's offered by the same company to boot. It offers all the fantastic features and superb engineering you'll find in the chair we just talked about but in a manual wheelchair configuration.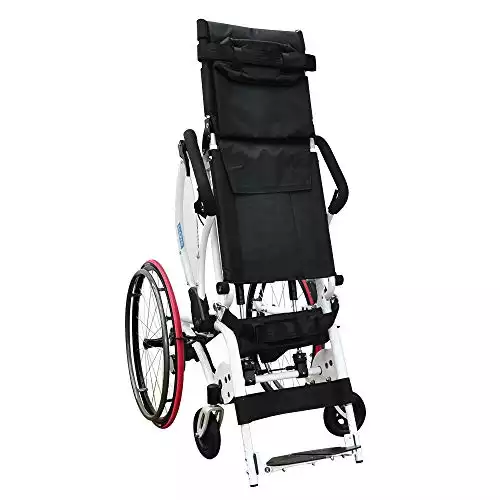 This is one of the most innovative designs we've ever seen. It's still quite expensive but doesn't cost nearly as much as the chair we just talked about or any chair that uses electronics to handle the standing function.
Instead, YOU provide the power that activates the standing function with this chair. The product videos have to be seen to get a good understanding of how that works exactly, but it is absolutely brilliant, and you'll probably love it the moment you see it. Highly recommended!
---
References and Resources: