Wheelchairs don't have to be drab. There are plenty of creative ways to express yourself through your ride—from frame colors to accessories!
In this article, we take a look at one of the hottest crazes on the market: light-up casters. They flash, shine, and are sure to draw attention wherever you roll.
Admit it, you're intrigued! We give you the details on what these special casters do and how they work.
What Are Wheelchair Casters and How Do They Work?
Wheelchair casters are the smaller wheels located on the front of a manual wheelchair. They play an essential role in how the wheelchair moves, improving smoothness, steering, and maneuverability.
Casters are attached to the chair by way of caster housings. They swivel in all directions, which is what makes it easier to turn and maneuver quickly. You can find casters on all sorts of devices, including shopping carts, strollers, and portable appliances.
Light-up wheelchair casters are unique, though, because they are designed with colorful flashing LED lights embedded within the wheel. No batteries or charging cables are needed to operate them. Instead, they are activated when the casters spin—sort of like a generator.
It works like this.
As the caster rotates, an internal mechanism creates static electricity, which, in turn, powers the tiny lights so that they turn on automatically.
It's simple, convenient, and you really don't have to think about anything since you'll never have to charge these casters or replace any batteries.
Some wheelchair users wonder if these fancy casters are as durable as the conventional kind, and the answer is yes—they are highly durable. In fact, the lights have been known to last throughout the life of the caster.
However, note that wheelchair light-up castors aren't suited for outdoor use in rugged terrain, especially smaller casters with less tread.
It's best to use these for your indoor manual wheelchair or if you're traveling, running errands, or outside during the evening.
How to Choose the Right Casters for Your Wheelchair
Size and style are probably the two most important factors to consider when shopping for casters. If you don't already know the size of your casters, a quick check is all that's needed, or you can consult your supplier for help.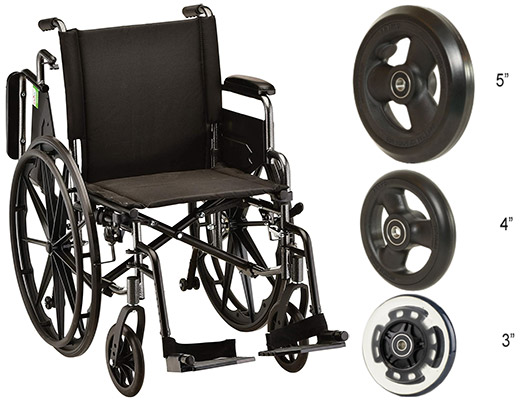 Lighted caster wheels typically come in three sizes:
These sizes are compatible with most manual wheelchairs. However, if you're customizing the diameter of the caster size, it's a good idea to first double-check that it will fit together with your wheelchair dimensions.
When it comes to style, consider your lifestyle and where you travel in your wheelchair. What type of terrain is common where you live? Do you mainly use your wheelchair indoors or outdoors?
Remember that lighted casters aren't designed for rough terrain, so it's probably best to reserve them for your everyday indoor chair.
Also, remember that casters need to be checked for wear and cracks on a regular basis. You can also call your supplier to schedule an inspection and help with changing out the casters if they need to be replaced.
What are the Benefits of Light-Up Wheelchair Casters?
Light-up casters are not just there for looks! These are high-quality wheelchair components designed for delivering an optimal experience. Here are the top benefits of these groovy wheels:
Sturdy and Durable
These casters are built to last, typically made of solid urethane that is puncture-free. Even the lights are embedded within the caster, oftentimes lasting as long as the wheel itself.
Casters Make Turning Easier
Light up casters might look like a pretty aesthetic, but they actually have an important job to do. If you have to make a quick, tight turn through a doorway, the casters make it possible since they swivel 360 degrees.
Easier Transfers
Casters also make wheelchair transfers easier. You can access or exit the wheelchair with greater flexibility instead of having to awkwardly finagle into a rigid chair.
Increase Visibility in Darkness
One of the unique features of light-up casters is that they enhance visibility at night time. If you find yourself out and about when darkness falls, the bright lights flashing from the wheels alert pedestrians and drivers to your location.
Where Can I Find Lighted Wheelchair Casters?
There are a few brands that sell light-up caster wheels online, or you can talk to your local supplier. Even skate shops sometimes carry them. Light-up casters can cost anywhere between $20 to $30.
Below, we've included a few online brands that sell light-up caster wheels.
Sportaid 5" Light Up Casters: Sportaid offers a couple of different options for light-up casters, including a 5" wheel and a 3" wheel. The flashing lights come in three colors—with high visibility flashing from the front, rear, and side view.
Volcanic Wheel: These are the only patented light up casters in the US, with powerful LED light technology that requires no batteries. The 5" wheels are compatible with most standard manual wheelchairs.
Invictus Active: These casters come in 4" or 5" sizes, featuring red, blue, green, and white LED lights that light up on their own. They are also equipped with 8 mm double-shielded bearings.
Light Up Casters Conclusion
Light-up casters are a fun way to spruce up your wheelchair, with flashing LED lights that make you visible from every angle.
The casters don't require batteries or need to be charged. They are powered by the movement of the wheels turning, making them incredibly easy to use and maintain.
These are great for wheelchair users of all ages, coming in multiple sizes to fit a standard manual wheelchair.
---
Resources & References: