Summary
Literider Envy is a well-priced and capable electric wheelchair, offered by a company you've probably never heard of.
Recommended For: Anyone weighing up to 300 pounds who's on a budget and not particularly brand conscious.
*Note regarding Brand Reliability: This metric is a measure of the strength and longevity of the brand, which by extension, is a measure of the level of support you can expect.
Are you in the market for an electric wheelchair to replace your aging manual one? Or perhaps you've only recently suffered from some type of mobility issue and know you want an electric wheelchair, so you don't have to put your back into getting you where you want to go?
Whichever may be the case, if you've done any searching at all, you already know that there are a dizzying array of choices available. Also, the search can be a daunting one. How can you decide when there are so many options available?
If that's the situation you find yourself in, then you're going to enjoy reading this Golden Technologies Literider Envy review. It may hit that perfect sweet spot for you between price and performance.
Haven't heard of Golden Technologies? We'd be surprised if you had. They're not a big brand, but they make almost shockingly good mobility aids. In the sections that follow, we'll step you through everything this particular model has to offer, telling you what it does right, and not pulling any punches when it comes to describing Envy's limitations.
Then, armed with all that information, you'll be able to make an informed decision about whether this is the model you've been looking for. If that sounds good to you, read on, and let's take a closer look at the Envy!
An Overview of the Golden LiteRider Envy
The first thing to say in this section of our Literider Envy review is to reiterate that Golden Technologies isn't an obvious choice when it comes to selecting mobility equipment. The big names like Pride and Drive dominate the industry, but the equipment made by Golden is well worth taking a look at.
All their products are designed here in the US and manufactured in China. There was a time when Chinese manufacturing was of significantly lower quality than Western manufacturing, but those days are gone, and the quality difference is vanishing rapidly.
That's why Golden can offer the Envy at a fantastic price and provide an impressive 5-year warranty on the frame, which is competitive with what the bigger brands are offering.
The Envy is a good-looking piece of equipment too, offered in a variety of colors. If you decide you want one, you can order yours in:
Cherry Red
Paradise Blue
Sunburst Yellow
Envy Green
Solar Flare Orange
Or Satin Silver
So often, we find that the smaller brands tend to focus on function almost exclusively and don't pay much attention to form, but all of Golden's products have a polished, finished, refined look about them. Aesthetically, this model is as good-looking as most of the stuff offered by Pride and Drive and better looking than some.
Before we say more than that, it's important to press pause for just a moment and have a quick look at the statistics that define the Envy so we can get a better feel for the device.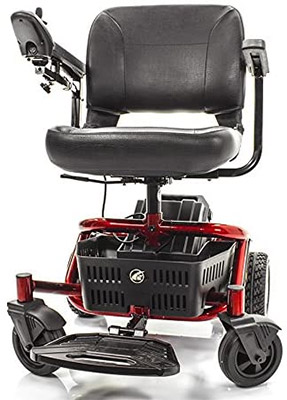 Here's a quick overview:
Overall Product Dimensions: 22.5" (W) x 36" (D)
Seat Dimensions: 17" or 20" (W) x 16" or 18" (D)
Top Speed: 3.5 mph
Maximum Range: 15.5 miles
Maximum Climbing Angle: 6 degrees
Wheel Size: 9" x 3" with 6" casters
Ground Clearance: 2.5"
Chair Weight: 96 pounds without batteries, 123 pounds with batteries
Turning Radius: 28.5"
Maximum Supported Weight: 300 pounds
So, the first thing to note is that this isn't a huge chair. It's narrow enough to easily fit through a standard-width door frame with room to spare, so you won't feel like you're threading a needle when you're navigating through your house in it.
We also like the fact that the company offers a variety of seat size configurations, although, with a 300-pound weight capacity, it's unlikely that the 20" wide seat will see too much use.
It's not universally true, but it's mostly true that if you need a 20" wide seat, you'll probably wind up exceeding the Lite rider Envy's weight threshold by at least a bit.
Even so, most smaller brands don't offer multiple seat sizes. That's just one of the many things that set Golden apart from their segment of the market.
If this model has one glaring weakness, in our minds, it is the top speed. 3.5 miles per hour is slow. Really slow. Someone out power walking is likely to blow past you while you're out riding around in the Envy. If you get one of these, don't be in a big hurry to get where you're going.
If you're not interested in finding a zippy machine, the low speed won't be a big deal for you, but if you're looking for something fast, then full stop; this is not the model you want.
The range is slightly above average at 15.5 miles. You might not get where you want to go fast, but with more than 15 miles of range, you can get to most places you'd want to and still have enough juice to get you back home again for an overnight recharge.
It offers an average slope handling ability and a fairly standard ground clearance for this type of chair. Basically, this model will go anywhere you'd reasonably be inclined to take a manual wheelchair. The Envy is at its best when used on indoor flooring surfaces, paved areas like sidewalks and parking lots, and inside stores or down shopping mall lanes.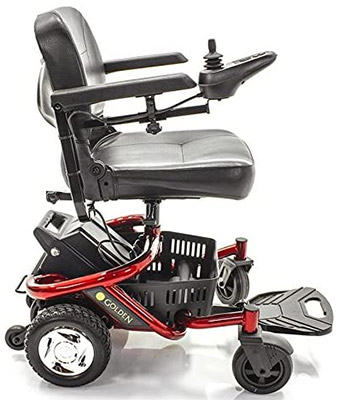 It can be used outside, but it will struggle on pretty much anything but flat ground with recently cut grass. Two and a half inches isn't a lot of room to work with, and even big roots can hang you up if you're not careful. So, don't plan on doing much "off-roading" in this chair.
The turn radius is on the low end of average. It's not hard to find a chair that can turn more tightly, but we've also seen a lot worse on comparable pieces of equipment. In any case, unless you live in a tiny house or an extremely small apartment, the turning radius shouldn't be an issue.
Finally, there's the weight.
At 96 pounds without batteries and only 123 pounds with its batteries in place, the Envy is one of the lighter electric wheelchairs in its class. It may not appear so based on those numbers, but this is actually a fairly travel-friendly model.
We'll have more to say about that in a bit. For now, just be aware that most of the other chairs in the Envy's size and price range are heavier and often significantly heavier.
Adjustability and Comfort
Most small brands don't tend to offer much in the way of adjustability. This is another area where Golden Technologies is a pleasant surprise because the Golden Envy is actually more adjustable than a lot of the models offered by big-name brands.
The seat height can be set to either 21.5" or 18.5" at your preference. You can also adjust the angle of the footrest to taste, and the flip-back, padded armrests can be adjusted for both width and angle. Taken together, those adjustment options give you all kinds of flexibility in terms of optimizing for comfort.
Unfortunately, the Envy does not offer a headrest (not even as an option), so there is no adjustment possible there.
In terms of comfort, the Envy is slightly less impressive. The padding is conventional block foam, and there's only a modest amount of it, hidden beneath black vinyl upholstery. The padding is sufficient to provide a comfortable seating experience for up to about 3 hours of use. Still, if you plan to be in the chair for a longer period of time than that, it's going to start getting increasingly uncomfortable.
That's an easy problem to fix. Just make a modest investment in padding for both the seat and the seatback, and you can make the chair as comfortable as you like. Even better, by buying the additional padding, you'll help extend the life of the vinyl, which tends to be fragile and will probably start peeling and cracking after about 18 months of regular use.
Extras and Options
Yet another area where smaller brands tend to fall short is in the area of extras. Most machines offered by the little guys in the market tend to be "what you see is what you get," with few, if any, extras on offer.
Once more, Golden is a pleasant surprise. While the Golden GP162 only has one extra on offer with the base model, the company offers a variety of accessories you can purchase to customize and personalize your machine.
The built-in extra takes the form of an under-seat storage basket. It's not huge, but we love it any time a company offers built-in storage.
It just makes the chair or scooter in question more useful. You'll still probably want to expand the storage space you have available, but it's very nice that you'll start off with at least some from day one.
As to the other extras, you can customize your ride with any of the following:
An Oxygen Tank Holder
A Tube Cane Holder
A Cup Holder
A Quad Cane Holder
Deluxe Pack N' Go
A Crutch Holder
A Scooter Cover
An all-weather cover
A Safety Flag
A seat belt
And a Walker Holder
With the possible exception of the safety flag, these are impressive extras. We do wish the safety belt was a standard feature and not an extra, but that's a small complaint and one we make commonly, even on the products offered by the major brands.
Portability & Ease of Use
With a fairly tight turning radius and a simple, intuitive joystick control system, mastering the Literider Envy power chair is a simple matter. Expect to take no more than 10-15 minutes to get a firm handle on the basic controls, and perhaps another 5-10 minutes practice with things like backing up. Even if you've never used an electric wheelchair before, you should have no problems mastering this one.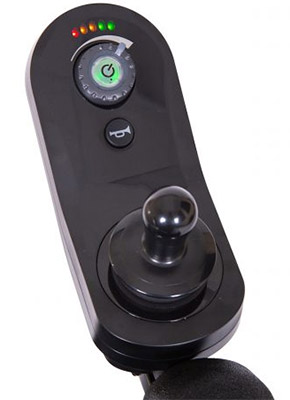 At 96 pounds (123 with batteries), this chair is also surprisingly travel-friendly. It disassembles quickly and easily, and when disassembled, the heaviest piece weighs less than 40 pounds. That's a critical figure because 40 pounds is the benchmark we use to determine the travel friendliness of manual wheelchairs.
In other words, this chair is easy to take apart, and once it is apart, it's no more daunting to store the individual pieces than it is to store what we consider to be a good manual traveling wheelchair. That's impressive. Even better, the pieces will easily fit inside the available trunk space of a full-sized sedan, which means you'll have an even easier time if you drive a truck, van, or SUV.
The Envy is even light enough that taking it with you on an airplane isn't out of the question. Bear in mind, though, that airlines tend to charge by the pound. The lighter your chair, the cheaper you fly. You'll still be better off investing in a 30-40 pound manual wheelchair to fly with, but if you really have your heart set on flying with this one, it's not totally outside the realm of possibility.
One thing though: Be sure you call the airline you're flying with to find out what their exact policy is regarding electric wheelchairs so you can make sure yours will be allowed. You don't want to assume and then get a nasty surprise when you show up at the airport, ticket in hand!
Pros & Cons of Golden Lite rider
In our view, if this chair has one glaring weakness, it lies in its disappointing top speed. We can forgive or overlook everything else, but wow.
That top speed of 3.5 miles per hour is harsh.
Granted, if it is not a big deal for everyone and it's not an issue for you, then for all practical purposes, there's no downside to this chair. It's incredibly capable, there are lots of extras on offer, and it's being sold for a fantastic price.
Golden Technologies Literider Envy Review Conclusion
While we don't love the LiteRider Envy, we do like it very much. We're incredibly impressed with Golden and the products they sell. We mentioned in the previous section here in our Literider Envy review that Golden Technologies might not be the biggest brand in the market, but the big guys better be looking over their shoulders because Golden is nipping at their heels. We recommend the Envy.
---
References & Resources: