Summary
Excel 2000 is a simple, well-designed chair that's better for home use than travel, but that could be used as a traveling chair in a pinch.
Recommended For: Anyone weighing up to 300 pounds, especially if your mobility issue doesn't see you in your chair all day, everyday.
*Note regarding Brand Reliability: This metric is a measure of the strength and longevity of the brand, which by extension, is a measure of the level of support you can expect.
Do you suffer from a mobility issue that's serious enough that you need to spend at least part of each day in a wheelchair? If so, and if you also like to travel, you may have found yourself a bit depressed and wondering if you'd ever be able to enjoy taking road trips and adventures again.
The good news is that the answer to that question, in particular, is a resounding yes! Today's wheelchairs are more compact and lighter weight than they've ever been in the history of the wheelchair, which makes it easier than ever to stash your wheelchair in the trunk of your car or the back of your SUV or even take it with you on an airplane and go anywhere you like.
Of course, the problem is that there are scores of different chairs on the market today, and finding the right one for you can be a daunting challenge.
The Excel 2000 is well worth a closer look, but as you'll see in the sections that follow here in our Medline Excel 2000 review, it was designed for a fairly specific kind of user. If you fit the mold that this chair was made for, you're going to like it very much indeed. If not, it will probably leave you feeling a bit underwhelmed.
Either way, we'll tell you everything this model gets right, and we won't be bashful in terms of describing the chair's shortcomings. That way, you'll be able to decide for yourself if this is the one you've been looking for. If that sounds good to you, read on, and let's take a closer look.
An Overview of the Medline Excel 2000 Deluxe Wheelchair
Purely conventional. That's the most common first impression this model leaves in most people's minds. It's a fair assessment. The Excel 2000's design team didn't take any chances where this model was concerned. As such, it looks about like every other wheelchair on the market today.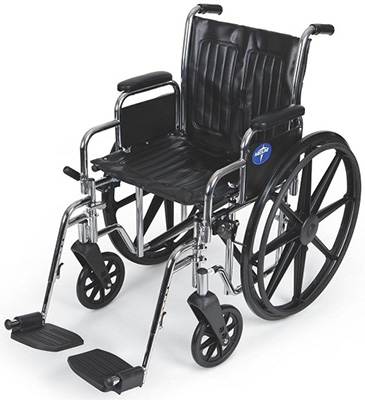 That's not a bad thing, but this model isn't for you if you're interested in acquiring a chair with a sporty or innovative look. Before we say more than that in this section here in our Medline Excel 2000 review, let's press pause for a moment and take a quick look at the core stats that define the model. Here they are:
Overall Product Dimensions: 28.5" (W) x 30.5" (D) x 36.5" (H)
Seat Dimensions: 20" (W) x 16" (D)
Chair Weight: 38
Maximum Supported Weight: 300 pounds
These numbers are good numbers and in line with most of the other wheelchairs on the market today, which further support and reinforce its strictly conventional design. The chair is narrow enough to just squeeze through a standard-sized door frame, but it's tight, so watch your fingers!
The seat dimensions are standard and will accommodate most users who also meet the weight limits of the chair, which is also standard at 300 pounds. That makes it useful to some 95% of the market. Again, if you weigh more than that, this is not the chair for you.
The Medline Excel 2000 wheelchair weight is right on the line for what we'd consider a good wheelchair to use for travel.
Basically, we regard anything 40 pounds or less as being well-suited for that purpose, and as you can see, this one just makes the cut.
Even so, the Excel 2000 may be a bit on the heavy side for some users. If you're looking for a lighter-weight chair, it's certainly possible to find one. But, this one will serve well enough if the added weight isn't an issue for you.
In our view, this is a good chair for people who are on a budget and who can't easily afford a second chair just for travel. This one's heavy and sturdy enough to stand up to the rigors of regular daily use while being light enough that most people won't have a problem stowing it in the trunk for an impromptu adventure.
Adjustability and Comfort
The Medline Excel 2000 deluxe wheelchair is Hemi-Height. The seat can be set as low as 15.5," which is low enough that most people will be able to propel it with their feet, and raised to a maximum of 17.5" high, which is high enough that most people will be able to sit comfortably in it while they're propelling themselves by gripping the rear wheels.
Additionally, the leg rests are length adjustable, allowing you to customize them to taste. They also swing away and can be removed entirely, at your preference. The arms are padded and desk length but are not adjustable in any way.
There are a couple of limitations to be mindful of where this model is concerned. First, the handles on the back of the seat are fixed in their position and not height adjustable. If you don't typically have someone available to push you from place to place, that's not much of a drawback. If your assistant is quite tall, it could be a little inconvenient.
Second, note that this model doesn't come with padded leg rests, which means no calf support. This underscores the notion that this model is an ideal choice for people whose mobility issue isn't so severe that they have to spend all day, everyday in a chair.
In terms of comfort, the chair itself doesn't win terribly high marks. There's no padding, and the seat and seatback are both vinyl, which isn't breathable.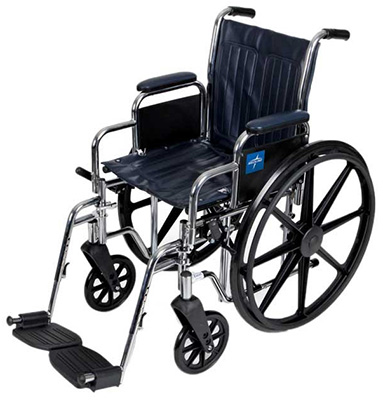 Further, vinyl isn't known for its durability. If you're looking for a chair you can use for the better part of each day, this one can work in that regard. You'll definitely want to invest in a good pad for the seat and seatback to get around the fact that if you sit in the chair as it is, you'll get hotter and sweatier as the day grinds on.
The good news on that front is that the chair isn't terribly expensive, and even if money is tight, you can use it for a while as is and save up to get exactly the seat and back pads you want to make it more useful and comfortable.
Extras and Options
The Medline wheelchair Excel 2000 isn't blessed with an abundance of extras. If you're not happy with the options on the default model, you can contact the company and order the Excel 2000 in any of the following configurations:
Choose an 18" seat width, rather than the 20" standard
Full-Length Permanent arms, permanent footrests
Full-Length Permanent arms swing-away footrests
Removable full-length arms swing away footrest
Removable full-length arms, elevating leg rest
Removable desk-length arms swing away footrest
Removable desk-length arms, elevating leg rest
Removable desk-length arms swing away footrest
Or removable desk-length arms, elevating leg rest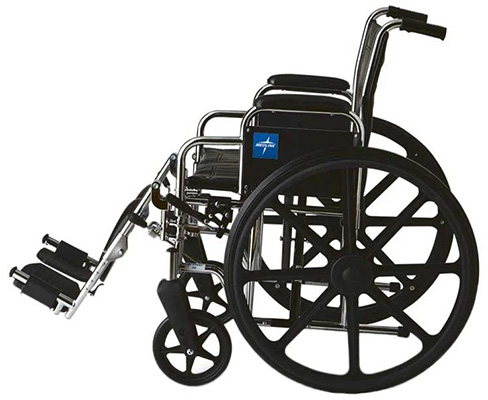 We already mentioned that this model doesn't come with any padding, so that's something you'll definitely want to invest in. While Medline doesn't offer any, you can find a broad range of options, and any third-party padding solution designed for the seat size will work just fine.
Also, note that this chair doesn't come with any onboard storage, which we regard as critical for a good traveling chair.
In this regard, the Excel 2000 isn't alone. Most of the chairs on the market today don't have any kind of built-in storage, but again, it's easy enough to buy a third-party solution to fit onto the back of the seat.
Portability & Ease of Use
The Excel 2000 Medline collapses easily and has a small enough footprint that you shouldn't have any difficulty storing it in the trunk of a full-sized sedan, in a hatchback, or in any SUV, but again, the weight is something to keep in mind. Thirty-nine pounds is heavy enough that if you're a shorter individual or if you don't have a ton of upper body strength, it could present a few challenges.
It is well-designed, though, and is about as easy to use as any other wheelchair in its class. While Medline isn't one of the biggest names in the industry, they are a well-respected company. So, they'll take good care of you if you have any problems with the chair.
Pros & Cons of Excel 2000 Medline
We rate the Excel 2000 wheelchair as being a good chair that falls short of greatness and one that's marginally well-suited for mixed at-home/travel use. In our view, the ideal user for this chair is someone who:
Doesn't have to spend all day, every day in the chair
Weighs less than 300 pounds
Is on a budget and looking for one chair that can serve both at home and on the go needs
And has good upper body strength, making it relatively easier to lug the chair into and out of your trunk or other storage space.
If all four of those apply to you, you're going to be happy with this chair. The fewer that are applicable to you, the less thrilled you will be.
Medline Excel 2000 Review Conclusion
As we said in the last section here in our Medline Excel 2000 review, it's a good design, but it does fall short of true greatness. You'll need to invest in more than just the chair to really make it shine (at a minimum, buying seat pads and some type of storage).
It's a superb chair for everyday use around the house, but it's not as impressive as a travel chair.
Still, it can work in that capacity in a pinch, and on that basis, we provisionally recommend it.
---
References & Resources: