Summary
Excel K1 Basic is a well-built, basic, surprisingly portable wheelchair offered by a respected company in the industry.
Recommended For: People on a budget, weighing up to 300 pounds.
*Note regarding Brand Reliability: This metric is a measure of the strength and longevity of the brand, which by extension, is a measure of the level of support you can expect.
Do you suffer from a severe mobility issue that sees you spending significant parts of each day in a wheelchair? If so, then you may be feeling as though your life is…perhaps not over, but seriously constrained. It's depressing to think that regular travel may be difficult, if not impossible, after all, especially if it was something you enjoyed before you had to start using your wheelchair.
If that's the situation and mindset you find yourself in, there's good news! You can still travel and enjoy a rich, full, adventure-filled life.
Today's technology has made wheelchairs lighter and more portable than ever. If you have the 'right' wheelchair, it's a relatively simple matter to collapse it down, toss it in the trunk of your car, or even take it on a plane with you and go anywhere you like.
Of course, the trick is in finding the 'right' wheelchair. With scores of different models on the market, that can be a daunting challenge, which is why we began writing this series of reviews.
Medline isn't one of the Industry's Titans, but they are a well-respected company with a long history of producing versatile, reliable products. We'd say here in our Medline Excel K1 Basic review that while the chair isn't perfect, it is a very good one and an excellent example of the company's work.
In the sections that follow, we'll tell you everything this model has to offer, and we won't pull any punches when describing its shortcomings and limitations. That way, you'll have all the details you need, right at your fingertips, so you'll be able to make an informed purchasing decision.
If that sounds good to you, let's take a closer look, starting now.
An Overview of the Medline Excel K1 Basic Wheelchair
Wheelchairs aren't known for their stunning good looks. While there are rare exceptions to that rule, most of the wheelchairs on the market today place almost all their design emphasis on function. Every once in a while, a few models might give a nod to form.
Excel K1 is no exception.
It sticks to the convention. It looks like a wheelchair. It looks like it has a job to do and is ready to be about it.
That's certainly not a bad thing, but if you're looking for something sleek and stylish, know that a) this isn't the chair you want, and b) the chair you want will cost you a lot of money.
Before we say more than that here in this section of our Medline Excel K1 Basic review, let's take a quick look at the core stats that define this model:
Overall Product Dimensions: 28.5" (W) x 31" (D) x 36.5" (H)
Seat Dimensions: 20" (W) x 16" (D) (Note that the company also makes an 18" wide variant of this model)
Chair Weight: 38 pounds
Maximum Supported Weight: 300 pounds
There are a few things to say about these numbers, which, on the whole, are pretty good. The K1 Basic has pretty typical overall dimensions, but it's a bit on the heavy side for a travel wheelchair. This is a relatively important tradeoff you'll notice.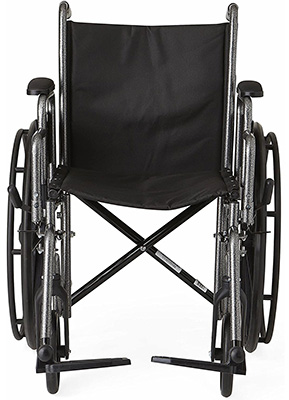 It's entirely possible to find very lightweight transport chairs (weighing less than 20 pounds!), but of course, they don't have large rear wheels, which means you'll have to have someone handy to push you around.
You can certainly find good travel wheelchairs that allow for self-propulsion, but they'll inevitably be heavier than just about every transport chair on the market.
This model weighs in at 38 pounds, which in our book, is right at the outer boundary of what we'd consider an acceptable weight for a good traveling chair. Our threshold where that's concerned is 40 pounds, with less being better for obvious reasons.
Given the weight of this chair, depending on how much upper body strength you have, you might need a bit of help loading and unloading the chair. Once it's set up and ready to use, it won't pose any significant challenges for you.
We like that this model has two different seat dimension options. If you're more lightly built, you can get the smaller chair (18" seat width) and shave a bit off of the weight by doing so. Note that if you contact the manufacturer directly, you can also get this model with a 16" wide seat, although they don't sell this variant on Amazon.
Finally, this model supports users weighing up to 300 pounds. This is the standard that most of the industry designs around, so we can't really fault the company for it, but we do wish it supported more weight.
In any case, as long as you weigh 300 pounds or less, this is a good option to consider.
Adjustability and Comfort
The Medline Excel K-1 Basic wheelchair is a Hemi-height chair. At the seat's lowest height setting (15.5"), it's low enough for most users to propel themselves forward using their feet. It can also be adjusted up to 2" higher in 1" increments, allowing for a small amount of seat height customization. It's a small detail but a very good one.
In terms of comfort, what you see is what you get. This chair has no padding on offer, but that's not at all uncommon. The nylon seat isn't the most breathable on the market, but it certainly isn't bad, and it's much more breathable than leather or vinyl, which makes it quite comfortable for short to medium-term seating.
If you're planning to spend the better part of the day in the chair, though, you'll almost certainly want to invest in a good seat pad. Fortunately, since this wheelchair sports a delightfully low price, you'll have plenty of money left over to do just that!
Extras and Options
In terms of options and extras, you can order your MDS806250ee K1 Basic in a variety of configurations. If you're not happy with the default configuration offered on the Amazon page, just reach out to the company directly to have your chair outfitted with any of the following options at your preference:
Removable desk-length arms, and swing-away footrests
Removable desk-length arms and elevating leg rests
Full-length permanent arms, and swing-away footrests
Full-length permanent arms and elevating leg rests
Removable desk-length arms, and swing-away footrests
Removable desk-length arms and elevating leg rests
Removable desk-length arms, and swing-away footrests
Removable desk-length arms and elevating leg rests
The big advantage of swing-away footrests is that it makes it easier to transfer into and out of the chair. It also means that you're more likely to be able to scoot closer to the family or a restaurant dinner table and dine while sitting in your chair.
The good thing with elevating footrests is that by keeping your feet elevated, you reduce swelling in your feet and ankles. The bigger a problem you have with that kind of thing, the more important this feature will be to you.
While it's true that this model doesn't boast a ton of different options, there are enough configuration possibilities here to keep most people happy. Unfortunately, you won't find any color options available, and the company doesn't allow you to swap out the wheels at the point of sale.
The good news on that front, though, is that the wheels are standard size. If you decide you want something custom, say, with a bit more tread for better traction in a wider range of terrains, you can absolutely do that. Again, given the modest price of this chair, you'll have plenty of money to do that.
Portability & Ease of Use
Portability is a key factor in terms of what makes a good travel wheelchair. Here, we regard the Medline K1 Basic wheelchair to be above average, but portability isn't this model's best or strongest feature. It's a bit on the heavy side, so you'll get a bit of a workout hefting it out of your trunk or getting it onto and off of an airplane. But, we regard it as being (just barely) light enough to use effectively while traveling.
If you don't have a strong upper body, it's certainly possible to find other models that weigh less and have a somewhat smaller footprint. But, one of the things we like about this model is its average size. If you're buying this model specifically for traveling, using it probably won't feel all that different from using the one you keep at home.
In terms of ease of use, it's about what you'd expect. It's narrow enough to get through standard-sized doorways. Although it's a bit heavy for a travel chair, it's lighter than many models designed exclusively for home use, which makes it fairly easy to use. Bonus points if you get the swing-away leg rests that make it even more versatile and easy to get into and out of.
One thing to note, though, is the fact that the default wheels on this model are best suited to flat, level surfaces, so it pays to really think about where and how you plan on using this chair. If your travel adventures will see you spending lots of time exploring nature trails, this probably isn't the chair you want. If you decide to go with this model, you'll definitely want to upgrade the wheels.
On the other hand, if you're mostly going to be rolling around on sidewalks and shopping centers, this one will work just fine.
Pros & Cons of Medline K1 Basic Wheelchair
This is a low-priced wheelchair. There are pros and cons that come built into that. On the one hand, since you're not spending a ton of money on the chair itself, you should have plenty of cash left over for better padding, onboard storage (this chair doesn't have any built-in), upgraded wheels, and the like.
On the other hand, since the Medline Excel K1 Basic extra-wide wheelchair 20 inch doesn't have any of that stuff, you'll have to spend the money to add those kinds of extras. The silver lining is that if you're on a budget, you can add that other stuff one piece at a time as you get the money together. So, your chair can evolve over time.
It's decent quality for an inexpensive chair, but it's not world-class quality, which is reflected in the fact that this model only comes with a 1-year warranty. Depending on how hard you are on your wheelchair and how well you take care of it, you may find that you wear this model out before your insurance will spring for a new one. That's pretty common, though, with most value-priced products.
Medline Excel K1 Basic Review Conclusion
Overall, we regard this as a very good, low-priced wheelchair. It's not a great chair, but you'll be hard-pressed to find a better value at the low end of the market. As the name indicates, it's a basic wheelchair. As long as you're not expecting a ton of bells and whistles (which you can add later if you like), we believe here in our Medline Excel K1 Basic review that this one won't disappoint.
As a travel chair, again, it's good but not great. Although the overall dimensions aren't excessive, making it fairly easy to fold and stow for travel, it is a bit on the heavy side, and getting it into or out of your trunk on your own could give you a bit of a workout.
Once you've done that, you'll find using it to be smooth sailing. On that basis, we recommend it.
---
References & Resources: