Summary
Metro Mobility M1 is an impressive, versatile machine, made by a company you probably haven't heard of before. It is recommended for anyone weighing up to 265 pounds, especially if you're on a budget.
* Note regarding Brand Reliability: This metric is a measure of the strength and longevity of the brand, which by extension, is a measure of the level of support you can expect.
Is money tight at your house? Do you suffer from a mobility issue that keeps you from enjoying life to the fullest like you once did? Are you in the market for a mobility aid that will help you regain a measure of your freedom and independence?
If you answered yes to the question above, then you're going to love our in-depth Metro Mobility M1 scooter review.
Have you heard of Metro Mobility USA? We'd be surprised if you had. This small American company isn't one of the giants of the industry. Still, they are very well respected and have an excellent reputation for post-sales service and support, even if they don't have a very large footprint in the industry.
We'll be quick to admit that although we like this model very much, it is by no means a perfect machine, and as such, it won't be for everyone. In the sections that follow, we'll step you through everything this great little scooter has to offer, and we won't pull any punches when it comes to describing the M1's limitations. That way, you'll have all the information you need to decide for yourself if this is the scooter you've been looking for or if your search will have to continue.
If that sounds good to you, read on, and let's take a closer look!
An Overview of the Metro Mobility USA M1 Scooter
First impressions won't get you where you want to go, but they definitely matter, and the first impression that the M1 leaves you with is quite good. It's a great-looking, highly polished machine you'll be proud to own and ride around on. Even better, if you decide you have to have one, you can order yours in either red or blue.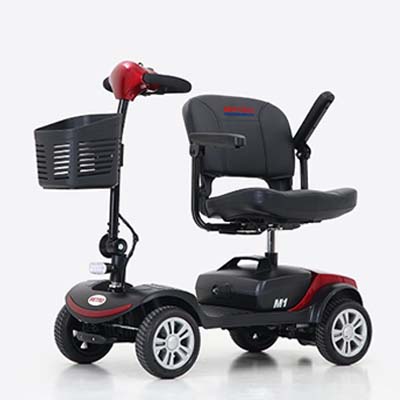 Note too that this is a four-wheeled model. Many prospective buyers prefer four-wheeled designs over their three-wheeled counterparts because the presence of a fourth wheel offers added stability. That's not to say that it's impossible to tip a four-wheeler, but it's relatively more difficult to do.
However, most people in the market for a product like this place function well above form.
Looks matter, but performance simply matters more. To understand how the M1 fares on that front, it's important to take a closer look at the design by the numbers here in our Metro Mobility M1 scooter review. Here are the basics:
Overall Product Dimensions: 43.7" L, 20" W x 36" H
Seat Width: 18" W x 16" D
Seat to Deck Height: 18" – 21"
Turning Radius: 59" (44" for the Lite variant)
Top Speed: 4.97 MPH
Range: 15 miles per charge (10 miles for the Lite variant, 20 if you get the battery upgrade)
Wheel Size: 8.5"
Ground Clearance: 4.7"
Maximum Slope: 8 degrees
Scooter Weight: 106 pounds (can be broken into four segments for traveling. The heaviest piece weighs just under sixty pounds)
Maximum Supported Weight: 265 pounds
For the most part, these numbers are average to slightly above average, which is a rare thing for value-priced mobility aids. In almost every case, when you're shopping at the value end of the market, you can expect to find that sacrifices were made in various aspects of the design.
While there clearly were a few sacrifices made here, there aren't nearly as many design weaknesses as we were expecting, given the extremely low price of the M1 mobility scooter.
When fully assembled, the M1 has a relatively small profile, and of significance, it's narrow enough that it can easily sail through any standard-sized doorway. Unfortunately, it has a slightly smaller seat than we'd like, but it's a good match, given the supported weight limit.
Most of the scooters on the market today support at least 300 pounds of user weight, but many lightweight scooters support in the neighborhood of 265 pounds.
Unfortunately, this isn't a lightweight scooter. While it's still relatively travel-friendly because it can be disassembled for storage in your trunk, it's simply too heavy to be airline friendly. It also uses a lead-acid battery to boot, which you can't take on a plane anyway.
This is another genuine limitation. If you're a frequent flier and you're looking for a scooter to travel with, both on the road and in the air, then, unfortunately, the Metro Mobility Compact Mobility scooter simply isn't going to work for you.
The turning radius isn't great, but it's not awful either. Note that the company does make a "Lite" variant of the scooter that offers some improvement on that front. Even so, if you live in a smaller home or apartment, while you'll still be able to use the M1, you will inevitably get lots of practice backing up and making multi-point turns.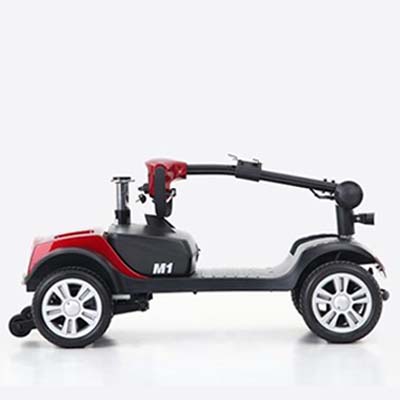 The ground clearance, however, is well above average. It's got a decent top speed, too, so it will get you where you're going somewhat more quickly than many of the competing scooters on the market. You don't have to worry as much about getting hung up on roots, rocks, or other outdoor obstructions.
Even if the Metro M1 mobility scooter isn't a true adventure machine, it can still carry you easily enough on overall urban surfaces and most outdoor surfaces you'll find in your yard or at campgrounds. Provided that the trail was short, you could even take it down a well-maintained, easy hiking trail, but risking more than that is probably an invitation to disaster.
Although the range is slightly above average, you'll still want to be mindful of where the nearest power outlet is located or invest in a second battery to essentially double your range.
Adjustability and Comfort of Metro Mobility Compact Mobility Scooter
Most of the mobility aids offered by smaller companies and at the low end of the price scale are strictly "what you see is what you get." Metro really pulled out all the stops here, and we regard this as one of the strongest elements of our Metro Mobility scooter review.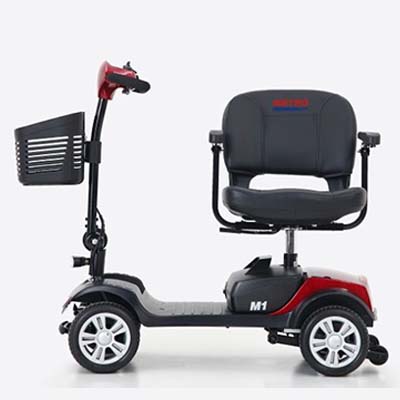 Note that this holds true for the full line of Metro Mobility compact mobility scooters, not just for this particular model. They're all surprisingly adjustable machines. In this mode, you can adjust:
The angle of the steering tiller

The height of the seat
The height of the armrests
The width of the armrests
That gives you a surprising number of ways to tweak your ride for maximum comfort and outstrips many of the products offered by far larger and more established brands. Kudos to Metro Mobility for that!
It gets better, though, because the seat also swivels, making transfers into and out of the scooter a simple proposition. We love that, and we think you will too!
Unfortunately, the scooter doesn't fare quite as well on the comfort front. The seat only sports a modest amount of conventional block foam padding and is upholstered in vinyl. Although the decision to use vinyl here helped keep the cost down, it also means that the more time you spend in the seat, the hotter and sweatier you're going to get because vinyl isn't at all breathable.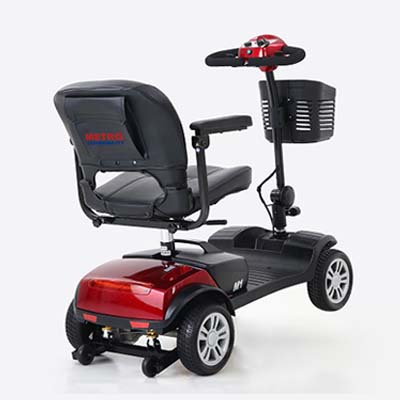 All that to say, it's fine for shorter trips, but this is definitely not a machine optimized around the idea of spending extended periods lounging in the seat once you get to wherever you're going.
The good news on the comfort front is that since this is such a delightfully low-cost model, you'll probably have some money left over to invest in whatever sort of padding augmentation you want. There are all sorts of options available in the aftermarket.
You can buy anything from additional block foam covered with durable fabric, to memory foam, to anything in between, so you can make the Metro Mobility M1 as comfortable as you'd like.
Extras and Options of Metro Mobility Scooter
This is also another surprisingly strong section of our Metro M1 Mobility scooter review. Surprising because, again, smaller companies aren't generally known for offering a ton of extras with the products they sell, but you'll find the M1 brimming with goodies, including: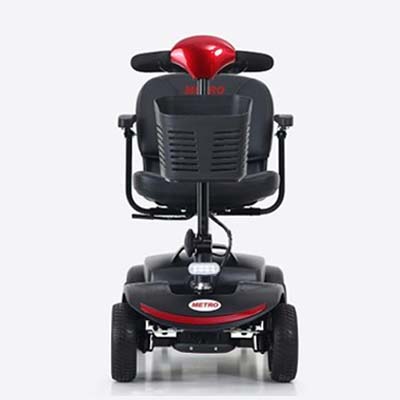 An LED headlight
Brake lights and taillights
A recharging cable
A handy storage basket
A small storage pouch located on the back of the seat
We wish the little scooter had also come standard with a safety belt, but that's the only item high on our wish list on the accessories front.
Unfortunately, Metro Mobility has an extremely Spartan "Accessories" section on its website. In fact, literally, the only things you'll find there are extra batteries. While we love that the company makes extra batteries so easy to acquire, we do wish they'd build that section of the site out a bit more and offer some additional accessories for their product line.
It's not the end of the world, however, because just as you'll find no end of padding options in the aftermarket, you'll also find an endless array of other accessories. Again, since this is an extremely modestly priced little scooter, you'll probably have at least some money left over to buy whatever other accessories you might want.
Portability and Ease of Use
This is a relatively weak point in the design in our view. Although the M1 Portable 4-wheel mobility scooter is fairly portable because you can break it down into four pieces for travel, it's too heavy to really be considered exceptionally travel friendly.
If you're on the road a lot, you can find folding scooters that weigh half as much, or are even lighter, that don't require you to take them apart to put them in the trunk. In fact, there are even a few models that fold themselves up at the touch of a button!
In addition to that, the M1 uses lead-acid batteries, which makes it an absolute non-starter where air travel is concerned. This, in fact, is one of the biggest complaints among other Metro Mobility reviews we've found online.
We're not sure why, but the company seems rather attached to the use of lead-acid batteries and doesn't appear to have any desire to change course. So for the foreseeable future, none of Metro Mobility's products can be classed as air travel friendly, and few can be classified as genuinely travel friendly. We regard that as a bit of a missed opportunity for the company.
On the other hand, Metro did a great job where ease of use is concerned. The control system is a lesson in simplicity, and it will only take you five minutes or so to master the basics and get a feel for the stopping distance you need.
The only potential caveat here is the turning radius. It may take a bit more practice to get yourself turned around if you don't have a lot of space to work with, but you'll be pleasantly surprised as to the basic controls. Everything is well laid out and intuitive, so kudos to Metro for that!
Metro M1 Mobility Scooter Pros & Cons
So, where does that leave us?
Well, first and foremost, we regard the Metro Mobility M1 travel scooter as a tremendous value for the money. As a general use runabout type scooter, it's simply superb and can handle any urban environment, most flat outdoor environments like your yard, campgrounds, and even easy hiking trails, provided they're relatively short and well maintained.
It's a good scooter for indoor use too, but the relatively poor turning radius means that unless you've got plenty of space, you'll have to resign yourself to making frequent three-point turns to navigate through the tighter spaces in your home.
We only see two serious issues and limitations with this design. First, it doesn't support a lot of user weight. That's either not an issue at all or a total deal-breaker, depending on how much you weigh.
Second, it uses lead-acid batteries, so it's not airline friendly. Since it weighs in at more than a hundred pounds, it's easy to find other models out there that are more compact and travel-friendly too.
Metro Mobility M1 Scooter Review Conclusion
As mentioned in the previous section here in our Metro Mobility M1 scooter review, the ideal user for the model is someone who:
Weighs 265 pounds or less
Doesn't fly often, or doesn't plan to take this scooter on the plane if they do
Has a medium-sized or larger home
Is on a budget
Is planning to use the M1 inside their home, around the neighborhood, in their yard, at campgrounds, or on shopping trips in town.
If all five of those bullet points apply to you, then the M1 belongs on your shortlist of options to consider. If less than three of them apply, then you're almost certainly better served by continuing your search. On that basis, we provisionally recommend it. If you decide you want one, you'll almost certainly love it and will be getting a ton of value for your money.
Comparable Products to Consider
If you like Metro's products and want to support the company but this particular model just isn't a good fit for you, you may also want to consider:
A slightly stripped-down version of the classic M1, offered for even less money. It supports the same amount of user weight but isn't quite as good where range is concerned. However, it does weigh less and has an improved turning radius. So if you're short on space, it may be perfect for you.
Sporting an aesthetic similar to that of an ATV, this brute not only supports up to 450 pounds, but it also offers more of everything. More speed, more ground clearance, and better handling overall. Naturally, it weighs more and suffers a bit where turn radius is concerned. If you're looking for a machine optimized for larger folk and one that can carry you over an even broader range of terrains, this is the model you want.
---
References & Resources: