Summary
Nova 7000 series is one of the best lines of lightweight wheelchairs you'll find anywhere. A superb model offered at an excellent price.
Recommended For: Anyone weighing 300 pounds or less.
*Note regarding Brand Reliability: This metric is a measure of the strength and longevity of the brand, which by extension, is a measure of the level of support you can expect.
Do you suffer from a mobility issue that sees you in a wheelchair for at least part of every day?
Do you enjoy travel? If you answered yes to both of those questions, then you may have begun looking about for a wheelchair sturdy enough to use day to day but light enough to pack with you in the trunk of your car or to take with you on an airplane so you can enjoy travel opportunities like you used to.
Unfortunately, finding the 'right' wheelchair that meets both of those criteria can be a frustrating, daunting challenge. If you haven't had much luck finding the perfect lightweight chair for you, you're going to like what you read in this Nova lightweight wheelchairs review.
Nova doesn't make a ton of wheelchairs, but they make a wide range of other mobility devices and medical aids, and they certainly know-how as this chair proves decisively. It's one of the best lightweight chairs we've found, and Nova is a well-respected company in the medical device industry with a stellar reputation for standing behind its products.
In the sections that follow, we'll tell you everything this model gets right, and we won't be bashful when it comes to describing its few limitations. That way, you'll have all the information you need to decide if this is the model you've been looking for. Even if it's not and you decide that some other chair will serve you better, we think you'll be impressed.
An Overview of the Nova 7000 Series Wheelchair
The 7000 series look like a conventionally designed wheelchair, with one exception. It sports a durable all-weather canvas seat and seatback where most other wheelchairs rely on vinyl or durable nylon upholstery. Right off the bat, we love that because nylon is more durable and breathable than either of the other common upholstery options, and it looks fantastic.
Given the modest price of this chair, we admit here in our Nova lightweight wheelchairs review that we were honestly surprised to see anything other than nylon or vinyl here. So, kudos to Nova for really getting the upholstery right. It provides a comfortable seating experience for short to medium durations in the chair. However, if you plan on spending most of each day in it, you'll almost certainly want to augment the standard seating with some type of padding.
Before we go any further than simple aesthetics, let's take a moment to review the core stats that define this model. Here are the basics:
Overall Product Dimensions: 27" (W) x 16" (D) x 36.5" (H)
Seat Dimensions: 20" (W) x 16" (D) (This chair can also be ordered with a 16" or an 18" wide seat if you prefer)
Chair Weight: 32 pounds
Maximum Supported Weight: 300 pounds
There's really not much to say about these numbers. They're generally good, and in line with most standard-sized wheelchairs. The seat dimensions are a good fit for a wide range of potential users, made even better by the fact that the company offers three different seat widths.
The supported weight limit is strictly average, making this model a good fit for some 95% of the market.
The real talking point here is the weight. At just 32 pounds, this is one of the lightest wheelchairs in its class, making it an exceptional model for traveling.
Sure, it's entirely possible to find even lighter transport chairs (some of them weighing as little as 19-20 pounds), but a transport chair requires someone to push you if you want to go anywhere. Also, the four tiny wheels aren't nearly as robust as regular wheelchair wheels.
Adjustability and Comfort
There are a few different adjustable features to talk about the Nova Medical 7000, starting with the seat height, which defaults to 18" but can be lowered by up to 2," giving you a bit of latitude on that front.
That's good for a couple of reasons. First and foremost, it makes the chair more useful to people with shorter legs. It also allows you to lower the seat height sufficiently that you can use your feet to move from one place to the other, then raises the seat to use it more conventionally.
The leg rests swing away and can be length-adjusted to taste. Note, however, that there are no calf pads on this model, so you don't have that extra layer of padding or support. This is no big deal for shorter stints in the chair, but if you plan on sitting in it all day, every day, you're going to miss those calf pads.
The armrests aren't height-adjustable, but they do swing up and out of the way at the touch of a button, which makes transfers into and out of the chair easier here than on models that don't offer that feature. The armrests are also padded, which enhances the overall comfort of the Nova 7180i.
In addition to that, the handles on the back of the seat are marginally adjustable and can be set up to two inches higher than their default position. This makes no difference to the person sitting in the chair, but it could be a real godsend if someone is behind you pushing you from place to place.
Comfort-wise, we've already sung the praises of the canvas upholstery, and it's very good. The longer you sit in the chair, though, the less comfortable you're apt to feel.
Fortunately, any aftermarket seat and/or seatback pad designed to fit the seat size you select will work fine and be a great addition to the chair that will enhance its comfort and value to you.
Best of all, since the Nova 7000 series wheelchair sports a modest price tag, you're almost certain to have enough money left over to buy whatever seat pad you want.
Extras and Options
Nova doesn't offer much in the way of extras for this chair. The swing-away arms can be rightly counted as an extra, and it does have anti-tippers that can be engaged or not as you prefer. Besides that and the three-seat size options you can choose from, there's not much else here. Note, though, that you can get an O2 pole if you want by contacting the company if that's something you need.
Fortunately, there are plenty of companies that make wheelchair accessories. You can upgrade the leg rests to a type that includes a calf pad if you like, buy a wide range of padding to enhance the chair's comfort, and invest in some kind of storage option, which we view as essential for a traveling wheelchair.
Note that we did not reduce this chair's score because it doesn't have any built-in storage. As valuable a feature as storage is, most of the chairs sold today don't offer it standard. No matter what chair you buy, the odds are good that you'll have to invest in some type of storage solution anyway.
Portability & Ease of Use
The main reason to consider the Nova lightweight 7000 series over some other models is the fact that it's incredibly lightweight for a full-featured wheelchair. Ideally, you'll have something more robust for everyday use and pick this one up to use on the go. If money is tight at your house, this one could certainly fill both roles. Bear in mind, though, that since it is lighter, it won't feel quite as sturdy as a heavier chair.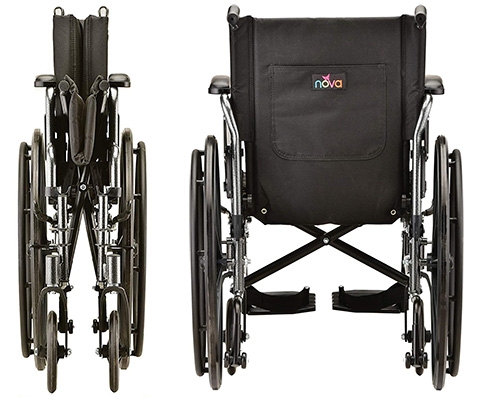 In terms of ease of use, its lightweight definitely helps in this regard. You won't have any difficulty maneuvering, and it's narrow enough that it will fit through a standard-width door frame.
Pros & Cons of Nova Lightweight 7000 Series
In no particular order, here are the things we think you'll like best about the Nova Medical lightweight wheelchair:
It sports durable, comfortable, breathable all-weather canvas upholstery.
It's offered at a modest price that won't break the bank.
It's highly adjustable, especially given its modest price.
And it's delightfully lightweight, which makes traveling with it a breeze.
It does have a few limitations worth mentioning. The thing you'll miss most is the fact that there are no calf pads on the legrests.
Also, remember that the armrests aren't height-adjustable, which limits the flexibility of the chair, and Nova doesn't offer much in the way of extras or options.
Even so, you can get quite a few accessories from third-party vendors if you're interested in tricking your chair out. You've got plenty of options on that front.
Nova Lightweight Wheelchairs Review Conclusion
For the money, this is a superb little chair. It fills an important niche, being a low-priced, lightweight chair that's ideal for traveling. As mentioned in the previous section here in our Nova lightweight wheelchairs review, we'd recommend buying it in addition to the chair you keep at home and use every day, but it can certainly serve in both of those roles if you're on a tight budget. On that basis, we highly recommend it.
---
References & Resources: