Summary
The Permobil F5 Corpus VS standing wheelchair is an engineering masterpiece. Amazingly full-featured and customizable, but it's the most expensive power chair we've ever seen. Recommended For: If you can afford it (and it costs as much as a new car, fully decked out), we recommend it for anyone weighing up to 300 pounds who wants or needs standing wheelchair functionality.
* Note Regarding Brand Reliability: This metric is a measure of the strength and longevity of the brand, which, by extension, is a measure of the level of support you can expect.
Are you in the market for a new power chair? Have you been dreaming dreams of getting one with standing functionality built-in?
If you answered yes to both of those questions, you're going to love what you read here in our Permobil F5 review. But there is a catch, and it's a big one. This is the most expensive wheelchair we've ever seen by a wide margin.
Seriously, if you get one with all the bells and whistles, it will wind up costing as much as a new car.
In fact, they're so expensive that the company has actually published a "funding guide" to give families ideas on how to raise the money to get one. All that to say, if you like what you read here, be prepared for some sticker shock if you decide to go shopping.
Unfortunately, a lot of people who read this review will fall in love with the chair but not have any realistic means of acquiring one, and that's a pity because, as you'll see, this is one amazing piece of engineering. It is a categorically awesome power chair.
In the sections that follow, we'll step you through everything the Permobil F5VS offers, and even if you ultimately decide it's not for you, we think you'll agree—this chair is amazing.
Ready to take a closer look? Let's do it!
An Overview of the Permobil F5 Standing Wheelchair
We regard this as a strong to a very strong component of our Permobil F5 review. At first glance, the Permobil F5 wheelchair looks a lot like the front-wheel-drive power chairs offered by brands you're more familiar with. Put the F5 next to a chair by Drive Medical or Pride Mobility; outwardly, they look quite alike.
Another similarity between this chair and its more mainstream cousins is that if you get one of these, you can order yours in an impressive array of colors, which gives the owner a chance to personalize their ride.
The color options available fall into three categories: standard colors, premium colors, and hydrographic options. Here's what you have to choose from:
Standard Color Options
Premium Color Options
Hydrographic Options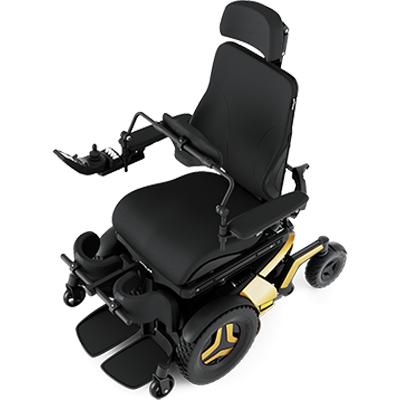 All in all, then, the chair—whatever color scheme it sports—makes a good first impression.
That's fine as far as it goes, but first impressions will only take you so far. We need numbers that define the model's basic functionality to get a feel for what this chair can do. Here's a quick overview:
Permobil F5 Specifications
There's a lot to talk about here, but these are fantastic numbers on balance. The range is excellent, making this a versatile machine, underscored by the fact that you can customize a number of the aspects of this chair to taste when you place your order.
On top of that, as you can see from the recline ranges mentioned above, this chair can do things that most others can't, and that's before we even get to the standing feature, which is this chair's signature.
Note, however, that it is a monumentally heavy chair, so a) not very travel-friendly, and b) something you'll either need a van, a truck with a ramp, or a lift on the rear of your car to get from one place to another. This is definitely not a chair you can just heft into your trunk and get on with your day.
The ground clearance is a little underwhelming and marks the chair as something that works best on flat, paved surfaces. Not to say you couldn't potentially use it in other contexts, but that would have to be done with some care and consideration, for sure.
We absolutely love the turning radius, which underscores the value of this chair in indoor settings. With a bit of practice at the controls, users can easily navigate even tight indoor spaces.
Given that the company offers two variants here (dubbed Group 3 and Group 4), we should probably take a moment to define exactly what those terms mean.
Wheelchairs are classified into groups, which are identified as Groups 1, 2, 3, 4, and 5.
Group 1 chairs have the following characteristics:
Group 2
Group 3
Group 4
Same as above, but the heavy-duty models' weight capacity extends to 600 pounds. These chairs are designed for people whose mobility issues require the routine use of a wheelchair in the home as well as for routine MRADLs (mobility-related activities of daily living) outside the home.
And Group 5 covers pediatric powered wheelchairs, with a weight capacity of up to 125 pounds for individuals who are expected to grow in height. These chairs have multiple power options and a power tilt and recline seating system. Some also have ventilators mounted on the chair.
And now you know!
One thing not mentioned above but worth drawing your attention to is the warranty. You can either get a 1-year or a 2-year warranty, which we regard as a genuine point of weakness.
As we said at the start, if you buy one of these, you'll wind up literally spending as much as you would on a new car. For a product this expensive, to only have a 1-2 year warranty is… less than impressive.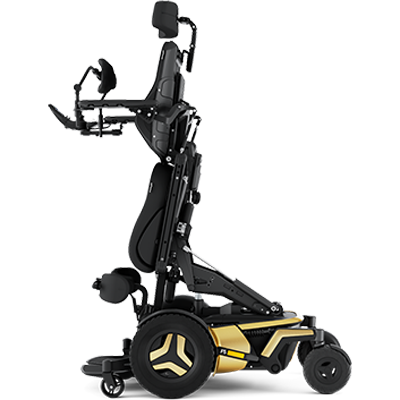 The Permobil F5 Corpus is a good machine, and it's well built. With proper care, it's going to provide reliable service well beyond the warranty period, but for the price, it had better. Sadly, you will have some out-of-pocket expenses to keep it running once the warranty period ends as things begin to break or wear out.
We really wish the company had offered more where the warranty was concerned.
The Permobil Corpus F5 VS — Unique Capabilities
This is probably the single strongest component of our Permobil F5 review. Let's talk about some of the stuff that the raw numbers don't show.
The Permobil F5 Corpus VS has a lot to offer that the numbers don't cover. For one thing, it offers a surprisingly comfortable seating experience. The chair sports an ergonomic design, and all of the controls are intuitive and easy to use.
Even better, the support provided by the exceptionally well-implemented ergonomic features means that the chair provides excellent support while simultaneously giving the user a comfortable seating (or reclining) experience.
With carefully optimized pivot points, users won't feel any discomfort when changing positions, and the standing routines can be customized to the user's preference. On top of that, the F5 Permobil incorporates a pair of proprietary technologies—ActiveReach and ActiveHeight—which help to put more of the world in reach of the person sitting in the chair.
ActiveReach is a tilt function that provides up to 45 degrees of forward tilt, while ActiveHeight provides up to 14″ of additional lift, making it possible to reach items on a high shelf and granting the user an even greater degree of independence, all while maintaining comfort.
In a nutshell, the F5 Permobil wheelchair offers exceptional comfort, cutting-edge proprietary technologies, ergonomic design and implementation, and a customizable standing feature that makes it truly one of a kind. While there are other standing wheelchairs on the market today, nobody does it like Permobil.
Extras and Options
This is another strong component of our Permobil F5 review because the company offers a staggering number of extras with the chair. These include:
A generous selection of accessories indeed. Our only complaint here is that given the Permobil F5 Corpus' price, we feel that a lot of these should be offered at no additional charge.
Even so, the fact that there are so many options available gives the user virtually unlimited freedom and flexibility when it comes to customization and personalization. With enough funds on hand, you can have exactly the chair you want.
Pros & Cons of F5 Corpus
In our view, the Permobil wheelchair F5 gets just about everything right. It's an engineering marvel and a fantastic design by any measure.
Unfortunately, it does have that one crippling drawback. The Permobil F5's price is simply staggering. As such, it's simply going to be out of reach for many people who could get a lot out of it.
Permobil F5 Review Conclusion
We love this chair, but we can only give it a provisional recommendation because it comes with one huge caveat. You've got to literally have tens of thousands of dollars to spend on a chair.
If you do and you want or need standing functionality, this is the one you want, without question.
Unfortunately, that simply doesn't apply to most people. It's a brilliant design, and you'll love owning one IF you can afford it.
Comparable Products to Consider
This chair is in a class by itself. There really are no other comparable products, but if you're looking for other standing wheelchair alternatives that are priced for mere mortals, then we absolutely recommend the following: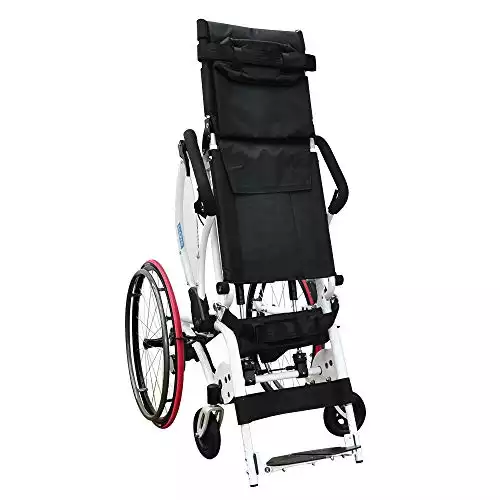 This is still an expensive wheelchair, but it only costs a fraction of what the chair we just reviewed costs. Like the F5VS Permobil, the Leo II is a study in engineering excellence, but that excellence is expressed differently.
The Leo II is unique in that it is the only standing wheelchair we've ever seen that is manual. The person sitting in the chair provides the power that activates the standing function, and the design is utterly brilliant. If you can't afford the F5, this one absolutely belongs on your shortlist of options to consider.
The Levo C3 Standing Power Wheelchair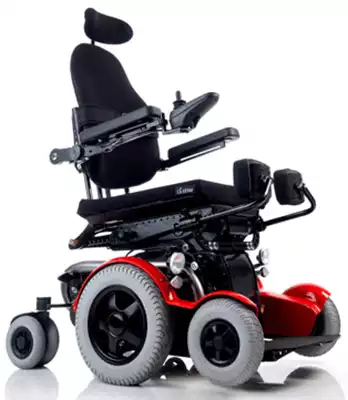 This one isn't as expensive as the chair we just reviewed, but it still may give you sticker shock. It's not quite as bleeding edge as the Permobil but is an excellent option for anyone looking for a standing wheelchair.
---
References & Resources: