Summary
Phoenix HD 4 is a fantastic, well-rounded model, capable of meeting the needs of some 98% of the market. It is recommended for anyone weighing up to 350 pounds.
* Note regarding Brand Reliability: This metric is a measure of the strength and longevity of the brand, which by extension, is a measure of the level of support you can expect.
Are you a bit heavier than the average person? Looking for a robust, capable electric wheelchair or scooter to help you get where you want to go, and preferably, one that's not outright impossible to take on the road with you when you travel?
If you answered yes to the questions above, then you're in for a treat where this Phoenix HD 4 review is concerned.
While the Phoenix HD does have a couple of fairly minor limitations, for most of the people on the hunt for a mobility aid like this, it's pretty close to perfect.
Of course, every person's tastes, preferences, and needs vary. For most of the people out there, though, this model will serve them very well indeed. In the sections that follow, we'll tell you everything it brings to the table, and we won't pull any punches when outlining its limitations and shortcomings.
That way, you'll have all the details at your fingertips so you can make an informed buying decision. If that sounds good to you and you're ready to learn more, read on!
An Overview of the Drive Medical Phoenix HD4 Scooter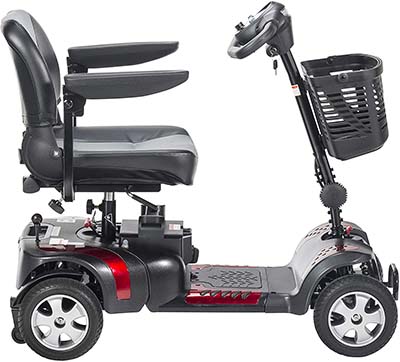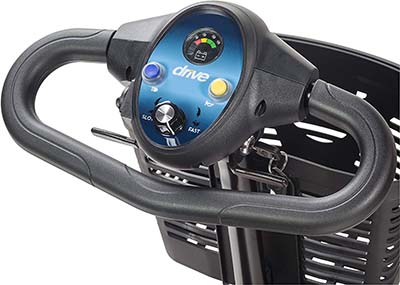 Adjustability and Comfort of Drive Phoenix HD4
Extras and Options of Drive Phoenix HD4
Portability & Ease of Use
The drawback is, of course, that it takes time to break the machine down, then more time to get it ready to use when you get where you're going.
If you want to avoid that problem, it's going to take an additional investment in technology.
There are two good options.
If you have a truck or van, you can buy a ramp. Just deploy the ramp and drive the scooter up into the fan or the bed of the truck.
Secure it, stow the ramps, and you're ready to travel.
The other option is to invest in some type of lift to mount on the back of your vehicle. These are more expensive than simple ramps, but either option will neatly sidestep the issue of having to dismantle and reassemble the scooter, which saves you time.
Just be mindful of the fact that if you decide to go with either a ramp or a lift, it will increase your total cost of ownership of this model. We suggest you build that into your budget, so you have a clear picture of what you're spending.
Air travel with a device like this is pretty much a non-starter. Most airlines simply won't allow it. The batteries are a fire hazard, and fire and airplanes aren't really a great combination. If you have your heart set on taking it with you, by all means, give the airline you're planning to fly with a call and find out what their policies are. Just don't be surprised if they give you a hard no.
You'll find the controls to be intuitive and easy to master. The control panel is clearly laid out and you won't have any questions about what you're looking at. The only thing that might give you a few moments of difficulty is mastering turning the machine around or backing up if you don't have the room to complete the turn radius. This, however, will only require a few minutes of practice.
Pros & Cons of Phoenix HD4 Scooter
The Phoenix HD 4 wheel scooter is a great, well-rounded, and capable machine that's useful to the vast majority of the potential market. We don't have any major criticisms of the scooter, but there are a few minor limitations to be mindful of. For example:
We think it's fantastic that there are two seat size options available, but if you need the 20-inch seat, you may run afoul of the 350-pound weight limit, which we feel could be increased with a minimal increase in the total cost of the unit.
The armrests are okay but not great. Some padding would help tremendously. When you inevitably have the seat reupholstered, that's something you'll likely want to spring for as well.
The upholstery isn't as durable or as long-lasting as we'd like, especially given that the machine itself has a limited lifetime warranty.
It's not exactly a speedster, with a top speed of just 4 miles per hour. That's not the slowest scooter out there, but it's on the lower end.
None of these are deal-breakers. Even taken together, given the overall strength of this model, they're unlikely to make a compelling argument against the Phoenix HD. It's a really strong design and an excellent, versatile piece of equipment.
Drive Medical Phoenix HD 4 Review Conclusion
Our minor quibbles aside, we love this model, and we think you will too. We admit here in our Phoenix HD 4 review that while it can't quite go absolutely anywhere (it's just not made for braving hiking trails, at least not without a wheel upgrade that lifts it a bit higher off the ground), it can go most of the places you're likely to want to take it. We highly recommend this model.
---
References & Resources: