Summary
Porto Mobility Ranger Quattro XL Electric Wheelchair is a superb mobility aid, brought to you by a smaller company you may not have heard of.
Recommended For: The company makes a few variants of this model that are capable of supporting up to 550 pounds, making it a good fit for more than 99% of the market.
* Note regarding Brand Reliability: This metric is a measure of the strength and longevity of the brand, which by extension, is a measure of the level of support you can expect.
Are you the kind of person who absolutely refuses to let your mobility issue limit your options? Have you been searching for an electric wheelchair or mobility scooter that shares that same basic spirit? If you answered yes to both of those questions, then you're going to be excited by what you'll read here in our Porto Mobility Ranger Quattro XL review.
We'll be quick to admit that the Quattro power wheelchair isn't for everyone. It does have its share of limitations, not the least of which is the fact that it's offered by a smaller, less well-known company in the industry. Even so, if you're willing to take a chance on an off-brand, we think you'll agree that there's a lot to like here.
In the sections that follow, we'll walk you through everything this model has to offer, and we'll be quick to point out the weak spots in the chair's design. That way, you'll have all the information you need to decide for yourself if this is the model you've been searching for. If that sounds good to you, read on, and let's take a closer look.
An Overview of the Porto Mobility Ranger Quattro XL Ultra Foldable Electric Wheelchair
You never get a second chance to make a first impression. In our view, the Quattro XL makes an excellent one. We readily admit early on here in our Porto Mobility Ranger Quattro XL review that the aesthetic won't be for everyone. We love the modern, industrial look that this model brings to the table, and if that sort of design speaks to you, then you're going to love it right off the bat.
Naturally, mobility aids need to be about more than looks, though. It's always nice when you find a machine that looks good, but it's absolutely got to be functional and increase your freedom. To find out how well or poorly the Ranger succeeds on that front, let's start by taking a look at the raw numbers that define this model.
Bear in mind that Porto Mobility makes several variants of the Ranger, and the one we're looking at specifically, in this case, is the XL model. Here are the basics:
These are categorically good numbers. The footprint of the scooter is small enough that when folded, it's easy enough to store it in the available trunk space of just about any mid-sized sedan. If you own a hatchback, truck, van, or SUV, stowing the scooter when you want to hit the road is an even simpler matter.
The seat dimensions are generous and a good fit for the weight limit of this model variant of the Quattro power chair. The speed is also above average, and the range is excellent.
Even the turn radius on this model is great. In fact, there aren't many points of weakness we can find in the numbers. The two most significant, in our view, are:
The weight. It's not awful, but this scooter is certainly not a featherweight. If you absolutely need the lightest scooter you can find, then this one probably won't be a good fit for you. Aside from that, the ground clearance isn't as good as it could be. Even so, 3.5" is sufficient to make the chair useful on a variety of terrains. You can also certainly use it outdoors, provided that you keep an eye out for large obstructions, which can still hang you up if you're not careful.
Honestly, those are minor criticisms in the larger scheme of things, though.
Adjustability and Comfort
As good as the raw numbers of this model are, this is a point of relative weakness in our Porto Mobility Ranger Quattro XL Ultra review because this model is essentially "what you see is what you get." While the arm and leg rests flip up, the former makes transfers into and out of the chair easier, and the latter, for added comfort, but neither of them is adjustable.
We regard this as one of our Quattro power wheelchair review's strongest components. Most smaller brands don't offer anything in terms of extras, but here, you'll find a trio of excellent ones. The chair has a built-in storage pocket behind the seat, another storage basked under the seat, and a USB charging port, allowing you to keep your phone or other smart device charged while you're out exploring.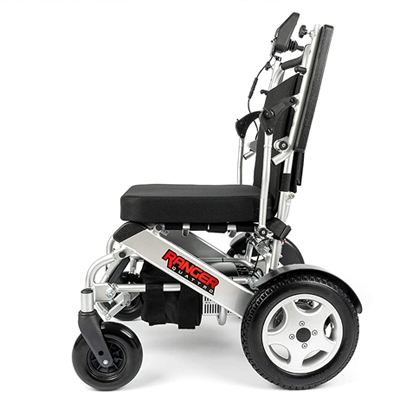 It gets better, though, because the company also offers a number of additional, optional upgrades on their site, including alternate, elevating leg rests, a cup holder, and extra batteries. The Quattro wheelchair already sports an impressive range with the two batteries that come standard when you buy the machine, but you can increase the range by another ten miles by adding a third battery to your array.
That, combined with the better than average ground clearance, means that you can take this chair out on a hiking trail rated as "Easy" without worry that you'll run out of juice before you make it down the length of the trail and back to your vehicle, and that's superb.
Then, of course, there's always the aftermarket, which is brimming with accessories. So if you don't find the upgrade you're looking for on the company's site, it's no big deal because there are plenty of other options available. Kudos to Porto Mobility for a job very well done on this front!
Portability & Ease of Use
This section is a bit of a mixed bag because while the Quattro electric wheelchair doesn't win especially high marks for portability, it's not awful either, and it's about as easy to use as it gets.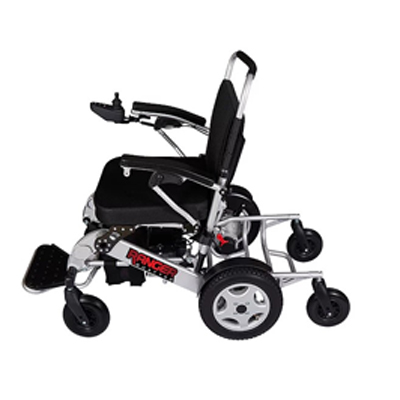 In terms of portability, the chair has a small enough footprint to store it easily in just about any trunk space you've got available, but it is a bit heavier than many other models you'll find on the market today. If you're a frequent flier, you'll probably be more interested in an electric wheelchair or scooter that weighs 40 pounds or less, so you'll pay less of a premium when you have to take your rig on the plane with you.
That's also true if you don't have a lot of upper body strength and want to make your life easier.
For everyone else, though, the weight shouldn't present an overwhelming problem. Although it's not quite as convenient as an ultralight chair, it's easy enough to travel with.
In terms of ease of use, though, the Quattro XL really shines. It utilizes a standard joystick controller, which means that you'll only need about five minutes to master the basic controls. Even better, with its tight turn radius of just 33," you won't have any problems using the chair even if you live in a smaller home or apartment.
Pros & Cons of the Porto Quattro XL Electric Wheelchair
As we said at the start, there's a lot to like about the Porto Quattro XL. In no particular order, here are the things we see as this chair's strongest selling points:
While all of those are undeniably good things, it also has a couple of points of weakness. We'd be remiss if we didn't point them out again here, toward the end of the review.
These include:
CONS
Porto Mobility Ranger Quattro XL Review Conclusion
As mentioned in the previous section here in our Porto Mobility Ranger Quattro XL review, the many positives of the model far outweigh the relatively minor constellation of negatives, and we think that most people will agree. It's a rock-solid design. Even if you ultimately decide that some other chair is a better fit for you, this one absolutely deserves to be on your shortlist of options to consider. We recommend it, or one of the variant models, if one of those proves to be a better fit.
Comparable Products to Consider
Despite the fact that we regard this as an excellent option, not everyone will agree. Given that, here are some alternatives to consider:
Go-Go Elite Traveler by Pride Mobility
Recommended For: Anyone weighing up to 300-pounds, but especially those who love to travel. This is designed for flat, level terrain, not an off-road scooter.
While this model isn't as fast as the one we just reviewed, it's significantly cheaper, brimming with extras, and highly adjustable. If you're on a budget, this is a fantastic alternative to consider.
Forcemech chairs are beasts in the very best sense of the word, capable of standing up to just about anything you can throw at them, and they have styling and capabilities that are similar to the Ranger.
---
References & Resources: