Summary
Pride Maxima is a surprisingly good-quality, capable off-brand mobility scooter.
Recommended For: Provisionally recommended for anyone weighing up to 300 pounds, if you're not finding what you're looking for in the product lines of mainstream brands.
* Note regarding Brand Reliability: This metric is a measure of the strength and longevity of the brand, which by extension, is a measure of the level of support you can expect.
Are you a bigger, taller, heavier individual? Do you have a mobility issue that sees you spending at least part of each day in a wheelchair? Have you considered saying goodbye to conventional wheelchairs and exploring the possibilities that a good, rugged mobility scooter offers?
If you answered yes to those questions, then you're going to love what you read in this Pride Maxima scooter review. Not only is Pride an exceptional company with a long history of producing outstanding mobility aids, but the Maxima is a great example of their work and one of the best electric scooters in the company's impressive product lineup.
In the sections that follow, we'll do a deep dive into the Maxima's capabilities and tell you everything this model has to offer. We won't pull any punches when it comes to describing its shortcomings and limitations. That way, you'll have all the details at your fingertips and can decide for yourself whether or not this model would be right for you.
If that sounds good to you, read on, and let's take a closer look!
An Overview of the Pride Maxima 4 Wheel Scooter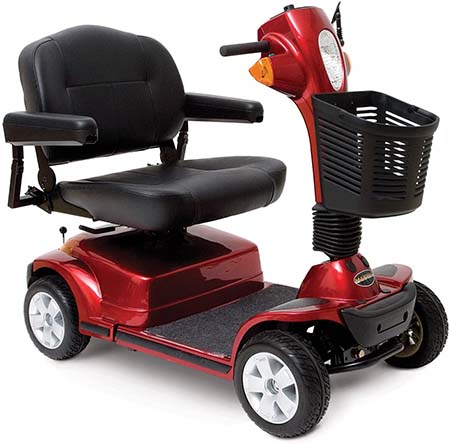 The Maxima is rather conventionally designed, although it is offered in your choice of Viper Blue or Candy Apple Red – two bold, eye-catching colors. The design won't really jump out and grab you, but its impressive size certainly will.
More precisely, it's the size of the seat that makes the Maxima look deceptively large, but the overall effect is to give the Maxima a look of solidity. Like a big comfy friend, you know you can count on. Before we say more than that here in our Pride Maxima scooter review, let's take a quick look at the model, by the numbers.
Here are the basics:
Overall Product Dimensions: 25.5" (W) x 47" (D) x48.5" (H)
Seat Dimensions: 22" (W) x 18" (D)
Top Speed: 5.3 mph
Maximum Range: 16 miles
Wheel Size: 10" x 4" (rear) and 10" x 3" (front)
Maximum Climbing Angle: 7 degrees
Turning Radius: 54"
Ground Clearance: 3.25"
Chair Weight: 176 pounds without batteries, 252 pounds with batteries
Maximum Supported Weight: 500 pounds
These are mostly good numbers, but there are a few points of weakness. As we mentioned above, the overall size of the machine doesn't differ that much from models that support less weight, but the seat dimensions are impressive indeed.
The top speed is a bit wanting, and in our view, of all the basic stats presented above, this is probably the single biggest point of weakness in the design. We'd love to see improvements in this area that would push the top speed to 8-9 miles per hour, at least.
The range is above average, but not exceptional, and the turning radius is about what you'd expect for a machine of this size.
The ground clearance is average, but it does put some limitations on the Pride Maxima 4 Wheel scooter. You'll obviously not have any issues running around on flat, paved surfaces, and you can probably use it around your property, at the park or at a campground. When you're on rough terrain, you'll definitely have to keep an eye out for obstructions that could potentially hang you up.
Then, of course, there's the supported weight. The five-hundred-pound weight limit is an excellent fit for the impressively sized seat.
The only other potential negative here is the total weight of the machine. Here, it's the "with batteries" weight that matters, because of course, without the batteries, what you have is a large, good looking paperweight. At 252 pounds, you can't really describe the Maxima as being portable or travel friendly.
Actually, the total weight is a bit deceptive and doesn't tell the whole story, though. We'll have more to say about that a bit later on.
For now, just be aware that it's a heavy machine and you'll have some work to do if you want to take it on the road with you.
Adjustability and Comfort
On the adjustability front, the two things to talk about where the Pride Maxima mobility scooter is concerned are the seat and the steering tiller. We'll start with the steering tiller because there's relatively less to say about it. At the touch of a button, you can adjust the angle of the tiller, drawing it closer to you or setting it farther away, depending on the length of your arms.
The seat is a wonder.
First and foremost, it's height-adjustable in a range that spans 22.5" to 24.5" as measured from the ground or 16" to 18" as measured from the deck. This is superb. It starts two inches below the traditional big and tall range and extends right up to it, which makes it as good for heavier people with shorter legs as it is for taller folk.
In addition to that, you can adjust the angle of the seatback, and the padded armrests can be adjusted for height, width, and angle. Given the width of the seat, you're unlikely to need to adjust the armrests outward to give you more room, even if you're near the top end of the Maxima's supported weight limit, but kudos to the company for offering so many adjustment options!
The seat itself is generously padded with conventional block foam, which is comfortable, but not what we'd describe as luxurious. The upholstery, however, is a point of weakness, in our view. It's vinyl. Black vinyl, to be specific.
We don't hate vinyl.
It's got its uses, but here, we regard it as a weak choice. For one thing, it's not at all breathable, and the longer you spend in it, the hotter and sweatier you're likely to get. That'll happen faster if you live in a warm climate, but even if you don't, after about four hours of sitting in the chair, it'll still happen.
In addition to that, vinyl just isn't all that durable. It doesn't stand up well to the rigors of everyday use. If your plan is to use your Maxima every day, or even nearly so, you'll notice that the upholstery starts showing its age by peeling and cracking after about eighteen months.
The frame has a lifetime warranty, which means that the upholstery will give up the ghost about the time you're breaking the frame in well. So you're pretty much going to have to replace it, and probably more than once.
The good news here is that even though the seat is impressively large, there's really not a lot of upholstery to contend with. So, having the seat re-covered won't be a huge expense. The point, though, is the fact that it's something you'll have to do at some point, and probably sooner than you'd like.
Extras and Options
There are two extras to talk about where the scooter Maxima is concerned. The first is the light kit that's built into the model and includes an LED headlight, turn signals, and taillights. That's fantastic, and it really adds to the versatility of the design, expanding when, where, and how you can use it.
The second thing is the front-mounted ABS plastic storage basket. While the basket isn't enormous, it's certainly big enough to be genuinely useful. If you need more storage, as you'll see on the list below, the company offers additional storage options that dramatically increase the amount you can carry.
Although we realize that not everyone will agree, we like how Pride handles the matter of accessories. They make sure to include a couple of extras with their base models, but leave most of them off, allowing you to buy only the ones you want and need and skipping the rest.
That's good in that you'll never pay for an accessory you won't use, but each purchase does, of course, increase the total cost of ownership of the machine. In any event, Pride offers a wide range of accessories.
These include:
A cup holder
A cane/crutch holder (single or double available)
A rear basket for additional storage
An oxygen tank holder
A RAM X-Grip cellphone holder
A wishbone crutch holder
A walker holder
A protective cover to help guard your investment against the elements
A rearview mirror
A front-mounted storage basket
A lap belt
Saddlebags for yet more storage
A USB charging port
And a safety flag
On this model, the two extras we wish were included as standard equipment are the safety belt and the rearview mirror. It seems strange to us to offer a machine with a light kit that includes turn signals and not include a mirror. The good news there is the fact that the mirror accessory is one of the most modestly priced options, but still.
Portability & Ease of Use
Here, we'll talk about ease of use first because there's relatively little to say about it. Pride's control panel has been refined over the years, and at this point, it's pretty close to perfect. The steering column is ergonomically designed and feels like a natural extension of your hand. The controls are well laid out and intuitive. It will take you less than ten minutes to master the controls and the basic use of the Pride Maxima Heavy Duty 4-wheel scooter.
As we said early on in this review, though, this is a heavy machine. As such, at first glance, it doesn't seem like it would be all that portable or travel friendly. It is, but there's a catch. A couple of catches, actually.
First, looking at the total weight of the machine is not really fair, because the machine can easily be broken down into five separate pieces. While the heaviest of these still weigh some seventy pounds, and as such, it's still a bit of a chore to heft into your trunk or backseat, the rest of the pieces are light and easy to store.
Since the Maxima can be broken down, it's actually surprisingly easy to find room to store it in most full-sized sedans, vans, trucks, or SUVs, though that seventy-pound piece will still be a chore to load and unload.
The problem here is that it's a time sink. If you plan to travel with it, you'll lose time taking the machine apart. Of course, before you can actually go anywhere when you arrive at your destination, you'll have to spend more time putting it back together. That's no fun.
There are two alternate solutions you can employ to get around the time sink. The first works if you drive a truck or van. Buy a ramp and simply drive the Maxima into the van or onto the bed of the truck. Secure it, and drive it down again when you get where you're going.
If you don't have a truck or a van, the other approach would be to buy a lift that will allow you to simply tote the Maxima behind whatever you're driving. Again, no more time sink, but the problem here is that lifts tend to be relatively expensive, and the Maxima is already a fairly expensive scooter.
Not everyone will be able to afford that option.
Time or money. It's going to cost one or the other to travel with the Maxima. It's not an insurmountable problem, but it will cost you one of those two.
Before we close out this section, we should say a few words about air travel with the Maxima. In summary, just don't do it.
As we said, this is a heavy machine. Airlines charge by the pound. You can find a good travel wheelchair that weighs about 40 pounds, which you can get onto the airplane for significantly less money.
If you have your heart set on taking your scooter on the plane, you'll need to call the airline in advance and tell them what you've got. Each airline has a different policy, and most of them will tell you flatly that it's just not an option (and again, if they do allow it, you'll pay a hefty premium). It's still worth asking the question, but don't be shocked if the airline tells you no.
Pros & Cons of Pride Maxima
We like almost everything about the Pride-Maxima-Heavy-Duty scooter. It's a decent looking, versatile scooter with an impressive supported weight limit and plenty of extras on offer.
In our view, the biggest weak spots in the Maxima's design are these:
We don't regard any of these, or even all of them taken together as deal-breakers. But, we realize that opinions will differ on that front, and some people might want to select a different model for those reasons.
Pride Maxima Scooter Review Conclusion
This is a great scooter, and with its impressive weight limit, it's useful to more than 99% of the market. We note here in our Pride Maxima scooter review that it's a perfect fit for those who want a scooter primarily for use in paved urban environments, but it's also versatile enough to be useful in some outdoor settings.
On that basis, we recommend the Maxima.
---
References & Resources: