Summary
Revo 2.0 is a great scooter that combines the best features of the Go-Go and the Victory 10, and winds up being better than both for it.
Recommended For: Anyone weighing up to 400-pounds, especially those who love to travel.
* Note regarding Brand Reliability: This metric is a measure of the strength and longevity of the brand, which by extension, is a measure of the level of support you can expect.
Do you require a mobility aid like a wheelchair or scooter to help you get around? Do you love to hop in the car and have adventures?
If you answered yes to both of those questions, then you probably already know that finding a mobility aid that can help facilitate those adventures can be a real challenge.
It is rare to find a model with just the right combination of attributes to really excel at being a good general purpose get-around and an exceptional travel aid.
The Revo 2.0 fulfills both of those roles beautifully.
When we first began investigating this model, it seemed almost superfluous. It adopts features from two other well-established and popular models in Pride's scooter lineup, taking some traits from the company's Go-Go Travel Scooter, and drawing others from the company's Victory 10 model. Given that, and this model's price point, at first glance, it would seem that there's not really a good place for this scooter in the lineup.
The thing is, though, it actually winds up being slightly better than both of the models it draws from, and that makes it spectacular indeed.
We'll be quick to admit that this scooter isn't for everyone, but if you love to travel and adventure and want to have a good, versatile mobility aid you can take with you on the road, this is an exceptional choice.
In the next sections here in our Pride Revo scooter review, we'll tell you why we think so, and even if you ultimately decide that this one is not for you, we think you'll be impressed. If you're eager to know more, read on, and we'll take a closer look.
An Overview of the Pride Mobility Revo 2.0 Scooter
Aesthetically, this model looks more like the Go-Go than the Victory 10, being rather minimalist in its design. That's not a bad thing, but if you're looking for something that makes a bold aesthetic statement, this model isn't the one you've been searching for.
It is offered in two different color options, though. You can get yours in medium blue and black, or if you prefer, grey and black, which gives it a delightfully understated look and feel.
Before we talk about anything other than looks and styling in this section of our Pride Revo scooter review, it would be of value to take a look at what this model has to offer by the numbers.
Here are the core stats for this one:
Overall Product Dimensions: 20.75" (W) x 47" (D) x 43" (H)
Seat Dimensions: 20" (W) x 18" (D)
Top Speed: 5 mph
Maximum Range: 13 miles
Wheel Size: 9" x 3"
Maximum Climbing Angle: 6 degrees
Turning Radius: 52"
Ground Clearance: 3.5"
Chair Weight: 132 pounds without batteries, 182 pounds with batteries
Maximum Supported Weight: 400 pounds
Most of these numbers are good, but there are some that are decidedly underwhelming. If you're looking for something fast, this one will disappoint. Five miles per hour isn't a snail's pace, but there are tons of models on the market that go faster, and often, significantly faster.
The range is middle of the road, but not exceptional. Even so, there's a lot you can do with a 13-mile range, so it's certainly robust enough to be useful.
One thing the Pride Revo 2.0 scooter does better than either of the two it draws from is ground clearance. This model offers 3.5," which is significant.
No, that's still not enough to take this scooter down rugged hiking trails, but it will handle most of the terrains you're likely to encounter in your yard, around town, at the park or at the RV park with relative ease.
It also supports more weight than either of the two models it draws from, and although there are no seat size options, the Revo 2.0 comes outfitted with a big comfy 20" x 18" seat with plenty of block foam padding.
It's a sizeable piece of machinery. Despite that, the turning radius isn't as bad as we feared it might be, which says good things about the design team and, from a practical perspective, just makes the Revo easier to use.
Note, however, that this is a hefty piece of equipment, weighing nearly two-hundred pounds, which most people would not describe as portable or travel-friendly. We'll have more to say about that a bit later on.
For now, it is enough to make a mental note of the weight and that there are a few good options for getting around what seems like a travel limitation.
Adjustability and Comfort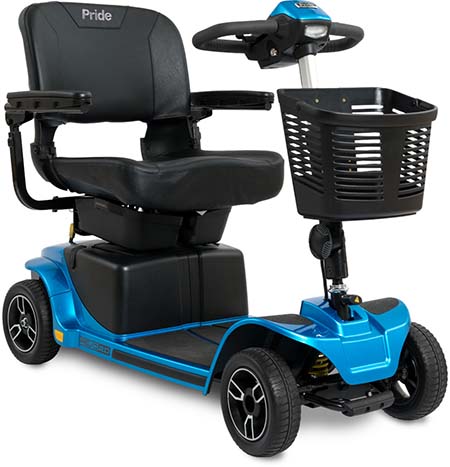 There are two major things to talk about on the adjustability front: The seat and the tiller. We'll start with the steering tiller because there's less to say about it.
You can adjust the angle of the tiller, either drawing it closer to your body or setting it farther away, depending on the length of your arms and what the most comfortable driving position is for you.
In addition to the seat being thickly padded with block foam, it is height adjustable in a range that spans from 21" to 23.5" from the ground (15" to 18" from the deck). The seat also swivels, and the padded armrests are height and width adjustable, giving you all sorts of options where customizing for comfort is concerned.
On the comfort front, the only potential negative is the fact that the seat is upholstered in black vinyl.
Vinyl is pretty, and it's very easy to clean, but it also has two drawbacks you need to be aware of.
First, it's not breathable. The longer you sit in the seat, the hotter and more uncomfortable you're likely to get. That will happen even faster if you live in a warm climate, but make no mistake:
No matter what kind of climate you live in, it'll still happen.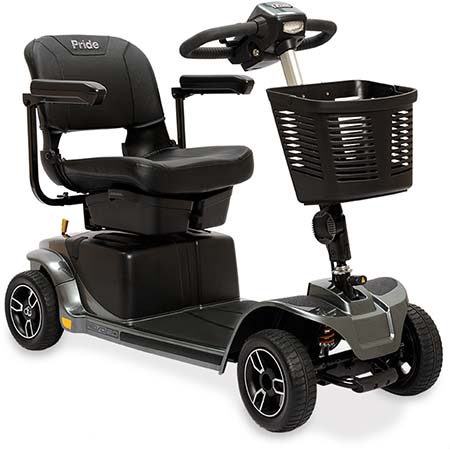 The second issue is that vinyl doesn't age well. If you plan on using this scooter every day, or even almost every day, you can expect that the vinyl will start peeling and cracking after about eighteen months or so.
At that point, given that the Pride Revo 2.0 4 wheel scooter itself has a limited lifetime warranty (heck, even the batteries on this model have a 5-year warranty option!), you'll need to have its seat re-covered with something a bit more durable long before this scooter is ready for retirement.
This isn't a weakness unique to the Revo; literally, every scooter Pride makes is upholstered the same way. It's a weakness, in our view, but not a fatal one.
In addition to the fact that having its seat re-covered represents a relatively modest expense, you can also increase your comfort and prolong the life of the vinyl by investing in extra padding for the seat and seatback. This gets you off of it, which makes it last longer and makes you cooler.
Even better, there are tons of great options available, so you'll have plenty to choose from if you decide to go that route.
Extras and Options
The Revo 4 wheel scooter comes with two noteworthy extras offered as standard features: A decently sized storage basket mounted on the steering tiller, and a USB port for keeping your phone charged while you're out and about.
We love both. The basket, while not enormous, is large enough to be genuinely useful, and the USB port is a handy, high-value extra we'd love to see on more models.
One thing Pride does exceptionally well, though, is that they offer a wide range of "extras" for sale separately that work with all of the scooters they make.
On the whole, we like this approach. After all, there's no sense in paying for an extra you don't want and wouldn't use, so they don't tend to offer many built-in extras, preferring instead to sell them as aftermarket accessories.
These include:
A cup holder
A cane/crutch holder (single or double available)
A rear basket for additional storage
An oxygen tank holder
A RAM X-Grip cellphone holder
A wishbone crutch holder
A walker holder
A protective cover to help guard your investment against the elements
A rearview mirror
A lap belt
Saddlebags for yet more storage
And a safety flag
With the possible exception of the safety flag, we regard all of these as excellent. The only one we'd love to see moved off the optional list and included as a piece of standard equipment is the safety belt. We highly recommend adding it, even if the Revo 4 wheel scooter isn't especially speedy.
If we could make one with and have Pride grant it, in some future model update, we'd love to see a light kit included in this design (rearview mirror, headlight, tail lights, and a turn signal). In our view, those things wouldn't add tremendously to the cost and would make an already great design even better.
Portability & Ease of Use
Earlier, we mentioned the weight of the chair and pointed out that it's too heavy to be called, especially travel friendly. Mindful of this, Pride designed this scooter to be able to be disassembled with relative ease, breaking into five pieces.
When broken down like that, each piece is of a much more manageable weight, with the heaviest piece weighing about fifty pounds, and the rest weighing significantly less than that.
Although fifty pounds is significant, it's not terribly much more than a typical wheelchair, and it's a lot smaller, which makes it relatively easy to store this scooter in the trunk of your car or in your back seat.
Since it's broken down, it's easy to pack individual components in and around whatever other luggage and supplies you're taking with you on the road.
The only problem here is the fact that all the breaking down for transport and reassembling is a time sink.
If you'd rather not spend that time, there are two other solutions, but the tradeoff is that both of the alternative solutions require an additional investment in money.
Ultimately then, it's a tradeoff: time or money.
The first of the alternative solutions is to buy a ramp. This is workable if you own a van or a truck. Deploy the ramp, then simply drive the Pride Revo 4 mobility scooter into the van or onto the truck bed. Secure it, and you're ready to roll. All you'll have to do when you reach your destination is haul the ramp back out and drive it back down.
If that won't work for you, the other option is to invest in a lift. This, you can usually install behind most any type of vehicle. Then, you're simply toting the scooter behind you.
Unfortunately, lifts are significantly more expensive than ramps, and will greatly increase the total cost of ownership of this, or any other scooter you may decide to buy.
Before we leave the topic of portability and travel friendliness, we should say a few words about air travel.
Typically, it's not possible with a piece of equipment like this. Airlines charge by weight. This scooter weighs more than 200 pounds. A good travel wheelchair weighs 40 pounds or so, and you can find some that weigh significantly less than that. It's just a much better (and cheaper) travel option if you're flying.
Even if you decide you can afford the added expense, the airline still might not let you do it.
Batteries, after all, are fire hazards, and fires and planes aren't an especially good combination. Every airline has a different policy about what's allowed and what's not, so if you've got your heart set on it, it pays to call the airline you're flying with and ask the question, but don't be shocked if they tell you no.
In terms of ease of use, Pride uses the same basic control system on all their scooters. It's intuitive, well laid out, and easy to understand. You'll pick up the basic operation of the Revo 2 scooter in mere minutes, and thanks to its not bad turn radius, you won't even have to spend too much time backing up because you'll master turning the thing pretty easily too.
Pros & Cons of Pride Revo 2.0
First impressions can be misleading. Ours was that this design had no place in Pride's lineup. That impression was spectacularly incorrect. This is, in fact, one of the best designs the company makes, having successfully merged the major design traits of two popular models into something even better, and adding a few additional flourishes besides.
This is a superb machine.
Although we pointed out a few weaknesses of the design, none are what we'd classify as deal-breakers.
Pride Revo Scooter Review Conclusion
We love the Revo 2.0, and we think you will too. Unless you want or need a true adventure machine capable of tackling the roughest terrain out there, this is an amazing choice. Several Pride Revo scooter reviews agree that it's well priced, not bad to look at, and extremely versatile and capable.
We highly recommend it.
---
References & Resources: