Summary
Pride Victory 10 is a fun, full-sized, immensely capable mobility scooter.
Recommended For: Anyone weighing up to 400-pounds.
*Note regarding Brand Reliability: This metric is a measure of the strength and longevity of the brand, which by extension, is a measure of the level of support you can expect.
Are you in the market for a sporty, capable mobility scooter to help you get around? Are you also looking for a model that's not a significant challenge to take with you on the road when you travel? If you answered yes to the questions above, you're going to be thrilled by what you read in this Pride Victory 10 review.
Pride is one of the big names in the mobility industry with a longstanding reputation for making excellent products and standing behind them. You won't have to worry about buying from a smaller vendor who's an unknown quantity if you select something from the Pride product line, which gives you tremendous peace of mind when buying.
In the sections that follow, we'll go over the Victory 10 in detail, telling you everything this model has to offer and pulling back the curtain and talking about the model's limitations and shortcomings. That way, you'll have all the information you need to decide for yourself if this is the model you've been looking for. If that sounds good to you, read on, and let's take a closer look!
An Overview of the Pride Victory 10 Scooter
The first thing you'll notice about the Victory 10, whether you're looking at the three-wheeled or the four-wheeled variants of the model, is that it's a full-sized, sporty looking scooter, offered in a modest selection of colors. We note here in our Pride Victory 10 review that we're rather fond of the bold, Viper Blue, but your tastes may differ from ours.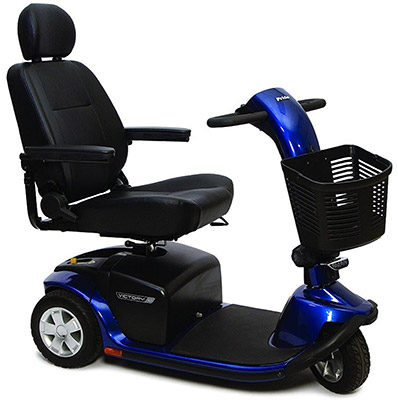 In any event, its sleek lines look inviting. This just looks like a scooter that can take you to places, and it has a highly polished, finished look which stands in contrast to the more minimalist styling of the Victory 10's smaller and more portable cousin, the Go-Go.
Before we get into the features on offer here, let's take just a moment to review the core statistics that define the Victory 10 in order to get a better sense of it overall.
Here's a general overview:
Overall Product Dimensions: 22.25" (W) x 45" (D) x 37.75" (H) Note: The four-wheeled variant of this model measures 22.25" (W) x 47.25" (D) x 38.25" (H)
Seat Dimensions: 18" (W) x 17" (D)
Top Speed: 5.2 mph
Maximum Range: 15.5 miles
Wheel Size: 10" x 3"
Maximum Climbing Angle: 6 degrees
Turning Radius: 42." Note: 4-wheeled variant has a turning radius of 52.25"
Ground Clearance: 2.5"
Chair Weight: 130.25 pounds Note: Four-wheeled variant weighs 139 pounds
Maximum Supported Weight: 400 pounds
These numbers are mostly superior to the smaller Go-Go scooter we referenced earlier, and it seems clear that this model was intended to be the more robust, larger cousin to that model.
It has a slightly higher top speed, although it would be overselling to describe the Victory Pride scooter as a speedster. The range is marginally higher but still in what we'd describe as the average category. Even so, every bit of extra range is a very good thing, in our book.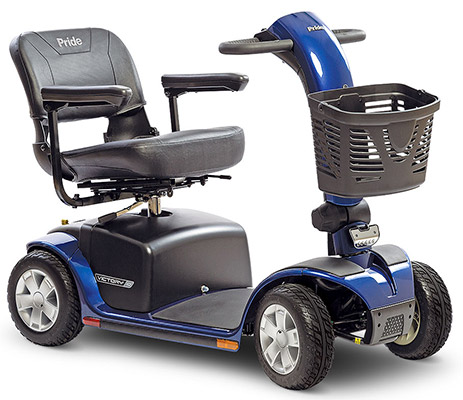 The turning radius is either slightly better or slightly worse than the Go-Go's, depending on whether you're looking at the 3-wheeled or 4-wheeled variant. That's significant because this is an overall larger piece of equipment.
One of the more significant differences between this model and the Go-Go, however, is the ground clearance. Where the Go-Go has less than an inch of ground clearance, this one offers 2.5."
That may not seem like a huge increase, and in fairness, the Victory 10 will still struggle in rough terrain. But, with 2.5" of clearance to play with, this model is capable of traversing a much wider range of terrain than its smaller cousin, which is optimized for use in urban or suburban environments.
Adjustability and Comfort
The Pride Victory scooter is only offered with a single seat size, but 18" x 17" offers a good fit for most folks.
It is curious, however, that since this model can support up to 400 pounds of user weight, a larger 20" x 18" seat wasn't offered for those near the top end of the Victory 10's maximum supported weight. For most people, it won't be a huge issue, but we do consider it a small design weakness.
Assuming you have no issue with the seat dimensions, however, you'll find it to be both comfortable and highly adjustable. The seat height can be set in a range that spans from 15.25" to 18.25" (as measured from the deck). In addition to that, the seat swivels and the angle of the backrest can be adjusted slightly.
The armrests are not height adjustable on this model, but they are padded, and they flip up, allowing for easier transfers into and out of the scooter.
In addition to that, the angle of the steering tiller can also be adjusted, bringing it closer to you or setting it farther away, depending on the length of your arms.
Those things combine to give you a tremendous amount of flexibility in terms of setting the Pride Victory 10 scooter for optimal comfort.
On the comfort front, you'll find the seat to be well-padded and generally a delight to sit in for shorter periods, but the seat here has the same basic problem that all of Pride's products suffer from. It's upholstered in vinyl. Black vinyl, to be specific.
Vinyl isn't an awful choice in some situations, and it has the advantage of being cheap and very pretty, but it has a pair of problems that you should be aware of.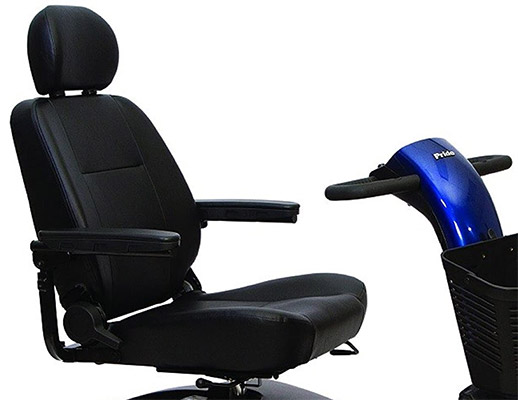 The first is that vinyl isn't at all breathable. That makes it hot. If you live in a warm climate, that could become problematic very quickly. It's a relatively easy problem to fix, however.
Just spring for a seat pad to get your rump off the vinyl, and that issue largely goes away.
The second issue is that vinyl just isn't very durable. It won't stand up well, or for very long to the rigors of heavy daily use. If you use your Victory 10 on a daily or near-daily basis, don't be shocked if the upholstery starts wearing before your second anniversary with the machine.
The good news on that front is that there's not a ton of upholstery on this unit, so replacing it won't be a major expense, and you can upgrade to something more durable when that day comes. The bad news is, of course, that you'll have to take that step, and you'll have to take it sooner rather than later.
Extras and Options
The Pride Victory mobility scooter comes with a couple of fun extras. First and foremost, note the modestly sized storage basket on the front of the unit.
There's not a ton of storage capacity here, but it's certainly big enough to be useful. Though if you envision running to the store and back in this thing, you'll almost certainly want to check out some of the additional storage options the company has available.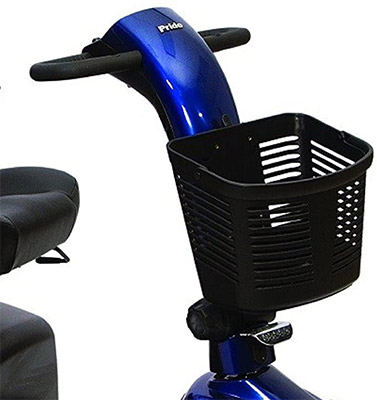 In addition to that, the Victory 10 sports an LED headlamp, which really expands when, where, and how you can use this scooter over models that don't come equipped with a headlight.
That's awesome and really adds to the utility and versatility of this model.
We are incredibly impressed with the number of extras Pride offers for customizing and personalizing their scooter line. You'll find a wide range of options available, including:
A cup holder
A cane/crutch holder (single or double available)
A rear basket for additional storage
An oxygen tank holder
A RAM X-Grip cellphone holder
A wishbone crutch holder
A walker holder
A protective cover to help guard your investment against the elements
A rearview mirror
A lap belt
Saddlebags for yet more storage
And a safety flag
These are all fantastic options. If there's one thing from this list we'd like to see as a piece of standard equipment and not as an extra you have to buy separately, it would be the safety belt.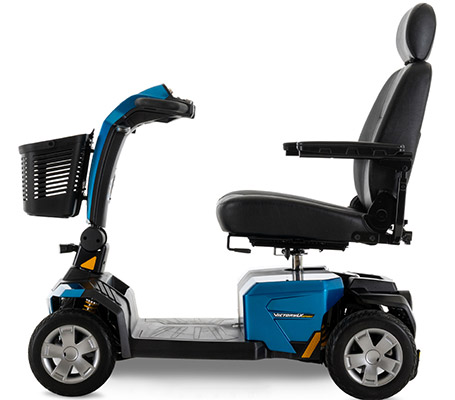 As for the rest, we totally understand. Everyone's tastes and preferences are different, and there's no point in paying for an extra you don't need and won't use. In general, we like Pride's approach here of offering a couple of basic extras and then a menu of choices for the rest.
If the options outlined above aren't enough for you, bear in mind that the aftermarket is brimming with possibilities, provided that you're willing to consider products from third-party vendors. If so, there's no end to what you can do to customize and personalize your ride.
Portability & Ease of Use
As a full-sized scooter and weighing upwards of 140 pounds, you might not think of the Victory electric scooter as being especially portable. The good news on that front is that it disassembles easily and into multiple pieces, making the act of stashing it in your trunk and/or backseat a pretty simple matter.
Also, since it comes apart, you don't have to worry about finding a scooter-sized, scooter-shaped space to put it. You can store the pieces in and around the other luggage you're bringing with you on your trip.
Note that the heaviest individual piece is 54 pounds, which is only nominally heavier than many of the standard wheelchairs on the market today, and lighter than some.
The only problem with that approach is that it's time-intensive. You've actually got to jump through the hoops of breaking the machine down before you can start your trip, and then, when you get where you're going, you have to put it back together again before you can use it.
That's the trade. It's free and relatively easy to travel with it in this manner, but it will cost you time.
If you want to get that time back, you can do that, but it'll cost you because you'll have to invest in some additional technology.
The simplest and least expensive way to get around taking your scooter apart when you hit the road is to invest in a ramp. This is only effective if you have a truck or a van. If you have either, you can simply deploy the ramp, drive the Pride Victory sport scooter into the van or the back of the truck, secure it, and hit the road. Then just drive it off when you get where you're going, and you're ready for adventure.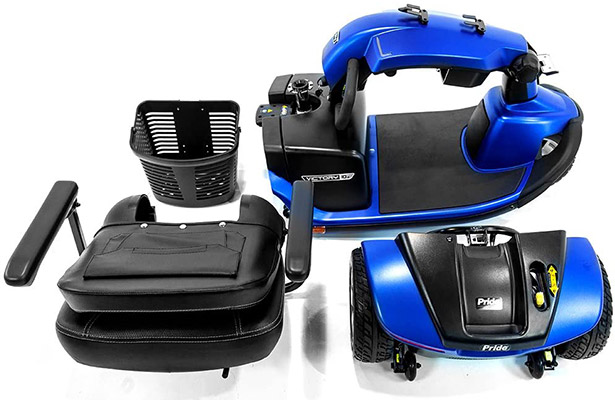 If that's not practical, the other option is to buy a lift for the back of whatever you drive. That's handy and convenient, allowing you to stash the scooter fully assembled behind your vehicle, but lifts are expensive and will greatly increase your total cost of ownership of this or any other scooter.
So, it's a tradeoff.
Before we move on, we do need to say a few words about air travel. Taking a piece of equipment with you on an airplane is an uphill battle.
Many airlines simply won't allow them at all because the batteries are a potential fire hazard.
If you clear that hurdle, there's still the issue of the weight. You can get a travel wheelchair that weighs 30 pounds or so. Airlines charge by the pound. Thirty pounds for a travel wheelchair is significantly less expensive than what you'll pay to tote a 130+ pound scooter with you.
Still, if you have your heart set on it, it's worth calling the airline you mean to fly with and asking the question. Just don't be shocked if they tell you no.
In terms of ease of use, even if you're not a tech-savvy person, you won't have any trouble mastering the Victory 10's controls. They're simple and intuitive and well-laid out on the steering tiller. One glance, and you'll pretty much have it figured out.
Ten minutes or less driving it, and you'll be an old hand.
Pros & Cons of Pride Victory 10
The Pride Victory 10 electric scooter is a very strong design. As we look back over it, we can see just three potential points of weakness to draw your attention to:
First, if you weigh near the top end of this model's 400-pound weight limit, the seat may not be quite big enough for you. We wish Pride offered a larger seat as an option, given the weight limit of this model.
Second, the seat upholstery is, in our view, substandard. It can be easily upgraded when the time comes, but the point is, that day's definitely coming, and it's coming sooner than you want it to.
Third, while the ground clearance is a marked improvement over the little Go-Go, there are still lots of places the Victory 10 can't go. This is not, for instance, the scooter you want if you're planning to hit the Appalachian trail. It wouldn't get you very far. Still, for a day at the mall or a day at the park, or even a day playing around in your garden, it should serve you very well indeed.
Pride Victory 10 Review Conclusion
We love the styling of this model, and we think it hits most of the right notes in terms of capabilities.
We mentioned in the previous sections here in our Pride Victory 10 that while it's not quite robust enough to take into the wilderness, in just about every other setting, you'll find it to be a capable, robust little machine. If you're looking for speed or incredible range, this one will underwhelm. But, for the casual rider, we think it's superb, and we recommend this model.
---
References & Resources: