Summary
Pride Victory LX is a well-designed, versatile, mid-sized scooter.
Recommended For: Anyone weighing up to 400-pounds. It does best on flat, level ground but is capable of handling common outdoor terrains too (with care).
*Note regarding Brand Reliability: This metric is a measure of the strength and longevity of the brand, which by extension, is a measure of the level of support you can expect.
Are you ready to upgrade your current mobility aid to something more robust and capable? Have you considered a scooter? While they're not for everyone, if you're willing to consider the option, you're going to love what you read in this Pride Victory LX review.
Pride Mobility is one of the big names in the mobility industry, with a long history of building world-class products and standing behind them, and the Victory LX Sport is an excellent example of their work.
While it's certainly true that this model has some limitations, for the vast majority of the market, it's a simply superb option that will serve you very well indeed.
In the sections that follow, we'll tell you everything this model has to offer, and we'll be quick to point out its shortcomings. That way, you'll have all the information you need to decide for yourself if this is the model you want, or whether your search must continue. If that sounds good to you, let's jump right in and take a closer look!
An Overview of the Pride Victory LX Sport Scooter
The Victory LX is a significant departure from the Victory 10, design-wise, with the V10 featuring a sporty, refined look.
This model looks rough around the edges.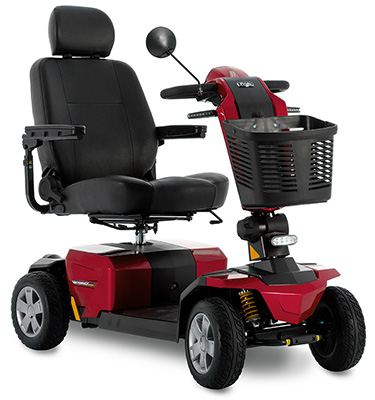 A rough and tumble machine that's ready for adventure anytime you are. We like it very much, but we readily admit here in our Pride Victory LX review that the look won't be for everyone.
Before we say more than that, let's pause for just a moment to investigate this model by the numbers.
Here's a quick overview:
Overall Product Dimensions: 25" (W) x 47" (D) x 43" (H)
Seat Dimensions: 18" (W) x 18" (D)
Top Speed: 8 mph
Maximum Range: 19.7 miles
Wheel Size: 10" x 3.5"
Maximum Climbing Angle: 6 degrees
Turning Radius: 61.25"
Ground Clearance: 2.2"
Chair Weight: 160 pounds (with batteries: 220.4 pounds)
Maximum Supported Weight: 400 pounds
These numbers represent a general, incremental improvement in capability as compared to the Victory 10.
It's a bigger machine, with a higher top speed. It still can't quite be described as speedy, but at 8 miles an hour, it's certainly acceptable, and when you open it up, you actually feel as though you're going somewhere.
It's also got a decent range. Sure, you can pretty easily find models that offer more in this department, but at nearly 20 miles, it's pretty respectable.
Note, however, that this is a heavy machine (in excess of two hundred pounds with the batteries installed), and its turning radius isn't great. You could probably get a better turning radius from a bathtub on wheels.
The other limitation that jumps out at us here is the relatively low ground clearance. It's not awful, but with just 2.2" between the motor and the ground, the Pride Victory LX Sport will serve you better on flat, hard surfaces like sidewalks, parking lots, and shopping centers than on hiking trails.
If you're careful, though, you can certainly use it in and around your property, campgrounds, or at most local parks provided that the terrain isn't too uneven.
One final point to make before we leave this section has to do with the seat. This model has a problem and limitation similar to the one described in the Victory 10 review.
While the seat dimensions are good, this model supports an impressive 400 pounds of user weight. If you're near the top end of that, it would be nice if the company offered a slightly larger seat; perhaps 20" x 18."
It's not a huge issue for most people, but as you near the high end of the supported weight limit, the 18" wide seat may not be sufficient to provide a comfortable fit. Measure before you buy!
Adjustability and Comfort
As we mentioned just above, the 18" x 18" seat should be fine for most folks and is generously padded with conventional block foam, providing a comfortable seating experience.
This is made better still by the fact that the seat can be height adjusted inside a range that spans 16" to 21."
That's pretty typical, but the Pride Victory Sport scooter takes things to the next level. It also offers a height-adjustable headrest, the angle of the seatback is adjustable to taste, and the armrests are not only height-adjustable, but you can set their width and their angle to taste too.
Combine all of that with the fact that you can set the angle of the steering tiller, either pulling it closer to you or canting it farther away depending on the length of your arms, and you've got an almost unlimited number of options where customization for comfort is concerned.
There is one catch, however, and this is a complaint we have across Pride's entire product line. The upholstery is vinyl. Black vinyl.
It's pretty, and it's low maintenance, but it has two fairly significant drawbacks. First, it's not breathable, which means it gets hot and makes you hot if you spend extended periods of time sitting on it. That's a worse problem for people who live in hot climates, but it's an eventual problem for everyone, regardless of where you live.
The longer you spend in the seat, the hotter and more uncomfortable you're apt to get.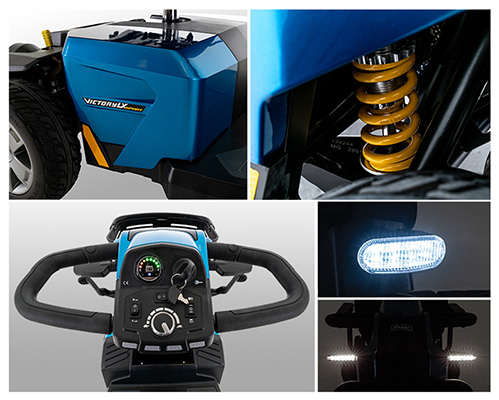 In addition to being hot, vinyl also doesn't stand up well to the rigors of heavy daily use. If you're buying this scooter with an eye toward using it on a daily or near-daily basis, your pretty vinyl seat is probably going to start peeling and cracking after about 18 months, and you'll have to have it re-covered.
That's not the end of the world. There's not a ton of upholstery to contend with, and you can probably have the seat re-covered at a nominal cost, but the fact is, it's going to happen. It's going to be something you'll have to put on your radar because the machine itself has a limited lifetime warranty and will far outlast the fragile upholstery covering the seat.
Extras and Options
The Pride Victory LX scooter has a few different extras to talk about. First of all, it's got a full light kit, so a headlight, tail lights, and turn signals. It also sports a rearview mirror. These things make this model useful anytime day or night, which really expands your options.
On top of that, you'll find a modestly sized basket mounted on the front. The basket is made from sturdy ABS plastic, and while it's not huge, it is big enough to be genuinely useful.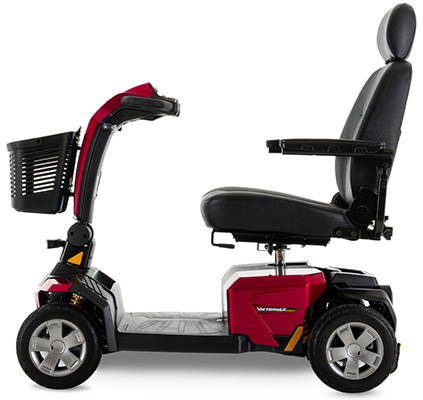 One thing Pride does really well, though, is that they offer tons of great, high-value extras and options for their scooters, which gives you almost unlimited flexibility when it comes to personalizing and customizing your ride. These include:
A cup holder
A cane/crutch holder (single or double available)
A rear basket for additional storage
An oxygen tank holder
A RAM X-Grip cellphone holder
A wishbone crutch holder
A walker holder
A protective cover to help guard your investment against the elements
A rearview mirror
A lap belt
Saddlebags for yet more storage
And a safety flag
We like almost all of these, with the safety flag being the least impressive of the bunch. The only one we wish was included on the base model as a standard feature would be the safety belt, which we think should come standard on all scooters. The industry as a whole, however, disagrees with us, but it's available as an option if you want it.
We also love the fact that Pride has two additional storage options available. If you invest in two saddlebags (one for each arm of the scooter) and the rear-mounted basket, which is a steel wire frame rather than ABS plastic, you'll be able to run to the store in your scooter and pick up a couple of days' worth of groceries, carting them back home with ease. That's fantastic.
Then, of course, there are all of the aftermarket products you can buy to further customize your ride.
These are offered by a number of third-party vendors and give you tons of additional options where customization is concerned. The sky's the limit, honestly.
Portability & Ease of Use
While the Pride VictoryLX is good at quite a number of things, one thing it doesn't do very well is travel. Yes, this model breaks down easily, and each individual piece isn't unbearably heavy, but at fifty pounds, the heaviest of the parts still outweighs your average travel wheelchair. It's not impossible to travel with this model, but it is a bit of a challenge.
The good news is that once you've broken the machine down, you can generally find space to put the pieces, whether it's in the trunk or the back seat, packed around the luggage and other supplies you're bringing with you on the road.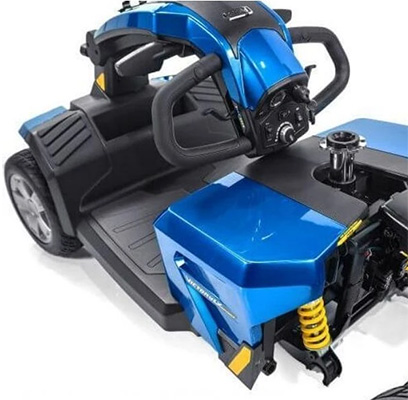 The bad news is that you have to stop and take the time to break the machine down, then spend more time putting it back together again when you get where you're going.
If you're willing to spend some extra money, you can get around the time sink problem, though. The two options on that front are ramps and lifts.
A ramp is only a workable solution if you have a van or a truck. If you do, simply deploy the ramp, drive the scooter into the van or onto the bed of the truck, secure it, and you're all set. All you have to do when you get where you're going is drive it back down the ramp.
If you don't have a truck or van, your best option is a lift. These can be mounted on the back of whatever you're driving, and you can just tote the scooter behind you. Again, the great thing about that is that when you get where you're going, all you have to do is lower the lift and start driving.
Unfortunately, lifts are rather expensive and will add significantly to the total cost of owning this or any other scooter. Ultimately then, it comes down to how much you're willing to spend to save the time of disassembling and reassembling your ride.
Also, a quick note about air travel: it's probably not even worth it to try. Airlines charge by weight. This scooter weighs in excess of two hundred pounds. A good travel wheelchair weighs 40 or less (and in some cases, a lot less).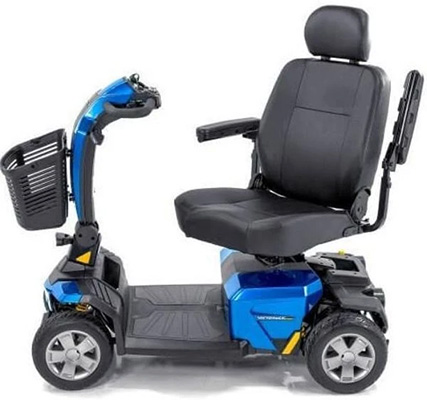 It's just a much cheaper option.
Even if you have the money, know in advance that the airline you're flying with still might not allow it.
Batteries are fire hazards, and people who fly airplanes don't like fire for obvious reasons. If your heart is set on taking it with you, it couldn't hurt to ask, but know going in that you're quite likely to get a firm no to your line of questioning.
In terms of ease of use, you won't have any difficulty at all mastering the basic controls. Ten minutes of practice, and even if you don't consider yourself to be a very tech-savvy person, you'll more or less have the basic operation worked out.
The one thing that will likely take practice is turning. As we said earlier in this review, this model doesn't have a great turning radius. It is likely that you will find yourself in a situation where you try to turn and simply run out of room. It's not the end of the world, but until you master turning this boat, you'll probably get a lot of practice backing up!
Pros & Cons of Pride Victory LX Sport Scooter
Where the Pride Victory LX scooter is concerned, the news is almost universally good. It's got a decent top speed and a good range. It's got enough ground clearance that you can use it on surfaces other than pavement. You'll still have to be careful and mindful. There are plenty of terrain types this model can't conquer, but you should have no problems using it in your yard, at the park or at a campground as long you mind the terrain and don't try to run over any obvious obstacles in your way.
The single-seat size is a minor issue for those near the top end of the supported weight limit, but this can be at least partially offset by setting the armrests wider. It's not a perfect solution, but it's a decent workaround in a pinch.
The upholstery of the seat is underwhelming and not very long-lasting, but honestly, this isn't the kind of thing that would dissuade anyone not to consider this model.
All in all, then, we don't have any major complaints to draw your attention to. It's a good, versatile scooter with a collection of minor issues to be mindful of.
Pride Victory LX Review Conclusion
We like the Victory LX Sport very much. While it's not an all-terrain scooter, it bears design traces of that kind of machine. It's also versatile enough that you can use it on a variety of terrains and feel as though you're driving an adventure machine. While we note in the previous section here in our Pride Victory LX review that it does have a few minor issues, shortcomings, and limitations, we don't regard any of them as deal-breakers, and as such, we recommend this model. We think you'll be impressed.
---
References & Resources:
Pride Victory LX Scooter
A well-designed, versatile, mid-sized scooter.
Recommended For: Anyone weighing up to 400-pounds. It does best on flat, level ground but is capable of handling common outdoor terrains too (with care).
Check Current Price